It was easier to keep participants engaged when they came to the studio. The contrast-driven ambience and presence of company certainly helped. And as CRU co-founder Bebe Ding found herself teaching a cycling class to a camera, such intangibles became more apparent than ever. "The sound, the depth of the instructor's voice—it isn't the same," she explains. "And that's where most of the motivation comes from in a group class. That's why you take a group class."
Somewhere in the pipeline—between conducting a work-out session and having it digitised—there exists the equivalent of a mid-'50s Italian mob. This mob skims about half of the energy that's put in and there's not much that can be done about it. "I feel like the cameras absorb the personality and energy," says Ding. "It takes two or three times the effort for it to translate well."
It's a shame, too. If there's one thing you need when motivating Daniel to shadowbox in his apartment—while his cat passes judgemental looks and the neighbour's cooking wafts through the window—it's energy. "If the instructors start to look even the least bit awkward, someone taking the class at home would feel super awkward and they might even click away," says Ding.
Only one way around it then, she has discovered over the last year, "It took practice but I think a lot of it comes with not giving a fuck how you look. That's what makes people freak out and get shell-shocked when they're on camera."
Down the rabbit hole, there's a never-ending list of considerations when planning a virtual class. If you've worried about missing moves, getting distracted, or looking stupid performing a spin routine solo, you might find comfort in knowing that your CRU instructors are well aware of these issues. "We're constantly evolving to make it a full experience to keep the user motivated," Ding adds. "We're trying to make everything top notch—the music, lights, stage, instructor—so the rider or a person in a boxing class feels like they're right there in the room."
Even though in-person classes are rolling again, Ding believes that virtual workouts have proven to be more than a temporary substitute. "I think the experience in both settings is very different," she says. The studio provides a sense of camaraderie, while at home, it's all about the convenience. "I don't think digital is going anywhere. I think it will just accelerate from here on out—for every platform, not just us."
A display of the CRU TV.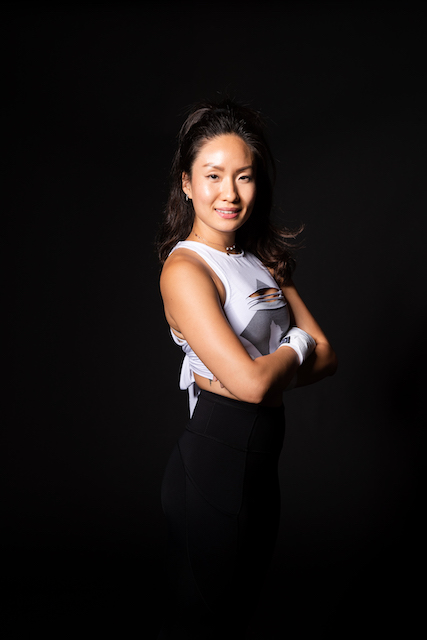 CRU focuses on delivering a consistent product, whether you're at the studio or tuning in from your bedroom. That said, attending a class is only one part of the equation. Participants need to have realistic expectations and goals to get the most out of their time. "Sometimes, you can be overly ambitious," says Ding. "Especially when it comes to fitness and exercise. Whenever I start class, I hear all these Apple watches going off. And for a lot of people, it's not even about the kilometres they've run, it's: I need to burn 1200 calories because I had six bubble teas or whatever."
Although tracking stats is one of the key features of the CRU TV app—setting it apart from a host of free work-out videos on YouTube—Ding advises caution when finding motivation in numbers. "If you do it right, it can be good. But I think it takes a certain amount of time to get to that stage where you can realise: Okay, I feel burnt out and I should stop obsessing over my Apple watch."
A balance between process and outcome goals can be the key to a sustainable routine. "I think they go hand-in-hand," Ding says. It's something which she has picked up on over the years while attaining certifications in disciplines such as cycling and yoga. "It wasn't like oh, when I'm certified, I want to teach this. It was more when I'm certified, I hope that I've understood the whole process and mastered it."
In other words, there's nothing wrong with dreaming of a beach body. It's just a matter of framing your motivations the right way. Don't reach for the red Instagram hearts. Instead, focus on ideas such as being stronger and feeling healthier.
Speaking of the latter, there comes the topic of nutrition. After all, beach bodies are built equally in the kitchen as they are at the gym. Ding stresses on the importance of making your own food. Even when it comes to supposedly healthy restaurants, she claims that you never really know the sort of ingredients which are being used. Businesses may often prioritise low costs and better taste over health benefits.
That's not to say you must deprive yourself of culinary pleasures though. "Restricting what you eat can lead to obsession too," Ding says. "Like if I didn't eat ice-cream for five years, that's all I'd think about everyday. Personally, I just recommend an eighty-twenty balance between eating clean and going out. You need a vice or two to keep you sane, so if you like eating burgers, eat them. Just not every single day. Satisfy your cravings from time to time so you stop obsessing over them."
More information of CRU68 can be found online.