After postponing three times due to you-know-what, The King's Man will finally open in theatres come September. This installation takes us to the time before the organisation got its start, so this means no Harry Hart and Eggsy.
Instead, we are treated to lots more swashbuckling fight scenes starring early Kingsman agent Ralph Fiennes who mentors a young lad with a good heart played by Harris Dickinson.
Fellow co-stars include Aaron Taylor-Johnson, Gemma Arterton, Rhys Ifans, Matthew Goode, and Charles Dance. Stanley Tucci, Daniel Bruhl, Tom Hollander, Robert Aramayo, and Djimon Hounsou are also among the cast.
And then there's one very special cast member of this gritty origins story that didn't appear in the trailer, but was already all over the Internet: The Jaeger-LeCoultre and Mr Porter Master Ultra Thin Kingsman Knife Watch.
A New Limited Edition
Based off the Jaeger-LeCoultre Master line, this is a completely new model that did not previously exist in the manufacture's collection. As the movie goes back a hundred years to the early 1900s, the fact that Kingsmen agents wore a wristwatch tells us that they were completely updated on the latest technology.
Because during the early 1900s, pocket watches were the norm and people were only just beginning to transition onto wristwatches.
This particular watch takes us back to Jaeger-LeCoultre's incredible mastery of ultra-thin watchmaking. Ultra-thin timepieces were truly objects of refined elegance. They grew in significance after watchmaker Antoine LeCoultre devised a way to rearrange the components of the movement on a single plane. These then came to be known as LeCoultre calibres.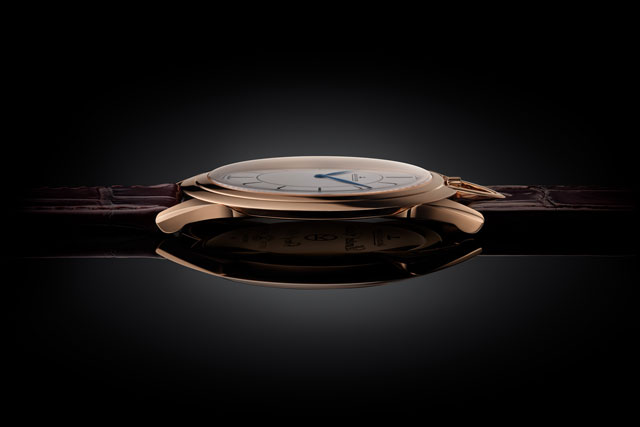 The Master Ultra Thin Kingsman Knife Watch is truly ultra-thin at just 4.2mm for the case, and 1.85mm for the movement—a hand-wound Jaeger-LeCoultre Calibre 849. All of this takes us back to a specific piece in the manufacture's long history, a 1907 Couteau (French for knife) pocket watch. So thin, and sloping down from the crystal, it looks like a knife's blade on the side.
Indeed, if the suit is a modern gentleman's armour, then this timepiece is a modern gentleman's sword. It is not known yet who in the movie will get to wear this exquisite timepiece but our money's on Dickinson.
Previously On Kingsman I
One of the most memorable scenes in Kingsman: The Secret Service was the moment when Arthur (played by Michael Caine) hands Eggsy a gun and asks him to shoot his dog. A pug named JB. But before that, he goes: "Pretty dog, what's his name?"
"JB," Eggsy replies.
"As in James Bond?" Arthur wonders.
No.
"Jason Bourne?" he tries again.
"No, "Eggsy grins. "Jack Bauer."
Ah. If it wasn't clear from the outset, it was that moment when we all knew this was not your grandfather's spy movie.
Agent Gallahad aka Harry Hart sports a Bremont ALT1-WT in rose gold.
A fully-fledged agent, Gary "Eggsy" Unwin.
Sure the characters were all suitably dressed in the most quintessential, Savile Row-est fashion but at least their watches brought something new to the fore. Partnering with (of course) an English watch brand Bremont, the movie featured specially designed military inspired watches based on the ALT1-Z collection.
Marketed as a "bloody smart watch", three variants were produced. One black DLC steel ALT1-B2 GMT issued to the new recruits. One rose gold ALT1-WT world time chronograph for fully trained agents to shoot projectiles out from. Plus a steel version of the world time chronograph.
Then In Kingsman II
All the good work done in the first installation continues through to the second. Kingsman: The Golden Circle was pretty enjoyable if you'd overlook a couple of inconsistencies. Watch geeks had a field trip ID-ing all the TAG Heuer timepieces worn by agents on both sides of the Atlantic.
Taron Egerton pairs a smart watch with a sharp suit.
Kingsman: The Golden Circle was the second such collaboration between the movie franchise and Mr Porter.
Where Eggsy and Merlin (played by Mark Strong) wore the TAG Heuer Connected Watch with a Kingsman logo on the screen, the Statesman agents had on square-cased TAG Heuer Monacos in varying colours and features.
This time round, there was much more screen time given to the watches. They've even been written into the script. In true secret agent style, Eggsy used his Kingsman Connected Watch to unlock the Stateman's advanced biometric security system.
Of course, given how prominent the Monaco is, with blue dial and blue chronograph sub-dials, you just can't miss it on the screen.
These watches, like the Bremont collection and the aforementioned Jaeger-LeCoultre, were all retailing exclusively on Mr Porter's Costume to Collection series. Along with apparel, leather goods, as well as accessories, they were all handpicked and specially created for the dapper dans among us.
From 20th July to 6th September, the Jaeger-LeCoultre Master Ultra Thin Kingsman Knife watch will be offered exclusively on Mr Porter. Priced at £26,900. Click here to reserve. Thereafter, it will retail directly on Jaeger-LeCoultre online and in selected boutiques.
The King's Man is coming to cinemas in Singapore on 17th September.
Related stories
Harris Dickinson: Hiding in plain sight
Video: Get to know our February cover star, Harris Dickinson
Jaeger-LeCoultre in filmmaking: An exclusive interview with Nicholas Hoult on watchmaking and his favourite timepieces