We may be wrong (rarely) but there seems to be a resurgence of ice cream parlours and gelateria lately. The variety of flavours have been getting more experimental too, but we're all here for it. What sets Mylo's apart though, is that you can bring your furry friends along. Named after Chef/Churner-in-Chief Michael Wilson's own golden retriever and envisioned as a space he could bring his pup to work, there's everything from savoury Paninis to freshly baked pastries, and of course, a whole selection of quality gelato.
The Space
Housed in the Active Garden behind Marina Bay Sands where Fennel Cafe used to be, both the indoor and alfresco seating face toward the Singapore Flyer. The full glass walls provide a perfect view of the scenic Waterfront Promenade, but too bad you can't block out all the passing joggers who don't lessen the guilt of the indulgence.
Must-try
A rare peek at the otherwise enclosed Pozzetti.
Flavours go from SGD5 a cup.
Stuffed Brioche lightly toasted in a panini press.
First dog biscuit is on the house.
More than 20 seasonal flavours are stored in the stainless steel Pozzetti, and we're convinced that this traditional way of preserving the gelato's integrity (oh yes, we went there) is worth giving up the visual preview. You'll find that the consistent texture of the gelati truly proves the importance of keeping the content protected from light, air, and temperature changes.
The proprietary gelato recipe begins with a beautiful base of French cream and high-quality milk, then mixed in with thoroughly-researched flavour combinations that go through the industrial churner onsite. As someone with a low sweet-tolerance, they were thankfully not cloying.
While the Pineapple & Sichuan Pepper is sadly not spicy, the cucumber-forward Gin & Tonic comes as a blessing on a hot day. The Apple Pie may divide you on the fact that you can taste the crust (impressive but slightly strange), but Burnt Butter and Sage is a unique one to try. Whatever your flavour of choice, get it in a Stuffed Brioche. You can thank me later.
The fur kids can get home baked Pumpkin & Oat and Peanut Butter & Honey dog biscuits (first one's on the house) to Chicken & Beef Bone Broth and Yoghurt & Mango popsicles, with water dishes available.
The Star
Taking the literal translation of the word Affogato to mean 'drowned', besides the classic espresso dessert, you have three other iterations. Milo Dinosaur (Milo gelato drowned in milo powder), Yoghurt gelato in a seasonal fruit compote, and personal best Vanilla and Himalayan Pink Salt drizzled with Papa's Grove Extra Virgin Olive Oil, Honey, and Fennel Pollen. We only wish that it were completely doused in more, or there was a Dark Chocolate gelato base on this otherwise flawless treat.
How we feel about it in a gif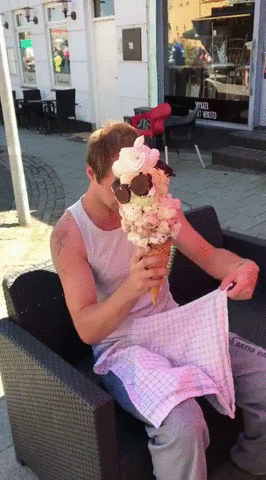 Mylo's is located at 18 Marina Gardens Drive #01-01, Singapore 018953.