As mentioned, there's a lot about this exhibition that makes it a pretty big deal. It's not just the fact that, like VTLs and other returning signs of nouveau normalcy, it's the first international one the museum has had since Covid; but also that it has traveled from London's Tate Modern to Amsterdam's Stedelijk Museum then San Francisco's Museum of Modern Art to make its concluding stop right here on our shores—the only one for the region. So especially for those whose last-minute trip plans didn't come to fruition, this is an opportunity to travel …albeit back into the past.
About Nam June Paik
While sadly departed, the Seoul-born artist leaves a legacy of media-based art beginning over half a century ago. It wasn't just the works he amassed across music, technology and performative disciplines, in the context of Eastern and Western cultures from the countries he practiced. The term "electronic highway" was coined by the visionary in his allusion to the future of communication, the mass consumption of media, and essentially the Internet as we know it.
What to look out for
The number of installations total over 180 but we can easily pick out the few most engaging (and why deny—insta-friendly) highlights. Again bearing the context of time in mind, framing these works as a disruptor of their generation helps better centre your experience.
TV Garden.
Anonymous Crimean Tatar Who Saved Life of Joseph Beuys - Not Yet Thanked by German Folks.
Egg Grows.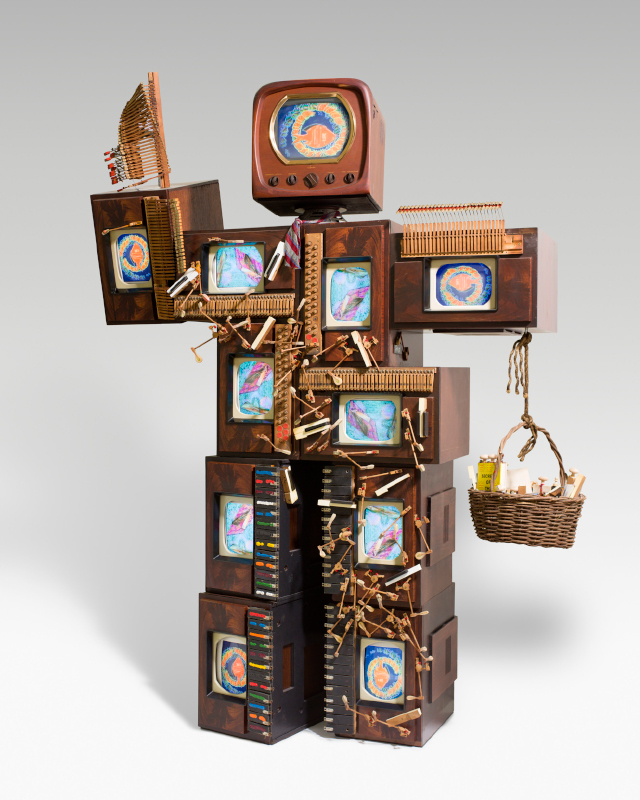 John Cage II.
The robot-imagery is certainly a key theme throughout Paik's work. From the Grandfather, Grandmother and Sister robots, the musically-inspired namesake John Cage Robot II, to the sizeable one with a name to match (Anonymous Crimean Tatar Who Saved Life of Joseph Beuys – Not Yet Thanked by German Folks), all warrant a closer look at the intricacies that went into their construct.
Of course, you can't miss the largest work in the exhibition, which was also the centrepiece of Paik's exhibition for the Venice Biennale. Aptly named, The Sistine Chapel prismatic projections does remind you of the Vatican's famous paintings that causes you to automatically look up. Together with the overlapping visuals and audio accompaniment, if anything, draws parallel to our very own online life where every screen seemingly fights for your attention.
Without giving too much away, other subtle displays of pioneering exploration such as The Crown, Moon is the Oldest TV, and Egg Grows are comparatively quieter but equally contemplative in expression of the visual platform that the artist was so fond of. Unique to the one we have here as the only Asian outpost, the exhibition closes with selected works and archival materials that spotlight Paik's interactions and critical examinations that drew on his East Asian roots.
Nam June Paik: The Future Is Now happens 10 December – 27 March at National Gallery.