It's no secret that Singapore expanded the little red dot through land reclamation over the past 200 years. The garden city's total land area has increased by about 25 per cent—from 578km² in 1819 to its current 719km². Yes, the ground you're stepping on at the Esplanade and Marina Bay Sands are reclaimed soil. But before these iconic Singapore landmarks could impale their concrete pillars, plant life called dibs and sank their roots first.
Critically acclaimed Singapore artist and former Olympic sailor Charles Lim Yi Yong recently dedicated a chapter of his existing Sea State project to these plant species that thrive in reclaimed areas around Singapore, including Changi, Tuas, and the Southern Islands.
Titled SEA STATE 9: proclamation garden, Lim was commissioned by National Gallery Singapore to rework the museum's Ng Teng Fong Roof Garden. This living art installation references the act of proclamation made by the Presidents of Singapore over the past five decades, in which reclaimed sites are officially declared as state lands.
Giant Sensitive Tree (Mimosa Pigra)
White Weed (Ageratum Conyzoides)
Fish Poison Tree (Barringtonia Asiatica)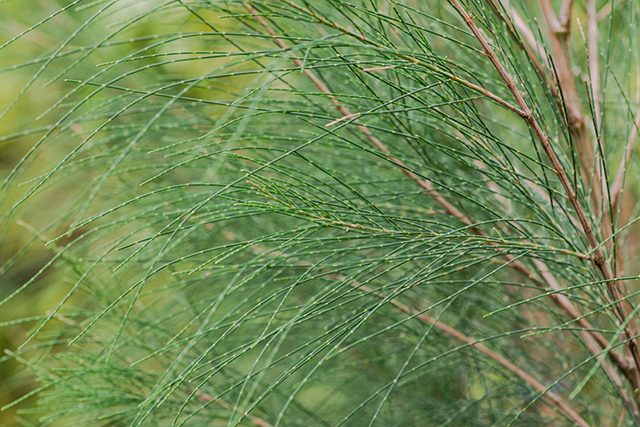 Common Rhu (Casuarina Equisetifolia)
Chicken Dung Flower (Lantana Camara)
Mission Grass (Pennisetum Polystachion)
Working with the Gallery's Senior Curator Dr Adele Tan, and local botanical consultant Mr Veera Sekaran (of urban greening company Greenology), Lim successfully transplanted and assembled more than 30 lesser-known plant species at the roof garden.
Among them are the prickly Sandbur (Cenchrus Echinatus), parasitic Seashore Dodder (Cassytha Filiformis) which survives through a host plant, and the bashful relative of Touch-me-not (Mimosa Pigra). The soil on reclaimed land is known to be less fertile, so the team was surprised to discover a Date Palm (Phoenix Dactylifera) too. A review suggests that its propagation in the sand was from a date seed that was discarded after consumption, presumably by migrant workers.
So why introduce such vegetation from actual reclamation sites? The narratives generated by these plants express a metaphoric representation of Singapore's journey as a City in a Garden, mirroring the country's efforts to transform sea to land, and subsequently a city landscape through land reclamation.
"The dynamics between the land and sea continue to inform my work on the SEA STATE series. This latest installation further challenges me to share my inquiry into the multi-layered reclamation history in unconventional ways, where the plants' transplantation and adaptation to thrive in the roof garden reflect Singapore's urban and coastal development. I hope that they will spark renewed interest in the environment around us, and enable visitors to gather fresh insights." Lim revealed.
Eagle-eyed visitors will notice the omission of descriptive labels for the plants, unlike other gardens in the city. Lim explains this intentional move allows the public to engage in a 'less didactic, more personal' experience with the uncommon plants. As such, he conceived a visual essay and a 30-minute podcast to complement the installation. These will feature insights and anecdotes from specialists in botany, geography, constitutional and legal history, and land reclamation, to help visitors paint a more vivid picture of the process of land reclamation and transformation over the years.
The podcast can be obtained from the Gallery's website and the Gallery Explorer App. In addition, an illustrated catalogue featuring full-colour profile images taken by the artist of the new plants at the roof garden will also be published to accompany this commission.
An element of surprise awaits for those who frequent this ever-changing garden. Will it flourish with more unique plants transplanted by Lim or will the Seashore Dodder devour its flora brethren?
SEA STATE 9: proclamation garden runs from now till 27 Oct at Ng Teng Fong Roof Garden, Level 5, National Gallery Singapore. Admission is free. For more information, visit the National Gallery Singapore's dedicated webpage.