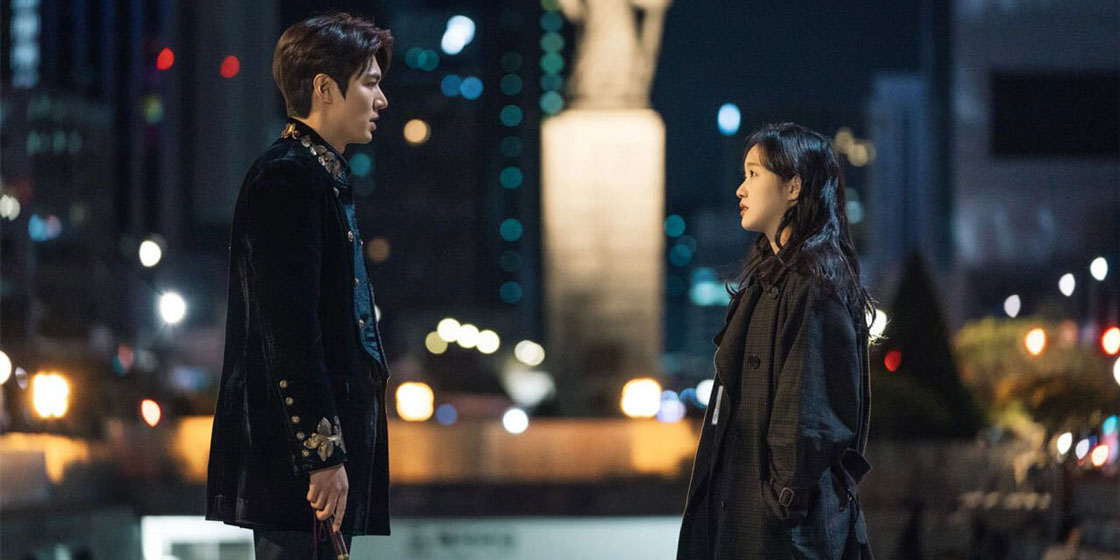 Two words: parallel universe. It's catnip to all couch potatoes, and the premise of new Korean drama series The King: Eternal Monarch starring Hallyu superstar Lee Min-ho and the crazy-popular Kim Go-eun.
In this 16-episode Netflix fantasy series, Lee plays an emperor who travels between imperial Korea and modern-day Korea through a mysterious portal with the help of a magical flute.
He crosses paths with a police detective (Kim). Together they solve mysteries, fight evil, time travel, and of course fall in love. Yes, there are indeed clichés abound. Critics have also cringed about the series' omnipresent patriarchal tropes.
And we agree with the general opinion that some of the cast *cough Jung Eun-chae cough* could emote a bit more. All of these suggest that The King isn't exactly devoid of flaws.
As if the title didn't put the point across clearly enough, the show producers went the extra mile to stress on the protagonist's regal status. Cue diamond-buttoned shirts, an uptight personal bodyguard, a magnificent white horse, Einsteinian quotes (groan).
But amid the show's choppy editing and (at times) slow pace, at least the watches tell an interesting story. That's the silver lining here, whether the set designers intended to or not.
It's a Longines
In the pilot episode, we spotted Lee wearing the Longines Master Collection Chronograph Calendar with moon phase and 24 hours indication. Dressed in a stately double-breasted jacket, slim-fit pants, and knee-high riding boots, he completed the ensemble with a pair of black leather gloves and this classic gent's chronograph.
The setting—horse riding—was almost too perfect for the timepiece. And it leads us to conclude that the show producers had to have been in on Longines' incredibly strong ties with the equestrian world. Indeed, the St. Imier manufacture's passion for equestrian sports dates back to 1878. That was when it produced a chronograph pocket watch engraved with a jockey and his mount.
Riding a white horse, as kings are wont.
An elegant timepiece paired with riding gloves and that very special beautifully crafted horse whip.
Nothing could ever make Woo smile, not the one in this dimension anyway.
Joining Lee in his fondness for Longines is supporting actor Woo Do-hwan who plays the emperor's most trusted aide (the aforementioned uptight bodyguard). We caught a glimpse of Woo's watch when he pointed nonchalantly to his wrist and deadpanned, "It's time."
Offering a chronograph, a triple calendar, phases of the moon, and 24 hour indication, this sporty elegant timepiece displays a wealth of information. It uses a clever combination of analogue sub-dials and miniature apertures. Co-axially mounted hands deliver everything with panache
Master Collection Calendar Chronograph with white dial and brown alligator leather.
Master Collection Calendar Chronograph with blue dial and steel bracelet.
We especially love the Breguet-style hour numerals, blued steel hands, and the guilloché-pattern dial. But note that Longines produces different variations of this watch including one with a blue dial and baton indexes. Priced at S$4,790 it's a touch above the norm while remaining accessible enough for everyday wear.
The Time-Traveller's Choice
All that inter-dimensional travel means that Lee's watch would often get out of sync. If he'd worn that Master Collection Chronograph Calendar throughout, he'll probably spend more time adjusting the watch than quashing bad guys. Or perpetually late/early.
Which was why we're beyond thrilled to see him wristed with the Longines Conquest VHP. At least in some scenes. Oh it's a quartz watch, some might recoil, but take it from us. If ever the day comes when you're about to enter a portal to another universe, this will be the watch you want on your wrist.
VHP stands for very high precision. As precise as an atomic clock, the Longines Conquest VHP is one of the most accurate wristwatches money can buy.
Not only is it ultra-precise, it is amagnetic. So it is impervious to external forces such as magnetism, gravity, and shock. Now comes the really impressive part: With this watch comes Longines' unique gear position detection system that automatically realigns the hands whenever the watch comes in contact with shock or a strong magnetic field.
We witnessed it ourselves. At the 2017 Baselworld, then-CEO Walter von Känel demonstrated the effects of magnetism on the watch by placing a strong magnet on the case. For about five seconds, the seconds hand froze.
Then he released the magnet and instantaneously, the seconds hand sprung to live, skipping ahead five seconds to make up for lost time.
That's why the Longines Conquest VHP is the perfect time-traveller's watch. No matter how many times you put it through the wormhole, it'll always autocorrect. Best part? The super-friendly S$1,510 price tag. Also, somebody better tell Lee that's there's a Conquest VHP GMT which is going to knock his socks off because it'll help him keep tabs on the time in both local and home dimensions.
Action Speaks Louder
Earlier we saw that Woo had worn the same watch as Lee, the Master Collection Chronograph Calendar. But that was off-duty Woo. On-duty Woo wears something decidedly more robust and ready for action.
On the field, Woo goes for the ultra-robust Longines HydroConquest.
Longines HydroConquest in black on steel bracelet.
Something like the Longines HydroConquest.
Built like a tank, it is 100 per cent utilitarian. There's nothing superfluous. It's perfectly legible in the dark. Everything there has a purpose. From the notched bezel to the diamond-tipped hour hand, from the extra-large numerals to the crown protectors. At a wallet friendly S$2,390 too.
An indispensable tool, it wouldn't look a hair out of place next to a handgun and would never say no to adventure. Well selected for an emperor's number one right hand man.
The King: Eternal Monarch is currently streaming on Netflix.
Related stories: Jordan and Pippen are fans of this ultra-niche luxury brand
Related stories: All the watches in Crash Landing On You that crash landed in our hearts