Are you a busy person strapped for time? Do you have an attention span shorter than that of a puppy with ADHD (omg so cute)? Do you simply hate hearing this guy going on and on, and just want to have the TL;DR version?
Well, Esquire Singapore has the cure with New Wheels Wednesday, a weekly review digest that comes out every, uh, Wednesday featuring the latest new metal on sale in Singapore and our quick takes on them.
In the Esquire Singapore garage this week is the BMW 1 Series. We've driven it before, but that was the diesel-powered 118d which isn't available here and the all-singing, all-dancing, all-wheel-drive M135i xdrive. Discussing the merits of the former is a moot point. As for the latter, well, at SGD239,888 let's just say it's a bit of a niche product, sports car performance from its 306hp motor notwithstanding. What we have here is the 118i, a car that at SGD144,888 represents the entry point to BMW's expansive model lineup.
BMW 118i
The BMW 1 Series poses quite a large existential question for the maker of the Ultimate Driving Machine. Specifically, whether or not a car with an exclusively front-driven axle deserves to wear the blue-and-white roundel.
Of course, this isn't the first BMW to have front-wheel-drive. The 2 Series Active Tourer and 2 Series Gran Tourer, released several years prior are front-driven. But those aren't BMW"s 'core', odd-numbered models, so they don't really count.
Right then, let's break down the 118i. It's essentially the five-door hatchback fraternal twin to the four-door notchback 218i Gran Coupe we drove last week. The only difference between the two cars being the 118i has a 380-litre boot over the 218i Gran Coupe's 430-litre capacity, with the lesser 50 litres in the former offset by the cavernous load aperture afforded by its hatchback tailgate.
Elsewhere, everything else is identical. From the 140hp, 1.5-litre three-cylinder/seven-speed dual-clutch powertrain combo, to the equipment you get. As with the 218i Gran Coupe, the 118i in M Sport trim attracts a SGD3,000 premium, which we think is well worth it for what you get (see just below for a more comprehensive list).
You even get the same lumpy ride as you do with the lowered M Sport suspension, which brings benefits when flinging the car around, but for regular cruising around, not so much.
Oddly enough, in light of that, we found it best to drive when the drive mode was set to Sport. Ordinarily, this is something we'd recommend against, given how those modes add hair-trigger sensitivity to the throttle.
However, with the 118i in its default Comfort setting, the unbearably long throttle and transmission's tendency to upshift too early makes for decidedly slow progress. Even the easiest of overtaking spurts requires working the throttle through a quarter of its travel before a kickdown occurs. And considering the nature of city traffic, that could mean the difference between an successful overtake and being stuck behind slow traffic for another agonising minute.
But, we're fully prepared to admit, these are possibly questions a vast majority of its potential buyers will never ask. At the 1 Series' launch in Munich, we were told key improvements buyers wanted in the new model was a bigger boot, more rear legroom, things that its new front-driven architecture has seen to… and for some reason, bigger exhaust tips.
Happily, the new 1 Series checks all those boxes. Unfortunately, this means the 118i isn't quite the Ultimate Driving Machine anymore, more's the pity for purists.
But for everyone else, well.
Price: SGD144,888 with COE
10-word review: Not the Ultimate Driving Machine anymore, but it doesn't matter.
---
BMW 218i Gran Coupe
On the surface of things, given its 2 Series badge, you might be thinking this is a four-door variant of the 2 Series Coupe/Convertible. And you would be wrong. The other members of the 2 Series family are built on rear-wheel-drive platforms, while this is built on front-wheel-drive architecture like the new 1 Series. And you gotta admit, calling this the 1 Series Sedan doesn't quite have the same ring to it, does it.
So, anyway, whatever. Whichever way you look at it, what you're getting for your SGD160,888 (including a SGD3,000 upcharge for the M Sport variant over the Luxury one) is the cheapest route to four-door BMW ownership here. It does carry a SGD13,000 premium over a comparable 118i hatchback, but for some members of the car-buying public here, having a boot is a Big Deal, the key differentiator between a premium car and a not-so-premium one.
Appropriate, then, that the 218i Gran Coupe is plenty premium. In M Sport trim, you get two-tone 18-inch wheels, uprated suspension, a sporty bodykit, thick-rimmed steering wheel and suede/fabric seats. This is in addition to the standard-fit LED headlights, autonomous parking, digital instrument cluster, a touchscreen infotainment system and interior ambient light with illuminated trim strips.
This gets it perilously close to the other bookend of the BMW four-door lineup, the SGD721,888 autobahn cruise missile that is the M8 Competition Gran Coupe.
… Except for the speed part. While the M8 gets a 625hp, twin-turbo V8, the 218i gets a 1.5-litre three-cylinder with 140hp. The century sprint takes 8.7 seconds and if we're being harsh, it does feel a mite slow. This lack of speed can be tempered somewhat by burying the throttle in the carpets, but it doesn't exactly make a nice noise while doing so, and the vibrations from the little engine that could can get a little intrusive.
On the bright side, its chassis really is rather brilliant, even if the motor can't quite keep up. Its helm, as with its equipment list, is far better than any car in its segment has a right to being. It changes direction with hot hatchback eagerness and it has big car levels of poise on the highways. The only downside is the stiffened suspension on M Sport cars adds an unwelcome lumpiness to its ride.
Downsides? Well, the pert notchback with its kicked-up rump works well on a bigger car like its 8 Series stablemate, but on a car as small as this, it makes the car look stumpy from certain angles.
Still, if we're quibbling about this, you know we're reaching. BMW has served up yet another winner.
Price: SGD160,888 with COE
10-word review: It's the cheapest way to own a four-door BMW.
---
Porsche Cayenne Coupe
Whether the Cayenne Coupe makes a good purchase or not really depends what sort of automotive buying values you hold dear.
For example, whether your car looks best in loud colours. The colour our tester came in, and the colour featured in the Cayenne Coupe's press materials is called Lava Orange and yes, it's just as loud and borderline obnoxious as it sounds—a rich shade of orangey-red more suited to supercars than a slab-sided SUV masquerading as one.
Of course, you'll be forking over nearly SGD10,000 for the orange privilege, but such is the nature of the beast when buying a Porsche. It's a luxury item, what did you expect? You don't see people complaining about a tiny, limited-edition Dior x Rimowa case that costs more than the latter's biggest luggage do you?
Anyway, what we said earlier about the Cayenne Coupe being an ersatz sports car was a little harsh, because no matter how cynical you are about SUVs, its handling is phenomenally good, which is handy if that's the sort of thing you're looking for in a car.
It handles even better than the standard Cayenne, which itself is no slouch. The Cayenne Coupe isn't just good for an SUV, it's good full stop. So good in fact, you might be forgiven for mistaking it for one of those low-slung sports cars.
And bearing in mind the variant we drove was 'just' the base model, not the flame-spitting 550hp monster that is the Cayenne Turbo Coupe. What we drove was one equipped with a 3-litre, twin-turbo V6 that develops 340hp that gets it from 0-100km/h in six seconds.
It's pretty middling figures in the modern context, but with that engine hooked up one of the best transmissions (an eight-speed automatic 'box) and all-wheel-drive systems in the business, it feels so much quicker than that.
But it's the way the Cayenne Coupe goes round corners that's the real star here. You'll be able to casually pull 1g without too many issues, which is highly creditable in any car, but when you consider the car doing the puling is a leviathan nearly 5m long, 1.7m tall and tipping the scales at just over two tonnes, it's uncanny. And the car we drove didn't even come with the optional all-wheel-steering pack, which should elevate its handling to otherworldly levels.
Well, perhaps it's not all down to the Cayenne Coupe's natural balance, 20mm lower roofline and 18mm wider rear haunches. It might be also due to the SGD53,749 Lightweight Sports package, which features items like an Alcantara/carbon fibre interior (nice), forged 22-inch matte-anthracite wheels (mmmhmm) and scalloped carbon fibre roof (goodness me, yes!).
The fancy interior trim is frippery, we'll admit, but the wheels, with their lightweight forged nature and meaty 285-section rubber, plus the lighter roof that lowers the car's centre of gravity brings some real performance benefits.
Naturally, at this point, you'd be wondering what the point of the car is, and more importantly who it's for. If it's absolute practicality you're after, you're better off with the regular Cayenne, and if you prize sportiness, there's always that evergreen stalwart, the 911.
On the surface of things, the Cayenne Coupe is compromised and more expensive than the Cayenne, to boot. But if you look at it from a glass-half-full perspective—and you'd have to in order to make sense of it—the Cayenne Coupe is a remarkable thing, a large SUV that performs as well as a sports car.
And oh yes, it looks pretty spiffy in orange.
Price: SGD360,188 without COE and without options
10-word review: This Cayenne gives sports cars a run for their money.
---
Hyundai Ioniq Electric
For starters, it looks different-ish. The sheetmetal is identical to the outgoing model, but now you get a full bank of LED headlights and the shape of the daytime running lights are different as well, adopting a chevron motif. Also, the blanked-out grille now has an embossed pattern, replacing the completely smooth (and mildly disturbing) one from before.
In addition to that, the new Ioniq Electric solves one of our biggest bugbears about the preceding model—namely, an infotainment system that looks and feels like it's come out of the mid-2000s with its grainy, dated graphics and slow-witted touchscreen and the small-ish 200km-or-so range.
It's solved the latter by almost completely reworking the centre stack. The infotainment display is now a free-standing 8-inch screen (far larger than the titchy 5-inch one from before), the entire user interface has been given a modern overhaul and most of the physical buttons/knobs have been replaced with touch-sensitive ones.
Hyundai have also somehow managed to solve the age-old Korean automaker problem of having a less-than-ideal new car smell, with the new Ioniq Electric smelling pleasantly musky of leather, instead of the acrid odour of plastics and glue. In other words, the new Ioniq Electric's cabin is dripping in quality and—pardon us for getting too technical—fully loaded.
It's now got adaptive cruise control that even helps you out in stop-and-go traffic, an active lane-keeping assistant that gently pulls the steering wheel to keep you in your lane and the all-important ventilated seats that your overheated bum will most certainly be grateful for.
As for the range issue, the Ioniq Electric now has a 36 percent larger battery pack with a claimed range of 311km, which is a fairly huge jump, that should see you go a week or so in between charges.
And that's just the tangible changes on its specs sheet. The new Ioniq Electric handles with more neutrality than before, riding lighter on its feet and doing away with the sort of bottom-heaviness that plagued its predecessor. This is all in spite of the larger battery pack incurring the new model an almost 100kg weight penalty over its forebear.
We can completely understand if you wanted to drive it like your bottom is ablaze—and its beefy glut of always-on electric torque is quite the enabler in that regard—but a far, far more entertaining pursuit is to see how much range you squeeze out of its 38.3kWh battery pack. Then there's the "eco contribution" screen that shows you how much CO2 you've saved against a comparable petrol car that guilt trips you into thinking about the emaciated polar bears in Antarctica. But anyway.
If you don't feel like playing games while driving, deactivate half your brain and activate the adaptive cruise control to let the car do most of the driving. Which if we might say, works exceptionally well. Even with vehicles filtering in/out of your lane on the highways or with the ebb/flow of city driving, the system performs all acceleration/braking in an extremely smooth, natural manner. Better than most drivers we know, at any rate.
With that, it seems there's nothing standing between the Ioniq Electric and absolute dominance in its class. It has refinement to match luxury limousines with comparable levels of equipment and the sort of in-gear acceleration that would worry some sports cars.
Or is there?
Well, at SGD151,999 the Ioniq Electric costs around 40 percent more than the comparable Ioniq Hybrid. And the Ioniq Electric also costs nearly double (SGD1,306 versus SGD740) in annual road tax against its hybrid counterpart.
Come 2021, that punitive road tax is set to come down, and who knows what the else future will hold when it comes to tax breaks for electric cars and disincentives for combustion cars.
One thing we do know for certain, however, the Ioniq Electric is a towering achievement for Hyundai in how rounded it is. And not least for moving the game so far ahead in a segment once held in death grip by the Japanese.
Not exactly unlike TVs and phones, then…
Price: SGD151,999 with COE
10-word review: The Ioniq Electric is remarkably complete, on almost every level.
---
Mini Cooper S Clubman
Oh, and before we begin to talk about what the facelifted Clubman is like, we need to talk about its new daytime running lights, which are now fully circular (well, more elliptical, but let's not split hairs here). And by fully, we mean an unbroken, complete circle. Like what the Circle Line will be when it's completed, because now it's a circle, but only in the wabi-sabi sense of the word.
Since we're on the topic of wabi-sabi, the current-generation Clubman does away with the Clubdoor, a reverse-hinged half-door found only on the driver's side. The model's other big quirk, a barn door-style tailgate is carried over from before, though we don't recall it swinging open with quite such gusto before. Care should be taken when popping the boot, in order to avoid adding some wabi-sabi to your new Mini in the form of a ding, or giving an innocent bystander a very wabi-sabi black eye.
Then there are the usual Clubman ergonomics foibles, in how there's compromised rearward visibility. The barn door tailgate, while adding plenty of pizzazz, also adds a giant black bar bisecting the rear windscreen. And it's not like the view out the Clubman's rear windows are particularly panoramic to begin with…
Thankfully, it's all uphill from here. The blocky profile recalls the original Mini Traveller of the 1960s and from the B-pillars onward, the tail section looks grafted on. This is normally a bad thing, but in the Clubman's case, it's good, because heritage.
What this brings to the Clubman is practicality, in the form of a rear bench that can comfortably accommodate fully-grown humans and a (360-litre) boot that can swallow more than a couple of overnight bags. Sure, you could get that—and then some—in a Countryman as well, but which would you rather have? Another ho-hum compact crossover or this adorably oddball station wagon thing here?
And it's also pretty quick. As before, the Cooper S variant of the Clubman comes packing a 2-litre engine with 192hp, getting it from rest to 100km/h in 7.2 seconds. It's not quite as nippy as the 'regular' Mini hatchback, though it's not so much the 175kg weight penalty the Clubman incurs.
It's that the front and rear of the car seems to want to be doing different things. The helm is whipcrack-quick, as you'd expect, but it takes a few seconds for the rear to catch up. It's not entirely unlike driving a train. In all fairness, though, it's probably only something the most nitpicky would, um, pick up on.
But supposing you can get past that, and the poor rearward visibility, you'll find that the Clubman is easily the most charming, most Mini thing (not referring to its size, because all modern Minis are more Maxi than anything… *Shakespeare comedy laugh*) that Mini makes today.
Price: SGD157,888 with COE
10-word review: The Clubman is proof Minis can be quirky and practical.
---
Mercedes-Benz GLC 300
Mercedes' mid-sized SUV has received a facelift… apparently. Or so the press materials say, anyway. There's also allegedly a new grille, and new front/rear bumpers. We've been staring at pictures of the updated model and its predecessor for a good 10 minutes and we still can't tell them apart.
But surely it must look different on the inside, then? After all, Mercedes-Benz is touting a new all-digital instrument cluster and wholly revamped infotainment system that can be controlled with a touchpad or by interacting directly with the screen.
As with the exterior, the updated GLC's cockpit is different. With the small caveat that you'd have to be the hardest of hardcore Mercedes-Benz fanboys/fangirls to spot it.
There's even a new engine too, with a brand-new internal model code (the M264 replaces the M274, don't ask us why the lower number is the more advanced engine). Mercedes-Benz says that the new motor not only has lower emissions and fuel consumption, it's also more powerful. Again, the caveat here is the increase is marginal, to the tune of 13hp, for a new total of 258hp in the GLC 300 variant.
If you're disappointed the changes aren't exactly tangible and are understandably disappointed, we don't blame you. Even by the standards of how mid-life facelifts are usually mild, the changes to the GLC are infinitesimally small.
But you know what they say about not fixing what isn't broken, because the GLC is as solid and inoffensive as it's ever been. In all fairness, it's got a far narrower dynamic range than, say an Audi Q5 or a BMW X3, but the GLC trumps them both for refinement.
The (slightly slushy) nine-speed automatic slurs shifts to the point of imperceptibility, and coupled with its ability to keep revs to just under 1,500rpm while cruising and the car's inherent mechanical and aural refinement, it's more than likely you'll be asking questions like "is this thing on" while driving.
… Which almost makes the borderline worrying amounts of pitch and roll forgivable. It's sure to be a bit too middle-of-the-road for some, but that's precisely why one would buy a GLC then, and for that matter, now. If good looks, refinement, solid build quality and the siren call of the three-pointed star adorning its grille are top SUV-buying priorities, then you wouldn't go too far with this one.
In short, it's the same story as it was in 2017 when the GLC first made its appearance here. And if you really sat down to think about it, perhaps that's no bad thing.
Price: SGD241,888 with COE
10-word review: Not the most exciting choice, but possibly the most refined.
---
Jaguar F-Pace SVR
It's difficult to talk about good value, considering how much cars cost here, but let's put that figure in context, shall we?
That money might get you an Audi Q8, but only in mid-range 3.0 TFSI form. The BMW X5 M50i is almost SGD100,000 dearer, and that's not even a full-fat M car. The Mercedes-AMG GLE43 Coupe costs roughly the same, but again, you're not getting the fire-breathing GLE63 variant.
With the Jaguar, you're getting a car about as full-fat as full-fat can get. We're talking Wagyu territory with a nice bottle of Daiginjo sake on the side sort of full-fat. 22-inch black alloys, a sports exhaust system, fabulous thin-backed bucket seats and of course, the aforementioned 550hp, 5-litre supercharged V8.
On paper, the F-Pace SVR simply can't be beat. Expensive, yes, considering the other F-Pace on sale here starts from SGD250,999. However, in that car, you're going to have to deal with half the cylinder count, half the power and you're certainly not getting those monster wheels.
In short, you're not going to find any other car on the market that accelerates this hard (0-100km/h in 4.3 seconds), has this much power and sounds as nice with its throaty, baritone V8.
Naturally, there are some tradeoffs to be made. Your road tax is going to be an unholy SGD5,514 annually and that V8 has quite the unholy thirst for petrol, at 11.9L/100km. And you'll also have to deal with a ride that's a mite too stiff (exacerbated by those big wheels we talked about earlier), a nose that's a touch too heavy (that big V8 is to blame here) and the sense that it doesn't corner quite as confidently as Jaguar's press materials might proclaim.
Still, we challenge you to find us a car that put such a stupid grin on your face each time you mash the throttle and see anything short of a dyed-in-the-wool sports car rapidly disappear in the mirrors.
Go on, we'll wait.
Price: SGD388,999 with COE
10-word review: Stupendously good value, with a serious sting in its tail.
---
Kia Niro Electric
However good though the electric Niro is, you really can't get around its sky-high purchase price and its annual road tax premium. To wit, SGD193,999 (exclusive of any dealer rebates and discounts) and SGD2,246 respectively. It's got the performance of a hot hatchback, so it should also be priced like one, right?
Though those huge numbers are pretty understandable. An EV usually costs more than its conventionally-powered counterpart (the hybrid Niro starts from a comparatively paltry SGD117,999) and since the powers that be don't want to show preference to any fuel type, this Niro is saddled with said road tax bill, which is based on its power output.
So, just what else could you get for roughly the same money? How about a BMW 320i or a Mercedes-Benz C180? Incidentally, the Niro Electric's road tax is equivalent to that of a 3-litre petrol car, so make of that what you will.
Anyway, and apparently, the Niro Electric isn't meant to be bought by the sort of filthy casuals who only buy one car at a time. That is to say, consumers, and it's more intended for fleet sales.
That aside, it's a seriously good car, a shining tower to how far Korean carmakers have come. There's still an odd plasticky smell in the cabin, but then again engineering a nice New Car Smell is frivolity they can't quite afford yet.
Aside from that, the Niro Electric has got a plethora of little touches that make driving it such a pleasant experience, the biggest thing being its quietness. As with all electric cars, you never realise how much vibrations and noise a regular car produces until you drive one powered by electrons. It makes even the most luxo of luxo-barges feel like a rattling tractor.
There's also the instant-on urge of its electric motor's 395Nm, of course, but also a 'live' remaining range gauge that's surprisingly accurate.
Tweaking the air-conditioning down a degree or so, or turning it off for the passenger side will give you several kilometres more range, which is nice. There's a huge wireless phone charging tray in the centre stack, too. And ventilated seats, which should prove a treat on hot days.
For all the things the Niro Electric does right, it also does a few things… oddly, though it's something shared by most electric cars in its segment. You see, even the most mundane of modern electric cars are brisk, and when you have a drivetrain of a hot hatchback with the chassis of a workaday people-mover, there's bound to be some weirdness. In that should you try to treat it roughly, you're going to be in for quite a rude shock.
In a nutshell, good car, but at a stratospheric price, given its badge.
Price: SGD193,999 with COE
10-word review: Another hit from Kia, but it's hamstrung by its price.
---
Lexus RX 350L
If you can spot the new grille design on the RX 350, plus front and rear bumpers, you get a no-prize prize. Bonus points if you can tell the refreshed RX 350 has added chassis reinforcement measures (increased use of high-strength adhesives, hollow anti-roll bars, stiffer hub carriers and all that good stuff) and its dampers' new valving. That's our little joke, in case you can't tell.
Anyway, what you will be able to notice is how updates to Lexus' largest SUV sold here is how the infotainment system's hardware has been upgraded to include both trackpad and touchscreen inputs. The system itself is still fairly clunky to use and the graphics aren't as modern as what you find on some other carmakers' products, but this is a Traditional Lexus bought by Traditional Lexus People.
That is to say, people who like their SUVs big, comfy and that's it. And if it has big, soft leather seats that have bum coolers as standard, then so much the better. If said SUV can transport seven (though to be fair, the third row is best used for short journeys and/or children) and can sneak in under the SGD300,000 mark, then that's perfection.
But, but. What about the tweaks to the power steering for more accuracy, uprated dampers and presence of the new Active Cornering Assist system (that brakes the inside wheel while cornering to quell understeer), then? Truth be told, we didn't really feel the added positivity in the handling department.
It's a bit of an odd feeling, really. The RX 350L's body is super stiff, but its lower half is super pillowy. Like a block of granite perched atop a bouncy castle. Which is fairly alarming in and of itself, but even more so when you consider how keen the powertrain is.
Its 3.5-litre V6 with 289hp and 8.1 seconds to do the century sprint doesn't seem like a whole lot, but the RX 350L makes the most of it, because it's surprisingly peppy… even if the engine makes a noise not entirely unlike a vacuum cleaner.
That said, and after hearing the tyres scrubbing way, way too early through a bend, it got us thinking. Maybe we're doing this all wrong. Maybe driving the doors off the RX 350L is missing the point of the thing somewhat. So, we cranked down the aggression and cranked up the air-conditioning, which if you hit the appropriate button on the centre console, also sends a cool breeze up your saddlery regions. Bliss.
And then the RX 350L started to make a whole lot more sense.
Price: SGD292,800 with COE
10-word review: Large and very much in charge… but gently does it.
---
Lamborghini Huracan Evo Spyder
The Huracan Evo Spyder, as its name suggests, is an evolution of the original Huracan Spyder, and not an all-new model. If you want to be crass about it, you could call it a facelift, but that would be selling the sports car short. Not least because the Huracan Evo Spyder represents quite a comprehensive refresh of the 2016 original.
The biggest news here is the addition of the engine from the Huracan Performante track weapon. The 5.2-litre V10 now produces 640hp (up 30hp from before), with race-inspired exotica such as titanium intake valves and a lighter, high-mounted exhaust system.
Its electronics also get a boost, with the LDVI (long, complicated Italian acronym, but essentially the car's digital brain) now able to intelligently predict the driving situation ahead and set the car up accordingly, including for stuff like drifts. If we're being honest, we couldn't feel the systems at work, which either means that it's: A) Working As Intended or B) We're Too Crap.
Anyway, for all its supposed lunacy (0-100km/h in 3.1 seconds, 0-200km/h in 9.3 seconds, 325km/h top speed) plus brash styling within and without, the Huracan Evo—like the Huracan before it, and completely unlike the Aventador—is a Lamborghini of the new school.
That is to say, it's completely un-intimidating and an absolute doddle to drive at any speed. Visibility is great (and it's not just because this Huracan Evo doesn't have a roof), there's plenty of space in the cabin and the compact dimensions mean it's remarkably easy to thread around town.
And if you stick it in Strada (street) mode, the Huracan Evo is quite the pussycat. The throttle is long, the dual-clutch gearbox has CVT levels of smoothness and the steering fingertip-light. Heck, even the engine quiets down to a point you can barely hear it. Don't take our word for it—ask the disappointed Italian villager who asked us to gun the engine while going past and receiving barely a poot in return.
Suffice it to say, Corsa (race) turns the Huracan Evo into an absolute beast, with the soundtrack to match. The engine howls like a banshee, gearshifts are accompanied with a small punt in the neighbourhood of your kidneys and the steering weights up to borderline obnoxious levels.
Underpinning all that is the malleability and neutrality of the chassis, and the sensation that no matter what you do to the Huracan Evo, it just isn't in its nature to bite back. Whether driving it fast or slow, the Huracan Evo is no more terrifying than any workaday hatchback.
In other words, it's perfect.
On the other hand, it also means that the Huracan Evo feels far, far less special than an Aventador—its performance too accessible and it's all too easy to reap the rewards without any real consequences.
Of course, we can also concede not every driver is interested in having a close encounter of the tree kind every time they get behind the wheel of their million-dollar sports car. Perhaps what they really want is a car that looks the part of said million-dollar sports car and makes a seven-figure noise to go along with its looks.
Perhaps not the perfect sports car for the purist, but for everyone else, well.
Price: SGD1,058,000 without COE, without options
10-word review: Sweet or nasty as you like, this does it all.
---
BMW Z4 M40i
The first thing that you'll notice about the new BMW Z4 is how good looking it is. The long bonnet, cab-rearward silhouette and short rump of the Z4 has the sort of swoonsome, classical proportions that can trace its lineage back to such all-time greats as the 507 and its retro-inspired, limited-run spiritual successor the Z8.
Look us in the eye and tell us that the juxtaposition of the angular/curvy bits of the swage line that flows up into its shoulderline doesn't make your heart beat a little faster. Or the integrated ducktail spoiler sculpted with its bootlid. The Z4 is an anomaly among modern cars in that it's remarkably photogenic—it's not colour-dependant, nor does it seem to have a bad angle.
Granted, the styling of the M Sport front and rear bumpers (standard on the M40i we drove) are fussy, but let's not throw the baby out with the bathwater, right?
Whatever your opinion of the M Sport bodykit is, it certainly does imply the Z4 has plenty of go, which incidentally is a trait shared with its soft-top, that takes just 10 seconds to deploy/stow, at speeds of up to 50km/h.
And the Z4 does indeed have some go. A 3-litre straight-six delivers 340hp and a 0-100km/h dash time of 4.5 seconds. Numbers that are high enough to keep things interesting, but not high enough that it'll scare you silly. Its chassis is also lithe, keen and the porkiness that so afflicted its predecessor is conspicuously missing.
Oddly enough, both cars are virtually identical weight-wise, tipping the scales at just over 1,535kg. Perhaps the lower centre of gravity afforded by the soft-top is at play here. The new soft-top also brings about other benefits in that it takes up less space in the boot, with the new Z4 having 50 percent more luggage space, at 281 litres.
There's very little not to like about the new Z4, then, unless you're one of those drivers that demands this nebulous thing called soul. In which case, you might find the Z4 somewhat wanting. Its personality is too stoic, too Teutonic. Even if you're grinning madly from hurling around corners, the Z4 doesn't give the same impression it's having as much fun as you are.
Still, the new Z4 is the best one ever. The first one was kinda ugly, the second one kinda fat and this one, well, it's just right. The new Z4 has just the right balance of show and go, or in other words, the sort of roadster you always wanted but BMW never really delivered on.
Up until now, that is.
Price: SGD344,888 with COE, without options
10-word review: Third time lucky, the third-generation Z4 finally nails it.
---
Mercedes-Benz CLA200 Coupe
There are a few reasons we can think of that someone would get a Mercedes-Benz CLA-Class over the cheaper A-Class Saloon. And chief among those reasons is the way the former looks. Where the current A-Class Saloon (and indeed, this CLA's immediate predecessor) can look stumpy from certain angles, the new CLA-Class is long, low and sleek.
Not entirely unlike its bigger brother, the CLS-Class, which incidentally is the progenitor of the four-door coupe bodystyle. Incidentally again, according to an apocryphal story told to us by a Mercedes-Benz executive years ago, the sole reason why people got the first-generation CLS was because of the way it looked.
Anyway, the new CLA. It's longer and better-proportioned than before, and most importantly, it's lost its forebear's droopy rear. The new car gets a perkier behind, and it's a rear end topped off with an angular, dagger-like taillight cluster.
The good news continues to its interior, where the new CLA gets an absolutely top-notch interior. Quality is sky-high and aside from some matte black toggle switches for the HVAC system, you'd be hard-pressed to tell you're in what is nominally an entry-level car.
Equipment levels, too, are sky-high. There's a 64-colour interior ambient lighting system, and if you so chose, can have it in a lurid neon magenta, or make your new CLA do its best impression of the Aurora Borealis. The dashboard and touchscreen infotainment system comprise a pair of dashboard-spanning 10.25-inch screens, along with standard fitment of sports seats and a reverse camera.
Hand over SGD6,200 more and Mercedes-Benz will give you a bunch of Mercedes-AMG goodies including a racy bodykit, two-tone 18-inch alloys, rubber-studded aluminium pedals and a flat-bottomed steering wheel.
And if you're wondering if the tiny 1.3-litre engine can cut the mustard, wonder no more because it's remarkably peppy. It has 163hp and the 0-100km/h sprint is taken care of in 8.2 seconds. Not searing figures, but the powertrain's effervescent personality is one that just begs for a thrashing.
So, the new CLA looks better, is better built and is better equipped than it ever was. Case closed, start whipping out your chequebooks.
But we'd advise caution before handing over your hard-earned dollars, because apart from the not-insignificant premium you're paying over the A-Class Saloon, the CLA makes some sacrifices in the pursuit of its sportier engineering brief. And the first of those sacrifices comes in the form of refinement.
We don't recall the engine, used ubiquitously throughout the Mercedes-Benz lineup, ever being this buzzy. Also, the ride is almost unbearably clattery and the way sharp bumps echo with a hollow thump through the cabin is jarring. Perhaps it's a factor of how quiet it is in general that amplifies every unwanted noise, but there you go.
It's far from being a deal-breaker, but one can't help but wonder if the CLA couldn't have benefited from being softer and more languid. After all, going back to what we said right at the start, we doubt too many of its prospective buyers out for an A-Class Saloon with more visual oomph would complain…
Price: SGD182,888 with COE, without options
10-word review: Exterior and interior ooze class, but the ride less so.
---
Jaguar Vision Gran Turismo Coupe
Come to Tokyo, Jaguar said. Come see the car we're about to launch and speak to our head of design, Julian Thomson, they said.
While Thomson was real enough (we like to think so, anyway), the first concept car he's launched as the British carmaker's newly-minted design chief was about as real as the Loch Ness Monster, a car that is cheap, fun and fast, and true love.
You see, the Jaguar concept car, launched to great fanfare on the fringes of the Tokyo Motor Show, doesn't exist in real life, and barring the carmaker building a model of the thing, will only exist within the Gran Turismo Sport video game.
And we got our grubby (virtual) mitts on it before it's officially released to the public at the end of November.
And we got to drive it (badly) on the virtual tarmac of Circuit de la Sarthe, the home of the Le Mans endurance race, Jaguar's spiritual home and where the legends of the C-Type and D-Type race cars were forged.
Suffice it to say, the new Jaguar Vision GT Coupe is quite the departure from those classic endurance racers and quite a departure too from its last supercar concept, the C-X75. According to Thomson, the team toyed about with created a cab-forward, mid-engined concept, but eventually settled on the long-bonnet, cab-rearward profile because it was more British, more Jaguar and more distinctive.
So, just what does an electric hypercar with three electric motors, 1,020hp, 1,200Nm, movable aero bits and a century sprint time of "less than two seconds" feel like to drive?
If we're being completely honest, it's hard to say. Not just because we were driving it like complete amateurs (next to the pro-am racers who drove it at an exhibition race just following the concept's reveal), but more because there's very little tactile feedback from g-forces, the feel of the pedals underneath your feet and from your own built-in accelerometer located somewhere just above your bum.
What we can say is the Jaguar concept car displays a slight tendency toward understeer and despite an electric motor powering each rear wheel, it's really hard to provoke it into a slide, though that's also possibly a factor of the car being so long and wide.
What we can also tell you is the car is absolutely bonkers quick in a straight line. There's no wheelspin even if you floor the throttle from a standstill, and all you get is acceleration, and lots of it.
Also, speed. The way the Jaguar accrues and holds onto speed is, well, electric. We don't recall the 6km length of the Mulsanne Straight being quite so short, for instance.
Thomson was coy about how much of the Jaguar Vision GT Coupe would translate into future cars, but we think we can all agree what the world needs right now is a Jaguar hypercar that looks like an F-Type on crack.
Price: From SGD 28.90 (the price of Gran Turismo Sport, excluding a PS4 console)
10-word review: Stunning looks and electric performance, Jaguar dares to dream big.
---
Porsche 911 Carrera 4S
Porsche is like Apple. No, not the fruit, but the people that make the iPhone, in that both companies are absolute masters at inducing a syndrome we've come to term Upgrade FOMO.
And frankly, Porsche and Apple have elevated it to an art form. One of the keys to inducing Upgrade FOMO is you make incremental, yet tangible and palpable improvements to your product between model generations to make your current customers go, "man, wouldn't life be so much better if I upgraded".
Okay, let's start with the way the new 911 looks. To the untrained eye, it looks the same as it ever did. And by that we mean since almost six decades ago when the 911 first appeared in 1963. But place the new 911 against its immediate predecessor and you'll see the new car looks significantly beefier, has cleaner, more resolved lines and has just that much more road presence.
It would amaze you to learn that, in spite of the added visual heft, the new 911, in Carrera 4S form as tested, has exactly the same overall width as its predecessor and is only marginally longer, with most of the gains achieved through visual trickery.
There's a new full-width rear light bar and rear spoiler, along with bigger-bore exhaust tips to better accentuate the 911's ample hips, to us one of its best visual features. All of which conspire to make the previous 911 look a bit, dare we say it, reedy and rough around the edges. It was the same story with the seventh-generation car, the sixth, the fifth and so on.
And if that isn't enough to trigger your Upgrade FOMO, wait until you step inside the new model—with the internal model code of 992, if you're wondering. The older 911 was no slouch in that department, but hoo boy, does the new car blow that one out of the water.
It's got a new digital instrument cluster (save for an analogue rev counter kept around for heritage reasons), flush-fitted central infotainment display and 'black panel' centre console. Quality, of course, is beyond reproach and crucially, it's just that little bit better than before.
There'a also little things like the floating gearlever mount and steering wheel controls. Finally, the
piece de resistance: the new door bins that now deeper, wider and—praise all that is holy—will now accept a 500ml water bottle with ease.
All that before you've even fired up the thing. Once you do, expect fireworks. The new model in Carrera 4S trim has a 3-litre, twin-turbo flat-six that serves up 450hp and will get from 0-100km/hr in as quick as 3.4 seconds. That means the 911 is now stupidly quick, considering those numbers from a range-topping 911 Turbo S from just 14 years ago.
The new 911 is also as surefooted as you like, all thanks to meatier tyres and reworked engine mounts that move the car's centre of gravity even further forward than previously. It's nigh-on impossible to upset the car on public roads, and you'll either need a race track or a death wish (or perhaps a combination of the two) to even come close to the new 911's limits.
But the real key to Upgrade FOMO, Porsche-style is how one can't shake the feeling it gimps some standard items ever so slightly, which have the effect of making optional extras that much more appealing.
Like, do you really want those standard wheels when you could have some gorgeous RS Spyder alloys? Similarly, why would you not want to pay Apple the almost-50 percent premium it's asking for the iPhone 11 Pro over the standard iPhone 11? Do you not want an OLED display and an extra telephoto lens?
Suffice it to say, all that comes at a cost. In all fairness, you certainly don't need the optional wheels. Neither do you need the sports exhaust system, adaptive dampers, adaptive roll bars and rear-wheel-steering system that cost a combined total of SGD36,655. Our test car had just over SGD100,000 worth of options on it, bringing its total price with COE to almost SGD750,000.
We'd imagine the new 911 would be fine without all the above, and you certainly could live with a regular iPhone 11, but again, "man, wouldn't life be so much better if I had it". And we assure you, once you've tried a 911 with those items specced, it'll take all the willpower you have to resist checking those boxes off.
If it seems like we're complaining about the new car, we're not. As with the iPhone 11, the eighth-generation Porsche 911 is the most rounded, most complete product both companies have ever made. In short, the best it's ever been.
The new 911 is the product of nearly six decades of incremental improvement, and those things add up. It has the assured poise of a sports car, the easy grace of a grand tourer and the blinding pace of a supercar. More than all that, the new 911 does just enough to make you go, "man, wouldn't life be so much better if I traded in my old 911 and bought the new one".
Price: SGD584,088 without COE, without options
10-word review: Segment leader by a mile, in quality, performance and price.
---
Volkswagen Touareg
The first-generation Touareg, launched in 2002, was a joint project between Audi, VW and Porsche. And we don't need to tell you how important the Q7 and Cayenne was—and still is—to Audi's and Porsche's bottom line respectively. If you ask us, that's the starting point for the current SUV/crossover boom that we're still experiencing now.
The third-generation car is no less important, and the Touareg shares its platform with such cars as the aforementioned Audi and Porsche, along with the crushing luxury that is the Bentley Bentayga and the crushing speed of the Lamborghini Urus.
However, the new Touareg can stand proud, because it's finally, finally stepped out of the shadows of its more illustrious siblings, bringing (pardon the hackneyed phrase) a truly luxury experience to the mass-market segment. Just like what the seventh-generation Golf did, really…
At any rate, step into the Touareg's cabin and were you to discount its badge, you'd swear it has quality on par with any other luxury carmaker, including the more illustrious members of the VW Group. The instrument cluster is fully digital there's no way you'll be able to miss the monster 15-inch central display. It's a touchscreen, of course, and it's canted towards the driver for that added 'driver-focused' pizazz. Other goodies include interior ambient lighting strips and front seats with integrated bum coolers and a massage function
But more than the bells and whistles is how said bells and whistles fit together. The graphics displayed on all screens are crisp, and their responses, whether to touch or screen refresh rate is similarly crisp. Then there's that monolith of a gearlever and the pleasing, well-damped click of all its switchgear. You'll find yourself pushing buttons and yanking the Touareg's gearlever simply because it's so satisfying to do so.
And the Touareg's ride is similarly sophisticated—figuratively and literally. All local Touaregs will come with a 3-litre turbocharged V6 with 340hp/450Nm hooked up to a buttery eight-speeder auto. That drivetrain is just dreamy, imbuing the big SUV with the sort of loping, long-legged gait a big luxury car should have.
Underpinning that figurative sophistication is an adaptive air suspension setup, adaptive all-wheel-drive and all-wheel-steering, meaning the Touareg is not only an adept cruiser, it's also remarkably agile should you decide to drive it hard.
In short, the Touareg is darn near perfect. Like the Golf, it's moved the game so far ahead for full-sized mass-market SUVs, the Touareg is at least a generation ahead of its main rivals. The fact it also has the road presence of a luxury car, what with its blocky sides and razor-sharp character lines is also quite the bonus. Unfortunately, it comes at a price. A literal price.
There's no getting around the fact the new Touareg is expensive. Prices start from SGD291,400 for the Atmosphere and Elegance variants, and the R-Line variant with that clever all-wheel-steering system, adaptive cruise control and autonomous driving in stop-and-go traffic plus others, will run you into SGD323,400.
What this means is VW wants luxury car money for the new Touareg, and considering you could get an Audi Q7 (albeit with a comparatively pokey 2-litre engine) for SGD307,800 or a BMW X5 for SGD343,888, the Touareg is starting to look remarkably pricey.
Whether that's too much money for a VW is entirely dependant on your point of view, but there's no denying the Touareg stands head and shoulders above its segment rivals.
Price: From SGD291,400
10-word review: Segment leader by a mile, in quality, performance and price.
---
Lamborghini Aventador SVJ
The replacement for the V12-powered flagship of the Lamborghini range isn't expected until at least 2022, according to the Internet rumour mill, but when it does arrive, you can pretty much bet it won't be anything like the current Aventador.
Sure, it'll still look wild, as any self-respecting Lamborghini should, but it's a pretty safe bet Sant'Agata is going to tone down its more, shall we say, rougher edges. Things like its borderline homicidal power delivery, lurchy automated manual gearbox, ease ingress/egress, increase its all-round visibility, and as the Sian recently teased, the introduction of some form of hybridisation.
All those things are present in the regular Aventador, but this is the SVJ we're talking about, "the pinnacle of Lamborghini V12 super sports cars". So ahead lies insanity, lots and lots of it. Its 6.5-litre V12 now produces 770hp, which is just 30hp more than the vanilla Aventador S, but if you're quibbling about that, you need professional help.
At any rate, most of the gains in the Aventador SVJ have been made in aerodynamics, not power. To that effect, it has a whole bunch of electronically controlled flaps located throughout its body that can optimise the car's aero setup for high downforce/low drag. The rear wing can even vary the aero between its left and right sides to allow the Aventador SVJ to corner harder.
In theory, this works great… if you spend all your time on the race track. In the real world, the Aventador SVJ is hairy, to say the least. We were cautioned against driving it too hard out the gates in order to let the tyres warm up. Apparently, big power, cold race-grade tyres and a chilly morning do not mix well.
But even with the tyres warmed up, the Aventador SVJ still left us with sweaty palms and an impending sense of doom. Prodding the throttle resulted in a sort of thermonuclear explosion from around 10cm behind our ears and a sensation akin to achieving warp speed in the USS Enterprise.
Add to that how the monster rear wing and wide haunches make it such that visibility from anywhere but out the front is next to nil, though in all fairness, 770hp is about a good a get-out-of-jail card as any. That said, 770hp also a land-yourself-in-a-ditch card, but we digress.
But driving it made us realise exactly why Lamborghini will never make a car like the Aventador ever again. It's way too raw, too brutal, too unforgiving, too easy to trigger a brown alert in your pants, and you never really feel like you're in complete control of the thing. And when that day arrives, it'll be the end of an era. The last car to look and feel as brutal as that raging bull on the Lamborghini badge.
Price: If you have to ask…
10-word review: 770hp of unbridled fury wrapped in one big, green body.
---
BMW X1
If you are of a certain bent (read: purist who grew up with BMWs of the 1980s and 1990s), the X1 is the complete antithesis of what constitutes a 'proper' BMW. It's an SUV, for starters. And even more than that is how the current model, which is fresh from a mid-life update, is a front-wheel-drive car. In fact, it shares its UKL2 mechanical underpinnings with the Mini Countryman.
But you can't argue with success. The world thirsts for SUVs, especially compact ones like the X1, and it cares little for which axle is driven on said compact SUVs. In the first half of 2019, SUVs accounted for 43.3 percent of all BMWs sold and the X1 was the best-selling BMW SUV in 2018, shifting 175,701 units last year. Ostensibly it sold little to none to said purists.
So anyway, the X1 is, as mentioned earlier, the recipient of a facelift. And the mildest of ones, at that. Its front and rear bumpers are re-profiled for more sportiness, the light clusters front and back are new and its kidney grilles are now bigger. That said, it's still nowhere near as big as what's found on the 7 Series and X7 (thankfully).
On the inside, it gets a new 10.25-inch central infotainment display running the latest iDrive software and with touch functionality. The instrument cluster is still analogue, though the "black panel technology" allows it to at least mimic the look of a digital cluster at a glance.
Drive-wise, it's pretty much the X1 that you know and love, though we'd opt out of the adaptive M Sport suspension. Even in Comfort, the ride is fairly choppy, though in all fairness, the back roads around Munich are far from the smoothest and would test any car with even a hint of firmness about its ride.
On the plus side, it's remarkably composed around town, and particularly on the highways. It's exceptionally quiet and unruffled, even at Autobahn speeds that would cause you to lose your license several times over in Singapore.
In short, it's not hard to see why the X1 is doing so well on the sales charts, in that it's everything you could ever want in a compact SUV. It's a bigger car than its compact dimensions would suggest, both in terms of practicality and personality. And perhaps best of all, it has a fairly small price tag. Local prices start from SGD171,888 for the entry-level sDrive18i model, going up to SGD182,888 for the sDrive20i variant with the M Sport exterior styling package.
Price: From SGD171,888
10-word review: When it comes to compact SUVs, X1 marks the spot.
---
Range Rover Sport HST
Normally, a running change to a model hardly brooks mentioning, especially when said model has, in recent years been rendered virtually superfluous by the appearance of the Velar. When the Range Rover Sport first appeared in 2005, it was pitched as a cut-price alternative to the full-fat Range Rover and a more upmarket proposition against the Discovery.
In the latter half of the 2010s (2017, to be specific), the debut of the Velar pretty much made the Range Rover Sport a moot point, what with its rakish, up-to-the-minute styling within and without. Of course, the Range Rover Sport was the only way you could get the SVR, but an equally compelling argument could be made in how a 575hp SUV costing well over SGD600,000 has, shall we say limited appeal.
So here have the Range Rover Sport HST, which rolls in with a brand-new inline-six motor (replacing the V6 from before), along with the twin 10-inch touchscreens that control the HVAC and infotainment functions, some bits of carbon fibre trim for the exterior and and Alcantara upholstery for the steering wheel and gearlever.
Oh, and it's also got a sunroof that has gesture controls. You raise your hand, position it near the physical buttons, flap it around and it opens or closes. Magical. Oddly enough, it's the only thing that's gesture controlled on the car. Oh well, go figure.
Anyway, the car is exactly what you'd want from something with the Range Rover badge—imperious thanks to it riding nearly as high as a medium-sized lorry and refined at speed. It's also punchy, too. The new motor has 400hp/550Nm, and with its new electric supercharger, throttle response is, um, electric. The 2.2-tonne leviathan will get from a standstill to 100km/hr in 5.9 seconds, though it feels a lot more rapid than that, probably down to the effortless, creamy pull of the engine.
That is, if the eight-speed automatic gearbox doesn't get caught out and decides for no reason whatsoever to ponder why or not it should perform a kickdown. The transmission is also fairly jerky at low speed crawling and slowing to a stop sometimes throws up a declutch-reclutch lurch.
Still, that's not enough to warrant it a black mark. In fact, we'd go so far as to say the Range Rover Sport HST is the smartest buy in its class, and though it's far and away the oldest among its rivals (Audi Q7, BMW X5, Lexus RX, Mercedes-Benz GLE), it has aged surprisingly well, apart from the window winder switches.
It's got an alluring blend of road presence, pace, refinement and best of all, a reasonable price tag of SGD382,999, though it's only available on a per-order basis.
Price: SGD382,999
10-word review: On balance, probably the best full-sized luxury SUV around.
---
Mercedes-AMG GT53 4MATIC+ 4-door Coupe
Whatever you do, don't call the (deep breath) Mercedes-AMG GT53 4MATIC+ 4-door Coupe a CLS in a fancier dress, because it's not a CLS in a fancier dress. Much in the same way that Mercedes-Benz will deny that the CLS is an E-Class in a fancy dress, identical wheelbase length of 2,939mm notwithstanding.
At any rate, the second Mercedes-Benz we're driving in a week is the more practical companion to the GT sports car. Yes, you'll have to do without the lightweight spaceframe underpinnings of the two-door GT, and the far greater heft its conventional chassis construction methods plus bigger dimensions that brings.
Measuring over five metres long and tipping the scales at nearly two tonnes, the GT 4-Door can count the Porsche Panamera as one of its key rivals, and like the Porsche, the GT 4-Door is less of a sports car, and more of a 'bahn-storming cruise missile for you and your family.
Yes, it's still plenty rapid, despite the '53' model being the entry-level variant, equipped with a mere 435hp from its 3-litre, turbocharged straight-six. The century sprint happens in 4.5 seconds, and with 520Nm available from just 1,800rpm, it displays the easy, long-legged grace that all good highway rocketships should have.
Show it a set of corners, however, and it all kind of falls apart. Grip is tremendous, as one would expect from a car equipped with ultra-wide tyres and a cutting-edged all-wheel-drive system, but those things can only do so much when trying to wrestle a vehicle of the GT 4-Door's physical stature.
Still, it's horses for courses, especially if your course happens to be languid cruising and not manic bruising. And priced SGD200,000 less than the full-fat '63S' variant, the GT 4-Door here looks like an absolute bargain.
True enough, it's still SGD100,000 more expensive than the CLS53 which is equipped with an identical powertrain, but didn't we just tell you at the start that the Mercedes-AMG GT53 4MATIC+ 4-door Coupe isn't a CLS?
Price: SGD556,888
10-word review: The Mercedes-AMG GT gets more practical, but isn't a CLS.
---
Mercedes-AMG C63 S
It would be unreasonable to expect carmakers to make sweeping changes to its models during a mid-life refresh, but what Mercedes-AMG has (or more accurately, hasn't) done to the C63 S borders on ridiculous. The changes are so blink-and-miss, it makes one wonder why Mercedes-AMG even bothered to refresh it in the first place.
The updated C63 S has—wait for it—a new vertical-slatted grille, front bumper, rear diffuser, tailpipe trim, interior ambient lighting with more colour options, larger main infotainment display screen and digital dashboard. Before we forget, its pièce de résistance, a new steering wheel with rotary driving modes dial and configurable, multi-function 'ears' that work the stability control, exhaust flaps and adaptive suspension, among other things.
There are no changes to the 4-litre twin-turbocharged V8. Power output remains at 510hp, its 0-100km/hr time is also an identical 4.0 seconds, though its gearbox gets two new ratios for a grand total of nine. If you'll allow us one minor gripe, the new nine-speeder, while super direct and whip-crack fast, is lurch-y at low speeds and either shifts up too aggressively in Comfort or stubbornly holds on to gears in Sport.
But who cares, right?
The C63, as it always has been, is a riot. Its engine hits with the force of Thor's hammer, makes a noise like rolling thunder, its chassis is lithe and the fact that it appears to have no more performance potential than a vanilla, entry-level C180 is side-splittingly hilarious.
Perhaps it's appropriate that C63 S' facelift is barely perceptible, because our opinion of it hasn't too. That is, dear lord, we want one so bad.
Price: SGD478,888
10-word review: The most fun you can have with your clothes on.
---
Mini Cooper S 60 Years Edition
You know how carmakers love charging people more for special-edition models that commemorate a certain anniversary or other? Yeah, well, Mini didn't get that memo, though you can't say it's entirely out of character for the British carmaker to go against the grain.
By paying less money (SGD2,000, to be exact), you get some special bits that will leave onlookers in no doubt that you're driving a Mini that celebrates the sixth decade since the first car Mini the factory. And you can keep quiet at the back, we know the current Mini is more German than British. Then again, so too is the Queen.
At any rate, you can have your anniversary Mini in a number of different flavours—choose between 3- or 5-door, and between the Cooper or Cooper S. Common to all of them are the aforementioned model-specific cosmetic touches, including brown leather seats with bright green piping, bonnet stripes, fender accents, door scuff plates and in case you forget what you're driving, the 60 Years Edition logo projected by the puddle lamps.
The rest of the car, however, is as you'd expect. In the Cooper S we had some time in, its 2-litre engine with 192hp hooked up to a seven-speed dual-clutch gearbox served up the usual Mini thrills—incisive handling and a personality just begging for you to thrash it hard.
It's a no-brainer, really. If you're in the market for a new Mini, there's little reason not to spring for the 60 Years Edition. That is, unless you really need to have the illuminated Union Jack panel on the dashboard, which the special edition Mini doesn't get.
Price: From SGD138,888
10-word review: Special details abound both inside and out for less money.
---
Range Rover Evoque
Once upon a time, a Range Rover was a car literally for royalty—the British royal family has long been proponents of its luxurious appointments and do-anything, go-anywhere nature, but they perhaps weren't always the most stylish.
That all changed in 2011 with the Evoque (well actually, the story began in 2008 with the LRX concept car). To say it shocked the world was an understatement. By that time, the crossover craze was in full swing, but here was a company not normally known for funkiness doing a cannonball dive into the SUV-chimaera pool with a three-door coupe-SUV thing. In the fullness of time, it would even spawn a soft-top convertible.
And now, we have the Evoque's second act. Available (for the moment, anyway) only in five-door form and with a wheelbase a whopping 21mm longer, it seems the Evoque has grown up with its audience. It's perhaps not the funk-mobile it once was, but that could also be down to how we've grown so accustomed to the Evoque in particular, and stylish crossovers in general.
But if we're being completely honest, we also weren't blown away by its handling. Its 249hp engine (only on the SGD33,000 pricier First Edition models, regular Evoques get a 200hp motor) is perky enough, but its nine-speed automatic isn't the quickest on the uptake. The new Evoque also doesn't quite display the hot hatchback levels of tenacious grip displayed by its predecessor, and possibly down to how it's over-sprung, the inside wheel doesn't dig in as hard as we would like.
Still, if you're not the sort of tear around like a lunatic, there's plenty to love about the new Evoque. It's far quieter than it used to be (though it has a raspy engine), its completely reworked cabin is decidedly more luxe and rear legroom is vastly improved.
Whether it's a good thing or not is entirely up to your point of view, but you can't deny it's a far more sensible proposition…
Price: From SGD218,999
10-word review: The new Evoque gains on practicality, but loses on handling.
---
Mini Cooper S Convertible
Now, we've always maintained that owning a Mini is suffering for the sake of style—the six-inch stiletto heel of the automotive world, if you will. Owning an open-top Mini, well, that's like the aforementioned six-inch stiletto heel with a couple more inches thrown on just for kicks.
In addition to the folding roof compromising an already compromised boot, you had an even firmer ride, thanks to the suspension having to compensate for reduced chassis stiffness. A point especially obvious in performance-oriented Cooper S form.
But, thankfully, the third-generation car is vastly different, which is improved even further thanks to a recent mid-life refresh. Yes, you still have to deal with a smaller boot (that roof has to go somewhere), but all the other Mini annoyances are mostly gone. Logical ergonomics such as a driving mode switch located in the centre stack, window winders located on the doors, and as a nice little bonus, a chassis that marries both comfort and control.
And which leads us to the next reason one buys a convertible—the roof, or lack thereof. It's operable in two stages, with it able to open halfway, to form a sort of ersatz sunroof, or all the way, y'know, like a true cabriolet. And you're able to do it on the move, too, so yay for that. The sunroof mode works at speeds of up to 80km/hr, but if you want to open it up all the way, you're going to have to be driving at below 30km/hr.
But if you're not interested in that, all you really need to know is that the new Mini Cooper S Convertible looks good, drives well and (deep shock) is decently easy to live with.
Price: SGD183,888
10-word review: Good ol' Mini sensibilities, but now with more daily usability.
---
Alpine A110
In a world obsessed with horsepower, where even hot hatchbacks pack over 400hp, plus complicated electronics with adaptive everything, the A110 is a breath of fresh air.
The first car in two decades to come out of the recently resurrected Alpine brand (it's owned by Renault) is almost the complete opposite of what a modern sports car is. Its 252hp output and 4.5 seconds 0-100km/hr time is relatively modest, as is the 1.8-litre turbo motor providing said power. Happily enough, and bucking the modern trend of porky sports cars — an aluminium chassis and a pared-back interior contribute to its 1,094kg weight.
But big power and screaming burnouts isn't the point of the A110. Who needs it when you have what is easily the best ride in the segment. If you want a sports car with the same balance of comfort and control, you'd have to spend upwards of SGD750,000 on a McLaren 570S. Which makes the SGD238,800 Wearnes Automotive wants for one an absolute bargain.
But even more than that is the car's personality. Unlike modern sports cars which mostly isolate you from the experience, the A110 feels like it's hardwired to your senses. It's rewarding and engaging, but crucially, it's nowhere near as intimidating as an Alfa Romeo 4C or as spartan as a Lotus Elise.
Hands down the A110 is the best car in its segment. Well, you'll have to deal without such niceties as a glove box or door pockets, but nobody ever said true love was easy.
Price: SGD238,800
10-word review: Can someone please spare us about a quarter-million dollars?
---
Porsche Panamera 4 E-Hybrid Sport Turismo
If the Porsche Panamera Turbo S E-Hybrid we drove in Melbourne some weeks back was the absolute pinnacle of silliness in the vast Panamera lineup, then this one here is the most sensible, though it's hard to tell from its acid-green brake callipers and accents liberally sprinkled throughout the car.
To start with, it's some half the price of its range-topping cousin, though it still attracts a SGD40,000 premium (relatively modest, that's around 10 percent or so) over the non-hybrid Panamera 4 Sport Turismo.
In return, you get truly silly levels of fuel economy, claimed by Porsche at 2.5L/100km, owing to its ability to run for 51km (its real world range is 35km or so) on electric power alone at speeds of up to 140km/hr.
And now, for the bad news. Boot space is down by 100 litres over non-hybrid models (520 litres vs 425 litres) and its weight has ballooned by 385kg to 2,265kg, though thanks to its electric motor, power has gone up from 330hp to 462hp. Interestingly, its 0-100km/hr time drops by 0.7 seconds to 4.6 seconds.
If we're being honest, and despite what its on-paper stats say, the hybrid Panamera wagon feels noticeably less perky than its conventionally-powered cousin. It's still brisk and grip through corners is monstrous, but it doesn't feel quite as lively as the one that runs solely on fossilised dinosaur.
Is that too high a price to pay for sensibility? In a way, yes, but you also can't deny its fuel-sipping nature is also deeply, deeply appealing…
Price: SGD437,388 (without COE, without options)
10-word review: The price to pay for frugality is SGD39,000 and 385kg.
---
Nissan Leaf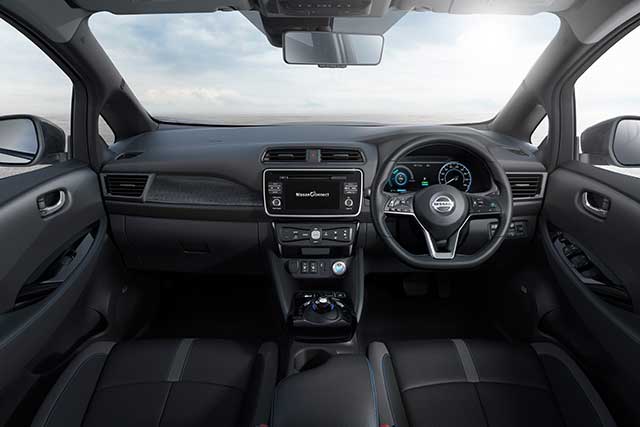 There is absolutely nothing wrong with the new Nissan Leaf. Well, unless you want to quibble about the dreary hard black plastics that dominate its cabin, the dated infotainment system, its awkwardly tall driving position (owing to you sitting over the under-floor battery pack), or that its steering wheel, bizarrely, doesn't adjust telescopically.
Actually, there's one more thing. The button to engage its 'one-pedal' mode (a feature unique to electric cars; you can drive around and stop entirely by modulating the throttle) is labeled "e-Pedal", which means about as much to most people as "voiceless alveolar lateral affricate".
But anyway, the Leaf makes for a convincing proposition. Its electric motor has 148hp (110kW), a beefy 320Nm and it does the 0-100km/hr sprint in 8.4 seconds.  Range is good too, with Nissan claiming the Leaf will go for 300km on a full charge. Realistically, it should be around 250km or so, which is still pretty good. Most people should last a week on a single charge.
It's a terrific car to drive around the city, on highways and just about anywhere else. You never really notice how much a car with an internal combustion engine clatters until you drive an electric car with its silken progress and near-dead silence.
The only thing holding it back is its price: from SGD167,300. It's competitive against its electric rivals, but when you could get a Qashqai for over SGD25,000 less, the Leaf suddenly looks way less appealing, and that's with a SGD20,000 rebate the Leaf attracts.
And it's sad, because that's down to how electric cars are taxed the exact same way as conventionally powered ones, and no fault of the Leaf.
Price: From SGD167,300
10-word review: Good, but its price means most will just Leaf it.
---
Skoda Octavia RS245
We're calling it now: the Skoda Octavia RS245 is the performance bargain of 2019. At SGD139,900, it undercuts its VW Group sibling, the Golf GTI by a little over SGD40,000. Which is a not-insignificant amount, and you get more power from the engine (245hp versus 230hp) along with an extra seventh ratio for its dual-clutch gearbox.
Even better is how the Octavia, being a bigger car, has a 590L boot. That boot is accessed via a liftback, so you get saloon looks with hatchback practicality. Lovely stuff.
On the downside, you'll have to deal with more hard plastics in its cabin, some truly awful faux carbon fibre trim, an awkwardly tall gearlever and the most egregious of its offences, the "Performance Sound Generator" that pipes a bassy engine rumble through the speakers. That last one isn't only egregious, it's bizarre, because the Octavia RS245's natural engine note is rather nice.
But if you can look past all that, you'll find a car with a lithe, willing chassis and more importantly, is actually rewarding to drive hard. It's also got the pizazz so missing in the Golf GTI, which has become a little too grown up for its own good these days.
Price: SGD139,900
10-word review: Lean, green and it's coming to steal the GTI's crown.
---
Porsche Panamera Turbo S E-Hybrid
The Panamera Turbo S E-Hybrid is good for a few things. The first of them being fuel economy, owing to its plug-in hybrid powertrain allowing it to go for 50km on electric power alone without consuming a single drop of fuel.
And the second is ludicrous speed, and we do mean completely stupid levels of speed. You see, its 4-litre twin-turbo V8 is augmented by an electric motor, giving it a combined output of 680hp. It endows the car with utterly bonkers levels of pace, accelerating from 0 to 100km/hr in 3.4 seconds going on to a top speed of 310km/hr.
But more than that is how the car seems to develop power anywhere, the always-on nature of the electric motor filling gaps in the combustion engine's power band. Yes, you do feel its 2.4-tonne bulk, and if we're honest, it's a touch unwieldy on narrower roads. But who needs finesse when you can simply indulge in the hilarious act of bludgeoning corners into submission? Oh, and it's got a titanic price tag to match its titanic performance, if that sort of thing matters to you.
Price: SGD835,888 w/o COE and options
10-word review: It's very long in name and very long on performance.
---
Lamborghini Urus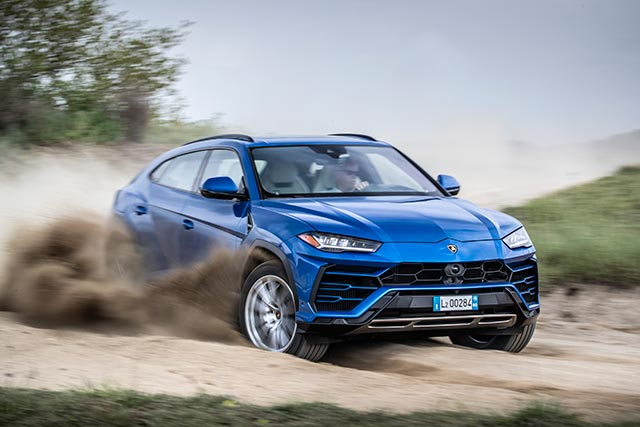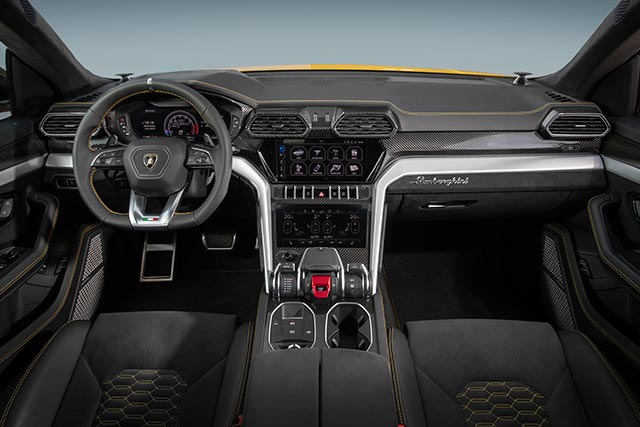 If there's one thing the Lamborghini Urus (the second SUV to come out from Sant'Agata, Bolognese) doesn't do, it's subtlety. Then again, you could also argue that nothing Lamborghini makes is subtle, so there's that.
Just about everything related to the car is outsized, including its SGD798,000 price tag that excludes COE and options. From the sheer size of the thing (5.1m long, 2m wide), to its monster 440mm-diameter brake rotors and finally, its 22-inch wheels. Then there's its outsized power output of 650hp from a 4-litre twin-turbo V8 and the outsized noise coming from its—you guessed it—outsized quad tailpipes.
But for better or worse, and despite its extrovert looks, you can drive the Urus slowly. It's quite happy pottering through traffic, though should you decide to nail the throttle, it will respond in kind, providing the sort of thrust usually reserved for supercars. Quite fitting, since Lamborghini says the Urus has the soul of a "super sports car".
Price: SGD798,000 w/o COE and options
10-word review: The Urus is very large, and very much in charge.
---
BMW 750i xDrive
Now with 40 percent more grille! No, seriously. The refreshed BMW 7 Series' now sports an absolute unit of a grille—the most controversial styling decision Munich has taken with the car since the infamous 'Bangle Butt' of the E65-generation model. Other changes to its exterior styling include near-vertical gill accents on its flanks, an LED light bar running the width of its bootlid and slimmer, retooled headlights (mostly to accommodate that new grille).
In all fairness, the grille looks way less obnoxious in the metal than it does in photos. That said, we still can't get past its more formal, more upright appearance, losing the slinky silhouette of the pre-facelift model.
Whether or not you're a fan of the 7er's updated looks or not, there's still plenty to love about the way it drives, especially in the 750i, whose 4.4-litre V8 gets an 80hp bump to 530hp. Power aside, its chassis is probably the sweetest, most neutral, most playful one in its segment—a sports car trapped in a limo's body.
Price: On request
10-word review: New grille splits opinion, but its chassis far less so.
Hyundai i30N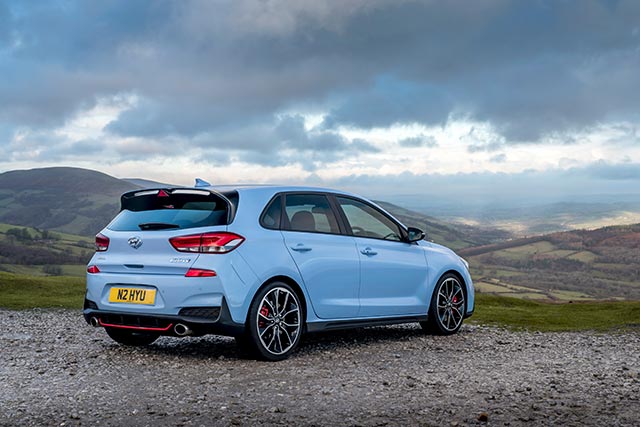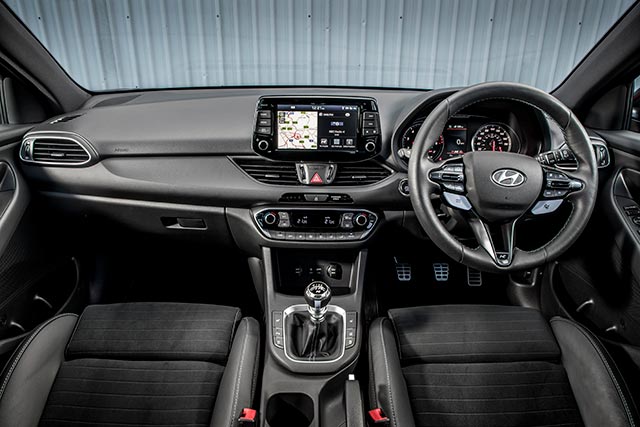 Hyundai, like Korean pop culture in general, has seen a meteoric rise in the past decade or so. Its cars have gone from bland econo-boxes to sharply styled things, usually with class-leading levels of standard equipment. But still crucially retaining their wallet-friendly price tags.
What the Korean carmaker hasn't yet done is come up with a performance car, despite it having been involved in rallying for over a decade. Up until now that is. The first car to come from N Division (appropriately enough headed up by an ex-employee of BMW's M Division) is looking to challenge the hot hatchback duopoly of the Volkswagen Golf GTI and to a (far) lesser extent, the Renault Megane RS.
It's good stuff, really. In addition to it undercutting its European rivals by at least $20,000, it has several enthusiast-friendly features, chief among them being—wait for it—a six-speed manual gearbox. But we kid. Its 250hp engine and finely judged ride (firm, yet pliant) makes this a car that punches far, far above its price tag. There are a few niggles (mostly down to naivete), but the i30N is still an extremely credible first attempt in a hugely competitive segment.
Price: SGD155,999
10-word review: Not quite N-credible, but it's still N-gaging and N-joyable, though.
Rolls-Royce Cullinan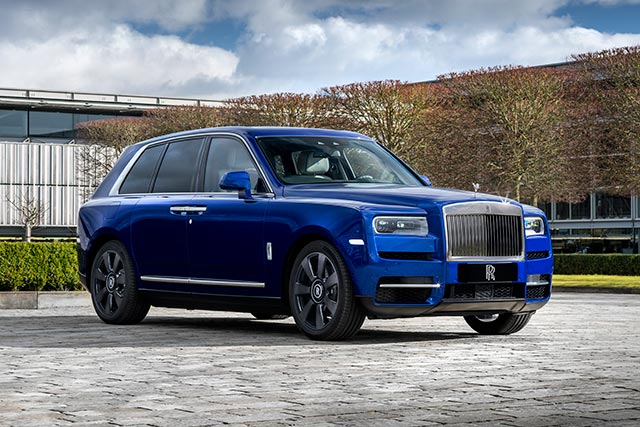 If you aren't screaming "out of the way, peasant" at every car that costs less than the Rolls-Royce Cullinan (pretty much anything else, really) while you're rolling around in it, you're probably doing it wrong. The most expensive SUV you can buy in Singapore today costs $1.3 million… and that's before you factor in COE and options.
It's a special thing, and not just because it costs more than most homes do. The Cullinan successfully translates all of Rolls-Royce's qualities of luxury, imperiousness and waftability into a "high bodied car" (the carmaker balks when you call it an SUV), and that's no mean feat.
Yes, refinement is ever so slightly compromised and its ride quality is a smidge on the lumpy side, but we'll wager no other SUV matches the Cullinan for sheer high-riding pomp and pageantry. Move over, Range Rover, you've finally got some competition.
Price: From SGD1,268,888 w/o COE and options
10-word review: Tfw Cullinan is the same size as a small lorry.