Are you a busy person strapped for time? Do you have an attention span shorter than that of a puppy with ADHD (omg so cute)? Do you simply hate hearing this guy going on and on, and just want to have the TL;DR version?
Well, Esquire Singapore has the cure with New Wheels Wednesday, a weekly review digest that comes out every, uh, Wednesday featuring the latest new metal on sale in Singapore and our quick takes on them.
In the Esquire Singapore garage this week is the Renault Alpine A110. That's pronounced Ahl-peen by the way, because it's French. Don't feel too bummed if you've never heard of the brand before, because the last time the Renault-owned manufacturer made a car under its own name, the year was 1995 and TLC's Waterfalls was topping the charts.
---
Alpine A110
In a world obsessed with horsepower, where even hot hatchbacks pack over 400hp, plus complicated electronics with adaptive everything, the A110 is a breath of fresh air.
The first car in two decades to come out of the recently resurrected Alpine brand (it's owned by Renault) is almost the complete opposite of what a modern sports car is. Its 252hp output and 4.5 seconds 0-100km/hr time is relatively modest, as is the 1.8-litre turbo motor providing said power. Happily enough, and bucking the modern trend of porky sports cars — an aluminium chassis and a pared-back interior contribute to its 1,094kg weight.
But big power and screaming burnouts isn't the point of the A110. Who needs it when you have what is easily the best ride in the segment. If you want a sports car with the same balance of comfort and control, you'd have to spend upwards of SGD750,000 on a McLaren 570S. Which makes the SGD238,800 Wearnes Automotive wants for one an absolute bargain.
But even more than that is the car's personality. Unlike modern sports cars which mostly isolate you from the experience, the A110 feels like it's hardwired to your senses. It's rewarding and engaging, but crucially, it's nowhere near as intimidating as an Alfa Romeo 4C or as spartan as a Lotus Elise.
Hands down the A110 is the best car in its segment. Well, you'll have to deal without such niceties as a glove box or door pockets, but nobody ever said true love was easy.
10-word review: Can someone please spare us about a quarter-million dollars?
---
Porsche Panamera 4 E-Hybrid Sport Turismo
If the Porsche Panamera Turbo S E-Hybrid we drove in Melbourne some weeks back was the absolute pinnacle of silliness in the vast Panamera lineup, then this one here is the most sensible, though it's hard to tell from its acid-green brake callipers and accents liberally sprinkled throughout the car.
To start with, it's some half the price of its range-topping cousin, though it still attracts a SGD40,000 premium (relatively modest, that's around 10 percent or so) over the non-hybrid Panamera 4 Sport Turismo.
In return, you get truly silly levels of fuel economy, claimed by Porsche at 2.5L/100km, owing to its ability to run for 51km (its real world range is 35km or so) on electric power alone at speeds of up to 140km/hr.
And now, for the bad news. Boot space is down by 100 litres over non-hybrid models (520 litres vs 425 litres) and its weight has ballooned by 385kg to 2,265kg, though thanks to its electric motor, power has gone up from 330hp to 462hp. Interestingly, its 0-100km/hr time drops by 0.7 seconds to 4.6 seconds.
If we're being honest, and despite what its on-paper stats say, the hybrid Panamera wagon feels noticeably less perky than its conventionally-powered cousin. It's still brisk and grip through corners is monstrous, but it doesn't feel quite as lively as the one that runs solely on fossilised dinosaur.
Is that too high a price to pay for sensibility? In a way, yes, but you also can't deny its fuel-sipping nature is also deeply, deeply appealing…
Price: SGD437,388 (without COE, without options)
10-word review: The price to pay for frugality is SGD39,000 and 385kg.
---
Nissan Leaf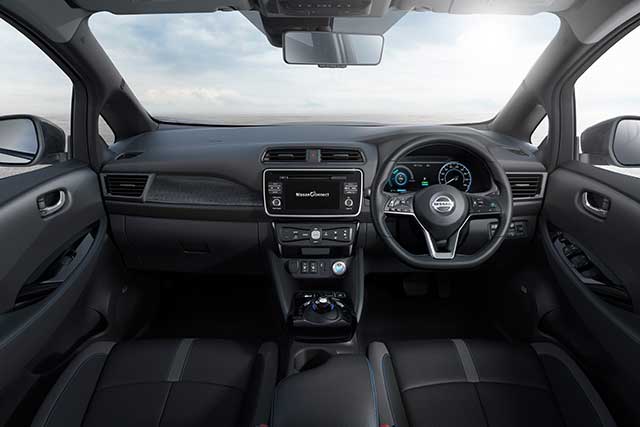 There is absolutely nothing wrong with the new Nissan Leaf. Well, unless you want to quibble about the dreary hard black plastics that dominate its cabin, the dated infotainment system, its awkwardly tall driving position (owing to you sitting over the under-floor battery pack), or that its steering wheel, bizarrely, doesn't adjust telescopically.
Actually, there's one more thing. The button to engage its 'one-pedal' mode (a feature unique to electric cars; you can drive around and stop entirely by modulating the throttle) is labeled "e-Pedal", which means about as much to most people as "voiceless alveolar lateral affricate".
But anyway, the Leaf makes for a convincing proposition. Its electric motor has 148hp (110kW), a beefy 320Nm and it does the 0-100km/hr sprint in 8.4 seconds.  Range is good too, with Nissan claiming the Leaf will go for 300km on a full charge. Realistically, it should be around 250km or so, which is still pretty good. Most people should last a week on a single charge.
It's a terrific car to drive around the city, on highways and just about anywhere else. You never really notice how much a car with an internal combustion engine clatters until you drive an electric car with its silken progress and near-dead silence.
The only thing holding it back is its price: from SGD167,300. It's competitive against its electric rivals, but when you could get a Qashqai for over SGD25,000 less, the Leaf suddenly looks way less appealing, and that's with a SGD20,000 rebate the Leaf attracts.
And it's sad, because that's down to how electric cars are taxed the exact same way as conventionally powered ones, and no fault of the Leaf.
Price: From SGD167,300
10-word review: Good, but its price means most will just Leaf it.
---
Skoda Octavia RS245
We're calling it now: the Skoda Octavia RS245 is the performance bargain of 2019. At SGD139,900, it undercuts its VW Group sibling, the Golf GTI by a little over SGD40,000. Which is a not-insignificant amount, and you get more power from the engine (245hp versus 230hp) along with an extra seventh ratio for its dual-clutch gearbox.
Even better is how the Octavia, being a bigger car, has a 590L boot. That boot is accessed via a liftback, so you get saloon looks with hatchback practicality. Lovely stuff.
On the downside, you'll have to deal with more hard plastics in its cabin, some truly awful faux carbon fibre trim, an awkwardly tall gearlever and the most egregious of its offences, the "Performance Sound Generator" that pipes a bassy engine rumble through the speakers. That last one isn't only egregious, it's bizarre, because the Octavia RS245's natural engine note is rather nice.
But if you can look past all that, you'll find a car with a lithe, willing chassis and more importantly, is actually rewarding to drive hard. It's also got the pizazz so missing in the Golf GTI, which has become a little too grown up for its own good these days.
Price: SGD139,900
10-word review: Lean, green and it's coming to steal the GTI's crown.
---
Porsche Panamera Turbo S E-Hybrid
The Panamera Turbo S E-Hybrid is good for a few things. The first of them being fuel economy, owing to its plug-in hybrid powertrain allowing it to go for 50km on electric power alone without consuming a single drop of fuel.
And the second is ludicrous speed, and we do mean completely stupid levels of speed. You see, its 4-litre twin-turbo V8 is augmented by an electric motor, giving it a combined output of 680hp. It endows the car with utterly bonkers levels of pace, accelerating from 0 to 100km/hr in 3.4 seconds going on to a top speed of 310km/hr.
But more than that is how the car seems to develop power anywhere, the always-on nature of the electric motor filling gaps in the combustion engine's power band. Yes, you do feel its 2.4-tonne bulk, and if we're honest, it's a touch unwieldy on narrower roads. But who needs finesse when you can simply indulge in the hilarious act of bludgeoning corners into submission? Oh, and it's got a titanic price tag to match its titanic performance, if that sort of thing matters to you.
Price: SGD835,888 w/o COE and options
10-word review: It's very long in name and very long on performance.
---
Lamborghini Urus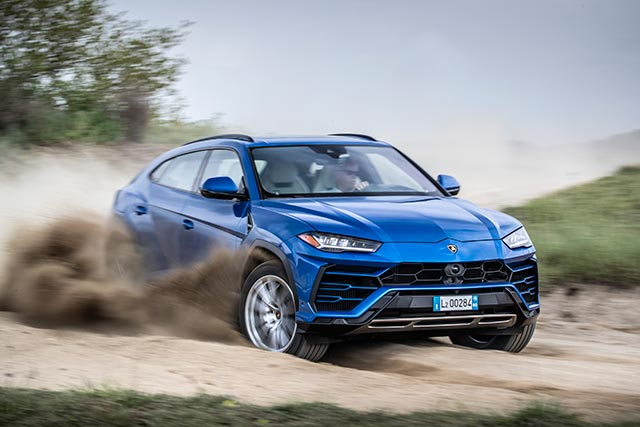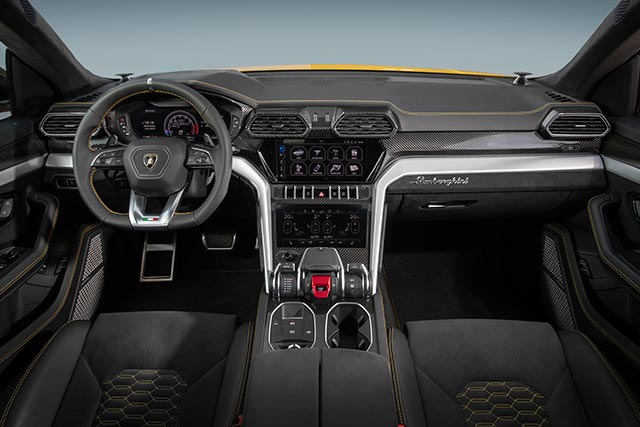 If there's one thing the Lamborghini Urus (the second SUV to come out from Sant'Agata, Bolognese) doesn't do, it's subtlety. Then again, you could also argue that nothing Lamborghini makes is subtle, so there's that.
Just about everything related to the car is outsized, including its SGD798,000 price tag that excludes COE and options. From the sheer size of the thing (5.1m long, 2m wide), to its monster 440mm-diameter brake rotors and finally, its 22-inch wheels. Then there's its outsized power output of 650hp from a 4-litre twin-turbo V8 and the outsized noise coming from its—you guessed it—outsized quad tailpipes.
But for better or worse, and despite its extrovert looks, you can drive the Urus slowly. It's quite happy pottering through traffic, though should you decide to nail the throttle, it will respond in kind, providing the sort of thrust usually reserved for supercars. Quite fitting, since Lamborghini says the Urus has the soul of a "super sports car".
Price: SGD798,000 w/o COE and options
10-word review: The Urus is very large, and very much in charge.
---
BMW 750i xDrive
Now with 40 percent more grille! No, seriously. The refreshed BMW 7 Series' now sports an absolute unit of a grille—the most controversial styling decision Munich has taken with the car since the infamous 'Bangle Butt' of the E65-generation model. Other changes to its exterior styling include near-vertical gill accents on its flanks, an LED light bar running the width of its bootlid and slimmer, retooled headlights (mostly to accommodate that new grille).
In all fairness, the grille looks way less obnoxious in the metal than it does in photos. That said, we still can't get past its more formal, more upright appearance, losing the slinky silhouette of the pre-facelift model.
Whether or not you're a fan of the 7er's updated looks or not, there's still plenty to love about the way it drives, especially in the 750i, whose 4.4-litre V8 gets an 80hp bump to 530hp. Power aside, its chassis is probably the sweetest, most neutral, most playful one in its segment—a sports car trapped in a limo's body.
Price: On request
10-word review: New grille splits opinion, but its chassis far less so.
Hyundai i30N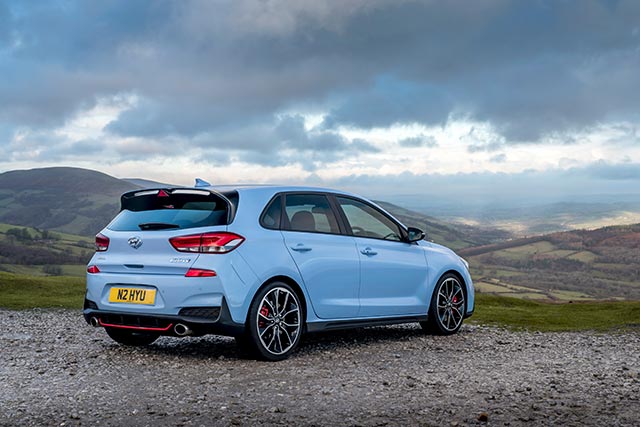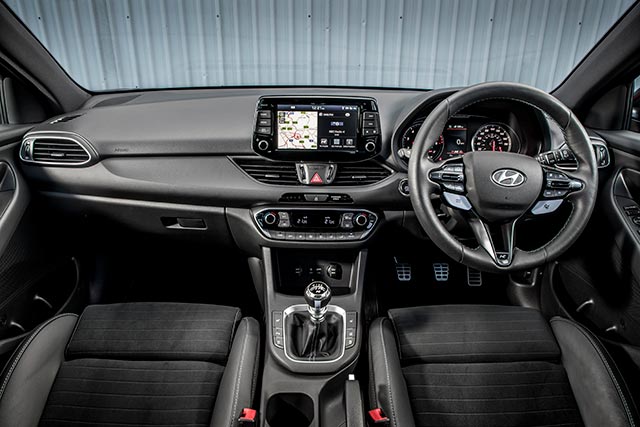 Hyundai, like Korean pop culture in general, has seen a meteoric rise in the past decade or so. Its cars have gone from bland econo-boxes to sharply styled things, usually with class-leading levels of standard equipment. But still crucially retaining their wallet-friendly price tags.
What the Korean carmaker hasn't yet done is come up with a performance car, despite it having been involved in rallying for over a decade. Up until now that is. The first car to come from N Division (appropriately enough headed up by an ex-employee of BMW's M Division) is looking to challenge the hot hatchback duopoly of the Volkswagen Golf GTI and to a (far) lesser extent, the Renault Megane RS.
It's good stuff, really. In addition to it undercutting its European rivals by at least $20,000, it has several enthusiast-friendly features, chief among them being—wait for it—a six-speed manual gearbox. But we kid. Its 250hp engine and finely judged ride (firm, yet pliant) makes this a car that punches far, far above its price tag. There are a few niggles (mostly down to naivete), but the i30N is still an extremely credible first attempt in a hugely competitive segment.
Price: SGD155,999
10-word review: Not quite N-credible, but it's still N-gaging and N-joyable, though.
Rolls-Royce Cullinan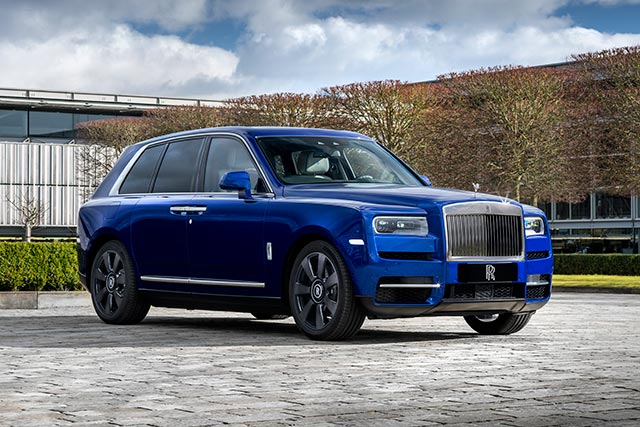 If you aren't screaming "out of the way, peasant" at every car that costs less than the Rolls-Royce Cullinan (pretty much anything else, really) while you're rolling around in it, you're probably doing it wrong. The most expensive SUV you can buy in Singapore today costs $1.3 million… and that's before you factor in COE and options.
It's a special thing, and not just because it costs more than most homes do. The Cullinan successfully translates all of Rolls-Royce's qualities of luxury, imperiousness and waftability into a "high bodied car" (the carmaker balks when you call it an SUV), and that's no mean feat.
Yes, refinement is ever so slightly compromised and its ride quality is a smidge on the lumpy side, but we'll wager no other SUV matches the Cullinan for sheer high-riding pomp and pageantry. Move over, Range Rover, you've finally got some competition.
Price: From SGD1,268,888 w/o COE and options
10-word review: Tfw Cullinan is the same size as a small lorry.