Who doesn't listen to music from streaming platforms these days? With '80s and '90s Pop ruling the radio airwaves, it's tough to discover new music in Singapore. Hence, music buffs turn to digital music services like Apple Music and Spotify for the latest jams and curated music playlists.
But with countless new tracks vying for your attention constantly, it's hard to keep track of the best new music. Welcome to Mixtape Mondays, a curated recommendation of three new songs each week by the Esquire Singapore team that will help you maximize your listening time. Only the best sounds. So stay woke and press play.
This week: Tunes by Florence + The Machine, Soulful Ghosts, and YAØ are on repeat.
'King' — Florence + The Machine
'IDKW' — Soulful Ghosts
'Lose Face' — YAØ
'King' — Florence + The Machine
Presenting the regal return of Florence + The Machine. Royalty befits frontwoman Florence Welch. In this pop-rock anthemic comeback single co-written and co-produced with Jack Antonoff, Welch explores identity and shatters gender expectations.
"I am no mother, I am no bride, I am king," Welch also declares powerfully on the music video directed by Autumn de Wilde.
"As an artist, I never actually thought about my gender that much," Welch explains in a press release for the song. "I just got on with it. I was as good as the men, and I just went out there and matched them every time. But now, thinking about being a woman in my 30s and the future, I suddenly feel this tearing of my identity and my desires. That to be a performer, but also to want a family might not be as simple for me as it is for my male counterparts. I had modelled myself almost exclusively on male performers, and for the first time, I felt a wall come down between me and my idols as I have to make decisions they did not."
'IDKW' — Soulful Ghosts
Some things in life are unexplainable. Cue: IDKW. Abbreviated from "I don't know what", this electro-soul ballad from Singaporean-Aussie duo and life partners Vanessa Fernandez and Nic Robertson documents the genesis of the moment when they connected.
Fernandez explains: "The song is about not knowing whether someone you're sure about is sure about you. It can be a very scary moment when you're falling in love, but it can also be empowering if you are confident enough to express how you feel without fear of losing the object of your affection."
The first draft of the song was written and recorded five years ago at Robertson's parents' home on the couple's first trip together to Sydney after they started dating. She recalls: "I was contemplating saying "I love you" first but hadn't yet. I was wondering how he would reply but I also felt transcending whatever fear I had of saying how I felt was an important part of my growth in love."
'Lose Face' — YAØ
It's tough to recover from humiliation, but that's a rite of passage in life. Local musician YAØ assures it's ok to harness this vulnerability. In his context of an intimate relationship, YAØ is willing to "lose face" to be with someone he loves—but not without forgetting the virtues of self-respect, another lesson he hopes to convey.
Thus, he crafts catchy melodies using his signature pop sensibilities to conquer 'the cringe' experienced from embarrassment. Just relax and dance the discomfort away.
"As an Asian and born Chinese, I was brought up in a culture of saving one's face and I'm sure a lot of us Asians can relate to that," YAØ says in a press statement. "So I've decided to write a song about it to bring some light to the subject and overall just own the reality of being an Asian on a pop scale."
---
'Closer (feat. H.E.R.)' — Saweetie
'Into Dreams' — Charlie Lim & Ng Pei-Sian
'Push & Pull' — RON
'Closer (feat. H.E.R.)' — Saweetie
It's never too early to prime for a summer hit. In the same vein as Doja Cat and SZA's 2021 smash 'Kiss Me More', Saweetie ropes in the soulful H.E.R. to release a sassy tune destined to be a dancefloor anthem. This energetic disco-based track finds the duo serving up playful lines and seductive melodies, showcasing Saweetie's ability to for making hits that feel nostalgic, yet uniquely hers.
"I wanna fall in love for the weekend/Three boyfriends, IDK where I'm sleeping," Saweetie raps on the track. "We be thuggin', clubbin', fuckin'/Order room service when we done that's the sequence." Temperatures will definitely rise once this song comes on.
The duo also stars in a Hannah Lux Davis-directed video with H.E.R. as Saweetie's co-pilot, both dressed in flight attendant uniform for a series of rendezvous. Notable, Saweetie is set to release her debut album Pretty Bitch Music later this year.
'Utopia Reimagined: Into Dreams' — Charlie Lim & Ng Pei-Sian
In the final instalment of the 'Utopia Reimagined' initiative commissioned by the Foundation for the Arts and Social Enterprise, it's Charlie Lim's turn to complete reimaginations of the Singapore-inspired UTOPIA Symphony written by Russian composer Vladimir Martynov and recorded by the London Philharmonic Orchestra (LPO).
This grandiose track exhibits the perfect marriage between pop and classical music. Of course, as Lim teamed up with Ng Pei-Sian, Principal Cellist of the Singapore Symphony Orchestra.
"My interpretation came from a more personal space," Lim describes the songwriting process. "Thematically it builds on ShiGGa Shay's Reimagined single, which questions what we are chasing and striving towards. With 'Into Dreams', I wanted to talk about the difficult balance between our ambition—which always pushes us to do better—and the tension of not always being able to achieve what we want to, due to things being beyond our control. It's a reminder that our work, our dreams, and goals, shouldn't define us entirely."
"I've always wanted to write and arrange for a project that incorporates neo-classical and romantic influences," Lim continued. "[Ng Pei-Sian] coming on board was the perfect fit, not only is he a master of his instrument, but he's constantly pushing his own boundaries as an artist and open to trying new things. We got really obsessive over every nuance and detail when we were putting the song together."
"Into Dreams" features Ng on cello, with elements of his favourite classical repertoire fused into the song. Also, Ng's creative input features prominently in the bridge, where he gives a nod to famed Russian composer Sergei Rachmaninoff's lyricism and melodies, which ties in another Russia-Singapore connection.
'Push & Pull' — RON
Love shouldn't be like a tug of war. While reciprocation and give-and-take would be ideal, there are bound to be flaws and imperfections. Local singer-songwriter RON shifts away from lo-fi and reintroduces himself with dark R&B to address weighty topics such as addiction, anxiety, depression and escapism.
The brooding synth 'Push & Pull' addresses a toxic romantic relationship and the complications that come with attaching self-worth with a person. "What was difficult about the experience was learning to convince myself leaving this toxic ex-lover was an act of self-love and not a habit of escapism. I only realised it was love-bombing & abusive when I stepped out of the picture months after, but the damage was done," RON explains.
"I hope listeners take away the message that it is perfectly okay to make your own rules & set boundaries. Endings can be beautiful beginnings, only this one left quite a scar but also gifted me a valuable lesson."
---
'Sooner Or Later' — Years & Years
'Watercolor Eyes' — Lana Del Rey
'Start Again' — Haneri
'Sooner Or Later' — Years & Years
There's no stopping Olly Alexander. Even after the departure of bandmates Mikey Goldsworthy and Emre Türkmen, he continues to helm the Years & Years name as a soloist. Following previous singles 'Starstruck' and the Galantis-featured 'Sweet Talker', Alexander's latest cut 'Sooner Or Later' proves to be a banger too.
The anthemic track channels Alexander's rage felt towards men who have messed him around into a punchy piece of hedonistic pop. "Heartbreaker, you'll be the death of me," he sings at one point, adding a warning to those playing games with his heart: "I'm gonna break you, sooner or later."
All three singles are included in Years & Years' latest album Night Call. The pop star was inspired by pioneering figures like US disco star Sylvester and club-ready French house, while its songs document the search for love before ultimately finding power within yourself. "I was writing from a fantastical space, stuck in the same four walls. I wanted to have as much pleasure as possible in the music," Alexander explains.
'Watercolor Eyes' — Lana Del Rey
We're blessed with new material from Lana Del Rey. Yes, even after Chemtrails Over The Country Club and Blue Banisters in 2021. Recorded specifically for the soundtrack for Euphoria Season 2, 'Watercolor Eyes' is a wistful song that sits well with her Ultraviolence era. This track also appeared on the third episode of Euphoria Season 2 which aired on HBO on Sunday (January 23), while the soundtrack album will be released on February 25.
"I think that you're sweet like rock candy/Warm like beaches that leave me sandy," Del Rey sings over an emotive piano backing. "Why do you leave me with watercolor eyes?"
Fun fact: Rock Candy Sweet was the original project title for Blue Banisters, a phrase which the lyrics of 'Watercolor Eyes' referenced more than once.
'Start Again' — Haneri
It takes courage to hit the restart button. But booting off on a blank slate brings new perspectives. Hence, local musician Haneri documents her decade long experiences throughout the United States in 'Start Again'. Haneri says, "It's about the little lessons of emotional maturity I grew into during my time there, and musings on if I should have chosen a different path."
This vulnerable soul-baring track sees her working with Singapore music veteran Josh Wei and will be the first release of many for her upcoming album The Haneri Experience, slated to be released later this year.
"['Start Again'] is celebrating and reminiscing the coming of age from adulthood to later adulthood and the struggle of uncertainty within these rocky times, having to leave the life you've created for yourself and starting again."
---
'No Choice' — Tame Impala
'Heat Lightning' — Mitski
'Stable Life' — dhruv
'No Choice' — Tame Impala
Tame Impala's The Slow Rush certainly made its mark as one of the best albums of 2020. Now, look forward to more material from that critically acclaimed era with an extended cut titled The Slow Rush Deluxe Box Set. Containing remixes, b-sides and unreleased tracks, it features pre-album single 'Patience', 'Breathe Deeper' (Lil Yachty Remix), and newest single 'No Choice'.
This psychedelic-tinged b-side spotlights frontman Kevin Parker's intentions on the feelings of hopelessness. Furthermore, its dazzling guitar melody and rhythmic drum beats samples a nod towards the band's previous works Innerspeaker, Lonerism and Currents.
'Heat Lightning' — Mitski
Just a month from releasing 'The Only Heartbreaker', Mitski is back again to tease us with another new song from her upcoming album Laurel Hell. The track hints at an ode to insomnia with lyrics: "I've laid awake since one/And now it's four o'clock." Although 'Heat Lightning' begins with tender piano tones, it unfolds into a hypnotic R&B-influenced retrospection on relationships.
"I needed songs that could help me forgive both others and myself," Mitski said in a press statement. "I needed to create this space mostly for myself where I sat in that grey area."
Also accompanying the song is a surrealist, animated lyric video by Alex Moy. Those looking forward to Laurel Hell can expect it to be a "more uptempo and dance-y" collection. "I needed to create something that was also a pep talk", she added.
'Stable Life' — dhruv
We've another budding musician that's one-to-watch. Already amassed over 170 million streams on Spotify for his viral hit 'double take', 22-year-old singer-songwriter dhruv goes on to be signed by RCA Records. Raised in Singapore, with roots in India and the UK, he grew up on an eclectic mix of Bollywood songs, 2000s pop radio and Frank Ocean.
Now, dhruv is prepared to ascend to greater heights with his latest introspective single 'Stable Life' that's included in his upcoming debut EP rapunzel.
"rapunzel is a scrapbook I've kept during a really important few years of personal growth," says dhruv. "The title is in reference to a lyric in the closing track, which talks about our childhood selves often being our least inhibited and truest selves. In many ways, I think this project is about me trying to find that version of myself."
---
'I Hate U' — SZA
'I Don't Want To Go To Mars' — White Lies
'When It's Time' — Jean Tan
'I Hate U' — SZA
Because of popular demand and virality, American alternative R&B-soul singer SZA release an official version of a smooth demo ('I Hate You') that she dropped anonymously on SoundCloud back in August. This smooth jam, now known as 'I Hate U', highlights a lovelorn romance.
"Honestly this started out as an exercise. I just wanted somewhere to dump my thoughts w out pressure..y'all made it a thing and I'm not mad lmao. ask and u shall receive," SZA explained the song's release in her Instagram post. She also said on Twitter that its initial release on SoundCloud was an "experiment."
'I Don't Want To Go To Mars' — White Lies
There's no place like home. That's what UK post-punk trio White Lies feels. Channelling their reluctant feelings through heavy synths and raucous beats, the tune emphasizes that what we have now is irreplaceable.
Their forthcoming sixth studio album, As I Try Not To Fall Apart, sees long-term collaborator Ed Buller, who has worked on many of White Lies' albums including their debut To Lose My Life…, returning to produce several tracks along with Claudius Mittendorfer (Weezer, Panic! At The Disco) also producing and mixing the entire record.
Bassist and lyricist Charles Cave said: "'I Don't Want To Go To Mars' has all the distorted bombast of White Lies best anthems neatly packed into a short story. The song follows a character seemingly being herded off Earth to live out a sterile and mundane existence on a newly colonised Mars. Fundamentally the song questions the speed at which we are developing the world(s) we inhabit, and what cost it takes on our wellbeing."
'When It's Time' — Jean Tan
Is there actually a right moment? Singapore singer-songwriter Jean Tan ponders on why good things are definitely worth the wait. Using lush jazz and chill R&B arrangement with electric guitar supported by guitar extraordinaire Leo Goh, Tan soothes the anxious soul from fear and unpredictability on this Evanturetime-produced track.
Written in the blossoming stages of a relationship, 'When It's Time' describes the period of nervous waiting, between the fluttering of beginnings and the certainty of something more. In a way, it speaks to the universal yearning for resolution and clarity. The song asks the questions: Can there be value, even in the waiting? How do you cherish the present without losing yourself in a longing for 'something more'?
---
'Traps' — Bloc Party
'Falling Down' — Beaux
'WUW' — YAØ
'Traps' — Bloc Party
English rock band Bloc Party recently announced details of their sixth studio album Alpha Games due on April 29 2022. Also their first LP release in six years, the quartet unveils its first single 'Traps'. As expected from the East London art punkers, this hard-hitting alt-rock number produced by Nick Launay and Adam Greenspan (Nick Cave, Yeah Yeah Yeahs, IDLES) drives up the adrenaline with energetic beats and lyrics.
Frontman Kele Okereke explained the song in a press statement: "From the moment we wrote 'Traps', we knew it had to be the first thing people heard from this album; playing it in soundchecks on our last tour before it was finished and hearing how it sounded in those big rooms and outdoors."
'fall forward' — Beaux
Here's a new musician that should be on your radar (and playlists). Hailing from Surrey, 21-year-old Beaux South, or Beaux, is signed to Dirty Hit. Hence, this makes him labelmates with The 1975, No Rome, and Wolf Alice.
Making a splash with his infectious debut single 'Look How We Started', the alternative popster continues to charm listeners with his fresh perspective via his recently-released eight-track EP memories written down, so I won't forget them. Lead single "fall forward' reminds us of early Troye Sivan with its carefree attitude and melodic synths.
About the song, Beaux said, "I wrote 'fall forward' with Benjamin Francis Leftwich and Benji Gibson about that feeling of wanting to go out with friends and have fun and that, but lacking the motivation to actually leave the house due to not being in the right headspace. In the song, I wanted to let my friends know that I just needed some time and hopefully, they'd stick around."
'WUW' — YAØ
Local wunderkind producer and pop artist YAØ returns to the dancefloor with a catchy bop 'WUW'. The multi-talented singer-songwriter speaks to all those lost in the rat race of capturing success with this song which sees him collaborating with hip-hop producer RIIDEM.
"'WUW' is about how I should have loved the things that I truly care about, instead of worldly things which are fleeting," YAØ says. "These 'things' are subjective to every person but personally to me, it refers to my relationship with the creator and the people I love."
---
'Measure Of A Man' — FKA twigs feat. Central Cee
'uTopia reimagined: chasing' — ShiGGa Shay & Aisyah Aziz
'you should have said so' — RRILEY
'Measure Of A Man' — FKA twigs feat. Central Cee
It's only fitting that The King's Man gets a dignified treatment for its soundtrack. And FKA twigs provide her talents to this project. The British multi-hyphenate artist establishes a sleek and lush theatrical soundscape alongside West London rapper Central Cee's grime-driven verses. twigs also shares writing credits with director Matthew Vaughn on this Kingsman film series prequel.
"This song has such a different sound, which is a challenge; you've got to really embody the song," FKA Twigs described in a press statement. "For me especially with my vocals, I had to pull a different side of my artistry out." In addition, Central Cee said: "What I listen to when it comes to trying to find beats is something theatrical, it needs to sound like a movie. And that's exactly what's going on with this song, it sounds like it's made for a movie regardless."
'uTopia reimagined: chasing' — ShiGGa Shay & Aisyah Aziz
Refashioning a uTopia is not an easy feat. But local rapper ShiGGA Shay made it his own by looking at a different perspective. Titled 'uTopia reimagined: chasing', this is the third release of the UTOPIA Reimagined Series, an initiative by the Foundation for The Arts and Social Enterprise, and reflects ShiGGa Shay's response to the London Philharmonic Orchestra's UTOPIA Symphony. The UTOPIA Symphony is a Singapore-inspired symphony written by Russian composer Vladimir Martynov, recorded by the London Philharmonic Orchestra (LPO).
More than just a remix, the project sought to start conversations on the influence of arts in our lives. Produced by superjdoug, the song features ShiGGa Shay rapping over the sampled orchestra-led beats with Aisyah Aziz's guest vocals, and Charlie Lim on vocal production.
"I feel like Charlie brought out a different side of me, as well as a different sound from me—his work on the vocal production has added something different to my usual style of music," says ShiGGa Shay. "It's all very new and fresh to me, and this has given me different perspectives on music."
'you should have said so' — RRILEY
Communication breakdown often occurs. Thus, it's best to be forthright to avoid the guessing game. RRILEY expressed her frustrations one feels when people are not transparent with their feelings on her latest R&B-pop single 'you should have said so'.
Such lead on can be vexing. "This track was birthed by a pet peeve I have, when people are not honest about their feelings and string you along when they could have just been honest about their feelings to begin with," RRILEY shared. "It is important to stand your ground and not dwell on unpleasant moments. This song serves as a reminder to pick yourself up, say your piece and move on from bad life experiences."
The song taps on psychedelic notes produced using simple, daily essential items like car keys, a coke can and credit cards. Playing on the key principles of ASMR, the acoustics of a 3D environment in the track stimulate a full-sensory listening experience. Close your eyes and listen to it in Spatial Audio exclusively on Apple Music.
---
'The Only Heartbreaker' — Mitski
'Smokin Out The Window' — Silk Sonic
'notgonnalie' — Shye
'The Only Heartbreaker' — Mitski
After teasing us with 'Working for the Knife ' earlier in October, Mitski finally announces details for her highly anticipated upcoming record Laurel Hell. The Japanese-American singer-songwriter continues to ponder on themes of heartbreak and resignation that fuels her catalogue. With pain and aching as its ingredients, 'The Only Heartbreaker', co-written with Semisonic's Dan Wilson, serves as the second single for her sixth studio album.
Mitski said in a press statement: 'The Only Heartbreaker' is about "the person always messing up in the relationship, the designated Bad Guy who gets the blame. It could simply be about that, but I also wanted to depict something sadder beneath the surface, that maybe the reason you're always the one making mistakes is because you're the only one trying."
'Smokin Out The Window' — Silk Sonic
Previously scheduled for early 2022, Silk Sonic aka Anderson .Paak and Bruno Mars brought forward the release of their debut album An Evening with Silk Sonic to 12 Nov, surprising fans and listeners. The duo definitely presents retro-soul at its finest with this project. From the saccharine 'Leave the Door Open' to the bouncy summer jam 'Skate', they now laments on breakup with 'Smokin Out The Window'.
The accompanying visuals for this emotion-led tune also see them doing groovy throwback choreography in wide lapel tuxedo jackets in a 70s style variety TV show.
'notgonnalie' — Shye
It's important to stay true and back our beliefs. Because indecisiveness will get us nowhere. Singapore-based electro-pop singer-songwriter and producer Shye finally drops her mini-album hello TRINITY and firms up her emotions with accompanying single 'notgonnalie'.
"'notgonnalie' is inspired by fluctuating feelings and emotions dictated by what a person is going through," explains Shye. "It explores how we can think too much and sometimes life feels like a dream, but ultimately it's up to us to decide if it's going to be a good or bad one."
---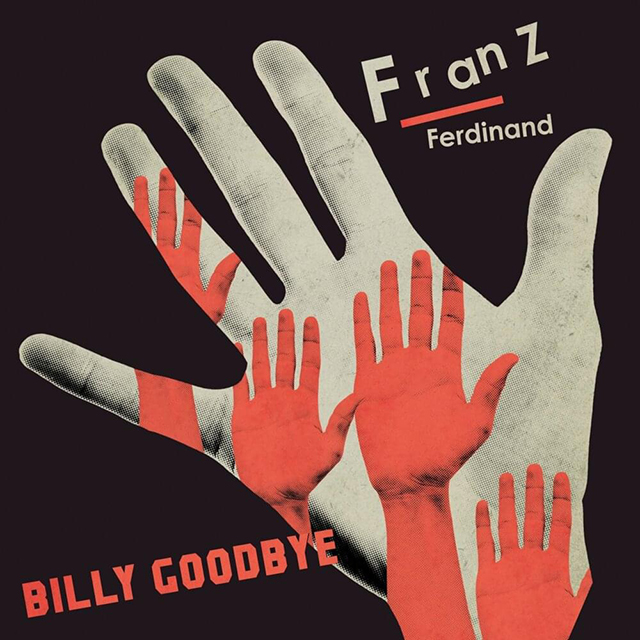 'Billy Goodbye' — Franz Ferdinand
'Kiss of Life' — Kylie Minogue and Jessie Ware
'Runway' — Cadence
'Billy Goodbye' — Franz Ferdinand
Not all friendships lasts forever. Hence, we should celebrate the best bits of it. Scottish indie-rock band Franz Ferdinand returns to express this in a new song 'Billy Goodbye' which will appear on their upcoming greatest hits record Hits to the Head. This dance-ready art-rock tune also features Audrey Tait on drums, replacing drummer Paul Thompson who left in October 2021.
On curating the tracks for the compilation album, Frontman Alex Kaprano explain in a press statement, "It's the same as writing a set list for a festival: You want to play the songs you know people want to hear. The hits. Bring the hits to the head. The heart. The feet. That means obvious singles, but also songs you know have a special meaning for both band and audience, like 'Outsiders.' We also added two new songs, recorded last year: 'Billy Goodbye' and 'Curious,' both co-produced at the last stage with Stuart Price. I have friends who believe you're somehow not a 'real' fan if you own a best-of rather than a discography."
'Kiss of Life' — Kylie Minogue and Jessie Ware
Kylie Minogue introduced the irresistible DISCO in 2020 and this year, she invites her pals to party with her in the upcoming star-studded DISCO: Guest List Edition. We've heard Dua Lipa and Years & Years so far. Now, Jessie Ware joins Minogue on the euphoric 'Kiss of Life'.
We're definitely in for a treat as both musicians made flawless dance records for their latest album release. The pair wrote the divine floor filler alongside James Ford, Danny Parker and Shungudzo. Furthermore, its accompanying campy video, directed by Minogue frequent collaborator Sophie Muller, serves serious glam visuals with a vintage 70s aesthetic.
'Runway' — Cadence
It's impossible for planes to take off without gaining momentum. That certainly applies to us as nothing will be achieved if we remain idle. With this in mind, local alternative rock band Cadence produced a guitar-driven 'anthem of defiant hope' that was initially written as a form of self-help.
Frontman Seth Chiam explains: "Hitting my 30s and not accomplishing what I imagined I would've in my 20s was particularly hard for me. I wrote the chorus lyrics as a reminder-to-self that if I just keep the faith and keep on keeping on, I'd eventually 'call it into being', even if I feel a little late to the game.
---
'Dance Magic' — Foxes
'Bound' — Wet and Blood Orange
'Pause + Reset' — Marian Carmel
'Dance Magic' — Foxes
When words can't express how you feel, dancing can be the answer. GRAMMY winner Foxes, aka Louisa Rose Allen, let her body do the talking on the second single off her upcoming third LP The Kick. This energetic tune certainly can dispel any inhibition with its catchy hyper-pop execution.
"This single is about being swept up by the chemistry with someone, and not being able to see the sometimes dark reality, dancing around each other in a fantasy you've both created," Foxes explains the track's inspiration.
'Bound' — Wet and Blood Orange
This is one collaboration we didn't see coming. But Brooklyn-based R&B-pop trio Wet and New York-based Dev Hynes' music sensibilities share a common DNA: Chill rhythms. Hynes fuses Wet's soulful yet ethereal trademark seamlessly on this hazy 90s funky bass track while harmonising his vocals delicately with Kelly Zutrau, Wet's leader.
Accompanying the song is a video directed by frequent Blood Orange collaborator Gia Coppola. In it, Zutrau explores a rainy Los Angeles and appears singing to a projected image of Hynes.
'Pause + Reset' — Marian Carmel
If only we can hit pause and reset in life. That's something Filipina-born and Singapore-based singer-songwriter Marian Carmel pondered about. The soulful blues tune produced by French producer, Charlie Kurata (Duumu) dives deep into frustrations that come with moving on from a relationship.
Carmel shares, "I had been trying to write a song about acceptance for the longest time, but I just couldn't. So I flipped the concept on its head and wrote about not being able to do that instead. After that, 'Pause + Reset' happened so quickly; I think that from the moment I let myself feel the frustration, it took away from the writer's block that I had."
---
'U&Me' — Alt-J
'Gilder' — Japanese Breakfast
'how r you sleeping' — Shye
'U&Me' — Alt-J
British indie-rock band Alt-J returns with new material after four years since 2017's Relaxer. The Mercury award-winning lads certainly emit positive vibes via 'U&Me' from their upcoming fourth studio album The Dream. Serving as the lead single, Alt-J certainly showcased their signature off-kilter trait with upbeat layered guitar-synth backed by rhythmic tribal percussion beats.
On the track's origins, guitarist-vocalist Joe Newman disclosed in a statement that the song was pieced together during various soundchecks. "It gathered momentum on its own, it was best to just get out of its way. We were just there."
"It's about being at a festival with your best friends, having a good time, togetherness, and the feeling in life that nothing could be any better than it is right now," keyboardist Gus Unger-Hamilton chimed in on the song's meaning.
'Gilder' — Japanese Breakfast
A soundtrack can make or break a production. Thus, it's best to enlist a credible and befitting songsmith to express the project's intentions. The coming-of-age exploration game Sable nabs indie alternative rock band Japanese Breakfast, headed by Korean American musician Michelle Zauner, to imbue sonic textures and dimensions.
While the soundtrack consists of mostly soothing ambient-pop, the ethereal 'Glider' features Zauner's lush and warmth vocals accompanied by intricate layers of synth and piano keys.
"I was so lucky Daniel Fineberg and Gregorios Kythreotis from Shedworks invited me onto this game so early on," Zauner said in a statement. "I was immediately captivated by the world they'd built, a desert planet filled with mysterious natural and architectural wonders, and the story they'd imagined, one of a young girl coming of age through exploration. It was important to me that each biome in this world felt unique."
"I used woodwinds and vocal layering to make monumental ruins feel ancient and unknown, industrial samples and soft synths to make atomic ships feel cold and metallic, classical guitar and bright piano to make encampments feel cosy and familiar. I wanted the main themes to recall iconic works of Joe Hisaishi and Alan Menken, to fill the listener with the childlike wonder of someone on the precipice of a grand discovery."
'how r you sleeping' — Shye
Don't underestimate the importance of rest. With uncertainty and anxiety culminating from the ongoing pandemic, Shye unwinds from her energetic self to reflects her psyche with this mellow, heartfelt track. The Singapore-based electro-pop singer-songwriter encourages extending a helping hand too. Such support can definitely provide comfort and assurance, especially to reserved individuals.
Shye shares, "It was inspired by events that happened in 2020, a year filled with anxious moments, when sleep didn't come easy for me. Being an introvert, I do find it extremely hard to open up and talk to someone about how I'm feeling, even to my friends. It's also this feeling of not wanting to be a burden to others, hence the lyrics 'I'll make it look easy but it's never what it seems.'
"This single is a reminder to check in on our friends and loved ones because we may never truly know what someone is going through and the battles that they might be keeping to themselves. I hope everyone has someone that they can trust and talk to."
---
Montero (album cover) — Lil Nas X
'Valentine' — Snail Mail
'When You Fall' — RINES
'THATS WHAT I WANT' — Lil Nas X
Lil Nas X shrewdly ramps up promotions for his debut album Montero with memorable live performances and visuals. On his fourth single, the rapper-singer profess a longing to love with a punchy hip-pop anthem. Although the lyrics lean towards emotive confessional love, its accompanying video explains with an explicit narrative.
Directed by Stillz, the clip sees Lil Nas X finding love on the football field and campsite (a homage to Brokeback Mountain). Passion takes over and steamy scenes follow, as defined with his previous music videos too. But in the end, Lil Nas X walked down the aisle by himself to a familiar-looking priest (cameo by Billy Porter). "I want someone to love me," he sings. "I need someone who needs me/'Cause it don't feel right when it's late at night and it's just me and my dreams/I want someone to love me." Love is more than physical desires.
As a black queer entertainer. Lil Nas X remains true to himself and defying norms. This attitude provides a much-needed voice for many queer kids of this generation and assuring them to be comfortable in their own skin.
'Valentine' — Snail Mail
Romance comes in different forms. For Snail Mail aka Lindsey Jordan takes a stab at unrequited love on the leading single and title track of her upcoming sophomore album. Venting the extreme moods of anger and hopelessness, this synth-driven alt-rock tune hits the bullseye on frustration with a liberating hook.
Jordan reveals to injecting more "romance, heartbreak, blood, sweat, and tears" in Valentine. "I wanted to take as much time as possible with this record to make sure I was happy with every detail before unleashing it unto y'all," Jordan says. "Referring to the process as the deepest level of catharsis and therapy I have ever experienced would be a huge understatement. Valentine is my child!"
'When You Fall' — RINES
Not everything goes the way we want it to be. Rising eclectic Singaporean artist RINES taps into disco to shake off rejection and setback. Working with Los Angeles-based producer and multi-instrumentalist, Jaye Locke (LAUV, Mikky Ekko), and in-demand drummer and producer, Efajemue Etorama, Jr. (Moonchild, Common Souls, Kanye West & The Sunday School Choir), RINES latest single 'When You Fall' provides reassurance and encouragement with warm upbeat grooves.
"How does the heart break when the stars don't align? 'When You Fall' is one for all the almost-lovers. I wrote this song while confronting the bittersweet memories of a situationship with an almost-lover. Having to confront yourself through the inevitable grief of losing that special someone and yet not really. And to have to accept it even though it's too late and you've already fallen," RINES explains.
---
'LALISA' — LISA
'Pressure' — Ari Lennox
Atlas album cover — MJ Kuok
'LALISA' — LISA
As the third BLACKPINK member to release solo material, LISA's debut is highly anticipated. The main dancer-rapper and most-followed K-Pop Idol on social media showcased her Thai heritage with pride on lead single 'LALISA'. Written and composed by Teddy and Bekuh BOOM, the catchy 'Lalisa love me' hook in the chorus will certainly stick in your mind indefinitely when listened over Apple Music's Spatial Audio and Lossless format. One minor quip we have is that LISA deserves more than the basic verses on the track as she's capable enough to deliver refined lyrics.
LISA explained in the project's press conference, as translated by Soompi from a NAVER article, that the song would "show the strength of my name and my confident side". "I hope that people will hear the song and think, 'Wow, this is it. This is something only Lisa can do'." Speaking about the music video, she also notes that "the set and outfits… capture that Thai vibe well".
'Pressure' — Ari Lennox
Mention music divas and legends like Diana Ross, Chaka Khan, and Donna Summers come to mind. On her latest single 'Pressure', contemporary R&B diva in-the-making Ari Lennox salutes her illustrious peers in technicolour. Furthermore, this funky upbeat track features legendary producer Jermaine Dupri and supreme songwriting titans Bryan-Michael Cox and Johnta Austin. A sure-fire hit, we wager.
On the accompanying video directed by Chandler Lass, Lennox channels diva sensibilities while applying pressure with her sensual demeanour and touch rather than allow herself to succumb to the grips of love.
'Infinity' — MJ Kuok
There are no limits to creativity. But MJ Kuok pins down his motivations and positive energy on his latest track 'Infinity'. The Singapore-born, Hong Kong-based DJ fuses elements of ambient soundscapes, deep-house melodies over an uplifting, silky production to deliver a warm and bright tune.
Kuok says: "I wrote 'Infinity' during an early morning studio session in Hong Kong, where I'm currently based in. At that time, I was filled with a strong sense of love and deep fulfilment as the sun was rising and the world was still and at peace. I felt guided and limitless, believing that there is this positive force that has guided me to get me through to where I am now, giving me strength and courage — I'm talking about that rare sense of infinity. I wanted to try and capture that rare moment in this song to inspire listeners with that special moment."
---