Has the NFT (non-fungible token—need we still spell it out?) bubble burst? We're no experts, so it's hard to say. Though data tells that in just the first half of 2021, total sales amounted to USD2.5 billion. The Weeknd jumped on the bandwagon with unreleased music that sold within 24 hours in April, while Sir Tim Bernes-Lee's origin of the Internet fetched USD5.4 million last month.
So yeah, you tell us. Even if you don't own any form of cryptocurrency, it's still good fun to see the digital pieces that commanded the jaw-dropping prices. Here are the current Top 10, according to NFT research and analysis site NFTQT; accounting for resales and ranked by price in Ethereum (ETH).
#6-10
#10: The first tweet (~USD2.9 million)
#9: Doge (~USD4 million)
#8: Stay Free (~USD5.2 million)
#7: Source Code for the WWW (~USD5.4 million)
#6: OCEAN FRONT (~USD6 million)
#5: CryptoPunk #3100
Price: ~USD7.6 million
Creator: Larva Labs
Buyer: Unnamed Wallet
Starting at USD76 in a 2017 bid, this 24 x 24 pixel 8-bit icon went on to its eventual sale at USD7.58 million.
#4: CryptoPunk #7804
Price: ~USD7.6 million
Creator: Larva Labs
Buyer: Unnamed Wallet
Another one of nine Alien punks in Canadian software developers Matt Hall and John Watkinson's collection of 10,000 uniquely generated characters.
#3: CROSSROAD #1/1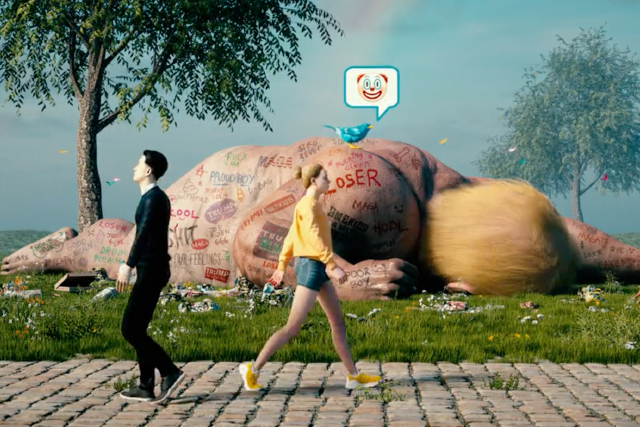 Price: ~USD6.6 million
Creator: Beeple
Buyer: Babybeluga
This was one of two possible animations that the buyer would have received, which was only finalised upon the US presidential election result. One of Beeple's most notable artworks, and also his first NFT sale.
#2: CryptoPunk #7523
Price: ~USD11 million
Creator: Larva Labs
Buyer: Shalom Meckenzie
Possibly the most relevant, the 'Covid Alien' punk was flipped for more than 100 times the original sale price at Sotheby's first curated NFT sale.
#1: Everydays – The First 5000 Days
Price: ~USD69 million
Creator: Beeple
Buyer: Metakovan
The composition comprises every single work Beeple has produced since May 2007. The sale also marked auction house Christie's first foray into the digital art on 11 March; and was notably made to Singapore-based buyer Metakovan.
Similar stories:
How would you like to own the very creation of the Internet?
Everything You Need to Know About NFTs—the Crypto Art Selling For Millions
NFTs are on the rise. This is what the future might look like.