Running can yield unexpected joy. For instance, treading #instaworthy scenic racing routes makes one forget it's actually a demanding workout. An occasional runner or looking to kickstart an exercise regime? Nike has designed the Joyride Run Flyknit that specifically allows novice joggers to run comfortably for regular recreational runs. #Fitspo goals are achievable.
The answer is TPE beads
There's strength in numbers. And we couldn't agree more. The Nike R&D team targets solely the mid-soles (get it?) and tested over 150 materials before confirming a TPE—Thermoplastic elastomers (a copolymer of plastic and rubber) for the beads.
In addition, Nike engineered pods to prevent TPE beads from shifting around too much à la musical chairs. It'll be uncomfortable otherwise. With these pods, Nike designers have created a zonal-tuning for each respective iteration of Nike Joyride. Thousands of TPE beads present in the Joyride's four mid-sole pods will then provide impact absorption from running.
For maximum performance, optimal distribution is necessary to effectively reduce impact. Example: if there are 8,000 total beads, about 50% will cover the heel strike while 5% will offer cushioning at the toe. So, fewer beads at the fore and more in the heel)
Rollin' good times
Ankles and knees are susceptible to injury during running. Thus, allow Nike's iconic Flyknit exhibit its heroics that'll minimize such pains. Nike's Joyride Run Flyknit outer shell sports the exclusive knitted fabric technology which is a lightweight, stretchable and breathable mesh that encases the runner's feet snugly.
While the inner knit (connecting to the tongue) fits like a glove, its hardy outer provides additional protection to the ankles. One less worry to mull.
What about the knees and your soles? Again, the Nike Joyride cushioning system offers 14% better impact absorption compared to other running shoes in the Nike family (tested with Nike Air Zoom Pegasus 36 and Nike Epic React FK2).
In action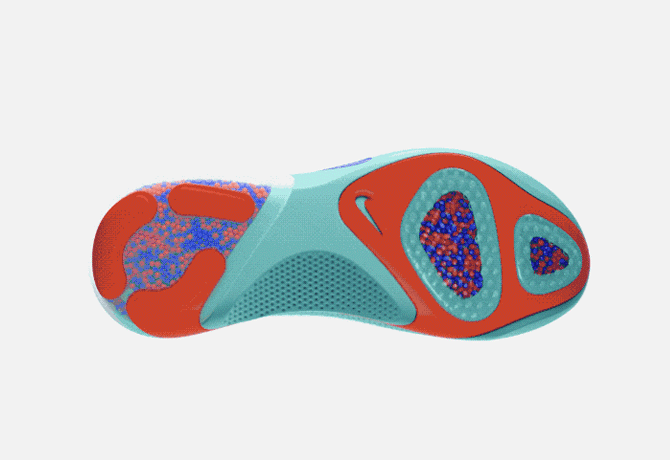 Good weather often calls for a run (which only occurs when I travel). Admittedly a beginner casual runner, I wore the Nike Joyride Run Flyknit for a loop route along Sydney's Darling Harbour and Barangaroo. Impressions: They have the ability to woo your feet to clock more distance. Lightweight and bouncy, the Joyride Run Flyknit functions best with speed when you land on the balls of your foot. Consequently, springing forward.
For indoor group exercise-focused classes, the Joyride Run Flyknit only fulfils its potential if it involves running; such as Les Mills' Body Attack. Nope, not effective for HIIT either. So slip on these kicks if accomplishing kilometres is on your mind.
Physical Aesthetics
Besides the default cream-coral-orange scheme, Nike's Joyride Run Flyknit also comes in black-white and navy-white colourways. Those into athleisure wear will dig its versatility with their wardrobe.
Sneakerheads and hypebeasts, keep a lookout for other Nike Joyride silhouettes tuned specifically for specific purposes. Add Nike Joyride NSW and Nike Joyride NSW Setter (which debuted during Matthew Williams' SS20 ALYX show at Paris Fashion Week) to your collection. Otherwise, treat your loved ones with the women's-exclusive Nike Joyride NSW Optik; and the Nike Joyride Kids Nova, expressly engineered for the needs of young athletes.
The Nike Joyride Run Flyknit is now available on the Nike website and official Nike stores.