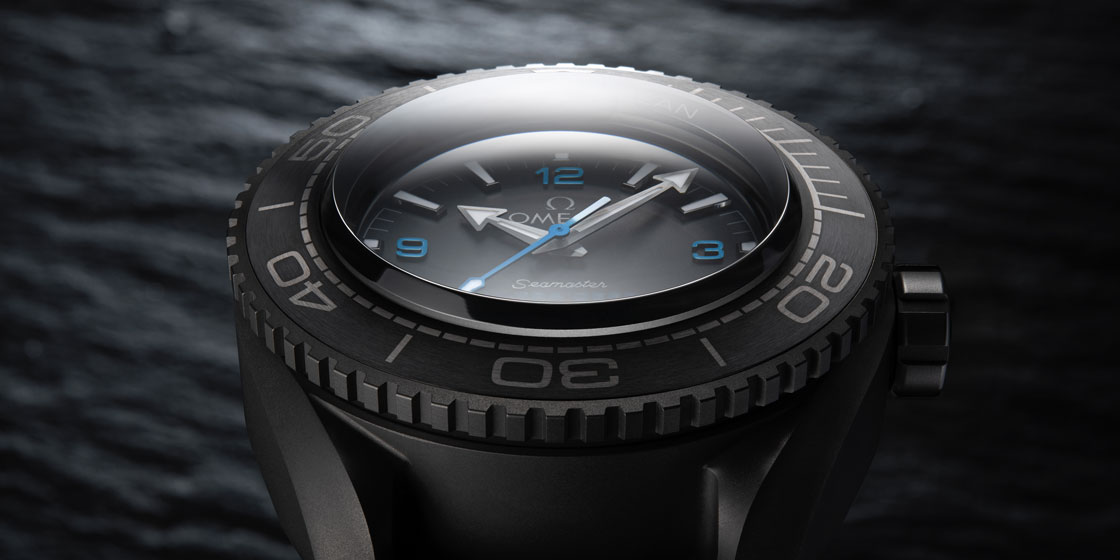 In addition to spacefaring and Olympian dreams, Omega also has a long-held fascination with the sea. That began as early as in 1932, when the Swiss manufacture made its first diver's watch called the Omega Marine. American explorer Charles William Beebe created the bathyscaphe and wore it when he made a 14-metre dive—an impressive feat for the time.
And of course Omega's iconic Seamaster anchors the brand firmly in the oceanic arena. Its one-of-a-kind Ploprof was ever worn by French environmentalist Jacques-Yves Cousteau. Omega offers a diverse range of models today, from the Seamaster Diver 300 to the Seamaster Planet Ocean to the Seamaster AquaTerra. All of them united by the manufacture's distinguished dive watch legacy.
Most recently, Omega found itself headed to each of the world's five oceans. Together with Dallas businessman and undersea explorer Victor Vescovo, the plan was to dive down to and explore the deepest points of all five oceans. The expedition, named Five Deeps, was organised and funded by Vescovo himself. And comes just after he was done climbing the highest peaks on all seven continents.
The 53-year-old ex-naval officer with an estimated net worth of US$52.4 trillion broke the world record when he dove to 10,928 metres at the bottom of the Mariana Trench. In comparison, the James Cameron expedition in 2012 which visited the same area reached a depth of 10,908 metres.
Vescovo's submersible Limiting Factor is a Triton-built vessel. It is commercially certified by the international maritime authority DNV-GL for extensive, repeated dives to extraordinary depths.
Specially for Five Deeps, Omega was created a deep-sea diver watch from scratch. It is called the Seamaster Planet Ocean Ultra Deep Professional.
Here are the 10 things to know about this undisputed king of dive watches.
1. There were three of them
Two were mounted on the submersible's robotic arm and another on a data-gathering unit dubbed a Lander. All three took the dive in their stride and surfaced completely unscathed.
2. The watch is surprisingly slim
Omega managed to limit the thickness of the timepiece to less than 28mm without sacrificing its exceptional resistance. In order to ensure that the case is able to handle the pressure, it was subjected to extensive finite element analysis simulations.
3. It is made of the same material as Vescovo's submersible
Limiting Factor's grade 5 titanium pressure hull required development of a new advanced forging technique and an entirely weld-free construction. The watch's bezel, case, case back and crown were machined cut-offs from the hull. These cut-offs bear the DNV- GL stamps, certifying the origin, characteristics and quality of the material.
4. It has a unique viewport design
Omega took inspiration from this loadbearing conical design and used a proprietary alloy, Liquidmetal, to ensure a firm yet flexible sapphire-to-case assembly. This innovative patent-pending hot form bonding made it possible to avoid the use of polymer seals and to reduce the sapphire's thickness.
5. It's got special lugs called manta lugs
The lugs of the Seamaster Planet Ocean Ultra Deep Professional are left open to lower the risk of exceeding material limitations at full ocean depth. They fully integrated into the titanium case, and called "Manta" lugs due to their distinctive look.
6. It has a special case back engraving
The expedition logo is located at the centre of the case back inside concentric circles evoking multibeam sonar technology. Model, reference number, materials, DNV-GL certification, and the words—tested 15,000m / 49,212ft—are all laser-engraved.
7. It could inspire a special model or collection someday
Though Omega's goal was to create a watch for a very specific—and extreme—purpose, it made sure to use materials and technology that could be commercialised.
8. It comes with a special strap
The strap material is a throwback to the brand's experience in space. The use of a polyamide strap with a Velcro closure is closely associated with the straps used during the Apollo missions.
9. It was tested to even greater depths than the Mariana Trench
All of the watches were pressure tested at Triton Sub's facility in Barcelona by a DNV-GL surveyor. The chosen maximum pressure is linked with tolerances required in the Mariana Trench. But to be extra sure and to comply with dive watch standards, Omega added a 25 per cent safety margin. This meant it actually qualified for an astonishing 15,000 metres.
10. It is a METAS certified master chronometer
Post-dive, all watches went through rigorous tests over 10 days set by the Swiss Federal Institute of Metrology (METAS). Even after their extreme underwater journey, each achieved Master Chronometer certification.