It was a collaboration that no one saw coming, but everyone wanted a piece of the Omega X Swatch MoonSwatch. If the crazy crowds that descended upon Swatch boutiques around the world were anything indication, this monumental partnership between the two sister brands had been a major coup. Everyone who wasn't living under a rock was talking about it—or knows someone who actually camped overnight for it.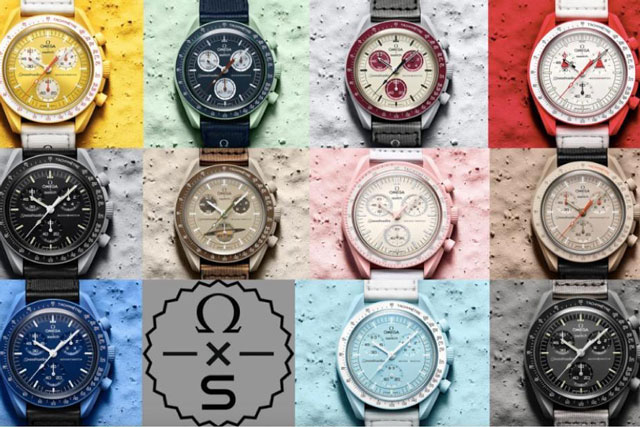 Unfortunately, not everybody who wanted a MoonSwatch got a MoonSwatch. Despite the fact that it is not a limited edition, it appears that the MoonSwatch isn't exactly widely available, because Swatch had not been able to produce it in the kind of quantities that was required at launch. To date, it has also not been able to make the watch available on its website, suggesting that the brand needed more time to iron out its logistical kinks.
But logistical woes were only the start of Swatch's problems. After the fortunate few returned home with their purchases on launch day, obviously the first order of business was to share a wrist shot on social media. One luckless individual, however, was less than impressed with the quality of his watch—a vibrant blue Mission to Neptune—as he reported staining from the planet medallion set on the case back.
An allegation that checks out, apparently, as others have also raised similar complaints. Swatch has yet to offer a formal response, although it is likelier than not, no cause for serious concern.
Some customers have also lamented the lightness of the case, which is made of a novelty material known as Bioceramic, while others weren't happy at all to see a nylon strap, and were especially displeased by the Velcro fastener. That these elements are among some of the key highlights of the MoonSwatch was clearly and completely lost on them.
Which brings us to the crux of all this drama. Why is the Omega X Swatch MoonSwatch such a big deal? Why do people desire it so? And most importantly, is it worth the hype? The short answer is yes, and the long answer will tell you why the MoonSwatch is indeed one to collect—as long as you're getting it for the right reasons.
It is a union of two major watch brands
Omega and Swatch are two brands legendary in their own right. Where Omega is very much one of the world's top luxury watch brands, Swatch had been the brand that ran interference for the entire Swiss watch industry during the 70s, saving it from complete annihilation. Few also realise this is not the first time Omega collaborated with a sister brand. Google Omega X Tissot and you'll find vintage watches from the 1930s bearing the logos of both those brands.
Special editions are always exciting
Let's face it, we love collabs. There's always something doubly exhilarating about the overlapping of two separate entities, the more dissimilar they are, the better. However, given the historical significance of that which Omega brings to the table (see following point), this writer feels the collection should have been issued as a limited edition, accompanied by thorough planning and distribution—perhaps multiple drops throughout the day to be fair to customers in different time zones.
MoonSwatch Mission to Mars in white and fiery red Bioceramic.
Chronograph hands inspired by the Alaska Project Moon Watches.
The Moon Watch is a landmark watchmaking icon
Known as the watch that actually went to the Moon, the Speedmaster Professional Moon Watch is arguably bigger than even Omega itself. Since 1969 Omega has produced countless iterations and continuously improved on various aspects of the watch, and this collaboration with Swatch is no exception. In fact, it is precisely because of Swatch's involvement that we could finally visualise the Moon Watch in a parade of bright bold colours—something Omega would not have been able to do solo.
It is a collaboration in good fun, and Swatch is synonymous with fun
For all intents and purposes, Omega X Swatch MoonSwatch was meant to shake up the watch industry with a bit of irreverence and audacity. By using the iconic Moon Watch as a point of origin, this plucky fleet of colourful, casual inexpensive chronographs imaginatively contemplates exploration of the entire solar system from the Sun and hot planets, to Earth and the cold planets. Despite the $372 price, it's not a watered-down version of the Moon Watch. Maybe you're itching to compare the two. Our advice? Don't.
See the hidden logo etched onto the middle of the crystal—a signature of hesalite crystal Moon Watches.
Dot over 90 on the tachymeter is a highly desirable feature especially among watch aficionados.
The watches are chock full of horological easter eggs
That said, the MoonSwatch was obviously designed by people who know the Moon Watch intimately enough to know what about it drives watch collectors nuts. You've got the famous Dot Over 90; you've got the fiery red Alaska Project dial (Mission to Mars); you've got those recessed chronograph sub-dials; you've got a sunburst finished dial (Mission to the Sun) you've even got a secret logo laser engraved on the crystal—an S for Swatch, rather than the ohm for Omega, but a fine detail nonetheless.
And that nylon strap with Velcro fastener? Arguably the most important element of all, as it was literally what astronauts used to secure their watches to their wrists. Google it.
So these are your five good reasons to hold out still for the Omega X Swatch MoonSwatch. Unless you're hoping to land a windfall with these watches. Because we hate to be the bearer of bad news: it's highly unlikely they'll fetch anything more than retail at best. On the one hand, scalpers gonna scalp—such is life.
But as Swatch has made it clear in no uncertain terms that the watches are not limited, the best course of action is to wait for stocks to replenish, then inquire at your nearest Swatch outlet or online, and ultimately, let's not spoil the fun by making this a bigger deal than it needs to be.