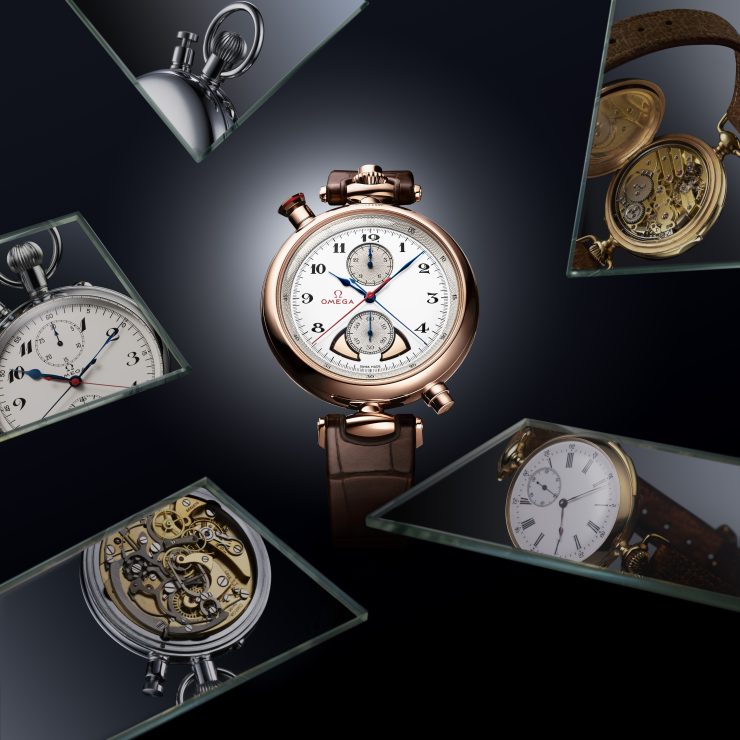 Serving up one of the biggest haute horlogerie surprises in 2022, Omega ventures far beyond its usual wheelhouse to give us one of the most brazenly ambitious and technically unimpeachable new inventions of the year. The magnificent Co-Axial Master Chronometer Calibre 1932 digs deep into Omega's long history and touches on some of the Manufacture's most glorious chapters. That included the creation of the world's first wristwatch minute repeater, raising the bar on high-frequency chronographs, and its inaugural participation at the 1932 Olympic Games as official timekeeper.
A cutting-edge movement that was six years in the making, Co-Axial Master Chronometer Calibre 1932 is the most complicated calibre Omega has ever made. It was also literally designed and built from scratch, because no existing Omega movement could be modified to accommodate the wealth of new complications and all the additional components they necessitated. In a nutshell, Calibre 1932 is a fully integrated split-second chronograph with minute repeater pulsating at a brisk five hertz or 1/10th of a second—just like the pocket watch chronographs Omega used to time the 1932 Los Angeles Games.
Notably, Omega did not embark on this quest on its own. Within the Swatch Group family, sister brand Blancpain has honed a tremendous grand complication savoir-faire, particularly with chiming watches, so the two brands worked hand-in-hand on this landmark project. But the calibre remains steadfast to Omega's watchmaking philosophy, as it features the famous Co-Axial escapement exclusive to the Bienne manufacture, and originally developed by the brilliant English watchmaker, George Daniels. Indeed, it is an essential component in all Omega in- house movements.
It was however, no walk in the park for the watchmakers, as Daniels' invention was designed to operate at the standard frequency of between three and four hertz. And oscillating speed was just the tip of the iceberg. The movement also had to fit in a split-second chronograph and a classic minute repeater with its three chiming cams, along with security cams and levers to prevent mishandling. It's like the horological equivalent of squeezing a gym, a tennis court and a karaoke room into your average three-bedder.
But despite the odds, they managed to achieve all that and more. Calibre 1932 boasts up to 17 patents related to the operating functions, the anti-magnetic technology and also the external components. To achieve Master Chronometer status, the calibre is engineered to withstand magnetic fields of up to 15,000 gauss using no fewer than 50 non-ferrous components, qualifying it as a movement that's truly representative of 21st-century watchmaking.
Such a great leap in technological advancement calls for an aesthetic treatment worthy of its eminence. Calibre 1932 is a luxurious movement handcrafted from solid gold totalling 46.44g, fully satin-brushed and mirror-polished to the nines.
OLYMPIC 1932 CHRONO CHIME
The Speedmaster Chrono Chime in Sedna Gold with gongs made of the same material.
Housed in the Olympic 1932 Chrono Chime, Calibre 1932 is enveloped in a fitting package where some of haute horlogerie's best-loved materials and timeless features converge. The case with its seductive curves is made of beautiful 18K Sedna Gold. Reflecting a style reminiscent of early 20th-century timepieces, the case has its crown at 12 o'clock while Vendome-style lugs take nothing away from the pocket watch aesthetic.
More exquisite details populate the dial, made in white Grand Feu enamel and outlined with an inner bezel ring of 925 silver. The latter as well as the watch's sub-dials have been decorated with traditional guilloché featuring Omega's new exclusive acoustic waves pattern, and get this, it comes from an exact visual representation of the soundwaves produced by the watch's chimes. Talk about attention to detail!
The repeater's gongs are also fashioned out of Sedna Gold and hand-tuned by Omega's watchmakers. Think of it as a subtle nod to the bells used by Omega to signal the final lap at the Olympic Games and other sporting events. The poire-shaped hands, too, are made in Sedna Gold but have been coated with blue PVD so that they may stand out clearly against the white Grand Feu enamel.
Fine watchmaking connoisseurs would undoubtedly appreciate that despite the addition of chronograph with split second and minute repeater, there are only two buttons set into the case band. One at five o'clock activates the chimes, and another at 11 o'clock splits the chronograph seconds. The chronograph, mono-pusher of course, leaps into action via the button set into the crown.
Even though its mechanism is highly complicated, the Olympic 1932 Chrono Chime is very much a timepiece that invites you to play with it—no kid gloves required. With its new Quick-Change patented strap system, you could easily swap the straps out for a leather cord to enjoy it as a pocket watch, or a stopwatch around the neck.
SPEEDMASTER CHRONO CHIME
But if you're thinking of how the Calibre 1932 would make a perfect daily wrist companion, Omega is one step ahead of you. With the Speedmaster Chrono Chime, you get the classic 45mm Speedmaster case crafted in 18K Sedna Gold and completed with a dial in blue aventurine Grand Feu enamel.
Its inner bezel and sub-dials are also made of Sedna Gold and feature the exclusive acoustic waves guilloché as well. Through twin cutouts on either side of the sub-dial at nine o'clock, you'll be able to admire the strikes of the hammers whenever you activate the repeater. As the crown is positioned at three o'clock, the chiming button relocates to eight o'clock and the split-second button goes to two o'clock, all for a more harmonious design that fits the Speedmaster Chrono Chime like a glove.
---
This story was first published in the December 2022/January 2023 issue of Esquire Singapore.