From the heart of functionality and all things interchangeable come a new series of products inspired by the sensibilities of the great outdoors and rooted in the idea of escapism towards daily routine. Omitir—founded upon a mutual fascination for form and purpose by two friends based in Singapore—presents its Infinity Collection. The collection revisits Omitir's accessories archetypes of the past till today. And in a way, a representation of how we are all products of our past.
Peak Bag, by Omitir.
Peak Bag, by Omitir.
The Infinity collection utilises natural materials combined with utilitarian hardware, which are nods to the great outdoors—a design element forms the foundation of the collection. Rekindling our love for adventure, the Omitir Peak Bag for example, pays tribute to hiking packs popularised in the '80s. The reworked bag explores adjustability in shape and size with its quick-release buckle feature so that a packing limit no longer exists. Or in other words, overpacking is an option. On top of that, it is crafted in a single tone juxtaposed against contrasting textures for a layer of minimal sophistication.
Glamp Chair, by Omitir.
Glamp Chair, by Omitir.
For a bout of rest and relaxation, there's the collection's Glamp Chair. Yes, you read the name right—the idea of glamour and camping all in one thoughtfully designed piece. The portable camping chair shares the same sleek and sophisticated design features as the Peak Bag, with its tonal and minimal approach. It's crafted with a smooth leather seating and a reverse-hide back for a hard-edged detail that'll roughen up (just a tad) any polished interior or ensure that it's not a piece to be too precious with, out in the open.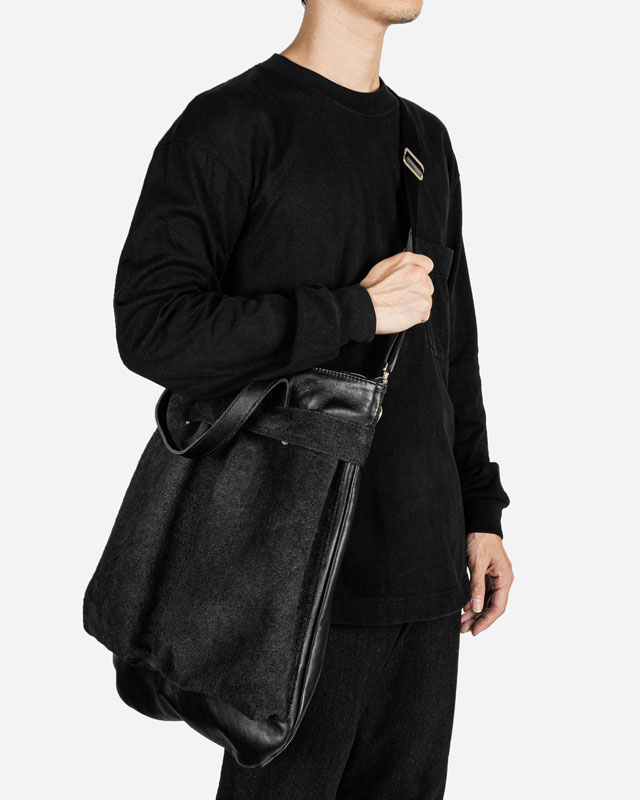 Helmet Messenger, by Omitir.
Helmet Messenger, by Omitir.
Omitir also took to military bags as a form of inspiration, especially those from the '60s where they were known to be used to hold everything one would need for the outdoors. The Omitir Helmet Bag reimagines the messenger bag from that decade, edited with a modern twist to compartmentalise trinkets of any size.
Just like the reworked pieces in Omitir's Infinity collection, norms and routines shouldn't always be stuck to. They say that if something ain't broke, it shouldn't be fixed. But when the results are this good, we're leaning towards improving and evolving.
The Omitir Infinity collection will be available online from 20 May 2021 and at Goodluck Bunch and ALT3RD from mid-June 2021.