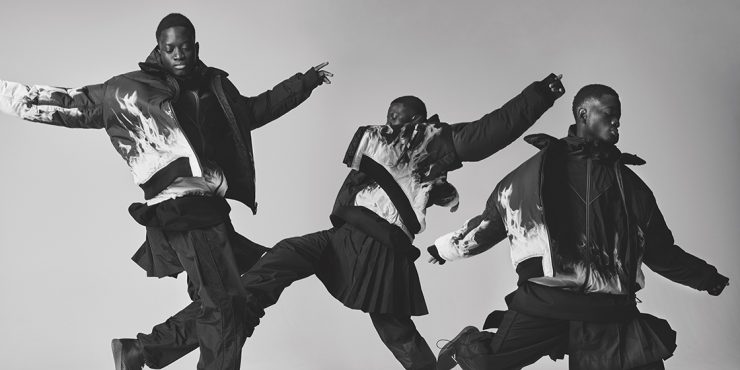 Onitsuka Tiger, the Japanese shoe brand turned fashion label, is on a bit of a roll. Under the creative direction of Andrea Pompilio, it's steadily put out collections that bridge the worlds of sporty utility with a fashion perspective. And all the while keeping touches of the brand's Japanese heritage in the mix.
Case in point: the brand's Fall/Winter 2022 collection, which hits stores this month. The collection and its campaign visuals both take inspiration from the Japanese fashion scene from the '80s. Much of the line is in a monotone black and white palette, and press notes describe the movement of the models as "supple" and "elegant". If we were betting men, we'd wager that Pompilio was tipping his hat at the oeuvre of Japanese fashion pioneer Yohji Yamamoto.
Onitsuka Tiger Acromount Knit ($229)
Onitsuka Tiger Acromount ($199)
Onitsuka Tiger Delegation Chunk Boot
Onitsuka Tiger Acromount Boot ($299)
The gist of this collection by Onitsuka Tiger is a wholly active and contemporary interpretation of that '80s period. The entire collection is genderless (very au courant!), and folds in nifty elements like Japanese ceremonial dress-inspired layering, ultra-oversized T-shirts, embroidered kaftans; and subtle flame and flower print details on the hems of various ready-to-wear styles.
Unsurprisingly though, the shoes are the stars of the show. The key styles of the season are the track-inspired Acromount, which comes in two low-top versions – one in a fuzzy textile material, the other a knit model with a monochrome flame print – and a high-cut boot style; and the Delegation Chunk boot, which features a suede upper, glossy nylon finishes and a chunky sole.
Onitsuka Tiger's Fall/Winter 2022 collection drops in stores from mid-July.
---