It's time for another fashion review for the spring/summer 2021 season, all done from the comfort (and socially responsible distance) of our home workstations. We won't be able to experience all the fashion action in real life this season, but that's not stopping us from analysing each collection and breaking down our favourite looks and accessories.
On the second day of the inaugural Paris Fashion Week Online, HOMME PLISSÉ ISSEY MIYAKE showed an impressive showing of its formulaic active fashion in the usual performative format albeit in a digital manner. Yohji Yamamoto on the other hand, opted for a moving lookbook of sorts, complete with detailed descriptions.
HOMME PLISSÉ ISSEY MIYAKE
Look 1.
Look 2.
Look 3.
Look 4.
Look 5.
Look 6.
Look 7.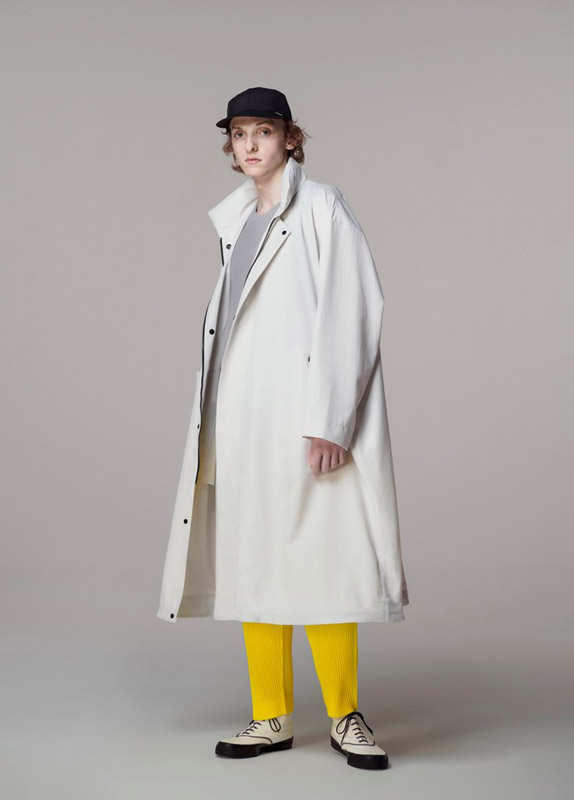 Look 8.
Look 9.
Look 10.
Look 11.
Look 12.
Look 13.
Look 14.
Look 15.
Look 16.
Look 17.
Look 18.
Look 19.
Look 20.
Look 21.
Look 22.
Look 23.
Look 24.
Look 25.
Look 26.
Look 27.
Look 28.
Look 29.
There's something to be said about HOMME PLISSÉ ISSEY MIYAKE's consistent showing of its revolutionary pleated garments season after season. It's quite literally the definition of 'if it ain't broke, don't fix it', and especially when the clothes are so signature to the brand—garment-pleated clothes that are lightweight and promote freedom of movement.
HOMME PLISSÉ ISSEY MIYAKE has also continuously put up energetic performances involving all manners of choreography and physicality, in lieu of a more formal and traditional runway show. It's a method that has worked brilliantly in showcasing both the silhouettes and just how unrestrictive the clothes are. And with the seemingly limitless extent of a digital fashion week, it definitely works to the brand's favour. The video presented is just as energetic as one would have expected, and with the added boon of being able to see close-up details as well as a distinct narrative.
Look and feel: Ease and comfort is the name of the game as usual. Vibrant colours and prints are also a constant at HOMME PLISSÉ ISSEY MIYAKE. Though for spring/summer 2021, we're seeing a lot more pastel tones and a heavier use of colour-blocking—both in the manner that the looks are styled, as well as in the way that the prints are done on certain pieces (for example look 16).
A key trope for HOMME PLISSÉ ISSEY MIYAKE's spring/summer 2021 collection is the inclusion of a buttoned tunic (looks 10, 11, 25 and 28). There's also a focus on a more voluminous top which visually tapers down towards carrot-cut trousers.
Favourite looks: Firstly, a fully pleated jumpsuit (look 12) is always a standout, but even more so when its constructed with batwing sleeves for a more impactful silhouette. We're also leaning towards look 13, purely for that printed baby-blue-and-pink coat, as well as look 24's striped coordinates that gave the illusion of a hardy canvas construction.
Favourite accessories: The super slim and pleated (of course) belt bag as seen in looks 3, 12 and 22. Small and compact, but at the same time, deceptively roomy.
Yohji Yamamoto
Aside from the often arresting clothes, a Yohji Yamamoto runway show is often acclaimed for the dramatic nuances that the designer places in almost every facet of the show. But with such restrictive circumstances, Yamamoto attempted to recreate the mood and feel of his usual shows with a pre-recorded runway set. Yamamoto then interspersed the almost 15-minute video with cuts of close-up still images and detailed descriptions of what each piece of the spring/summer 2021 collection is made of, offering a better understanding of how the collection would feel like when worn.
Look and feel: There's a heavy use of linen for Yohji Yamamoto's spring/summer 2021 collection. It's an unexpected use of fabric for the season but in true Yamamoto fashion, they act as not only to provide a certain lightness and comfort to the wearer but also for added character that's embodied in the texture of the linen pieces. Yet, despite the apparent lightness in the choice of fabrication, the darkness that is intrinsic in Yamamoto's work is very much there. Only a master can make linen seem deep, dark and devastating.
Look 1.
Look 2.
Look 3.
Look 4.
Look 5.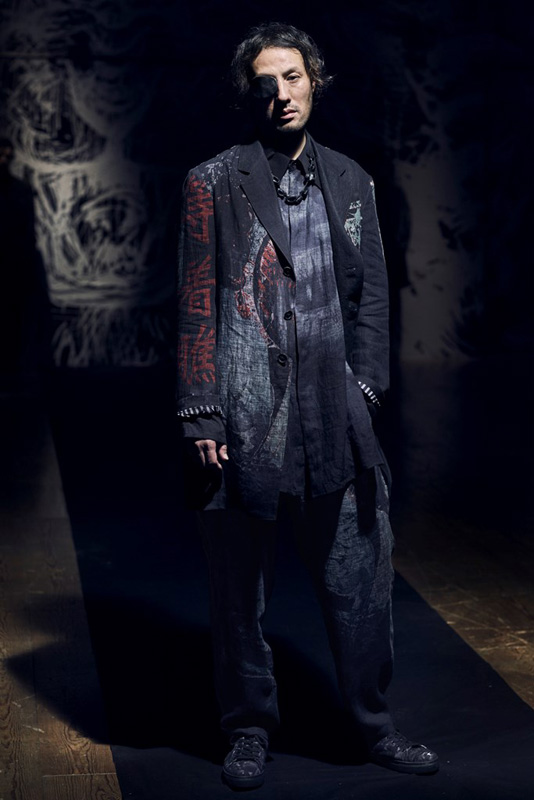 Look 6.
Look 7.
Look 8.
Look 9.
Look 10.
Look 11.
Look 12.
Look 13.
Look 14.
Look 15.
Look 16.
Look 17.
Look 18.
Look 19.
Look 20.
Look 21.
Look 22.
Look 23.
Favourite looks: The simplicity of the military long coat done in a bold red hue that makes up look 12 is a clear winner. Colour aside, detailed shots of the buttons fixed into a lot of the pieces in the collection reveal that they take the form of almond-shaped eyes—a detail that's equal parts disturbing and intriguing. Look 18's louche styling—an adidas T-shirt paired with wide-legged trousers that look like they're worn with suspenders—is how we're aiming to bridge casual pieces with more tailored separates.
Related:
Hermès men's spring/summer 2021
Day one of PFW Online: Études, CMMN SWDN, Wooyoungmi, Y/Project and Berluti
Day three of PFW Online: Juun.J, Casablanca, and Isabel Marant
Day four of PFW Online: Loewe
Day five of PFW Online: Dior Men