It's time for another fashion review for the spring/summer 2021 season, all done from the comfort (and socially responsible distance) of our home workstations. We won't be able to experience all the fashion action in real life this season, but that's not stopping us from analysing each collection and breaking down our favourite looks and accessories.
On the third day of the inaugural Paris Fashion Week Online, Korean brand Juun.J took us to designer Jung Wook Jun's favourite streets in Seoul, while Paris-based label Casablanca opted for a beach setting. Then there's Isabel Marant's first official 'runway' appearance in the Paris Fashion Week schedule, with an escape to Pantin.
Juun.J
Sombre or subtly powerful—interpret it how you will. Juun.J's black-and-white fashion video is an ode to the city that designer Jung Wook Jun calls his hometown and one that also inspires him. "For me Seoul has been too close and familiar to notice, but it has always been on my mind," Jung expresses. The video highlights Seoul in its industrial, modern-traditional hybrid best, with models wearing the Juun.J spring/summer 2021 collection and walking with intent on the streets and in between hidden spaces of the city's alleyways.
Look and feel: The spring/summer 2021 collection reflects harmoniously with the accompanying video—powerful but with moments of softness and tranquility. There's a focus on military and utilitarian tropes such as epaulettes and oversized cargo pockets that take up considerable real estate on most pieces in the collection. But at the same time, there's a balance to every look. In the function-heavy pieces, the choice of fabric and cut lend a softer visual. And when voluminous silhouettes create devastatingly beautiful shapes, they're given a hard edge with razor sharp shoulders or structured constructions.
Look 1.
Look 2.
Look 3.
Look 4.
Look 5.
Look 6.
Look 7.
Look 8.
Look 9.
Look 10.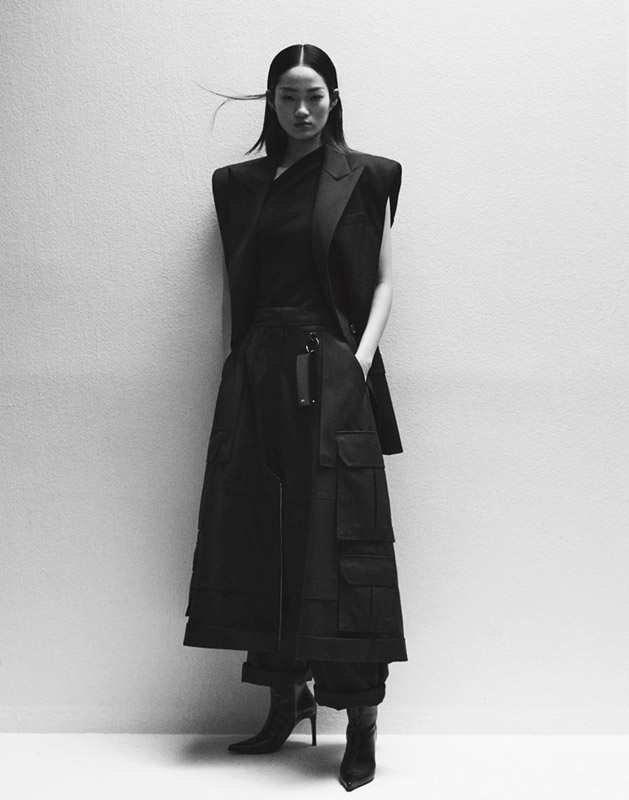 Look 11.
Look 12.
Look 13.
Look 14.
Look 15.
Look 16.
Look 17.
Look 18.
Look 19.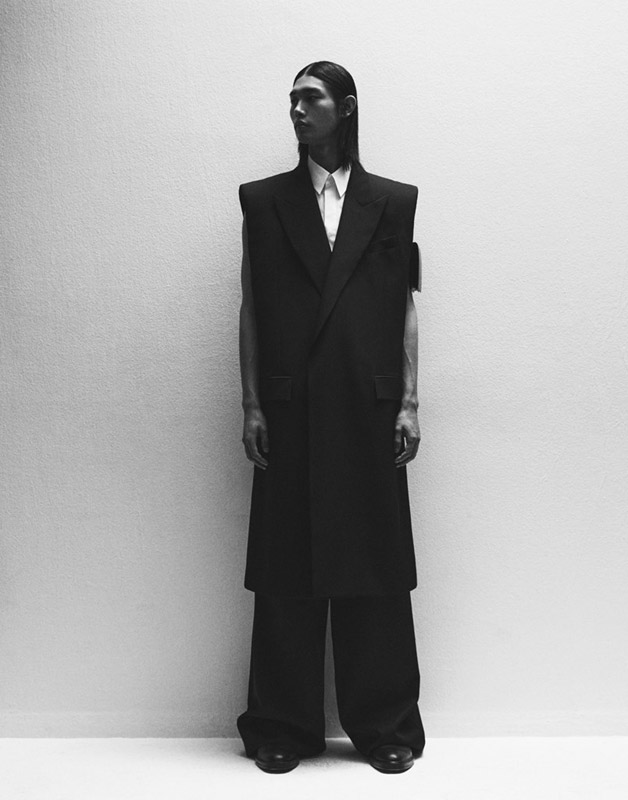 Look 20.
Favourite looks: Look 10 is a splendid balance of tailoring and what could be considered as streetwear. A generously cut suit (deliciously oversized and slouchy but still marked by a strong shoulder) paired with a T-shirt and a pair of calf-length, oversized chaps, of which the latter is a stunning addition to the look and is explored in a number of other looks in the collection. We're also awed by look 20's peak-lapel, sleeveless coat matched with trousers sufficiently pooled at the hem—simple but beautiful all the same.
Favourite accessories: The leather wrap bracelet that's attached to a mini box container in look 20. A perfect accessory for anyone of us who's ever lost track of where we've left our AirPods. Or to keep a small bottle of hand sanitiser always within reach.
Casablanca
No one should be frivolously travelling during a global pandemic, but that doesn't mean one can't do so virtually. Spring/summer 2021 marks French label Casablanca's fifth outing. Yet, it has already birthed a signature aesthetic—beautifully printed silk shirts, pearl adornments and relaxed tailoring, all done in the sort of loungey ease that's undeniably French. The brand takes us to a dreamed-up Surf Club where it's all peaceful and beautifully encapsulated by nature. Dubbed 'after the rain comes the rainbow', there's no guessing what the collection alludes to. And hopefully, by the time the collection is launched in its entirety, it will be as celebratory and Surf Club can be experienced in real life.
Look and feel: There's an unmistakably '80s vibe to the entire collection, marked by cinched waists, mother of pearl buttons, and retro-styled interior prints. If it's a rainbow (and its embodiment of joy and happiness) that Casablanca wants to embody, the spring/summer 2021 collection delivers with its vibrant palette and easily accessible aesthetic.
Look 1.
Look 2.
Look 3.
Look 4.
Look 5.
Look 6.
Look 7.
Look 8.
Look 9.
Look 10.
Look 11.
Look 12.
Look 13.
Look 14.
Look 15.
Look 16.
Look 17.
Look 18.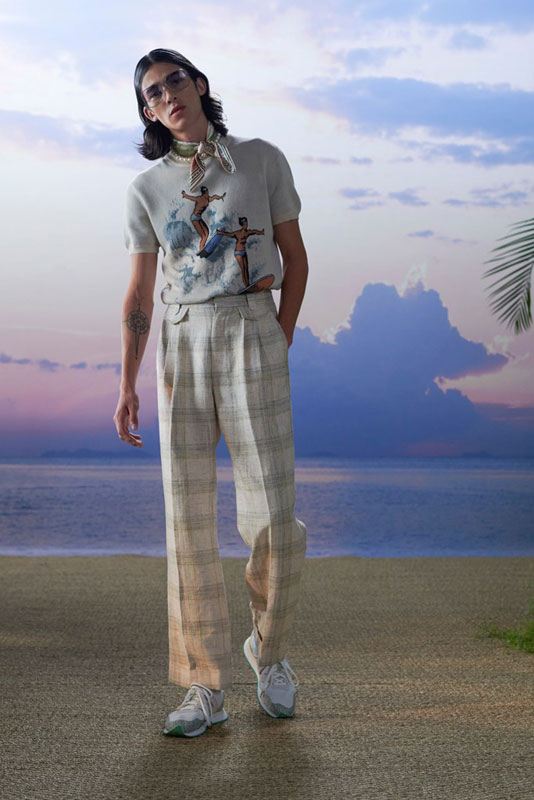 Look 19.
Look 20.
Look 21.
Look 22.
Look 23.
Look 24.
Look 25.
Look 26.
Look 27.
Look 28.
Look 29.
Look 30.
Look 31.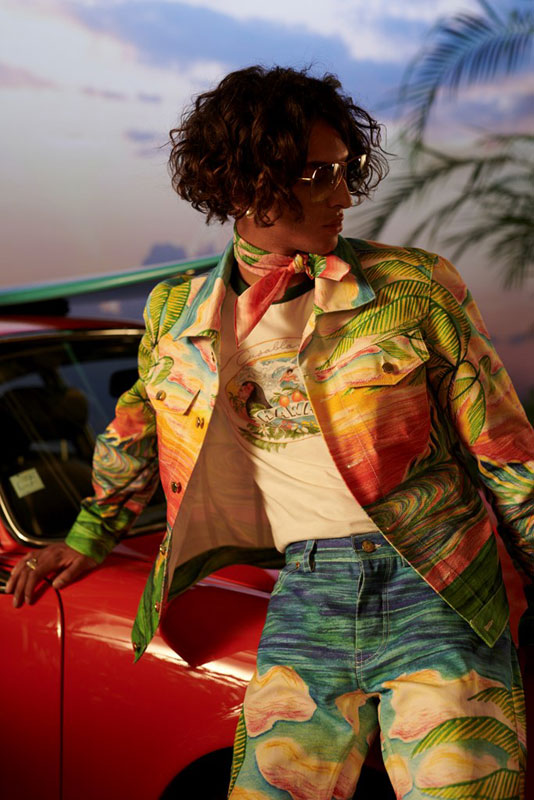 Look 32.
Favourite looks: The quilted jacket in look 4 is a scene stealer. Paired with a printed silk shirt, a silk tie (worn around the neck) and cream-coloured trousers, the look is a smart take on a dinner outfit situated at any poolside, beachside or resort setting. We also need to point out the elegance of a cinched-in safari suit that is look 13. Check out how the pearl buttons add a sense of timeless sophistication to the outfit. Winner.
Favourite accessories: No doubt, the sneakers are what we're clamouring for. In collaboration with New Balance, the 237 sneakers feature Casablanca's monogram along the overlay panels across the front and back. Not much is known about them yet but we can tell you that they're scheduled for an early 2021 release.
Isabel Marant
Set within the walls of the Centre National de la Danse in Paris' northeastern suburbs of Pantin, Isabel Marant's official Paris Fashion Week debut is one of irreverence and flexibility. The brand's menswear collection is fairly new and has always been steeped in simple wearability—clothes you'd want to wear and can easily be integrated into your existing wardrobe. Here, the ease of Isabel Marant menswear is amplified for spring/summer 2021. The looks are effortlessly styled and look great together. Break them up into individual piecesa and they'll still hold their own.
Look and feel: Isabel Marant is pretty textbook French when it comes to style; an asset and not at all a bad thing. There's the stylish mix of sportswear and easy tailoring, rolled-up sleeves and cuffs to reveal wrists and ankles, as well as studied combination of colours. Clothes are also cut just nice—not too tight, neither are they unnecessarily oversized to the point of exaggerated flounces.
Look 1.
Look 2.
Look 3.
Look 4.
Look 5.
Look 6.
Look 7.
Look 8.
Look 9.
Look 10.
Look 11.
Look 12.
Look 13.
Look 14.
Look 15.
Look 16.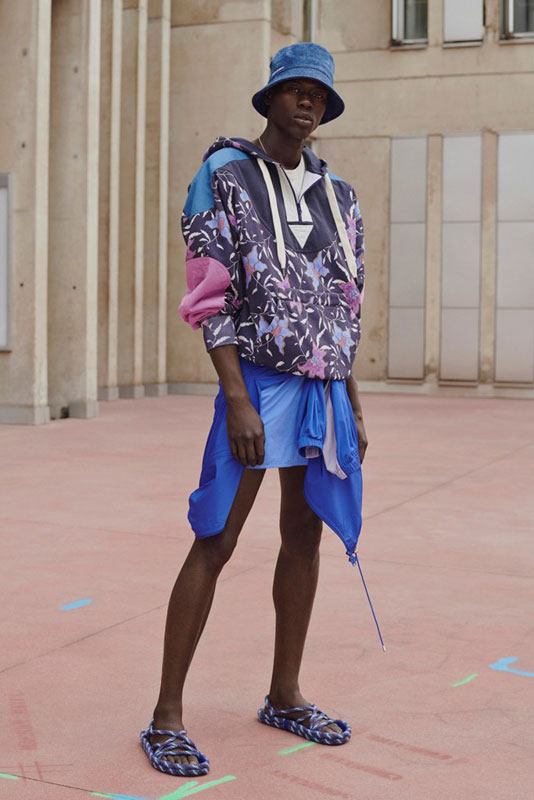 Look 17.
Look 18.
Look 19.
Look 20.
Favourite looks: The checked coat from look 12 is one that we'll wish we had once travelling is safe again. Worn with a pink shirt as the base layer, a textured striped jumper, and utilitarian trousers (check out those exaggerated front pockets), the colour combination is so pleasing too. And let's not forget about the cable-knit jumper in look 6 that's been interlaced with brightly coloured accents against the cream base. There's no need to worry about what to wear this with when it's such a statement piece.
Related:
Hermès men's spring/summer 2021
Day one of PFW Online: Études, CMMN SWDN, Wooyoungmi, Y/Project and Berluti
Day two of PFW Online: HOMME PLISSÉ ISSEY MIYAKE and Yohji Yamamoto
Day four of PFW Online: Loewe
Day five of PFW Online: Dior Men