When asked about the health of our world's oceans, Cyrill Gutsch stops short of describing our situation as a tipping point. "I think we've reached a point of total reflection," offers the Parley for the Oceans founder instead. "If we want to, we have the opportunity right now to truly understand our relationship with nature and question it. We are in a very tragic war against nature, against our oceans, and if we win this war [then] we lose everything." Despite the reckoning of the oceans, which forms some three-quarters of our planet, due to issues including overfishing, climate change and microplastic pollution, Gutsch is cautiously optimistic that we have the power to change our current course.
When Gutsch launched Parley in 2011, following years working as a design director, people "thought [he'd] become a crazy tree-hugger," but times have changed. "Back then people had a feeling something was wrong, but now people know something is definitely wrong, that we've created an environmental disaster. What we now need to do is turn that negative news into positive action—we invented these problems, so there's no reason we can't invent ourselves out of it." And that's essentially the mandate at Parley, which doesn't blame or shame different corporations or ways of living, but rather works in an open-source collaborative model to develop new ways of thinking and opportunities to effect change.
Early on, much of that was tokenistic—but intentionally so. Marine plastic pollution is significant in that plastic continually breaks down into smaller and smaller fragments. These microplastics are ingested by sea life and, inevitably, ends up in our own food chain. Perhaps it is not as great a threat as overfishing and climate change yet Gutsch recognised that these issues felt abstract, distant, to humankind—things we couldn't really put a face to or connect to our own everyday lives. Plastic, by contrast, is ever-present in the way we live in the 21st century, from the phones we use to the cups we drink out of to the clothes we wear. "When you see a picture of a turtle with a straw in its nose, or a bird with a belly full of plastic pieces, it really hits home, because these are things we have in our fridge, in our supermarkets," he explains. Plastic, then, presented itself as a possible posterchild of the toxic change taking place in the oceans, to become a visual metaphor for the broader set of issues at play.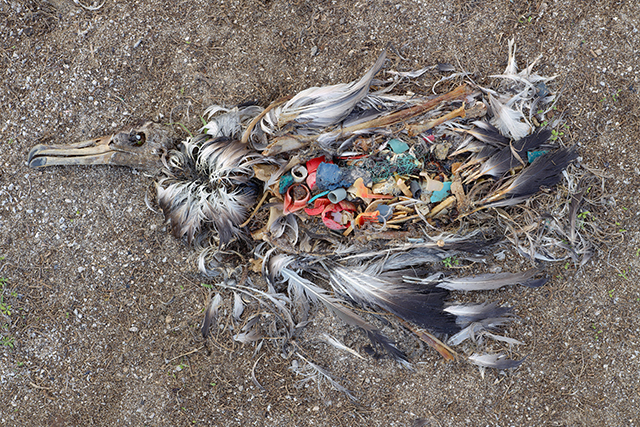 Parley's first goal, then, was to put plastic at the fore, and Gutsch identified Adidas as the perfect company to partner with. "On the one side it's a brand that creates trust in new materials, but on the other speaks to a new, youthful generation that has a lot of influence, and being a big company it had the power to change its supply chains," he explains. "We liked the idea of converting a traditional company because it speaks to all other legacy businesses that change is possible." Through Parley's AIR strategy—of avoiding the use of plastic, intercepting plastic debris and redesigning the material long-term—it collected discarded plastics and converted them into new materials, such as with Adidas' Alphabounce+ sneaker. While it draws attention to the problem, it certainly isn't the solution.
"Plastic, in short, is bad—it's not fit for a circular economy," says Gutsch. "The only good thing we're doing about ocean plastic is cutting into the production of new plastic and avoiding some of it being ingested by marine life. But that's just a band-aid, because even after it's been repurposed it's still leeching chemicals, still shedding microplastics in the wash. There's simply no good or healthy way to use plastic, and it's a complete design failure in that way. Recycling it, however, buys us time while we ultimately find new materials that can outperform it and are not harmful to the human body or to nature."
The material revolution, as Gutsch describes it, is coming, and it's his belief that by unlocking the secrets of nature, and by working in harmony with rather than against it, we have the potential to leave the old ways of understanding success behind us. "I would compare this next phase with what we learned in the digital revolution, which radicalised the way we store and communicate our knowledge and data," he says. "Back then you saw hackers creating codes in their garage, and now we have material scientists hacking DNA and using enzymes and yeast and algae and giving these cells new jobs, using the factories of nature to create materials and products we as humans can use. It's green chemistry, and we're using it for positive outcomes."
Parley itself doesn't employ scientists or developers, but it works with like-minded collaborators, providing "a landing strip for innovation," says Gutsch. "The moment you declare something, start something, you begin attracting people that have the courage to take a stand, to explore. We attract the nerds, and have struck this balance between science, art and fashion that's very important for what we are doing." And indeed, people are often incredibly disparaging of the fashion industry—often with legitimate cause—for its role in contributing to the destruction of nature, as well as for some of its social and ethical values.
And yet fashion "has the power to dream," says Gutsch. "Fashion allows people to do things that at first sight are illogical, or don't make sense, but triggers desire and creativity. Fashion can lead the way to change, and as an industry with an understanding and appreciation of materials, it can be a toolbox for this revolution. Imagine if you could grow a dress from a mushroom, or grow leather from a protein, or use a non-toxic dye from an orchid. There is something mystic about this new chapter we're entering."
Eight years after establishing Parley—and following sophisticated and high-profile collaborations with Stella McCartney, American Express, G-Star Raw and Net-a-Porter—Gutsch has seen awareness for ocean health radically increase, even if the real-life results are yet to be felt in any significant way. And yet the reasons for persisting are innumerable, including the fact that the oceans are responsible for regulating our climate and giving us the oxygen we need to breathe. "74 percent of the surface of our planet is covered in water, so I would call this Planet Ocean rather than Planet Earth," says Gutsch. "We only became the apex predator of our world through collaboration, by sharing duties and roles and building complex societies, and now it is our responsibility to apply that sense of collaboration to nature, because we only have a right to be on this planet if we can master that."
To read more stories related to World Oceans Day, visit our World Oceans Day section.