During this time of the year, fashion tends to take on a bit more colour—the kind that revolves around a rainbow flag. Yes, folks, it's Pride Month once again—an entire month dedicated to uplifting LGBTQIA+ (lesbian, gay, bisexual, transgender, queer, intersex, asexual and more) voices, celebrating the community's culture and supporting their rights.
As typical of every Pride Month, the fashion industry (and others) have come up with rainbow-filled capsule collections to celebrate the occasion. And while there are many brands showing up with their support, not every one of them are truly doing it for the betterment of the LGBTQIA+ community.
To help weed out the conveniently timed, we've gathered 10 best Pride Month capsule collections to support.
adidas
Forum Low pride slides (SGD140), by adidas.
Nizza pride slides (SGD140), by adidas.
Nizza slip-on pride slides (SGD95), by adidas.
Adilette 2.0 pride slides (SGD75), by adidas.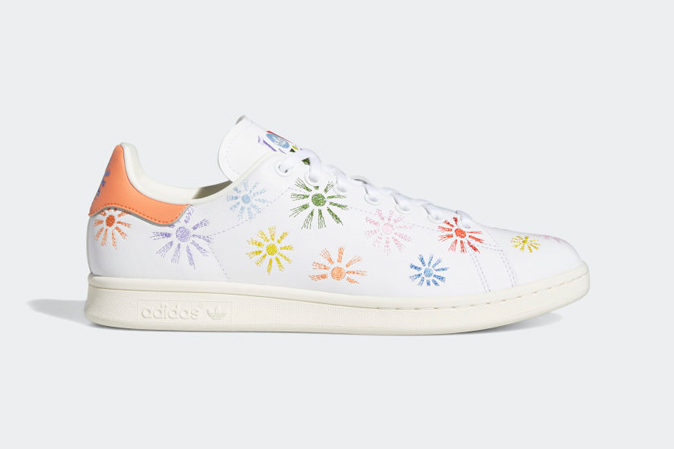 Stan Smith pride slides (SGD140), by adidas.
adidas has released its 'Love Unites' collection—a series to convey love and support to the community. In the collection, the Superstars, Forum Low, Nizza sneakers, Nizza slip-on as well as the Adilette 2.0 slides have been reimagined with graphics over the upper, sock-liner and heel. On top of that, each pair also features rainbow accents inspired by the traditional colours of the Pride flag—reiterating the symbolism and message of the occasion.
Why it's worth supporting: adidas continues its partnership with Athlete Ally and Stonewall Community Foundation as well as making yearly donations to help create programs aimed at driving inclusion of LGBTQIA+ members in sports across the globe.
The adidas 'Love Unites' collection is now available on adidas.com.
Apple in collaboration with Nike
Apple released its Pride edition Apple Watch bands in May. Apple's unique Pride-themed bands for its watches started in 2016 as a form of recognition for the company's LGBTQIA+ employees as well as support for the community. This year—on top of the brand's own rainbow braided band and matching watch face design—the company has partnered up with Nike once again for a sports-friendly Pride edition of the Apple Watch band. The durable and adjustable Nike sports band uses reflective rainbow coloured yarn—suitable for use at night. There's also a matching rainbow coloured Nike watch face.
Why it's worth supporting: Apple has and will continue to provide financial support for LGBTQIA+ organisations working to bring about positive change to the community. These organisations include the National Center for Transgender Equality, PFLAG National, SMYAL, The Trevor Project, ILGA World and many more.
The Pride Edition Nike Sport Loop is now available in Apple stores and on apple.com.
Converse
Pride Chuck 70, by Converse.
Pride Run Star Hike, by Converse.
Pride Chuck Taylor All Star, by Converse.
Pride All Star slide, by Converse.
Pride Chuck Taylor All Star, by Converse.
Converse has always sought to elevate the voices of young creatives. This year, it's found a fresh way of materialising celebration and love into a selection of footwear. The brand has selected five of its LGBTQIA+ members from its worldwide All Star community to design its sixth Pride collection. This capsule collection consists of some of the brand's iconic sneakers such as the Converse Chuck Taylors as well as the Converse Run Star Hike. They're now interpreted with added colour iterations and graphics by the selected all-stars.
Why it's worth supporting: Over the past five years, Converse has donated 1.3 million dollars to support local and global LGBTQIA+ organisations. This year, the brand continues its partnership with the It Gets Better Project to uplift, empower and connect youths from around the globe.
The Converse Pride collection is now available on converse.com.
Ralph Lauren
Ralph Lauren unveils its Pride campaign titled 'We Stand Together', offering a selection of gender-neutral pieces to ensure that there is something for just about everyone. The collection includes the brand's signature polo tees, caps, socks and even water bottles—all of which have been emblazoned with a rainbow rendition of the brand's logo. The jumpers feature the word 'together' on the back as a symbol of solidarity with the community.
Why it's worth supporting: Ralph Lauren will donate 100 percent of the proceeds of collection's polo shirt and 25 percent of several other pieces to the Stonewall Community Foundation, an organisation that offers support and services to the LGBTQIA+ community.
The Ralph Lauren Pride collection is now available on ralphlauren.asia.
Calvin Klein
Calvin Klein is known for a lot of things, but especially these two: underwear and self-expression. This year, the brand returns with another #ProudInMyCalvins campaign, featuring queer and transgender personalities such as Barcelona-based artist Arca, fashion designer Honey Dijon, Broadway actor and singer Isaac Cole Powell and many more. The campaign was shot by a group of photographers in several locations, showcasing the talents in their most authentic self wearing key pieces from this year's Pride capsule. The collection consists of a limited-edition coloured logo waistband on a cotton bralette and boxer briefs, as well as a selection of cropped T-shirts, crewneck jumpers, denim shorts and caps.
Why it's worth supporting: Calvin Klein has an ongoing partnership with multiple non-profit organisations in support of LGBTQIA+ communities, including the aforementioned The Trevor Project, Transgender Legal Defense & Education Fund, BlaQ Aboriginal Corporation and many more. This is part of the brand's commitment to fight against discrimination and ensure safety for all within the community.
The Calvin Klein Pride capsule collection is now available on calvinklein.com.
Dr. Martens
Pride Edition 1461 oxford shoes, by Dr. Martens.
Pride Edition 1460 lace up boots, by Dr. Martens.
This June, Dr. Martens pays homage to its wearers who've made the brand a symbol of rebellion. The iconic Dr. Martens 1461 Oxford shoes as well as its 1460 lace up boots have been given an upgrade with a rainbow heel loop at the back and an embroidered rainbow flag. The new Pride edition is subtle yet impactful with the vibrancy of the rainbow colours on top of a sleek black leather base—a fitting message reminding us that every support for the community counts in the fight for equality. The collection also includes Pride socks in white with rainbow stripes as well as rainbow laces that can be used on any Dr. Martens shoes.
Why it's worth supporting: Dr Martens is partnering up with The Trevor Project—a suicide prevention and crisis intervention organisation for LGBTQIA+ youth—and is committed to donating $100,000 to the organisation.
The Dr. Martens pride collection is now available on drmartens.com.
Levi's
Levi's launched an 'All Pronouns. All Love' campaign as a reminder to respect gender pronouns in the LGBTQIA+ community. The pronouns—'they/them, she/her, he/him, we'—are printed on T-shirts, denim jackets and overalls within the collection as a reminder to refer to and see people for exactly how they want to be. The collection also features a denim sling bag, a light-washed denim snapback cap, a bucket hat and a range of rainbow-themed boxers and briefs.
Why it's worth supporting: 100 percent of the proceeds from the Levi's Pride 2021 collection will be donated to OutRight Action International, a non-profit organisation that addresses human rights violations and abuses against LGBTQIA+ people.
The Levi's 2021 Pride collection is now available on Levi.com.
Versace
White T-shirt, by Versace x Born This Way Foundation.
Black T-shirt, by Versace x Born This Way Foundation.
Beret, by Versace x Born This Way Foundation.
In celebration of pride month and the 10th anniversary of Lady Gaga's Born This Way album, Versace has partnered up with Lady Gaga once again to aid and support LGBTQIA+ community around the world. This collaboration includes unisex T-shirts and berets with a special rainbow-edition Versace logo printed on them. The Italian house will also be auctioning off a replica of the leather jacket worn by Gaga on her Born This Way World Tour.
Why it's worth supporting: All proceeds from the auction will be donated to the pop icon's Born This Way Foundation that works to support the mental health of youths as well as working with them to create a better world.
The Versace x Born This Way T-shirts and berets are now available on versace.com.
Balenciaga
Creative director Demna Gvasalia took inspiration from his childhood for Balenciaga's Pride capsule collection. The message of the capsule could not be more straightforward—the words 'Gay' and 'Gay Pride Balenciaga 2021' printed on a series of staple tees and hoodies with varsity-style letters. The rainbow flag can also be found on waistbands of undergarments, socks, party bracelets and faux-fur shoulder straps. And it wouldn't be a Balenciaga drop without including a selection of baseball caps and shirts into the mix as well.
Why it's worth supporting: Much like any other Balenciaga capsule collection, the brand is committed to raising awareness towards urgent social issues. Thus, 15 percent of the profit from the Balenciaga Pride collection will be donated to The Trevor Project.
The Balenciaga Pride capsule collection 2021 is now available on balenciaga.com.
Coach
Duffle with rainbow quilt (SGD950), by Coach.
Hitch belt bag in rainbow canvas (SGD750), by Coach.
Charter phone crossbody in rainbow canvas (SGD375), by Coach.
This Pride Month, Coach focuses on Pride as a state of mind with its 'Pride Is Where You Find It' campaign—advocating the importance of finding your community no matter where you are. The rainbow signature print makes a return and is incorporated into the new collection's quilted iterations—specifically the Bethany belt bags and duffle bags. On top of that, the collection is designed to be gender-neutral.
Why it's worth supporting: The Coach Foundation continues to donate to the Hetrick-Martin Institute which provides thousands of LGBTQIA+ youths the basic needs of healthcare, education and career services.
The Coach Pride collection is now available on coach.com.
Bonus: Lego
Identity is not something that should be defined by anyone else but you. Lego celebrates both diversity and individuality with a colourful pride-focused set. This buildable display model is inspired by the community's rainbow flag and features 11 monochrome figurines, each with its own individual hairstyle and corresponding to a colour of the flag. It further cements the concept of staying true to oneself regardless of physical and gender attributes.
Everyone is Awesome retails for SGD54.90 is available at Lego Certified stores in Singapore.