With an unmistakable magnetic fragrance, truffles have captured the appetites of countless gourmets. From pasta to fries, a dash of this exotic ingredient into a dish can also easily incite hunger. Indeed, it tastes as good as it smells. Popular Singapore diner PS.Cafe is synonymous with its signature pipping hot aromatic truffle fries since appearing on the menu. Recognising this, the homegrown brand rolled out its very own PS.Cafe truffle oil.
Developed in partnership with Geofoods from Umbria, Italy, PS.Cafe tapped into the specialised producers' native expertise and close relationship network with truffle hunters to create a premium white truffle oil. In addition, Geofoods' extensive knowledge on the terrain known for white and black truffles ensures the finest harvests. This same regard goes into handling the precious ingredient too—by processing quickly using natural methods that respect its value without adding preservatives or colourings.
Creamy Truffle Mushroom Pasta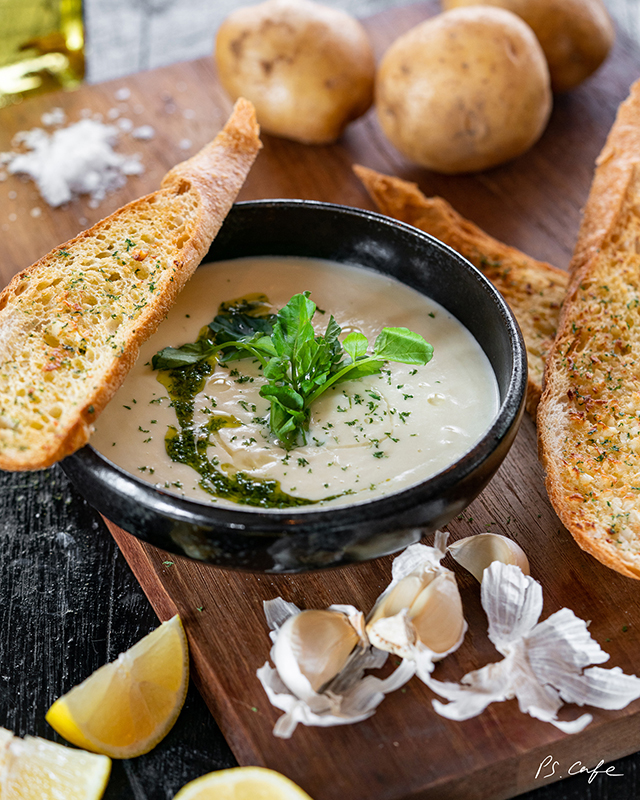 Truffled Potato and Leek Soup
Truffled Egg Salad Crostini
PS.Cafe Truffle Oil
What comprises this truffle oil? Of course, there's the 'diamond' of all truffles, white truffle of Alba. Steep in a base of extra virgin olive oil, real white truffle pieces can be seen with a fragrant truffle aroma upon opening.
"Given the popularity of our iconic truffle fries, creating our own truffle oil was a natural progression for us. To ensure quality and consistency, we decided to create and use a premium truffle oil that contained real white truffle pieces. We are excited to be able to offer guests the opportunity to now enjoy the same PS.Cafe Truffle Oil in their own recipes at home," says Edward Lee, Business Director of PS.Gourmet Pte Ltd.
Here's a couple of simple dips devised by the chefs of PS.Cafe using the PS.Cafe Truffle Oil.
Garlic Truffle Butter
INGREDIENTS YOU WILL NEED:
– 20ml PS.Cafe White Truffle Oil
– 15g garlic
– 10g curly parsley
– 250g unsalted butter
– 2g sea salt
STEP 1
Start this recipe a couple of hours in advance, by simply leaving a block of butter out at room temperature to soften.
STEP 2
Once your butter is soft enough to mix, finely chop garlic and parsley. Add them to the butter, along with the truffle oil, and season with sea salt. Mix with a spoon to distribute all the ingredients uniformly through the butter.
STEP 3
Your garlic truffle butter is ready for use. Wrap it or roll it in baking paper, and it will keep in the chiller for up to a week, or a month in the freezer.
Note: This is a great recipe to prepare in advance and have on hand, ready to jazz up your mushroom soup, melt on top a steak, or simply spread on a toasted slice of bread for the most decadent truffled garlic bread. The options for use are endless!
Truffled Cream Cheese Dip
INGREDIENTS YOU WILL NEED:
– 200g cream cheese
– 150g sour cream
– 15g chopped chives
– 3g sea salt
– 1 tsp lemon juice
– 10ml PS.Cafe White Truffle Oil
– Black pepper
STEP 1
Soften the cream cheese and mix together with sour cream in a mixing bowl.
STEP 2
Finely chop the chives and stir it into the dip with the rest of the ingredients. Adjust the amount of truffle oil to your preference, but be careful not to add too much that it overpowers the dip.
Serve with a good selection of crackers and chips while you prepare the rest of your party spread.
PS.Cafe Truffle Oil is now available at all of its Singapore outlets. It comes in two sizes, 100ml and 250ml and retails at $25 and $45 respectively.