In 2015, Quah Zheng Wen competed in 12 swimming events at the 28th Southeast Asian Games and swept up a medal for every single one, walking away with seven golds, four silvers and a bronze. He is also a two-time Olympian and one of two Singaporean male swimmers to have qualified for two semi-final berths at the Olympics.
Currently an NSF after being granted deferment to focus on swimming for Singapore, the 25-year-old tells us about his experiences as a professional athlete, what's next for his swimming career and all the ways in which he tries to lead by example.
What got you into swimming?
My elder sister [fellow national swimmer Quah Ting Wen] was the first in the family to start swimming. My parents had me also spend time in the pool, and eventually decided to [make me pursue the sport seriously] as well. It wasn't hard to get into as a child. I enjoyed being active and being with friends.
Was swimming something you particularly enjoyed when you first started?
I enjoyed it, but not to the extent I do now. I began to enjoy it more when I got better at it, and started taking more pride in the fact that what I do brings me a lot of joy and satisfaction. It has taken me to places and allowed me to train and race, alongside some of the most impressive athletes in the world.
What's a record you've set that you're most proud of?
It'd have to be for the 400m Individual Medley at the Southeast Asian Games. It was when I won my very first gold in the Games, so both the race and the record are the most memorable to me.
How do you get your head in the game before every competition?
I get some tunes going and just zone in. I don't get in my head too much, which I think is a blessing.
What has been your toughest competitive experience so far?
When I missed the final at the Olympics by 0.02 seconds in 2016. We'd been away from home travelling, training and racing for about two months before the event, which was a little too long in my opinion. I think by the time I got to Rio de Janeiro, I was out of gas and not as sharp as I'd have liked to be. Being in the final with the other top seven swimmers in the world was the goal, and I was very, very disappointed when I missed it by just that split second.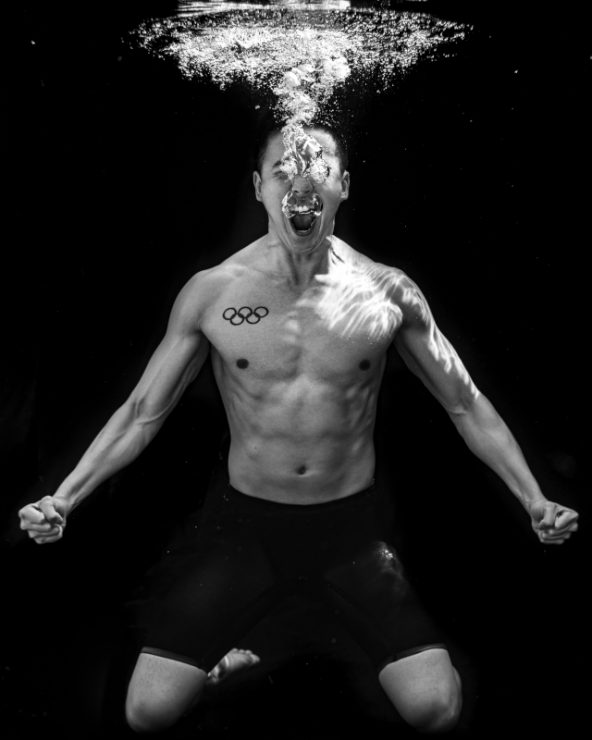 In your opinion, what traits did you have to hone to become a professional athlete?
It'd be perseverance and an almost bullish stubbornness to never give up—to have the willpower to throw myself into a cold pool at 5.30am almost every morning. Also to be a student of the sport; to understand the balance between working hard and working smart Also, either always wanting to win or hating to lose.
What are some common misconceptions about local athletes?
I'm not too sure about this one—you will have to ask the general public [laughs]. Maybe that our sport is all we know? Or that we have no interests outside of what we excel in? I'm not sure. People who know me well enough know that I'm more than just the sport. If anyone has any misconceptions about me, no one has really said or asked me anything directly.
In what way can Singaporeans show their athletes more support?
Singaporeans show us a ton of support! I will never demand for more, but if I had to say, more support could come from the organised systems within Singapore. The mentality towards our sporting culture can be improved. Local athletes have shown we can compete alongside the best in the world, so that should give these organisations some confidence to support us wholeheartedly.
How do you usually handle criticism?
I think I handle it relatively well. I always want to be better, so if someone thinks they can help me get there by pointing out things I can work on, I will always take it into consideration.
What would you be pursuing professionally if you weren't swimming? You studied chemistry and biology at the University of California, Berkeley—would it be something in that field?
I'm not completely sure and I'm in the midst of figuring that out myself! I'm going to start Med school soon to see if it's what I truly enjoy.
How has being in the National Service impacted your training regime?
It's been difficult. I'm serving to the best of my abilities, but know that with my other commitments, it is unlikely that I will be able to achieve my true potential [as a soldier]. It's not the most encouraging thing to have, when I go for training with that thought in the back of my mind.
What hobbies do you get up to when not in the pool?
I love gaming with my friends, reading and watching TV with my family. I'm also into photography and have become my sisters' photographer every time they need something photographed or filmed.
As a role model, how do you lead by example?
I always try to be honest and sincere, and lead my life with drive and a sense of purpose. I want to find where I stand in the world. I think that one can only achieve that by being true to themselves, and by being fearless in the pursuit of happiness.
This story first appeared in the July/August 2022 issue of Esquire Singapore. 
Photographer: Andrew Lim
Creative Director/Producer: Vanessa Caitlin
Creative Production Assistant: David Bay