Meant to launch close to a year ago as a club if not for the meddling work of the pandemic, the latest venture from the guys behind NINETEEN80 and Pinball Wizard is exactly as named. The train station-inspired (specifically Tanjong Pagar Railway Station and Jinrikisha Station) bar and lounge also fuses steampunk themes, and hosts House, Disco, Downtempo and World music curated by founders and reputable DJs from the local scene.
The Space
The concave tunnel brick wall effectively sets the tone for the intended concept of the place. Along with the lowlights, you do get a good sense of feeling underground without actually being. Some decor elements do seem a bit of an overkill, but the nailed book wall is an interesting piece that features the team's personal collection of reads.
The Drinks
Apothecary.
Midsummer Dystopia.
Portmanteau.
Steamed & Hammered.
Murder on the Orient Express.
The line up here is more spirit-forward than the others in the collective. Negroni lovers would be happy with the bitter notes of Portmanteau, as will bubbly fans with World of Tomorrow's intriguing Prosecco-based mix of banana milk with spicy mango, topped with a substantial whipped cream. Blends like Steamed & Hammered and Murder On The Orient Express are as smooth as they are strong, but the Apothecary is one to try if you're fond of Pei Pa Koa in alcohol (you should).
The Food
If you're familiar with the local celebrity co-founded Nashville fried chicken joint at Jalan Pisang, you'll be happy to know the new Tanjong Pagar outlet comes with a wider menu selection. It's also parked by the back of the bar with its own back alley entrance for takeouts, and items feature vegetarian options with meat-alternative Quorn. Frankly, as bar bites go, they're pretty affordable.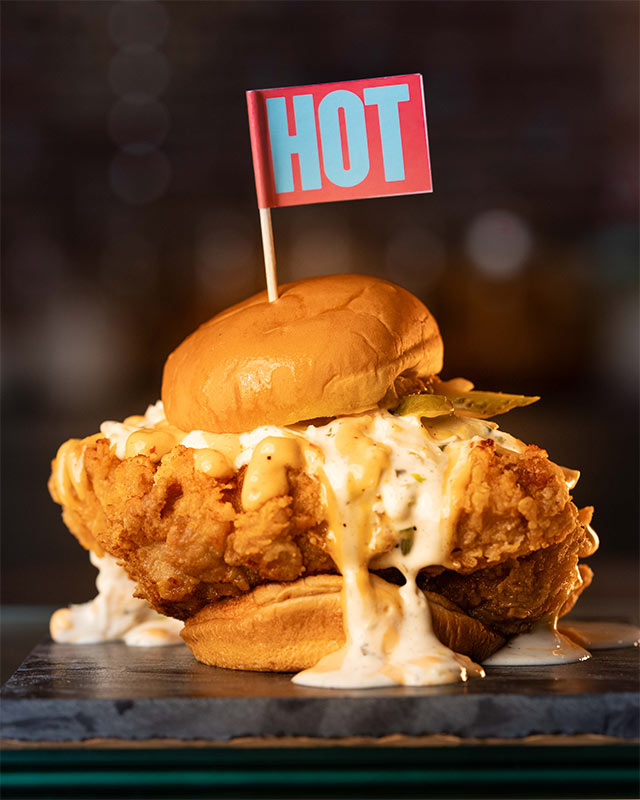 Soul Slider.
Dirty Taters.
Signatures like the Soul Slider are a satisfying use of juicy fried chicken thanks to the paprika mayo sauce and coriander slaw, as is venue-exclusive Wakie Brekkie Wrap for stuffing thick tenders, scrambled eggs and cheese into pan-fried burrito skin. Besides Hot Wings available in Mild, Medium, Hot and Insane; where spice is barely noticeable in the first option and unbearable in the last, Dirty Taters is the classic bar bite no one should do without.
How we feel about it in a gif
Rails Bar & Lounge is located at 21 Tanjong Pagar Road #01-02, Singapore 088444.