Dining at an Alain Ducasse establishment will never be a chill episode. When word got out that Ducasse was launching a slightly relaxed concept compared to his other celebrated gourmet institutions, people wondered if he was going after the mainstream dollar. Au contraire.
Housed at the former Bar and Billiard Room of Raffles Hotel Singapore, BBR by Alain Ducasse evolved from its former gentlemen-favoured club to a cosy and inviting modern Mediterranean restaurant. We're serious. By keeping it casual, the establishment continues to be the social gathering space of choice for travellers and the local community alike.
BBR by Alain Ducasse marks the chef's first Mediterranean sharing and grill concept presented in Southeast Asia. Enamoured by the flavours of the Mediterranean at a young age, Ducasse presents the culinary essence of Portugal, Spain, Italy and France sections of the Mediterranean coast.
The decór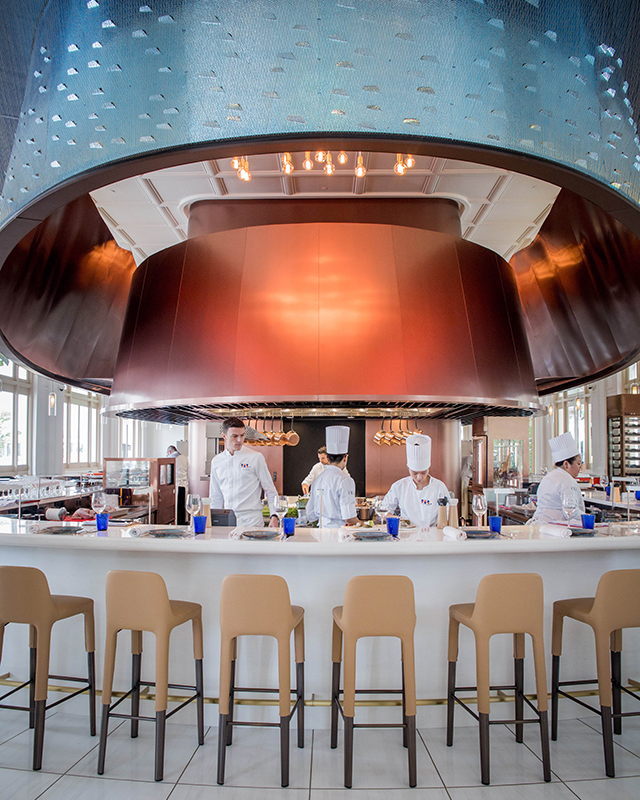 Location-wise, the high ceiling (rare in Singapore) contributes to the spacious and airy ambience. Colours and décor are decidedly warm and vibrant, courtesy of acclaimed Paris-based firm Jouin Manku while still honouring the layout of this heritage space.
Ask to be seated near the large open kitchen at its heart. There, a striking blue sculpture reminiscent of a giant fish swimming across the sea transports diners to the Mediterranean without getting drenched. Behind it, a lively bar serving spirits referencing BBR's heritage and Mediterranean elements puts diners into a blithe mood.
Onto the food
Ducasse entrusted BBR's culinary undertaking to chef de cuisine, Louis Pacquelin, who has worked closely with him for many years and is specially picked to represent Ducasse here. Unlike restrictive course-only restaurants, BBR by Alain Ducasse serves sharing plates and regular-sized dishes.
Combinations from the menu are endless but if you ask us for recommendations, we'll start off with Pulpo a la Gallega and Pissaladiere. The former provides a tender yet savoury bite that can be rubbery if not executed well, while the latter is a moreish Ducasse personal favourite.
With the mains, seafood reigns. Cataplana de Marisco, a hearty Carabinero shrimp and shellfish stew, will definitely comfort the belly. If appetite's craving for red meat, Lomo a la Brasa, Mojo Verde should do the trick. The masterfully grilled striploin steak is served with an addictive green sweet bell pepper sauce. That condiment really complements the juicy cut.
Save some stomach space for the iconic and robust Tiramisu together with Tiger Story, BBR's signature vanilla entremets inspired by the room. That's what we call a happy culinary ending.
BBR by Alain Ducasse is located at Raffles Singapore, 1 Beach Road, Singapore 189673. For more information and reservations, head over to the BBR by Alain Ducasse website.