Of course, you would've heard of smart homes. Heck, you're probably living in one now. In fact, this tech system is infiltrating into the hotel and hospitality industry as we speak. Adopting this setup is new hotel residence—Capri by Fraser, China Square Singapore.
Conceived by Frasers Hospitality, a member of Frasers Property Group, Singapore's second Capri by Fraser hotel residence melds design, technology and social living in one holistic lodging. Consider your digitally-driven, experiential lifestyle demands sorted while travelling.
The Space (For both sociables and antithesis)
No better way to begin your day with than some grub at JUN restaurant
Meanwhile at the lobby, guests can grasp the area's history with the past-meets-present decor
Wes Anderson much?
Indeed, it's all smiles at The Den with free flow of drinks and snacks
Fun fact: This fixture was created using abacus beads
Capri by Fraser, China Square Singapore ain't vanilla for sure. Besides providing 'Instagrammable' contemporary vibrant artworks and designs (the slick colour-block fittings are a standout), award-winning design group BLINK also focused on the site's rich heritage and history by showcasing iconic structures along with early Chinatown dwellers—like the Samsui women—with a modern twist.
Guests can power through their Type-A breakfast at The Den—a vibrant 24/7 social hub outfitted with vivid designer furniture (very 'Memphis Movement') and wireless charging pads.
After dark, The Den transforms into a happy-hour retreat which includes booze and board games. Time to best your newly-acquainted bedfellows whom you've networked with earlier at all-day dining space, JUN Restaurant.
Smart Facilities
Surely you'll take a dip in this melodic pool
Time to flex them muscles
Glad to know that Dance Dance Revolution is still alive
The hotel's highest accessible floor emphasizes activity zones true to the hotel's social living ethos. Yes, favourite haunts for sports buffs—the pool and gym. In addition to the expected weight-lifting and treadmill equipment, the gym is also Singapore's first 24/7 state-of-the-art hotel gym with interactive Prama flooring. Its lights and touch-sensitive feature presents an interactive fitness platform, allowing guests to exercise through variable programmes.
Outside the gym lies a seemingly ordinary pool, until you detect melodic sounds. No, your ears aren't playing tricks on you because ambient music is indeed emitted from the pool's underwater speakers.
The use of technology and innovation is prevalent throughout the property to enhance guests' lifestyle needs. Just whip out your smartphone and log onto the Frasers Hospitality app for services such as 24/7 concierge services complemented by chatbot technology.
Behind Closed Doors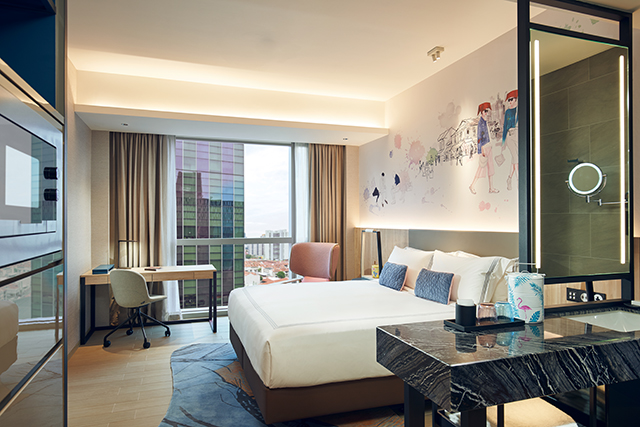 This is indeed a room with a view
Fill the tub up before you begin your rub a dub dub
Coming up next: Dreamland
After a laborious day, it's time to embrace some R&R. Again, minimal finger action is required—thanks to innovative technology. You no longer power up rooms by inserting keycards to slots. Instead, smart control technology detects guest occupancy, thus improving overall energy efficiency.
This brings sustainability to the foreground. For instance, waste bins in every room have specific segments for recyclables and refuse respectively that'll encourage guests to compartmentalise garbage.
Furthermore, staff can boost efficiency and benefit through technology too—like using separate cloud-based app that taps the in-room smart control to prioritise housekeeping, as well as RFID tagging of linen and uniforms to aid delivery and tracking. We approve these baby steps to save Mother Earth.
Capri by Fraser, China Square Singapore is located at 181 South Bridge Road, Singapore 058743. For more information, please contact 6437 0888 or visit Capri by Fraser, China Square Singapore's website.