Contemporary Australian restaurant Salted & Hung has weathered through good times and bad. This COVID period is no different but Chef Drew Nocente manages to keep his restaurant afloat. His takeaway menu during phase one yielded the Wagyu Pastrami Sandwich, a generous middle of shaved beef held together by the sheer will of buttered sourdough bread. While it's not on the new dinner menu, it is still available as a takeaway or for lunch.
The space
Salted & Hung
Salted & Hung
Salted & Hung
The interior of the restaurant has undergone a slight change. Gone is the mural—a scene cribbed from Animal Farm, a pig with a baseball bat spouting, "All animals are equal, but some animals are more equal than others." An audacious display of having an anthropomorphic animal extolling the virtues of certain meats over others. It's dark humour, tongue-nestled-firmly-in-cheek attitude.
When asked about the artwork's disappearance, Nocente offers, "we had to evolve" sans further explanation. His slight shrug a punctuation to that inquiry.
But that audaciousness still continues in his menu.
Must try
Beef: King Island tenderloin, bone marrow and ash.
Bramble Patch: Strawberry, mochi and meringue.
Grouper: Pearl grouper, bone crumb and charcoal.
The new dinner menu is built on Nocente's philosophy of 'minimal wastage'. A seven- or 10-course dinner starts with tasting snacks that are based on his favourite dishes: fish and chips, cheeseburger, uni. Then, the mains and then desserts.
The Grouper dish showcases Nocente's creativity: the bones of a pearl grouper are used as a broth to steam-bake the fish. Then, the bones are roasted and infused with soy for 30 days before it's desiccated and blended into a powder to serve with the meal. The dish looks simple but it gives out a complex flavouring that the humble fish has to offer.
The star
Jerusalem Artichoke with confit egg and mushroom dashi.
Jerusalem Artichoke with confit egg and mushroom dashi.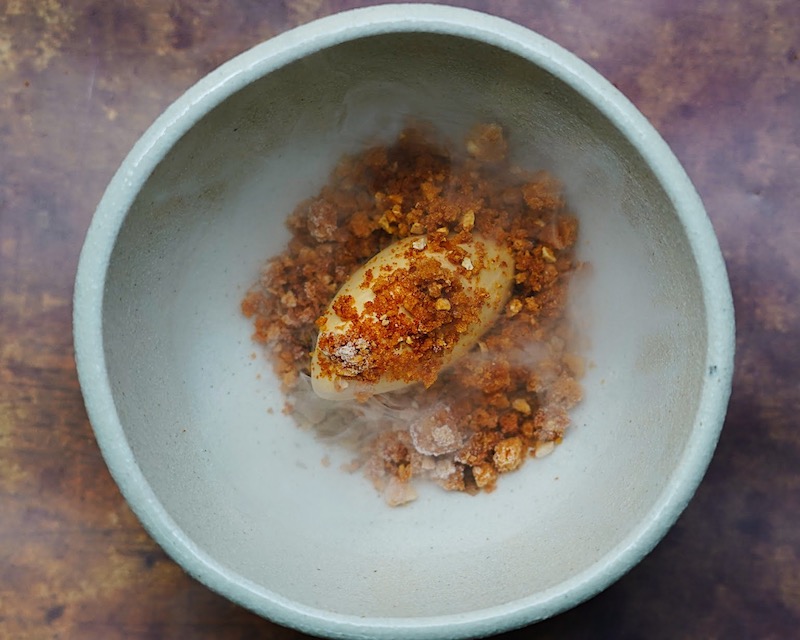 Gold'n Gaytime: Chocolate, umami and toffee.
The highlight was the Jerusalem Artichoke meal, with the sweet flavours of the vegetable when paired with wing beans. A confit egg added a gooey texture to the mushroom dashi that went rather well with the crunchiness of the taste buckwheat.
We would be remiss if we didn't point to the perfect end of the meal, the Gold'n Gaytime. Inspired by the Australian ice-cream, Golden Gaytime, this desert is a toffee ice-cream, malted chocolate crème and covered in olive crumb and almond honeycomb. It's not a new item on the menu but it is a welcomed dish nonetheless.
It is the best testimonial of Nocente's minimal wastage ethos, where everything on the plate is polished off. Not a scrap was spared. Even with the absence of spoons or that the vessel that the meal came in prevents you from draining the jus directly, you'll break protocol and lower your face to slurp up the remains.
How we feel about it in a gif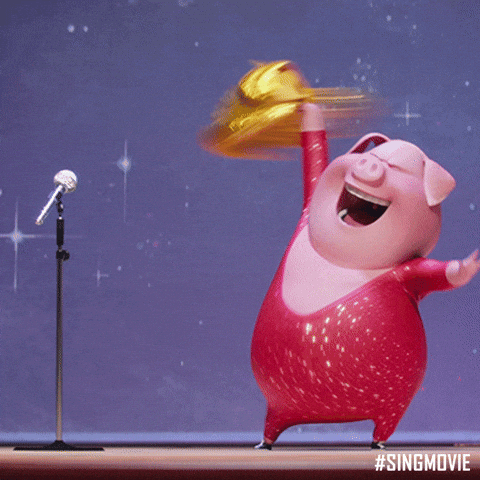 Salted & Hung is located at 12 Purvis Street, Singapore 188591. For reservations, call 6358 3130.