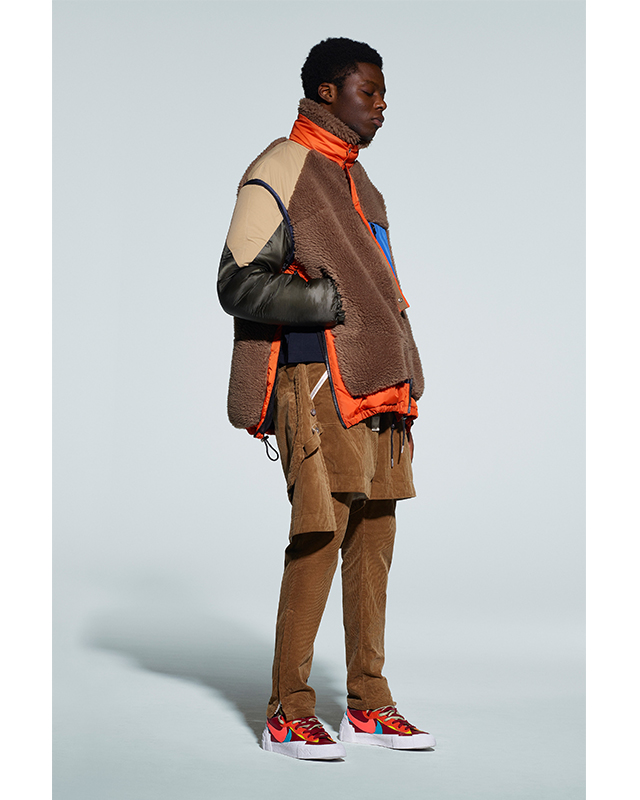 Founder Chitose Abe looks to incorporate street art into Sacai's upcoming autumn/winter collection through a collaboration with Brooklyn based designer Brian Donnelly, better known as KAWS. Well known for bringing together elements from different garments in her works, Abe turns the focus to harmonizing different cultures this time around.
The collection features KAWS's signature style — easily identified by its bold colours and double 'x' graffiti tag — over a variety of canvases, most notably a parka, a knit cape, and a trench coat. It's a medley of Sacai's traditional punk approach and KAWS's hip-hop influence. The military inspiration, first seen in Sacai's FW2020 collection, is also carried forward as Abe makes use of one of KAWS's artworks now recoloured in camouflage.
Sacai x KAWS x Nike
Nike joins the collaboration to complete a few of the looks, introducing the Blazer Low in two brand new colourways — a warm red/orange and a cool blue/green. The former features yellow and blue accents around the laces and logo while the latter features similarly placed accents in yellow and pink.
KAWS's double 'x' motif can be seen subtly engraved into the midsole. The shoes are double laced and feature the layered swoosh, as seen before in previous Nike x Sacai collaborations. The tongues are also doubled, with the one in front displaying the 'NIKE' branding in an alternate font. These designs are part of an entire capsule collection which we expect to get a better look at closer to release later this year.
The Sacai x KAWS autumn/winter collection launches July 2021.