In his six years at Saint Laurent, creative director Anthony Vaccarello has staged standalone menswear shows just a handful of times. The one that happened this weekend, at the serene, majestic Agafay desert in Morocco, is only the third. Well, third time's the charm they say – not that the previous outings, first in New York in 2019 then Malibu in 2020, were any less potent.
This time, Vaccarello's found a new kind of groove with Saint Laurent. The designer has always been an adept interpreter of the house's vast archives – dipping as freely into its lofty haute couture heritage as much as Yves Saint Laurent's dalliances with personalities and "bad" taste. Of late, it's seemed to be less about specific items or objects of style, and more about Vaccarello finding and initiating a personal dialogue with Saint Laurent's personal history.
The inspiration this time for the Spring/Summer 2023 season is the storied city of Marrakech. It's one of the most closely associated destinations with Yves Saint Laurent, who fell in love with the place in 1966 and made it something of an intimate, personal refuge away from Paris. Some of the most famous strands of Saint Laurent DNA can be traced to the time the couturier spent in Marrakech: vivid mixes of colour that pick up on its multicultural history, the sandy beiges of the Saharienne safari jackets that the designer popularised; and loose, billowing, caftan-like silhouettes.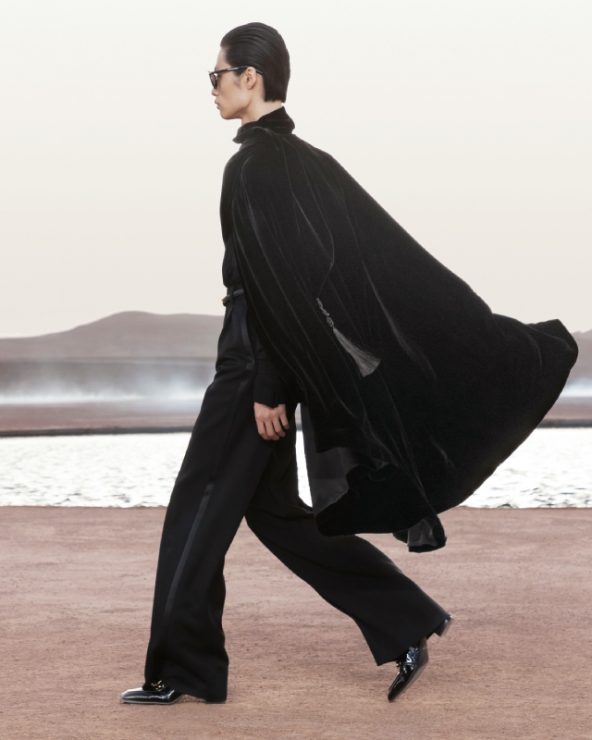 Instead of going for the obvious, though, Vaccarello centred his design concepts this season on a sense of liberation. More specifically, by dissolving with devastating elegance the lines between feminine and masculine style markers. The key item here is the tuxedo, interpreted and refined in a panoply of combinations and variations. New collar and shoulder styles, tailoring cut in weightless, diaphanous fabrics like silk faille, and gentle rejigs of proportions like high waists, wide legs, and boxy accents.
The results are modern and forward-looking tuxedo styles imbued with a sense of relaxation. The idea, according to press notes, is to reflect an "ease of life typical of Marrakech". Outerwear is cut in a fluid way with less severe construction; nearly floor-length coats are made with gathered satin; and tailored jackets, when they appear, have a graphic sharpness thanks to the fine grain de poudre wool that is the house's signature material.
Just as breathtaking, though, was Saint Laurent's choice of venue. The show space in the Agafay desert was designed in collaboration with London-based stage designer and artist Es Devlin, made to look like a luminous, ring-shaped oasis nestled amid the arid vastness. Vaccarello's inspiration was the 1949 Paul Bowles novel The Sheltering Sky, from which both designer and brand reference a sense of awe, hope and mystery with this quote from the novel:
"We think of life as an inexhaustible well. Yet everything happens a certain number of times, and a very small number, really. How many more times will you remember a certain afternoon of your childhood, some afternoon that's so deeply a part of your being that you can't even conceive of your life without it? Perhaps four or five times more. Perhaps not even. How many more times will you watch the full moon rise? Perhaps twenty. And yet it all seems limitless."
---