Before it was known as Purposeful Skincare by Allies of Skin (PSA), it was a purposeful shot in the dark for Singapore-born Nicolas Travis. His teenhood was a malady of acne breakouts and stress from poring over the convoluted ingredient lists of skincare products at that time. Travis wanted to create a beauty line that was effortless to use and are made without "harmful or irritating additives". It was a no-brainer. After all, if you're investing in your skin (a.k.a. the largest organ on the human body), you'd want your products to be made from health-friendly, active ingredients.
Without connections or experience in the beauty industry, Travis would create Allies of Skin, whose success would stand on three—and only three—signature facial products in 2016. Soon, Allies of Skin would become a multi-awarded skincare franchise sold and carried in stores worldwide. In 2020, Travis would create PSA, a line of skincare products that retains the effectiveness, optimally concentrated formulas, and botanical actives of its sibling brand without breaking the bank.
We, at Esquire Singapore, have partnered with Travis' award-winning PSA line for our third Esquire Endorses Grooming Box. Each Grooming Box comes with four full-sized products that are cruelty-free and PETA-certified. Made for daily and fuss-free usage, PSA promises results, but we'll let our staff at Esquire Singapore tell you about it.
RESET ACAI & MANUKA HONEY NOURISHING CLEANSER
While the face is part of this human birthday suit, it requires a different tact when it comes to cleaning it. Soap gets rid of the dirt on your body but when it comes to your mother-lovin' mug, it requires tact. It needs a cleanser, one that removes grime and makeup without drying out your face.
This cleanser—sulfate-free—is creamier than the average cleanser. Thanks to the Manuka honey and acai berries, you can smear it over the face and leave it on for a bit as a sort of moisturising mask for extra conditioning. As the sands count down to a rough minute, you can start rinsing/massaging your face. The cleanser's grapeseed oil—with its trinity of antioxidant, antimicrobial and anti-inflammatory prowess—leaves the face hydrated, clean and—dare I say it—not stripped?
—Wayne Cheong, Deputy Editor
LIGHT UP VITAMIN C & E FLASH BRIGHTENING MASK
Always have your vitamin fix. While the body obtains them via food, nourish the skin with this vitamin C & E blend which comes in the form of a liquid mask and is vegan. Tired, dehydrated and dull faces will sport an immediate glow following an application. Thanks to the core ingredients of 11% L-ascorbic acid (a pure form of vitamin C) and 2% vitamin E, the antioxidant-powered mask tackles blemishes and shields skin from harmful free radicals. We certainly stan a multitasker. Furthermore, its efficacy amplifies when paired with vitamin E and boosts collagen production at the same time. It also contains antimicrobial grapeseed oil and hydrating hyaluronic acid to achieve radiance. Gleam and beam with confidence now!
Grouped under step two of the hypoallergenic regime, this easy rinse-off mask is suitable for daily use (AM/PM) and for all skin types. It's perfect as a multitasker and can be worn when you're prepping breakfast in the morning or winding down to watch telly in the evening, for example. Best results can be obtained by massaging the solution onto cleansed skin and leaving it on for five minutes (or longer) before rinsing it off.
—Derrick Tan, Writer
THE MOST HYALURONIC SUPER NUTRIENT HYDRATION SERUM
I've been a fan of Allies of Skin because the products that I've been using thus far, work for me. And trust me when I say that my knowledge of skincare is minimal at best, so names of scientific compounds relating to skin do little to pique my curiosity. But something as simple as "super nutrient hydration" hits my brain at the right spot. What's great is that unlike most hydrators, this particular serum is pretty much non-greasy and has the runny consistency of typical serums you'd find out there in the market. One pump seems to be sufficient enough for me to apply all over my face and neck. Coincidentally, I just got back from Milan where the cold weather really did a number on my skin—any lapses in moisturising during winter would cause my skin to get horribly flaky and dry. This serum did the trick almost immediately and made it seem as though I've been religiously moisturising (as one should). What a lifesaver.
—Asri Jasman, Style Director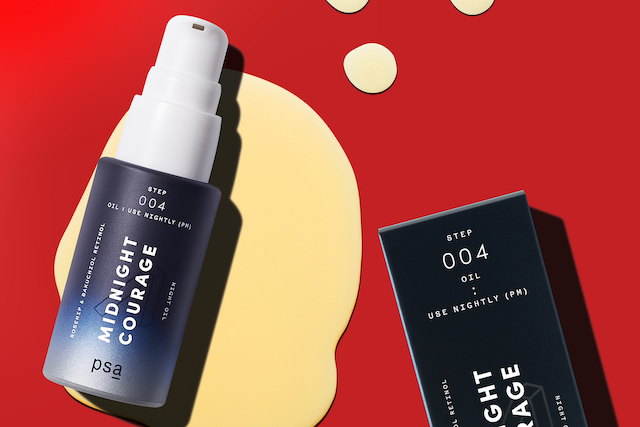 MIDNIGHT COURAGE ROSEHIP & BAKUCHIOL RETINOL NIGHT OIL
Retinol is one of the few hero skincare products that has scientifically proven benefits, not just against aging but diminishing hyperpigmentation—in dumb speak: photoshop on the face. So, when combined with the organic rosehip oil, which is rich in essential fatty acids that can contribute towards wound healing (yes, we know a thing or two about skincare), you get a healthy cocktail of skin-repairing ingredients working their night magic. It's a good step in the skin routine for those with combination skin because the dry oil texture is non-greasy, unlike serums and moisturising creams that can be quite heavy.
— Joy Ling, Lifestyle Editor
Esquire Endorses x PSA Skin Grooming Box retails for SGD99 and is available here.