Now that cinemas have opened for screening again, it's time to enjoy intricate film cinematography on the big screen. And you can do that via the outstanding movies curated at Singapore International Film Festival (SGIFF) 2020.
This upcoming 31st edition executes through a hybrid format of cinema and online film screenings from 26 November to 6 December 2020. Besides celebrating resilience and hope in a challenging year, SGIFF also focuses on Asian stories and deepen the appreciation of cinema in Singapore. Over 70 films from 49 countries will showcase compelling stories reflected identity, community, existence and desire for change.
Unearthing exceptional Singapore narratives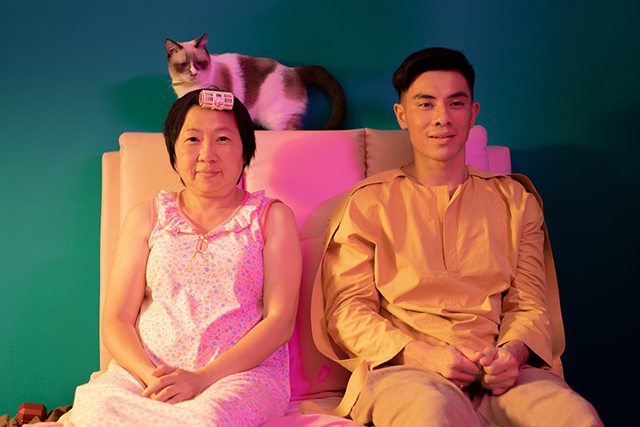 Thomas Pang stars as Ah Bee, who leaves his dull office job to join the Tiong Bahru Social Club—a data-driven programme that aims to create the world's happiest residents in the idyllic neighbourhood. The snapshot of a micro-managed housing community delivers an amusing take on the ways we live today and questions the construct of happiness in Singapore.
Giving off Wes Anderson vibes with a local twist, Tiong Bahru Social Club is definitely a must-watch.
In addition, take note of four Singaporean shorts nominated for the Silver Screen Awards' Southeast Asian Short Film competition. This includes The Smell of Coffee by Nishok Nishok, which premiered at the 2020 International Short Film Festival Oberhausen.
Over at Singapore Panorama, four feature films get its world premiere and also showcases twelve shorts. The latter includes Citizen Hustler by Tan Biyun, which documents an evicted hawker's journey after the closure of Sungei Road Flea market, and Faraway My Shadow Wandered by Liao Jiekai and Sudhee Liao that confronts a relationship with an unfamiliar hometown.
Fixating on Asian talents
Another segment of SGIFF 2020 is the Asian Feature Competition that spotlights new generation and rising talent in Asia. On the shortlist are films like Beginning by Dea Kulumbegashvili, which won multiple awards at the San Sebastián Film Festival. It also showcases The Wasteland by Ahmad Bahrami that received Venice's Best Film in the Orizzonti section and Milestone by Ivan Ayr that premiered at Venice this year.
All eight features present their take on personal and generational issues, challenge moralities or unspeakable violence, and will collectively showcase the speed of change and momentous future of Asian filmmaking.
Capturing the world view
Narratives that explore vulnerability and strengths were selected too. Highlights include Venice Film Festival Golden Lion winner Nomadland by director Chloé Zhao and starring Frances Mcdormand in a powerhouse performance of a middle-class woman who hits the road in her van, Silver Lion winner Wife of a Spy by Japanese director Kiyoshi Kurosawa, and Genus Pan by Fillipino filmmaker Lav Diaz, who took Orizzonti win for Best Director.  Also notable is the debut feature and Cannes selection Gagarine by French directors Fanny Liatard and Jérémy Trouilh.
SGIFF 2020 happens from 26 November to 6 December 2020. Tickets go on sale from 16 Nov and more information can be obtained through Singapore International Film Festival's website.