Sports and lifestyle giant Nike, opened its biggest store in Southeast Asia and India, right within the premises of the architectural marvel that is Jewel Changi Airport. It's an impressive duplex space that stocks the most complete and extensive range of Nike's products in the region. But what we're most proud of is the fact that the store features design inputs by Singaporean artist Sam Lo.
Not only did Lo had a hand in putting her own stamp—peppered with Singaporean influences—with the store's interiors, her collaboration with Nike extends to include T-shirts. The top level of the duplex features Southeast Asia's first full-fledged 'Nike-By-You' in-store customisation service. Customers can customise a range of items including shoe laces and T-shirts. The latter, can be customised with a Sam Lo-original artwork, with four different graphics by her to choose from.
We speak to the artist also often referred to as Sticker Lady about her project with Nike, as well as how she really feels about the monicker.
ESQ: What was the inspiration behind the interior designs for Nike?
SAM LO: The artworks are inspired by the visual landscape of Singapore, including elements ranging from traditional tiles and patterns from our diversity of culture and history, to street signage and colloquial language.
The human figures reflect the energy and life which Nike represents, set against a backdrop of tiled patterns which subtly present a Singapore story which unites us all. The frames express the ever-present rules of life and society that can box us in. Yet, through sport we break free with the true and best versions of ourselves, with our stories woven in the tapestry of who we are.
And, of course, Nike elements are incorporated into traditional patterns and tiles characteristic of Singapore, symbolising the embracement of both brand and city.
ESQ: How was the process like working with Nike on the store-based designs?
SAM LO: As it is my first time working on a permanent installation of this scale, I learnt a lot and had plenty of fun along the way. From imagining how the work would look spatially, while balancing Nike's brand elements with the incorporation of local aesthetics, it was an experience I wouldn't trade for the world.
ESQ: Your graphic designs for Nike are now part of its customisation offerings in Singapore, which means that there'll be a lot of people wearing a Sam Lo original. I would imagine that that must be somewhat surreal for you?
SAM LO: It is! While I've worked with many brands before, they've been for more short-term collaborative campaigns. It definitely doesn't hurt that I've been a big fan of Nike for a long time now, but this will be the first time that my work will be representative of a big international brand for the COUNTRY. And I really am proud to have been given this privilege—to make something representing one of my favourite brands that is by a Singaporean, for Singaporeans.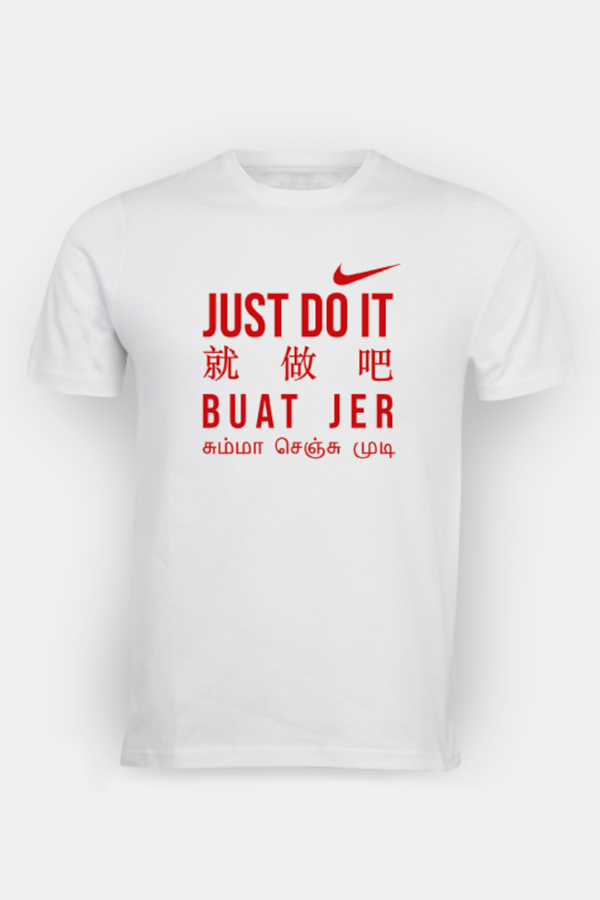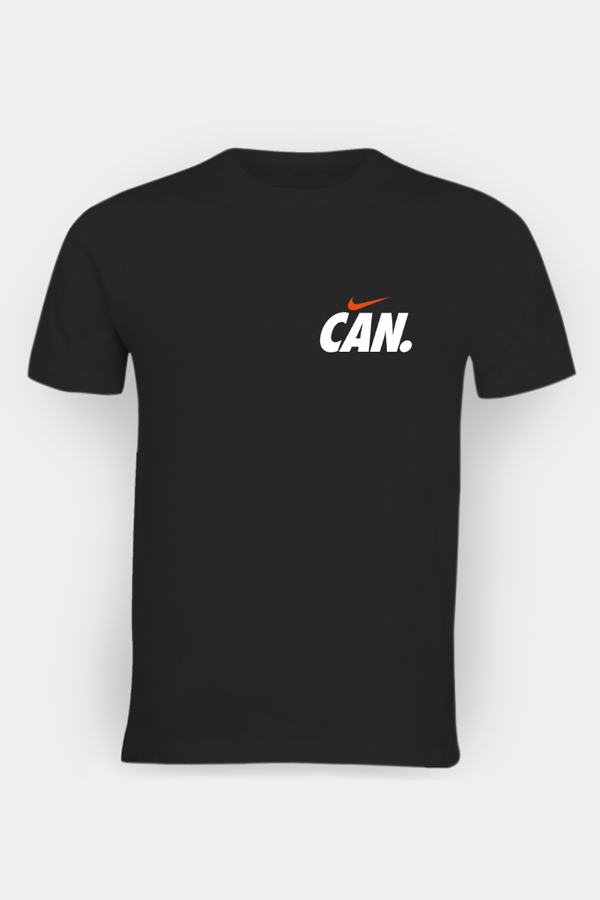 ESQ: Which tee design is your favourite and why?
SAM LO: I love all of them, really. I mean, if not then why make them, right? But my personal favourite is the one that just says 'CAN.'—it really is the most Singaporean way to say 'Just Do It.'
ESQ: You first gained popularity through your street art stickers. And you've since worked with some of the biggest brands in the world. How does this evolution make you feel?
SAM LO: It means a lot to me that international tastemakers are seeing something in my work, and want to work with me. I've had a lot of people to thank along the way—people who have supported me through seasons, successes or otherwise, over the years.
ESQ: You've become part of Singapore's street art and fashion culture. Has being part of the community, changed or shifted the way you view art?
SAM LO: As with any growth and new experience in life, being part of a broader range of things creatively just means I now have broader perspectives of the creative scene and of art-making.
ESQ: Has there been any thoughts about coming up with your own fashion merch? If not, why?
SAM LO: I don't actively think about it, but I'm never one to shy away from toying with ideas. You'll just have to wait and see!
ESQ: 'Sticker Lady'. What was your reaction to the name? And have you embraced it or would you like to stray away from it?
SAM LO: Honestly, I initially hated it. Sounded like I'm some Auntie who sells stickers… But, I suppose, some things just grow on you and you realise it's pretty amazing when people think enough of you to give you a 'media name'. Besides, making (and pasting up) stickers will probably always be a part of me, so there's really no sense in running away from it. It's also a pretty useful conversation starter.
ESQ: Complete this sentence: Art in Singapore is…
SAM LO: Evolving.
ESQ: What are some of the upcoming projects that you are working on?
SAM LO: I don't have any specific projects I can share about at the moment. I have had amazing opportunities in the past year, both artistically and in having an influence on other things that matter.  For now, I just want to dig deeper into my artistic practice, and push boundaries with what I can create.
Nike's biggest store in Southeast Asia and India is located at Jewel Changi Airport, 02-232/233.