As an ideal malt whisky for mixing cocktails, Monkey Shoulder recently introduced a smokier sibling, Smokey Monkey, that's equally versatile in Singapore. This peated blended malt variant debut in the UK and France in 2017. Now, you can taste the luscious liquid exclusively through 15 outstanding Singapore bars.
Smokey Monkey is Monkey Shoulder's first extension of its series. Selecting a small-batch blend of top-quality single malts, it is a smooth whisky with subtly oaky smokiness on the nose while taste-wise, it combines dry peaty notes with creamy sweetness and spice of the original blend. Hence, its underlying sweetness makes it enjoyable neat (or with a splash of water).
The elusive bottle of Smokey Monkey
Master Blender at William Grant & Sons, Brian Kinsman​, said: "We're producing Smokey Monkey using our usual small batch and marrying methods, and delivering the smokey twist by blending a distinct selection of malts. Smokey Monkey has the mellow vanilla, spicy and citrus hints of our original liquid, overlaid by a dry smokiness that comes through on the nose and the palate. Monkey Shoulder fans will both recognise its familiar smooth character and enjoy the exciting new cocktail serves it brings with it."
Those looking to procure Smokey Monkey in its true spirit will have to wait a little longer. This smouldering nectar is currently included in specially-concocted cocktails from 15 of Singapore's best bars only. So, head down to these watering holes below to taste Smokey Monkey's alluring flavour. Also, stand a chance to win your very own bottle of Smokey Monkey with a giveaway contest by having one of the 15 Smokey Monkey cocktails at the below-featured bars.
Ah Sam Cold Drink Stall — 'Smoke Screen'
Inspired by the local favourite pork jerky snack, Bak Kwa. Its savoury, smokey flavour complements the richness of Smokey Monkey, ending with a hint of spiced chocolate.
Anti:dote — 'Where You Wanna Go, Love?'
"Is that a Whisky Sour? I think it ain't no Whisky Sour". This drink is inspired by the intriguing movies about the lives of cab drivers in London and their journeys.
Barbary Coast — 'Chimp Off The Old Block'
Clarified Cherry and Cherry Heering create the top notes to balance out the punchy base of Smokey Monkey. A dash of lemon brightens up the drink while the carbonation adds a delicate effervescence. Combined with smoked water ice cubes to further enhance the peated notes of the whisky, this drink is served on a smoked ice spear, and garnished with a dehydrated lemon wheel.
Employees Only — 'Monkey Business'
Spices and banana punctuate this marriage of Smokey Monkey and tropical juices. The richness of the whisky, bolstered by the fullness of ripe banana, is a perfect complement to flavours that make it feel like it's party time.
Heart of Darkness — 'Monkey's Cà Phê'
The perfect marriage of whiskey and coffee. This cocktail is an ideal refreshing strong pick-me-up you can rely on.
IBHQ — 'Nardus'
A twist on the classic Whisky Sour, this drink emphasises floral and leathery notes of lavender. Perfect on its own or as a complement to bar snacks, the Nardus is also a great 'dessert for adults'.
Junior The Pocket Bar — 'Escape from New York'
What better way to experience smoke in a cocktail than a classic sour? Junior's twist includes banana puree and Luxardo Morlacco cherry that makes it piquant.
MO Bar — 'Sugba'
'Sugba' means grilled in the Philippines. This drink is topped with our favourite sides to have while at a barbeque party. It is finished with the funky sourness of calamansi and lively aroma of pandan.
Nutmeg & Clove — 'Monkey See, Monkey Taro'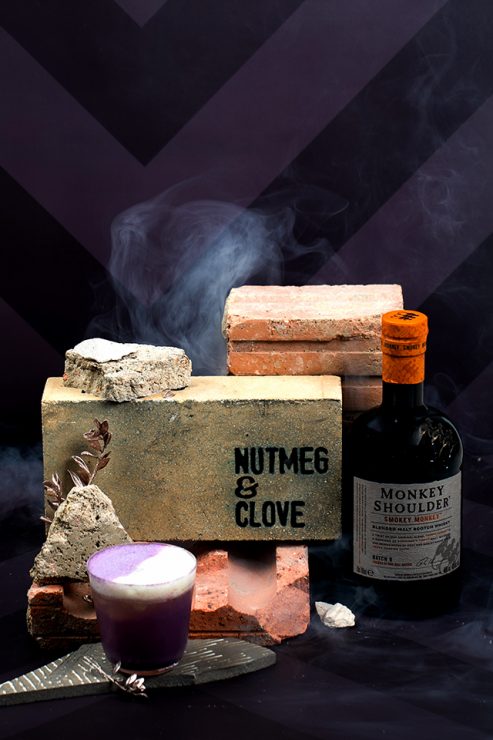 Passionfruit, lime and taro flavours anchor the smoke in this South-East Asian-inspired libation. Rich and moreish, a hint of fruit and acidity makes this drink easy to have, and to have again
Potato Head — 'Caffé Nel Bosco'
Rich, aromatic, bittersweet in a subtly surprising way. Make a stop at Caffé Nel Bosco to supercharge your taste buds and kick start happy hour.
Sago House — 'Three's A Crowd'
The ubiquitous marriage of Scotch whisky, aromatic wine and bitters is timeless. The addition of rich sherry, fruit bitters and a playful Cola syrup give it the boost it never knew it needed!
Smoke & Mirrors — 'The 3 Monkeys'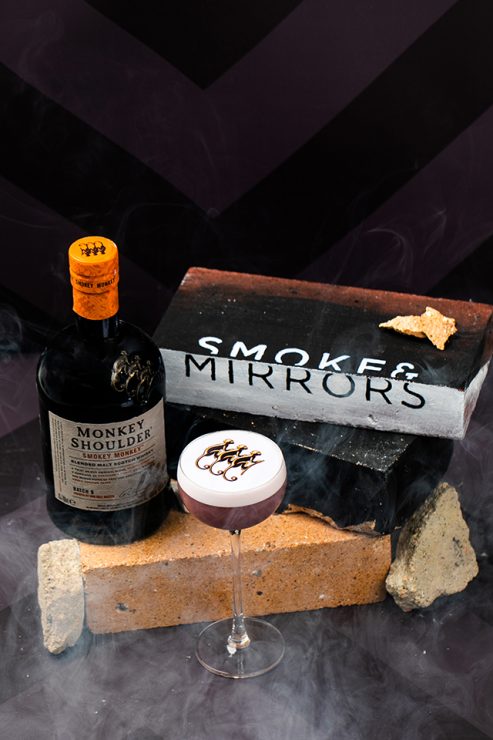 This drink is a twist on the classic Golden Rush and New York Sour combination. A story of a friendship of three individuals working in the same industry but have different approaches. The 3 Monkeys gives smokey notes from Smokey Monkey, fruity flavours from the wine and sweetness from the honey, leaving you with a dry and refreshing finish.
Tess Bar — 'Chunky Monkey'
Smokey Monkey's deep vanilla flavour coupled with earthy notes makes one desire a chocolate pairing. Inspired by a classic cocktail, the 20th Century, the Chunky Monkey was born. The dry, smokey, lingering flavours on the back palate are paired white cacao, with vanilla and citrus to balance.
The Bar at 15 Stamford — 'Undead Monkey'
Building on the lush and fantastic history of Tiki cocktail culture, Smokey Monkey gives this modern tropical classic a breath of smokey life. The Undead Monkey consists of a rich spice mix, a cacophony of luscious fruit flavours and just a dash of showmanship.
Tippling Club — 'Brass Monkey (That Funky Monkey)'
Infusing the rich smokey aroma of Smokey Monkey with oven-baked hazelnuts and bincho-toasted bananas elevates the nuttiness and tropical fruit notes into an enriched old fashioned cocktail.
Smokey Monkey cocktails are now available at the above-mentioned participating outlets across Singapore.