Let it never be said that the Snacktivist never says good things about anything. Contrary to popular belief, I take no pleasure in being a Negative Nancy. 
The only reason I'm harsh is because I hold snacking in the highest esteem, and therefore, I have sky-high standards. You see, snacking is one of the highest forms of eating around, given that you're not eating for sustenance, you're merely eating for pleasure. 
It's not too dissimilar to running because you're trying to escape a predator, as opposed to running because you're trying to climb some ego-inflating online leaderboard. 
So, anyway. What do we have today, then?
Well, I'm glad you asked, because I am about to present to you something new from what is inarguably Singapore's best ice cream purveyors, Tom's Palette. 
As part of a very special tie-up with local Mexican food chain, the Loco Group, it's debuting some ice cream flavours inspired by classic Mexican desserts. 
On the surface of things, it's classic Tom's Palette. Gimmicky on the surface (think salted egg yolk, pipa gao, nasi lemak, and luohan longan sorbet), but somehow, it just works. Far from being slavish to the source material (yes, Watchmen movie, I'm talking about you), Tom's Palette turns them into ice creamy works of art, without any one aspect being too overpowering. 
It's essentially eating the thing it was inspired by, but in ice cream form. It's a bit hard to describe, but believe me when I tell you it's almost magical.
This time, because of the Mexican connection, it's doing arroz con leche, which for the less dessert and Spanish-inclined amongst you is rice pudding. But not actually pudding in the form it takes here, but ice cream. 
The texture of it, as with all things to come from Tom's Palette (which are almost universally excellent) is dense. Like a neutron star dense, or your coworker that simply refuses to see logic and is pigheadedly sticking to their stupid guns sort of dense. 
When it comes to neutron stars and stupid coworkers, this is a bad thing, but when you apply it to ice cream, it's a really good thing.The difference between a good and mediocre ice cream is its density, which is indicative of the product's air-cream ratio, and it's the reason why gelato and Turkish ice cream is so universally loved.
See, you don't want to be eating air, you want to have something that will gum up your jaws with an almost toffee-like consistency. 
And that's something this arroz con leche ice cream has. And the flavour of it, which is in a word, wow. 
You can pick out the individual flavours of rice and cinnamon clear as the separation between church and state in a secular society. 
Wait, that was a bad metaphor, but let's not worry about that and move on. Suffice it to say, the arroz con leche ice cream is truly transcendental. 
It's available either from Tom's Palette's (too many apostrophes and I can't be bothered to think where to place them) outlet at Middle Road or any one of the Loco Group's restaurants barring Chico Loco at Amoy Street. 
While it's perfectly viable to do the former, having this arroz con leche ice cream at Super Loco/Lucha Loco will get you the full measure of it, as God (or in this case, the Loco Group) intended. 
You'll get a scoop of it served in a hard taco shell, plus some mango strips, puffed rice and uh… some shredded mint. Basically the extra-fancy variation of it, and turning the arroz con leche ice cream into a proper experience. 
Personally, I think it's a bit much, considering how good the ice cream is on its own, but hey, it certainly won't do if they simply served it in a paper cup, now would it?
Anyway, if you thought I'm being excessively positive in this edition of The Snackdown, you'd be right. The Snacktivist recognises game, and if that turns me into a Positive Polly, then so be it. 
Tom's Palette is the high watermarking of snacking, turning what is essentially non-food (which is what all snacks are, as I've said countless times before) into an art form. 
Which is what the Snacktivist tries to do as well… but with considerably less success.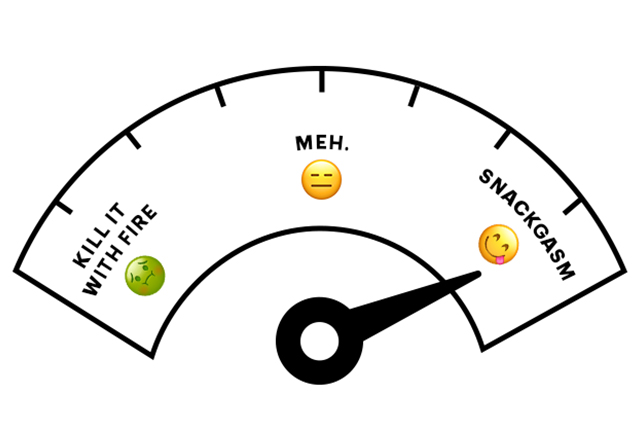 10-word review: The best ice cream your money can buy, bar none.
Best paired with: One of Super Loco's tacos or failing which, another Tom's Palette flavour… or all of the above.