Welcome to the 10th edition of Cop the Drop. Like couples who celebrate their weekly anniversary, we are going to attempt to make this a special one. But unlike the couples who celebrate their weekly anniversary, it is actually going to be special. So far, we have covered everything from sneakers, homeware and watches. In this edition, we are going to talk about clothes, specifically, this coat from Valentino made in collaboration with Jun Takahashi's Undercover.
Clothing generally does not perform well on the secondary market. Yes, resellers went bonkers over UNIQLO's T-shirt capsule collection with KAWS, but drops in the clothing sphere that incite such reaction are few and far between. And even though the T-shirts were sold at 90 percent above the retail price, you are still talking about a profit of 10 dollars. So if you're upset that you missed out on the opportunity to make 10 dollars, then maybe this life ain't right for you.
Commodity: Valentino x Undercover fall/winter 2019 coat
Now back to the topic at hand. While clothing is not the ideal choice as a candidate for profit on the secondary market, the ones that appreciate in value over time tend to be very lucrative. Think of it as art, most of it ain't worth that much (sorry beloved niece, but while I love your impression of a Jackson Pollock painting, it is not worth shit at an auction).
It takes something quite special for it to be worth a pretty penny on the secondary market. Like the coat from Raf Simon's collab with Sterling Ruby, the denim parka from the Supreme x Louis Vuitton collection and biker jacket from Maison Martin Margiela–they are currently being listed in the range of SGD69,252 to SGD27,701.
We are hedging our bets that this coat from Valentino's fall/winter 2019 collection, that was made in collaboration with Undercover, will join those ranks. The team-up between Jun Takahashi and Pierpaolo Piccioli draws inspiration from Edgar Allen Poe and David Bowie's 'Space Oddity'. The capsule collection is split into two halves, this particular number is produced by Undercover.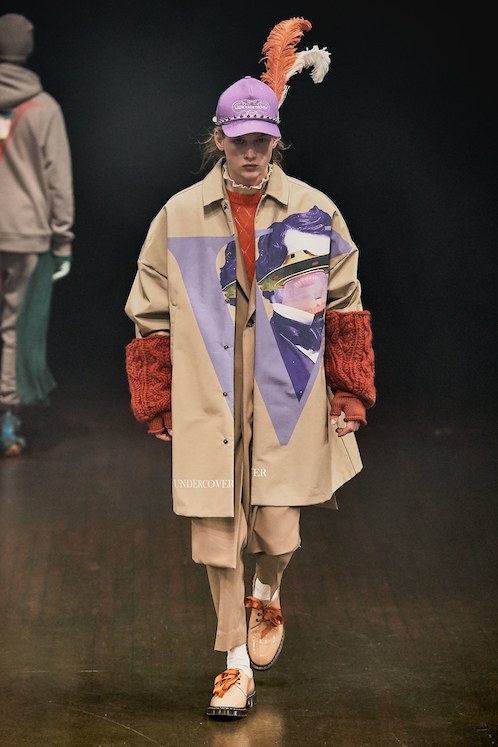 The Takahashi graphics that you see on the coat are a mash-up between a classic portrait of Poe and spaceships, with a bold letter 'V' overlaying the portrait. While the coat comes in two different colourways, the use of purple as the main colour scheme in the graphics works better when contrasted against the khaki coat.
Where: www.undercoverism.com
When: Out now
How: First come first served
Retail: SGD4,179
Price of the Valentino x Undercover fall/winter 2019 coat: still available for retail
Recommendation: Go long.
With such a hefty starting price, it is no surprise that there are still pieces available. But here is why we think it will appreciate over time. First off, a collaboration between these two brands doesn't occur that often. Undercover's list of collaborators runs long, but with all due respect to Comme des Garçons and Supreme, this partnership with Valentino is a pleasant surprise. The piece is a beautiful harmony of the contrasting design ethos of Jun Takahashi and Pierpaolo Piccioli, tied together with a love of the poetic.
When it comes to pieces like this, it is best to hold on to them for a while before putting it on the resale market. The idea is to sit on it, allow the season to past, and let the hype quiet down, before reintroducing it to the masses.
---
Previous drops…
Collaborations are great because you get two or more things for the price of one. In this week's edition of Cop the Drop, we are going to emulate that spirit of collaboration; think of this week's column as a cross-over between the valuation of a sneaker, as well as an announcement of an upcoming one.
Forget winter, the Supreme season is coming as the New York City skate brand teased the arrival of their fall/winter 2019 collection. While information is scant at the moment, there are two things that we know:
First, the collection will feature a denim jacket with a print that references the cover art of The Smiths' seminal album 'Meat is Murder', and sees Supreme reworking the 'Meat is Murder' tagline to 'Supreme is Love'.
View this post on Instagram
Second, according to Supreme insider Jay Preme, the collection will also feature three new colourways of the Supreme x Nike SB Dunk Low.
In light of the new colourways of the Supreme x Nike SB Dunk Low that we are expecting to arrive sometime in the next few months, we will be breaking down the value of the first edition of Nike Dunks low launched by Supreme in 2002.
Commodity: Supreme x Nike Dunk Low SB White Cement
Now, this is a proper old school throwback. We are talking about a sneaker that was launched in the year 2002. Ready to feel old? There is a list of notable things that went down that year:
1. Britney Spears and Justin Timberlake officially broke up;
2. Apple launched the second version of the iPod which featured a massive 20GB (lol) storage space;
3. Avril Lavigne launched her debut album;
4. Sanyo launched the first mobile phone with a built-in camera, and the game was never the same;
5. The Los Angeles Lakers were at the tail end of their NBA championship run; and
6. The biggest commodity of that time was Yu-Gi-Oh and WWE trading cards, not so much streetwear.
It is accurate to say that it was a vastly different world back then. But that doesn't take away from the shine of the release of the Supreme x Nike Dunk Low SB White Cement. Limited to a run of only 500 pairs, the sneaker drew inspiration from the influential elephant print colourway of the Air Jordan 3. It features a white leather upper, blue lining and the iconic elephant print. To put it into context, what makes this sneaker so unique, is that the elephant print (up to that point) was only ever seen on the Air Jordan 3; and even then, it was used only sparingly.
The Supreme x Nike Dunk Low SB might be devoid of logos, but it speaks to the clout of Supreme for convincing Nike to allow them to cover most of the sneaker in the elephant print.
The first Supreme x Nike Dunk Low SB collaboration might have flown under the radar when it was first released, but then again, so was most things that mainstream media was not interested in (never take the Internet for granted guys!). Nevertheless, this pair has become one of the most sought after pairs of SBs of all time.
Where: Supreme Soho and Tokyo stores
When: 2002
How: First come first served
Retail: NA
Price of the Supreme x Nike Dunk Low SB White Cement on the resale market: Peaking at SGD3,614 with lows of SGD1,933. The average price on the secondary market is SGD2,767.
Recommendation: Go long.
While Nike Dunk SBs tend to be ignored by most of the hype-tourists, it still manages to fetch an amazing price on the secondary market. That is a testament to how artificial scarcity and clever colourways can come together to create an iconic sneaker that is able to withstand the test of time.
If we wrote about this pair back in 2002, the recommendation would be to go long. That is still the recommendation now. While it is very unlikely that most of us would actually own this pair, if you happen to be one of the lucky ones that do, then hold on to them.
With the announcement of the new version of the Supreme x Nike Dunk Low SB, expect the influx of interest to help push the price up even more for this 2002 model; but even then, it's one of the rare sneakers that can be truly considered grails. And the fact that it is a skateboarding shoe, means that it will be able to take more punishment than an average sneaker—translation: you can afford to hold on to it for longer… until someone makes an offer you can't refuse.
---
Previous drops…
This week on Cop the Drop, we're taking a look at Virgil Abloh's OFF WHITE™ x MCA Chicago x Nike Air Force 1 '07. But more than just breaking down the value of this sneaker, the collaboration is an interesting insight into the journey of Abloh.
Launched as part of a series of merchandise at his first solo exhibition at the Museum of Contemporary Art Chicago, "Figures of Speech" is a retrospective of Abloh's body of work thus far. The exhibition is divided into two different segments, "Tourist" and "Purist", it represents the beginning of Abloh's foray into designing and where he is at right now.
Remember that iconic photo of Abloh and gang during their first-ever visit to Paris Fashion Week, all swaged out in labels but unable to get into any fashion shows. That was his "tourist" moment, before coming full circle as the artistic director of Louis Vuitton men's collection, a "purist" if you will.
While those labels coined by Abloh might sound slightly pretentious, the ideas behind them are not: regardless of the field of interest, we all begin as a tourist—happy to take in all the sights and sounds, to queue to take photos of famous landmarks—but never developing anything more than a 'touch-and-go' relationship with the subjects that we're interested in.
But once we start to understand it more, and become experts in that field, we turn into a "purist". It is the circle of life. But what does this have to do with a pair of sneakers and its value? We will get there.
Commodity: OFF WHITE™ x MCA Chicago x Nike Air Force 1 '07
First up, let's talk about this sneaker. First teased as a Serena Williams exclusive, before getting a release at the exhibition, the 'MCA' Nike Air Force 1 follows a similar deconstructed ethos of the other variant of the Nike Air Force 1s launched under the Off White x Nike collaboration umbrella. This version features a blue leather upper with silver Swooshes and exposed stitching, orange tabs and finished with the signature red zip tie.
Where: "Figure of Speech" exhibit in MCA Chicago,
When: 14 June
How: Raffle system
Retail: SGD203
Price of the OFF WHITE™ x MCA Chicago x Nike Air Force 1 '07 on the resale market in the last 7 days: Peaking at SGD2,705 with a low of SGD2,365. The average price for a size US 10 is SGD2,505
Recommendation: Go long.
This is not the first time that Abloh has released a Nike Air Force 1 at a museum. The first was a blacked-out version launched to celebrate the exhibition, 'Items: Is Fashion Modern?' at New York's Museum of Modern Art. Launched a year ago, the MoMa edition held steady at an average price of SGD3,834 and was sold recently for a high of SGD6,162.
The key to a successful investment sneaker is a blend of a silhouette that people recognise, and a singular point of sale. Think back to the price of the Nike x Sacai LDWaffle sneakers: the price skyrocketed because it was only launched at a pop-up store during Paris Fashion Week. There was a sharp devaluation once there was a general release of the sneakers globally.
With this 'MCA' edition not getting a general release, expect the prices to hold, and even appreciate over time. But for those who missed out, there is Abloh's suggestion: head to your local footlocker, buy a general release pair of Air Force 1s, paint them blue, put a Home Depot tag on them and call them "one-of-ones".
In an interview with Complex, he said, "That's what I would do, and I think that's what this exhibit is about. It's having a dialogue with what's in the institution. These are institutional Nikes now." That process of making your own pair is how you get from "tourist" to "purist". Which, in our opinion is more valuable than the resale of this OFF WHITE™ x MCA Chicago x Nike Air Force 1 '07.
You never know, we might be writing about the value of your "one-of-ones" sometime in the future.
---
Previous drops…
There is no denying that we are living in an age of collaboration—but more than the team-up between different brands—there is none bigger than the crossover we are witnessing between fashion and art. Case in point: think Kim Jones partnering with Daniel Ashram for Dior Men spring/summer 2020 show, Virgil Abloh with Futura for Off-White, Alessandro Michele with Ignasi Monreal, and Coco Capitán with Petra Collins. Case made.
While all of the abovementioned artists are no slouch, perhaps there is none more prolific than Japanese artist, Takashi Murakami. From brands in the fashion realm like Louis Vuitton, UNIQLO and Comme des Garçons, to teaming up with fellow artists KAWS and Damien Hirst, and working with musicians Billie Eilish, Pharrell Williams and, perhaps the one that launched Murakami into the pop-culture consciousness, Kanye West, Murakami is a master collaborator.
And that's not even the half of it. It seems like Murakami has it all: not only is he highly valued as a collaborator, but his artworks are just as celebrated in the art realm. The reason for the demand for his work lies in his design ethos in his 'Superflat' series; where he is able meld both traditional and pop-culture with ease. One never overpowers the other, and both works exist in harmony, all seen through his wonderful strange yet amazing lens.
In light of his recent exhibition, From Superflat to Bubblewrap that is happening right now at Singapore's very own STPI Creative Workshop & Gallery, we will be examining his latest collaborative work with Japanese bag brand, PORTER.
Commodity: Takashi Murakami x PORTER belted bag
The collaboration was first teased when Murakami broke it out during Paris Fashion Week Men's. Unlike the snafu that was him mistaking a Kim Jones designed bag for Virgil Abloh's first effort for the Louis Vuitton, this news holds up. While the capsule collection between the two won't be available at the exhibition, this is what we know.
There will be three variations of the bags launched—a tote bag, a backpack and a belted bag version. Made in PORTER's signature bonded nylon, and available in the atelier's signature olive green colourway, the bags feature Murakami's signature flowers as well as the logo from PORTER. While the tote bag was given love by rapper, Travis Scott, our favourite is the belted bag version—sleek and easy to style it on.
Where: PORTER's online store and at their Omotesando, Marunouchi and Osaka stores.
When: 20th July
How: Raffle
Retail: SGD1,006
Price of the Takashi Murakami x PORTER belt bag on the resale market in the last 7 days: None. It seems like there isn't an early release of these bags available, and the only other person who we know got their hands on the bags, Travis Scott, doesn't seem like the kind who will be putting his one up on secondary resale sites.
Recommendation: Go short and prosper.
Ever since the debut of Kanye West's Graduation, Murakami's stock has been consistently rising. While it doesn't seem like it might be falling off anytime soon, his work is never more in demand right now. Couple with PORTER's own rising stock with their brilliant collaboration with Fendi, you've got a power couple in the making with this capsule collection.
But it seems like our attention span is getting shorter, and there is always another collaboration or big drop to spend our cash on. With all due respect to this brilliant team-up between these two Japanese artisans, your chance for getting the most bang for your buck would be to flip it as soon as you get your hands on them.
With it being launched on a Japanese site and store, it will require some skill and know-how to get it to our sunny shores. What that means is limited reseller supply. Expect to be rewarded for your skills and watch this belted bag be sold for a pretty penny.
---
Previous drops…
It has been a hot minute since our last edition of Cop the Drop, and for those who have been waiting for it, we apologise. (We were busy gallivanting around Europe for men's fashion week). But here is how we are going to make it up to you—we are going big. This week, we will be breaking down the most expensive item yet on Cop the Drop, a three-way collaborative effort between luxury watchmaker Audemars Piguet, the streetwear maven Matthew Williams, and watch customiser Mad Paris.
Welcome to the big league guys.
There is no denying that Matthew Williams is going places. In a world inundated with collaborations, the founder and creative director of 1017 ALYX 9SM has wielded the art of partnerships that, in our personal opinion, have been better than anyone else in the industry. Williams has teamed up with the usual suspects like Nike and Vans, but it is his ability to translate his aesthetic and signature belt buckle with the likes of Moncler, Mackintosh and, the biggest coup of all, Kim Jones' vision at Dior Men, that really puts him at top of the hill as a master collaborator.
But the great ones never rest on their laurels. Williams further cements his hold on the throne with the debut of the Audemars Piguet x 1017 ALYX 9SM x Mad Paris Royal Oak timepiece. While details are still scarce, and the watch is still in the prototype stage, the buzz that it has caused it a testament to the midas touch of Williams.
Commodity: Audemars Piguet x 1017 ALYX 9SM x Mad Paris Royal Oak
So here is what we know: the watch is not an official release from Audemars Piguet, but rather, a customized version of an authentic Royal Oak with actual hardware from 1017 ALYX 9SM. The watch is completely matt black with the Audemars Piguet signature grand tapisserie dial and the traditional watch clasp will be replaced with the rollercoaster bucket from Alyx. But our favourite part of the watch and, one perhaps intentionally highlighted by Williams, is the screws on the case that he left untouched.
Not only does it add a nice contrast to the visual impact of the watch, but it also shines a light on the expert craftsmanship of Audemars Piguet. If you take a closer look, you'll notice that the screws are perfectly aligned to form a perfect circle. What that means is that the case was precisely machined so that when the screws are placed in, it sits in perfect orientation. It might be a small detail that might be easily glossed over, but for a designer like Williams who is just as obsessed over functionality as he is with details, it falls perfectly in line with his design ethos.
Where: www.mad-paris.com
When: TBC
How: First come, first served
Retail: Price upon request
Price of the Audemars Piguet x 1017 ALYX 9SM x Mad Paris Royal Oak on the resale market in the last 7 days: None, that's how early in the game we are. But there is some information for us to estimate the price of this timepiece. Other Royal Oaks that have been customised by Mad Paris goes between SGD108,380 to SGD127,497. With the limited number that would be released by Mad Paris, we can expect it to go within the range of SGD150,00 to SGD200,000.
Recommendation: Swing big, miss big. Avoid as an investment piece.
Remember what we said earlier at the start of this week's column, this is the big leagues. We are talking about serious coin, guys. Money that can easily buy you a nice car, or put a down payment on a house. While the pieces are expected to be super limited, so are the pool of people with the means to afford it. It is an ultra-exclusive crowd. If you operate as a consigliere within the ultra-wealthy, then short it. For the rest of us mortals, we will be happy just to observe from afar.