You've heard the saying: if a tree falls in a forest and no one is around to hear it, does it make a sound? Similarly, if there was a hyped sneaker being released, but we are all on home quarantine and unable to flex it, does it still have value? This week we tackle the Stüssy's Nike Air Zoom Spiridon Caged 2, and how COVID-19 will affect the value of streetwear commodities on the secondary market.
Stüssy's Nike Air Zoom Spiridon Caged 2
Stüssy's Nike Air Zoom Spiridon Caged 2
Stüssy's Nike Air Zoom Spiridon Caged 2
Stüssy's Nike Air Zoom Spiridon Caged 2
Stüssy's Nike Air Zoom Spiridon Caged 2
Stüssy's Nike Air Zoom Spiridon Caged 2
Stüssy's Nike Air Zoom Spiridon Caged 2
Stüssy's Nike Air Zoom Spiridon Caged 2
Commodity: Stüssy x Nike Air Zoom Spiridon Caged 2
If you are not familiar with the Nike Air Zoom Spiridon Caged 2, here is a short history lesson for you. The sneaker made its debut in 2003, created by legendary sneaker designer, Steven Smith. You may know Smith as the person who designed other iconic sneakers such as the Instapump Fury, Nike Zoom Spectrum Plus, New Balance 1500, as well as serving as the design director of the Yeezy sneaker line.
The Nike Air Zoom Spiridon Caged 2, which was created for the Japanese market, had a global appeal as an innovative running sneaker, and as a budding streetwear staple in the early noughties. Fast forward to the year 2020, the Nike Air Zoom Spiridon Caged 2 is still as relevant as it was in 2003—much of it can be attributed to its timeless design, the market's recent infatuation with chunky technical running sneakers, and above all, melding form and function.
While most collaborations are an excuse for cross-promotion, Stüssy's take on the Nike Air Zoom Spiridon Caged 2 gives the sneaker a modern colourway to reintroduce the sneaker back into the streetwear consciousness. The capsule collection includes two colourways as well as a tote bag and some ready-to-wear pieces.
Back to the topic on hand, the 'Pure Platinum' colourway is made with the original materials, ideal for those looking for a modern rendition of OG pairs. But the ones that we will be talking about today is the 'Fossil' colourway which features an addition of a hemp-like panelling detailing which adds a nice touch to the monochromatic colourway. Also, the 'Fossil' colourway is approved by Steven Smith; co-signs do not get better than this.
Where: Nike.com
When: 3 April 2020
How: Add to cart
Retail: SGDS$229
Price of the Stüssy x Nike Air Zoom Spiridon Caged 2 on the resale market in the last 7 days: peaking at SGD463 with lows of SGD307. The average retail price is SGD379.
Recommendation: Go long.
In these extraordinary times, any streetwear commodity that is able to double its original price is worth investing in. Think about it, the future does look slightly bleak, at least in the near future, and daily necessities to ride out the quarantine is on top of most of the to-buy list, and yet the Stüssy x Nike Air Zoom Spiridon Caged 2 is still able to double its retail price. And with 200 pairs being sold purely on StockX (that doesn't include the other secondary markets), we are putting good money on the fact that this sneaker will be even more valuable after the COVID-19 storm passes.
---
Previous drops..
Nike x Sacai LDWaffle
We are going to take a crack at the third edition of the Nike x Sacai LDWaffle. Yes, we know that we run the risk of sounding like a broken record, talking about the same sneaker over and over again, but there is a lesson here.
Nike x Sacai LDWaffle White Nylon.
Nike x Sacai LDWaffle White Nylon.
Nike x Sacai LDWaffle White Nylon.
Nike x Sacai LDWaffle White Nylon.
Nike x Sacai LDWaffle White Nylon.
Nike x Sacai LDWaffle White Nylon.
Commodity: Nike x Sacai LDWaffle sneakers white nylon
As a refresher (but we doubt you really need it), the Nike x Sacai LDWaffle sneakers see the melding of the LDV and the Waffle Racer, done up in Chitose Abe's signature deconstructionist ethos. It features a similar construction from the last two editions: elongated foam on the midsole, as well as the signature double tongue and laces.
The colourway is more pared down, with a triple-white version as well as one that features an all-black upper paired with a white sole. Besides a different colourway, the latest version also sees a nylon upper overlaid with suede, instead of the mesh fabric of the previous versions.
Where: Nike.com
When: 10 March 2020
How: Add to cart
Retail: SGD239
Price of the Nike x Sacai LDWaffle white nylon on the resale market in the last 7 days: peaking at SGD704 with lows of SGD414. The average retail price is SGD477.
Recommendation: Hard pass
If we were to compare the Nike x Sacai LDWaffle to a movie trilogy, it would be the Terminator series. Much like the first The Terminator movie, the first Nike x Sacai LDWaffle was revolutionary when it first debuted. Terminator 2: Judgment Day, and the Nike x Sacai LDWaffle in summit white and black on the other hand, pushed our idea of how great the series can be. Then we have Terminator 3: Rise of the Machines and these two nylon editions of the collaboration—which is confusing, a massive let down and not really sure what it is doing with itself.
That sounds like a very harsh criticism, but when you just launched a monochromatic version of the sneaker, why would you follow up with a similar colourway that is much weaker? Don't get us wrong, the sneaker is still a hot commodity on the secondary market, but we think that it is almost a consolation prize for those who missed out on the first two iterations.
But do not just take our word for it, check out the market reaction. While the demand is still healthy, the prices that people are willing to pay for is way lower compared to previous drops. If you are in the market to buy, good news! If you are a seller looking to make a healthy margin then you are out of luck.
With better sneakers in the pipeline for 2020, this release is going to be a tiny footnote. Hold on to your money.
---
Nike's greatest strength in the collaboration game has always been its roster of fashion superstars—think Virgil Abloh, Kim Jones, Chitose Abe, Matthew Williams, and Rei Kawakubo to name a few. However, their partnership with entertainers still pale in comparison to Adidas with their entourage of Kanye West, Beyoncé and Pharrell. While Nike might not have the sheer musical star power that Adidas has, it has struck gold with Travis Scott.
Their partnership began with Scott's rendition of the Air Force 1s, a sail-coloured low-top, with removal swooshes, before working on an Air Jordan 4 that paid tribute to the colourway of the Houston Oilers—the NFL team of his home town. When asked what made his collaboration so successful, Scott said, "I looked at the making of this shoe the same way I make an album. I wanted it to tell a story about me. I set the tone to go crazy at my shows. I'm the acid of rap."
But the highlight of their collaboration thus far is his take on the iconic Air Jordan 1s; a sneaker that's landed itself on many top 10 lists last year. But the prolific rapper is showing no signs of slowing down with the launch of his rendition of the classic Nike Dunk SBs. But will it live up to the hype, and is it a worthy investment piece? Let's dive in.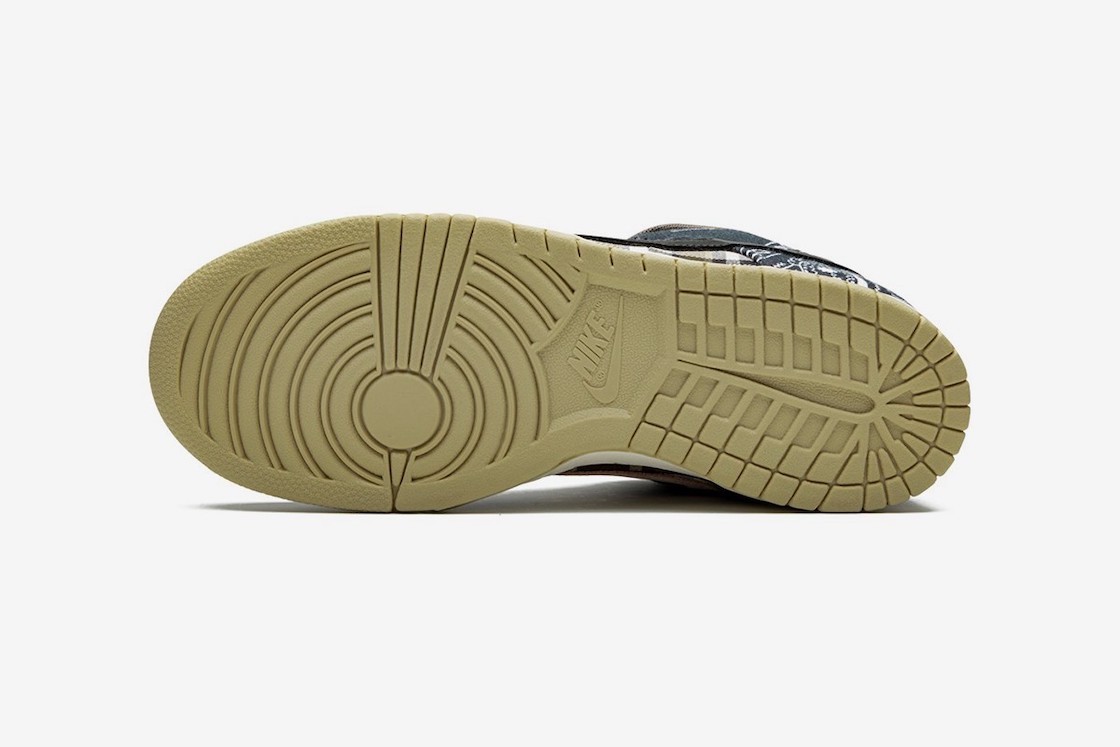 Commodity: Nike SB Dunks low Travis Scott
The year has barely begun and pundits are already calling Scott's take on the SB Dunks the sneaker of the year. That might be a tad premature, but the accolade is not without good reason. First off, you have to consider the fact that Scott has a genuine love of the silhouette. He is often seen wearing them and owns some of the rarest pairs of SB Dunks on the market like the 'Freddy Kruger' and the 'Paris' samples. Now for such an avid fan to be given an opportunity to leave his own imprint on SB Dunks, you know he is not going to disappoint.
The sneaker features a earthy-tone colourway, similar in vibe to his other Nike releases. The upper made in nubuck also comes with removable paisley and plaid print overlays. The idea is, the more you actually skate with these sneakers, the more it would reveal the pattern underneath the overlays. We like to think that it's a subtle nod to the legendary skate magazine, Skate and Destroy.
The sneaker is completed with rope laces, black and pink swooshes, as well as the signature thick tongue of the SB Dunk series.
Where: Select skate shops
When: 29 Feb 2020
How: Raffle system
Retail: Approximately SGD210
Price of the Nike SB Dunks low Travis Scott on the resale market in the last 7 days: peaking at SGD1,711 with lows of SGD1,231. The average retail price is SGD1,533
Recommendation: Long
With the renewed interest in the SB Dunk series, as well as how hard the sneaker is going to be to cop, it is the perfect storm for resellers to make some serious coin. Couple that with the fact the Scott just made a surprise drop over the weekend, it has the average sneakerhead (as well as the rabid fans) on high alert.
Now if you were to reference the stock price of the Travis Scott Air Jordan 1s, you'll notice that the price peaked before the official release, dipped slightly before the drop, and then held steady at an average price of SGD1,748 in the following months.
As such, our recommendation is to hold on to the SB Dunks by Travis Scott and wait for a suitable price before selling them. There is no rush to sell these sneakers. If the price is not right, you still have a great pair of kicks.
---
Previous drops…
Nobody breaks the Internet like Kim Jones. The artistic director of Dior Men recently unveiled a pair of Air Jordan 1s made in collaboration with the French luxury house at the Dior Men's Fall 2020 show in Miami, and promptly set the world on fire.
Jones is no stranger to collaborations—besides his seminal Louis Vuitton and Supreme collaboration—since taking over at Dior Men, every single collection he has produced has featured a guest collaborator. Now it might be early days, but the Air Dior 1s is already the frontrunner for the sneaker in 2020. There's so much hype around the sneaker, but is it worth the investment? Let's dive right into it.
Commodity: Dior Air Jordan 1s
On the surface, the design of the Dior Air Jordan 1s doesn't deviate too far from the original design. But as a huge fan of the Air Jordan 1 model, Jones work on the sneaker is more nuanced. Firstly, he wanted to create a product that was just as luxurious as the rest of the other products from the house of Dior. With that being said, the Dior Air Jordan 1s are handcrafted in Italy, making it the second-ever sneaker from Jordan brand (besides the Air Jordan 2s) to be made there. The grey colourway is a homage to the founder of the house, Mr Christian Dior himself.
The entire sneaker is constructed out of premium Italian leather, finished with painted edges, bigger stitching and comes with a swoosh that is made out of the Dior Oblique canvas. There are a lot of hidden details in the sneaker as well—like a tonal oblique print on the tongue of the sneaker as well as the base of the sneaker. The insides are also made in leather, which is a departure from the usual mesh construction.
This collaboration is a more of a subtle evolution of the Air Jordan 1s rather than a revolution—the swoosh is made bigger to compliment the Dior oblique motif, and certain parts of the sneaker is not stitched down to show off more the hand-painted edges. The sneaker also features a clear sole, with Air Dior logo on the right sole, and a riff on the original Air Jordan wings logo on the left pair.
Where: Dior stores
When: April 2020
How: To be announced
Retail: Approximately SGD2,700
Price of the Dior Air Jordan 1 on the resale market in the last 7 days: peaking at SGD17,847 with lows of SGD6,933. The average retail price is SGD9,706.
Recommendation: Go long
Let's use the Chanel x Adidas x Pharrell sneaker as a comparison. The sneaker sold for some insane prices on the secondary market when it was first launched, but has since tappered down. At its very peak, it was sold for a cool SGD18,723 before reaching lows of SGD2,039. But you also have sneakers like the Nike Air Mags, a truly legendary sneaker, that is still being sold for SGD38,000 on the secondary market.
We are not exactly comparing apples to apples here, but the Dior Air Jordan 1 is a unique sneaker that has the cultural clout of the Nike Air Mags and the prestige of a collaboration with a big brand. Perhaps the most accurate comparison would be the Off-White Air Jordan 1 Chicago colourway. It perfectly mirrors the blend of prestige with the Air Jordan 1 model.
The price of the Off-White Air Jordan 1s on the secondary market has steadily climbed since its debut, starting at SGD2,039 before climbing to SGD5,507. Expect the Dior Air Jordan 1 to have that same effect, with bigger returns down the line.
---
Dear G-Dragon,
Hope that you have been good. That two years of mandatory military service is a real drainer, ain't it? I also have some experience with that; not the best of times for sure, but not the worst. You might not know me or would ever read this, but I thought I would write you this open letter to share my disappointment with your recent collaboration with Nike.
First up, before going into the sneaker, I just want to put it out there that I really respect your craft, style and your influence on culture man. I won't comment too much on your music cause it would be disingenuous to talk about something I haven't heard much of. But when it comes to style, you are a true icon. It is more than just being versatile. You take clothes and elevate them by making it your own. It is always you wearing the garments and never the clothes wearing you.
You are a true style vanguard, leading us into realms that we didn't know existed before. There is nothing like you before, and probably no one would come close to your influence in the future. So it's all love on that front. But that begs the question: what is this disappointing sneaker that you put out with Nike? For a lack of a better word, this sneaker is boring. It looks like a worse version of general release sneakers that goes directly from the warehouse to the sale section of Footlocker.
It might sound harsh, but here's why. When the teasers for the sneaker first came out, it was a rendition of black Air Force 1s with this unique lacing that ends with a bow on the front, contrasting black upper and white soles with paint marks on it, finished with floral embroidery. But when the actual product images were launched, they were so boring. They just look like any regular Air Force 1s with a black upper and white soles.
It is so painfully boring, that it looks like any general release Air Force 1s with a hint of your input. What got lost in translation? How did it go from looking decent in the promos to this product we see right here? Credit where credit is due, the styling of the shoe made it what it is, and there is also an element of the black paint on the sneaker chipping away over time and revealing your artwork underneath. But it is too close to the ethos of the Margiela x Converse sneakers from 2014. To be fair, if it was another artist to put this out, we would be heaping praises.
Maybe we hold you to a higher standard than most, and rightfully so. You push boundaries, not co-op used ideas and call them your own. We know you have a bejewelled version in the works, but like come on G, you can do better. Where is the new silhouette that you could have created—as Kayne West did with the Air Yeezy 1 and 2, and Jerry Lorenzo with the Air Fear of God 1s?
Putting out a product that looks like something we can DIY is not enough, especially from a creative force like you.
Warmest regards,
Eugene Lim
Commodity: G-Dragon PEACEMINUSONE x Nike Air Force 1 'Para-Noise'
G-Dragon's take on the classic Air Force 1s from Nike sees a black upper with white contrasting soles featuring black paint marks, daisy embellishments on the tongue, and a PEACEMINUSONE logo embroidered on the inside of the collar. The black paint chips off over time, revealing an artwork by G-Dragon underneath.
Where: Dover Street Market Singapore
When: 23 Nov
How: Online Raffle
Retail: SGD279
Price of the G-Dragon PEACEMINUSONE x Nike Air Force 1 'Para-Noise' on the resale market in the last 7 days: peaking at SGD1,236 with lows of SGD523. The average retail price is SGD938.
Recommendation: Short it.
As you can tell from the open letter to G-Dragon, we are not the biggest fan of the collaboration. The best part of the sneaker is one that requires you to remove the paint, which alters the product so much that it devalues it tremendously.
But from a commodity standpoint, it is valuable. If you are part of  Team Early and have a pair before the global release date, we recommend cashing in on your stock immediately—a crash in price is imminent.
---
When it comes to marketing a new product, nothing generates more buzz than a collaboration. It is a great conversation starter; so good that it is starting to distract from the product. Let us paint you a picture–right now there is no bigger news than the upcoming collaboration between Nike and Dior, and Adidas and Prada. The fact that information on the actual products is scarce is not stopping the hype train.
We are at the point of oversaturation when it comes to collaboration; you can already hear the old heads bemoaning the fact that collaborations these days are just 'slapping on a logos on products and calling it a day'. If you take the emotions out of it, the question that they are putting forth is, 'where is the creativity?'
But if you harken back to the days of customisers, like Dapper Dan who famously appropriated the emblems of European luxury houses into his work, slapping logos on to products is more than a cop-out, but rather a subversion and elevation of a symbol of luxury. For context, those were the days when monograms were always exclusively seen on accessories than garments. Perhaps the most famous piece from Dapper Dan is a fur-lined jacket with balloon sleeves covered in the Louis Vuitton logo, which Alessandro Michele of Gucci referenced and replaced with the double G monogram. For a more recent example, take the famous Supreme lawsuit when they bootlegged the Louis Vuitton monogram print or their skateboard.
The point we are trying to make is that even a simplified expression of the cross-pollination of ideas is great. What is not to like? Case in point: the last collaboration between Rimowa and Supreme. If you are a huge fan of their luggage as well as Supreme, it is a straightforward and direct manner of having two things that you love, combined into one. That drop was simple and effective, with a crazy demand that was reflected in the sky-high resale prices.
The problem with most collaborations is the proliferation of the 'logo-slapping' way of designing. Which brings us to the latest iteration of the Rimowa x Supreme collaboration.
Commodity: Supreme x Rimowa 2019 Cabin Plus
This time, the duo went for a more in-depth design process. The all-black aluminium luggage comes in two different sizes: the Cabin Plus and Check-In, and it features an all-over anodized spiderweb print. The luggage is complete with a blacked-out Supreme box-logo on the luggage. Make no mistake that the luggage is made by Rimowa, which means the quality of it is as solid as they come—multi-wheel system wheels, TSA combination locks, two internal Flex Dividers to secure belongings and maximize packing space as well as a co-branded black leather Italian leather luggage tag.
While you might not think that the print is groundbreaking, it actually turns the usual wear and tear on the black aluminium luggage into a design element. Unlike the first edition where it looks better pristine, this iteration follows the ethos of both Supreme and Rimowa, where the imperfections are celebrated and prized.
Where: Rimowa stores in Singapore
When: 16 Nov
How: For more details, call the stores for enquiry
Retail: SGD2,940
Price of the Supreme x Rimowa 2019 Cabin Plus on the resale market in the last 7 days: peaking at SGD3,155 with lows of SGD2,997. The average retail price is SGD2,900.
Recommendation: Short it.
Let's dive into the pros and cons of the Supreme x Rimowa 2019 Cabin Plus as an investment piece. We really like the fact the collaboration tries to expand on the ethos of both brands and the fact that it looks better with use. But what makes it great, also makes the design quite niche. A lot of product that does great on the resale market, requires little digestion, In plain speak, if it looks great and you can understand it just by looking at it, more people will be interested in it, driving up the price on the secondary market.
That being said, a joint-venture between Rimowa and Supreme is still noteworthy, and would still draw fans. Just do not expect to land a huge profit.
---
A big part of streetwear culture is queuing for a drop. You know the drill: camping out outside the stores a couple of days in advance and praying for the best. But even before the rise of streetwear, Singaporeans were already familiar with the notion of queuing. We spent so much of our lives queuing that when we went to Disneyland for the first time, and they told us that the average waiting time for the rides was 2 hours, we scoffed. For us, that's what we call a casual weekend activity.
Do not believe us? Here is our top 5 list of things that Singaporeans have queued for:
(1) Shake Shack burgers at Jewel;
(2) any hyped up bubble tea from Taiwan;
(3) Krispy Kreme doughnuts;
(4) A&W restaurant; and
(5) any food store that was recommended by the Michelin guide.
You see a theme developing, we love queuing for food. But the most insane queue of all time was the McDonald's launch of a collection comprising of six sets of Hello Kitty and Dear Daniel dolls in different ethnic wedding costumes on 1 January 2000. There was such a huge frenzy over the launch that people came to blows. Yeap, you read that right, we began the new millennium on a greasy fast food high fist-fighting each other over a pair of dolls.
But that is not the first and last time that McDonald's has launched items that caused a stir. Case in point: the return of the Hello Kitty doll set in 2014, a bottled version of their curry sauce, and a hoodie that commemorated the return of the McGriddle earlier this year. Every single one of these releases were so hyped up and sort after that it puts any Supreme drop to shame. In our local context, McDonald's is Off-White and Ronald McDonald is Virgil Abloh; they have a Midas touch that is unparalleled.
Commodity: McDelivery Night In Loungewear Collection (Pyjamas)
Not the type to quit when they are on top of the fast-food/hype-merchandise game, McDonald's will be launching the McDelivery Night In Loungewear Collection. The launch is part of the McDelivery Night In service that they will be rolling out (nobody knows how that service differs from their current McDelivery service and, to be honest, nobody cares).
In a bid to promote the new initiative, McDonald's will be selling a bundle set that consists of the Happy Sharing Box B (six-piece Chicken McNuggets and four-piece McWings), as well as a camp-collar shirt and a pair of shorts. The collection is available in both male and female silhouettes, but comes in one size only.
While we are talking about the loungewear set, the highlight is definitely the shirt. The camp-collar shirt comes with a print of the Big Mac burger and fries.
Where: McDelievery app and the McDelivery website
When: 11 October 2019, 6pm
How: Pre-order via a special site that will be announced on the afternoon of 11 October.
Retail: SGD24.90, excluding delivery fee
Price of the McDelivery Night In Loungewear Collection on the resale market in the last 7 days: peaking at SGD75 with lows of SGD40. The average retail price is 60 dollars.
Recommendation: Short it only if you wouldn't mind ending up with it.
It is hard to quantify what makes this collection so appealing. For one, the design leaves much to be desired. The sleeves are cut too short, and how the item would fit seems body-built dependant. The collection echos the subversive trend of weaponising brand symbols into a fashion statement—much like the DHL range of items from Vetements. But while the garments were the punchline to the zeitgeist then, then the timing of this delivery is a tad off. Meaning, this loungewear set looks more like a bad joke. But as you know, great design is not always a prerequisite for demand and in the case of this drop, it was overwhelming enough to cause both the site and app to crash.
But if there is a lesson to be taken from the Hello Kitty x McDonald's craze, is that this market is as volatile as they come. Right now the market is cooling in anticipation of the second launch this coming Friday, but expect those who missed out the second time to go hunting on the secondary market. That is the best time to let go of your wares.
While we recommend shorting it, only go into this game if you do not mind owning it. If you are purely in the game to make a buck, then consider this—while you stand to make 100% profit assuming that you can sell it for SGD50 dollars; sounds great in percentages but it is only a profit of SDG25. Sounds like a lot of work for SGD25. Why not let the people who are lovin' the collection enjoy it and make your money somewhere else.
---
It is not often that we talk about a commodity that's made readily available and for the people; after all, the notion of proliferation goes against the very basis of the streetwear secondary market. Makes sense if you think about it—why would you buy something at resale price when you just head down to the store to get it.
Which is why at Cop the Drop, items like that is something that we typically avoid. But the world doesn't exist in a binary form; it goes beyond the idea that an item has to be mass or extremely rare. But there is a designer who is able to strut that line so masterfully: Dame Vivienne Westwood. She is both an activist for the betterment of humanity and doyenne of British fashion. From her point of view, fashion is a medium to share her views on the world. Her care for the state of the planet and her craft are doled out in equal measures.
Vans x Vivienne Westwood Checkerboard Slip-Ons.
Vans x Vivienne Westwood Sk8-Hi.
Vans x Vivienne Westwood Sk8-Hi.
Vans x Vivienne Westwood Style 53.
Vans x Vivienne Westwood Authentic.
Vans x Vivienne Westwood Authentic.
But how does that translate into the topic at hand today? Hear us out.
Yes, nothing is ever truly black or white, or in the case of the sneakers, it doesn't always come in the form of hyped up limited drops or general releases. But as a sneakerhead, you oscillate between sneakers that are easy to get, or you pay through the nose via resale (or finding a plug to backdoor it for you). But the true gems are the ones that are somewhere in between, like this collaboration between Vans and Vivienne Westwood.
Vans x Vivienne Westwood Checkerboard Slip-Ons.
Vans x Vivienne Westwood Checkerboard Slip-Ons.
Vans x Vivienne Westwood Checkerboard Slip-Ons.
Commodity: Vans x Vivienne Westwood slip-on checkerboard 'Destroy' sneaker
Titled 'Anglomania', the footwear collection between the two houses embodies the notion of rebellious freedom of expression. It is punk and counter-culture. Unlike Westwood's previous collaboration with ASICS, this team-up sees her interpreting the house archival prints and graphics on Vans's sneakers. The collection runs deeper than past Westwood collaborations with the launch of six different pairs. From a Sk8-Hi platform sneaker that draws inspiration from the boots in the legendary 1981 Pirate collection, to Old Skool and Authentic silhouettes that features emblems of the house like the lightning bolts and the VW orb.
But our favourite from the collection, and one that is the focus of today's Cop the Drop, is the classic checkerboard slips that feature the 'Destroy' graphic. More than just using the sneakers as a canvas to reinterpret the archival graphics, the collaboration sees the marriage of anti-establishment symbols.
The checkerboard print become a symbol of the breaking of racial barriers, and the slip-ons became the go-to sneaker of the punk musicians of the Ska music wave in the 70s, while the iconic 'Destroy' graphic from Westwood is a call to take down the "the faceless evil which destroys everything by creating depths and wrecking down the planet, if we continue to play this game of the rotten financial system." Even if you don't subscribe to either notion, the sneaker is able to remove itself from its rich narrative and stand-alone as a beautiful piece of footwear.
Where: vans.sg and their retail stores in Singapore
When: 20 Sept 2019
How: First come, first served
Retail: SGD109
Price of the Vans x Vivienne Westwood slip-on checkerboard 'Destroy' sneaker on the resale market in the last 7 days: Peaking at SGD138 with a low of SGD110. The average price is SGD154. (Seems off? See below.)
Recommendation: Avoid as an investment piece.
Now if you are wondering why the average price is higher than the price of the highest sold pair in the last week, there are a couple of factors:
(1) someone bought a pair at a resale price of SGD482 a couple of weeks ago;
(2) there were very little pairs being sold; and
(3) there are probably many pairs being made, thus reducing the need to acquire it on the secondary market.
Thus, when you apply the law of averages, you get this result.
While we do not recommend it as an investment piece, this sneaker holds up with any sneaker that we have ever featured on this series. It is a fresh take on the classic that marries the essence of both collaborators equally, without compromise. Plus what is there not to like about an affordable pair of footwear that looks great, doesn't break the bank, nor require you to jump through hoops to get it?
---
Previous drops…
Before the secondary market trading of limited edition sneakers and garments, there was art. Sure, you might turn a nice profit over flipping a pair of sneakers, but that amount still pales in comparison to the amount that artworks like Jean-Michel Basquiat, Leonardo da Vinci and Willem de Kooning are sold for at auction houses.
While there is a gulf between the art world and fashion, the one artist bridging that divide is Brian Donnelly, aka KAWS. With a start in painting over campaign images around New York City with reappropriated pop culture icons, like Mickey Mouse and SpongeBob SquarePants, Donnelly explained in an interview, "it was a proof of existence thing. I liked the images," says Donnelly. "I painted over them because they were omnipresent."
The idea of omnipresence is an ethos that is channelled in how he presents his pieces. Think massive floating sculpture in the harbour of Hong Kong or a massive wooden sculpture in Doha's airport. But it's more than the work that is present and visible. Fans are able to bring home a piece of it through vinyl toys or via collabs with brands like Dior Men, UNIQLO and Nike. While the art critics might see this proliferation as a means of devaluation, Donnelly sees it as a way of democratising his work—everyone gets a piece of KAWS.
Commodity: KAWS 'GONE' companion in grey with pink BFF
Donnelly will launch a massive retrospective–KAWS: COMPANIONSHIP IN THE AGE OF LONELINESS–in Australia and will feature 100 pieces of his past works, as well as a brand new bronze sculpture in Australia. The statue titled GONE, is the largest bronze piece he has ever created and features KAWS's 'Companion' carrying the 'BFF' in a Pietà pose; a symbol of a state of contemplation and sorrow. There are three different colourways of the GONE statue as a vinyl toy.
Where: kawsone.com
When: 24 Sept 2019
How: online purchase
Retail: SGD888
Price of the KAWS 'GONE' companion vinyl toy in grey on the resale market in the last 7 days: Peaking at SGD2,790 with a low of SGD1,652. The average price is SGD2,232.
Recommendation: Go long
If the recent sale of his artwork, The Kaws Album, which sold for a record USD14.8 million is anything to go by, demand for his work is at an all-time high. That is without mentioning the insane desire for his UNIQLO collaboration. With the launch of the toy, expect the price to dip slightly but look forward to a nice rebound. KAWS might be prolific in his work but these toys do not come around that often. Pieces that are based on his sculptures tend to fetch a higher price than the other pieces. And it doesn't seem like the stock of KAWS would drop anytime soon.
Savvy partnership with brands (like Dior Men) and pop-culture friendly pieces mean that the toy will stay relevant for a while. So hold on to them, if you are looking to make some serious coin.
---
Previous drops…
Welcome to the 10th edition of Cop the Drop. Like couples who celebrate their weekly anniversary, we are going to attempt to make this a special one. But unlike the couples who celebrate their weekly anniversary, it is actually going to be special. So far, we have covered everything from sneakers, homeware and watches. In this edition, we are going to talk about clothes, specifically, this coat from Valentino made in collaboration with Jun Takahashi's Undercover.
Clothing generally does not perform well on the secondary market. Yes, resellers went bonkers over UNIQLO's T-shirt capsule collection with KAWS, but drops in the clothing sphere that incite such reaction are few and far between. And even though the T-shirts were sold at 90 percent above the retail price, you are still talking about a profit of 10 dollars. So if you're upset that you missed out on the opportunity to make 10 dollars, then maybe this life ain't right for you.
Commodity: Valentino x Undercover fall/winter 2019 coat
Now back to the topic at hand. While clothing is not the ideal choice as a candidate for profit on the secondary market, the ones that appreciate in value over time tend to be very lucrative. Think of it as art, most of it ain't worth that much (sorry beloved niece, but while I love your impression of a Jackson Pollock painting, it is not worth shit at an auction).
It takes something quite special for it to be worth a pretty penny on the secondary market. Like the coat from Raf Simon's collab with Sterling Ruby, the denim parka from the Supreme x Louis Vuitton collection and biker jacket from Maison Martin Margiela–they are currently being listed in the range of SGD69,252 to SGD27,701.
We are hedging our bets that this coat from Valentino's fall/winter 2019 collection, that was made in collaboration with Undercover, will join those ranks. The team-up between Jun Takahashi and Pierpaolo Piccioli draws inspiration from Edgar Allen Poe and David Bowie's 'Space Oddity'. The capsule collection is split into two halves, this particular number is produced by Undercover.
The Takahashi graphics that you see on the coat are a mash-up between a classic portrait of Poe and spaceships, with a bold letter 'V' overlaying the portrait. While the coat comes in two different colourways, the use of purple as the main colour scheme in the graphics works better when contrasted against the khaki coat.
Where: www.undercoverism.com
When: Out now
How: First come first served
Retail: SGD4,179
Price of the Valentino x Undercover fall/winter 2019 coat: still available for retail
Recommendation: Go long.
With such a hefty starting price, it is no surprise that there are still pieces available. But here is why we think it will appreciate over time. First off, a collaboration between these two brands doesn't occur that often. Undercover's list of collaborators runs long, but with all due respect to Comme des Garçons and Supreme, this partnership with Valentino is a pleasant surprise. The piece is a beautiful harmony of the contrasting design ethos of Jun Takahashi and Pierpaolo Piccioli, tied together with a love of the poetic.
When it comes to pieces like this, it is best to hold on to them for a while before putting it on the resale market. The idea is to sit on it, allow the season to past, and let the hype quiet down, before reintroducing it to the masses.
---
Previous drops…
Collaborations are great because you get two or more things for the price of one. In this week's edition of Cop the Drop, we are going to emulate that spirit of collaboration; think of this week's column as a cross-over between the valuation of a sneaker, as well as an announcement of an upcoming one.
Forget winter, the Supreme season is coming as the New York City skate brand teased the arrival of their fall/winter 2019 collection. While information is scant at the moment, there are two things that we know:
First, the collection will feature a denim jacket with a print that references the cover art of The Smiths' seminal album 'Meat is Murder', and sees Supreme reworking the 'Meat is Murder' tagline to 'Supreme is Love'.
View this post on Instagram
Second, according to Supreme insider Jay Preme, the collection will also feature three new colourways of the Supreme x Nike SB Dunk Low.
In light of the new colourways of the Supreme x Nike SB Dunk Low that we are expecting to arrive sometime in the next few months, we will be breaking down the value of the first edition of Nike Dunks low launched by Supreme in 2002.
Commodity: Supreme x Nike Dunk Low SB White Cement
Now, this is a proper old school throwback. We are talking about a sneaker that was launched in the year 2002. Ready to feel old? There is a list of notable things that went down that year:
1. Britney Spears and Justin Timberlake officially broke up;
2. Apple launched the second version of the iPod which featured a massive 20GB (lol) storage space;
3. Avril Lavigne launched her debut album;
4. Sanyo launched the first mobile phone with a built-in camera, and the game was never the same;
5. The Los Angeles Lakers were at the tail end of their NBA championship run; and
6. The biggest commodity of that time was Yu-Gi-Oh and WWE trading cards, not so much streetwear.
It is accurate to say that it was a vastly different world back then. But that doesn't take away from the shine of the release of the Supreme x Nike Dunk Low SB White Cement. Limited to a run of only 500 pairs, the sneaker drew inspiration from the influential elephant print colourway of the Air Jordan 3. It features a white leather upper, blue lining and the iconic elephant print. To put it into context, what makes this sneaker so unique, is that the elephant print (up to that point) was only ever seen on the Air Jordan 3; and even then, it was used only sparingly.
The Supreme x Nike Dunk Low SB might be devoid of logos, but it speaks to the clout of Supreme for convincing Nike to allow them to cover most of the sneaker in the elephant print.
The first Supreme x Nike Dunk Low SB collaboration might have flown under the radar when it was first released, but then again, so was most things that mainstream media was not interested in (never take the Internet for granted guys!). Nevertheless, this pair has become one of the most sought after pairs of SBs of all time.
Where: Supreme Soho and Tokyo stores
When: 2002
How: First come first served
Retail: NA
Price of the Supreme x Nike Dunk Low SB White Cement on the resale market: Peaking at SGD3,614 with lows of SGD1,933. The average price on the secondary market is SGD2,767.
Recommendation: Go long.
While Nike Dunk SBs tend to be ignored by most of the hype-tourists, it still manages to fetch an amazing price on the secondary market. That is a testament to how artificial scarcity and clever colourways can come together to create an iconic sneaker that is able to withstand the test of time.
If we wrote about this pair back in 2002, the recommendation would be to go long. That is still the recommendation now. While it is very unlikely that most of us would actually own this pair, if you happen to be one of the lucky ones that do, then hold on to them.
With the announcement of the new version of the Supreme x Nike Dunk Low SB, expect the influx of interest to help push the price up even more for this 2002 model; but even then, it's one of the rare sneakers that can be truly considered grails. And the fact that it is a skateboarding shoe, means that it will be able to take more punishment than an average sneaker—translation: you can afford to hold on to it for longer… until someone makes an offer you can't refuse.
---
Previous drops…
This week on Cop the Drop, we're taking a look at Virgil Abloh's OFF WHITE™ x MCA Chicago x Nike Air Force 1 '07. But more than just breaking down the value of this sneaker, the collaboration is an interesting insight into the journey of Abloh.
Launched as part of a series of merchandise at his first solo exhibition at the Museum of Contemporary Art Chicago, "Figures of Speech" is a retrospective of Abloh's body of work thus far. The exhibition is divided into two different segments, "Tourist" and "Purist", it represents the beginning of Abloh's foray into designing and where he is at right now.
Remember that iconic photo of Abloh and gang during their first-ever visit to Paris Fashion Week, all swaged out in labels but unable to get into any fashion shows. That was his "tourist" moment, before coming full circle as the artistic director of Louis Vuitton men's collection, a "purist" if you will.
While those labels coined by Abloh might sound slightly pretentious, the ideas behind them are not: regardless of the field of interest, we all begin as a tourist—happy to take in all the sights and sounds, to queue to take photos of famous landmarks—but never developing anything more than a 'touch-and-go' relationship with the subjects that we're interested in.
But once we start to understand it more, and become experts in that field, we turn into a "purist". It is the circle of life. But what does this have to do with a pair of sneakers and its value? We will get there.
Commodity: OFF WHITE™ x MCA Chicago x Nike Air Force 1 '07
First up, let's talk about this sneaker. First teased as a Serena Williams exclusive, before getting a release at the exhibition, the 'MCA' Nike Air Force 1 follows a similar deconstructed ethos of the other variant of the Nike Air Force 1s launched under the Off White x Nike collaboration umbrella. This version features a blue leather upper with silver Swooshes and exposed stitching, orange tabs and finished with the signature red zip tie.
Where: "Figure of Speech" exhibit in MCA Chicago,
When: 14 June
How: Raffle system
Retail: SGD203
Price of the OFF WHITE™ x MCA Chicago x Nike Air Force 1 '07 on the resale market in the last 7 days: Peaking at SGD2,705 with a low of SGD2,365. The average price for a size US 10 is SGD2,505
Recommendation: Go long.
This is not the first time that Abloh has released a Nike Air Force 1 at a museum. The first was a blacked-out version launched to celebrate the exhibition, 'Items: Is Fashion Modern?' at New York's Museum of Modern Art. Launched a year ago, the MoMa edition held steady at an average price of SGD3,834 and was sold recently for a high of SGD6,162.
The key to a successful investment sneaker is a blend of a silhouette that people recognise, and a singular point of sale. Think back to the price of the Nike x Sacai LDWaffle sneakers: the price skyrocketed because it was only launched at a pop-up store during Paris Fashion Week. There was a sharp devaluation once there was a general release of the sneakers globally.
With this 'MCA' edition not getting a general release, expect the prices to hold, and even appreciate over time. But for those who missed out, there is Abloh's suggestion: head to your local footlocker, buy a general release pair of Air Force 1s, paint them blue, put a Home Depot tag on them and call them "one-of-ones".
In an interview with Complex, he said, "That's what I would do, and I think that's what this exhibit is about. It's having a dialogue with what's in the institution. These are institutional Nikes now." That process of making your own pair is how you get from "tourist" to "purist". Which, in our opinion is more valuable than the resale of this OFF WHITE™ x MCA Chicago x Nike Air Force 1 '07.
You never know, we might be writing about the value of your "one-of-ones" sometime in the future.
---
Previous drops…
There is no denying that we are living in an age of collaboration—but more than the team-up between different brands—there is none bigger than the crossover we are witnessing between fashion and art. Case in point: think Kim Jones partnering with Daniel Ashram for Dior Men spring/summer 2020 show, Virgil Abloh with Futura for Off-White, Alessandro Michele with Ignasi Monreal, and Coco Capitán with Petra Collins. Case made.
While all of the abovementioned artists are no slouch, perhaps there is none more prolific than Japanese artist, Takashi Murakami. From brands in the fashion realm like Louis Vuitton, UNIQLO and Comme des Garçons, to teaming up with fellow artists KAWS and Damien Hirst, and working with musicians Billie Eilish, Pharrell Williams and, perhaps the one that launched Murakami into the pop-culture consciousness, Kanye West, Murakami is a master collaborator.
And that's not even the half of it. It seems like Murakami has it all: not only is he highly valued as a collaborator, but his artworks are just as celebrated in the art realm. The reason for the demand for his work lies in his design ethos in his 'Superflat' series; where he is able meld both traditional and pop-culture with ease. One never overpowers the other, and both works exist in harmony, all seen through his wonderful strange yet amazing lens.
In light of his recent exhibition, From Superflat to Bubblewrap that is happening right now at Singapore's very own STPI Creative Workshop & Gallery, we will be examining his latest collaborative work with Japanese bag brand, PORTER.
Commodity: Takashi Murakami x PORTER belted bag
The collaboration was first teased when Murakami broke it out during Paris Fashion Week Men's. Unlike the snafu that was him mistaking a Kim Jones designed bag for Virgil Abloh's first effort for the Louis Vuitton, this news holds up. While the capsule collection between the two won't be available at the exhibition, this is what we know.
There will be three variations of the bags launched—a tote bag, a backpack and a belted bag version. Made in PORTER's signature bonded nylon, and available in the atelier's signature olive green colourway, the bags feature Murakami's signature flowers as well as the logo from PORTER. While the tote bag was given love by rapper, Travis Scott, our favourite is the belted bag version—sleek and easy to style it on.
Where: PORTER's online store and at their Omotesando, Marunouchi and Osaka stores.
When: 20th July
How: Raffle
Retail: SGD1,006
Price of the Takashi Murakami x PORTER belt bag on the resale market in the last 7 days: None. It seems like there isn't an early release of these bags available, and the only other person who we know got their hands on the bags, Travis Scott, doesn't seem like the kind who will be putting his one up on secondary resale sites.
Recommendation: Go short and prosper.
Ever since the debut of Kanye West's Graduation, Murakami's stock has been consistently rising. While it doesn't seem like it might be falling off anytime soon, his work is never more in demand right now. Couple with PORTER's own rising stock with their brilliant collaboration with Fendi, you've got a power couple in the making with this capsule collection.
But it seems like our attention span is getting shorter, and there is always another collaboration or big drop to spend our cash on. With all due respect to this brilliant team-up between these two Japanese artisans, your chance for getting the most bang for your buck would be to flip it as soon as you get your hands on them.
With it being launched on a Japanese site and store, it will require some skill and know-how to get it to our sunny shores. What that means is limited reseller supply. Expect to be rewarded for your skills and watch this belted bag be sold for a pretty penny.
---
Previous drops…
It has been a hot minute since our last edition of Cop the Drop, and for those who have been waiting for it, we apologise. (We were busy gallivanting around Europe for men's fashion week). But here is how we are going to make it up to you—we are going big. This week, we will be breaking down the most expensive item yet on Cop the Drop, a three-way collaborative effort between luxury watchmaker Audemars Piguet, the streetwear maven Matthew Williams, and watch customiser Mad Paris.
Welcome to the big league guys.
There is no denying that Matthew Williams is going places. In a world inundated with collaborations, the founder and creative director of 1017 ALYX 9SM has wielded the art of partnerships that, in our personal opinion, have been better than anyone else in the industry. Williams has teamed up with the usual suspects like Nike and Vans, but it is his ability to translate his aesthetic and signature belt buckle with the likes of Moncler, Mackintosh and, the biggest coup of all, Kim Jones' vision at Dior Men, that really puts him at top of the hill as a master collaborator.
But the great ones never rest on their laurels. Williams further cements his hold on the throne with the debut of the Audemars Piguet x 1017 ALYX 9SM x Mad Paris Royal Oak timepiece. While details are still scarce, and the watch is still in the prototype stage, the buzz that it has caused it a testament to the midas touch of Williams.
Commodity: Audemars Piguet x 1017 ALYX 9SM x Mad Paris Royal Oak
So here is what we know: the watch is not an official release from Audemars Piguet, but rather, a customized version of an authentic Royal Oak with actual hardware from 1017 ALYX 9SM. The watch is completely matt black with the Audemars Piguet signature grand tapisserie dial and the traditional watch clasp will be replaced with the rollercoaster bucket from Alyx. But our favourite part of the watch and, one perhaps intentionally highlighted by Williams, is the screws on the case that he left untouched.
Not only does it add a nice contrast to the visual impact of the watch, but it also shines a light on the expert craftsmanship of Audemars Piguet. If you take a closer look, you'll notice that the screws are perfectly aligned to form a perfect circle. What that means is that the case was precisely machined so that when the screws are placed in, it sits in perfect orientation. It might be a small detail that might be easily glossed over, but for a designer like Williams who is just as obsessed over functionality as he is with details, it falls perfectly in line with his design ethos.
Where: www.mad-paris.com
When: TBC
How: First come, first served
Retail: Price upon request
Price of the Audemars Piguet x 1017 ALYX 9SM x Mad Paris Royal Oak on the resale market in the last 7 days: None, that's how early in the game we are. But there is some information for us to estimate the price of this timepiece. Other Royal Oaks that have been customised by Mad Paris goes between SGD108,380 to SGD127,497. With the limited number that would be released by Mad Paris, we can expect it to go within the range of SGD150,00 to SGD200,000.
Recommendation: Swing big, miss big. Avoid as an investment piece.
Remember what we said earlier at the start of this week's column, this is the big leagues. We are talking about serious coin, guys. Money that can easily buy you a nice car, or put a down payment on a house. While the pieces are expected to be super limited, so are the pool of people with the means to afford it. It is an ultra-exclusive crowd. If you operate as a consigliere within the ultra-wealthy, then short it. For the rest of us mortals, we will be happy just to observe from afar.
---
Previous drops…
Drake might have thrown shade at Adidas with the bar "check over stripes" in the Travis Scott 'Sicko Mode' record, but we at Cop The Drop prefer parity. So in this week's column, we are going to take a close look at the Adidas Yeezy Boost 700 V2 'Tephra'. But before we get into the value of it, it is time for a bit of history lesson—I mean, you got the know the context for your Yeezy flex and how Kanye West got to this point—if not what kind of sneakerhead are you?
Kanye's relationship with Nike and Adidas is well documented, but way before that, he had a sneaker collaboration called 'Don' with the French luxury giant Louis Vuitton. In a way, Kanye paved the way for Virgil Abloh to be the disruptive force that he is today in both the streetwear and luxury fashion scene.
There is no denying that Kanye has mad cultural currency and for a young man growing up in Chicago–where Michael Jordan was starring as a superhero in a Bull's uniform–Kanye and Nike seem like a perfect fit. In fact, in an interview, Kanye likened Nike to Obama: "perfect" but also "not really going to change anything". Ultimately the split between the two boiled down to royalties for the sales of the Air Yeezys and Kanye feeling slighted by the design team at Nike.
But it is not all bad, since the debut of the Adidas Yeezy Boost in 2015, the sneaker line gave a huge shot in the arm for the German sporting giant. Remember the NMDs and the Pharrell collaborations coupled with the frenzy over the Yeezy Boosts? For a moment it looked like stripes had the upper hand over checks.
Kanye wanted to ride that momentum, but flooding the market with your stock is not always the best idea when launching a product, but neither is artificially creating scarcity by limiting qualities for prolong periods of time.
What Adidas did was to launch a limited amount of the Adidas Yeezys at first, before slowly increasing the number of sneakers that they put out. You get the cult-ish buzz of a big launch while still riding that wave for the sell through. While this writer is a tad bored of the onslaught of the same silhouette with different colourways, the demand for Yeezy doesn't seem to be waning.
Commodity: Adidas Yeezy Boost 700 V2 'Tephra'
Now you know how the Yeezy line got here, it is time to take a closer look at the Adidas Yeezy Boost 700 V2 'Tephra' colourway. The sneaker leans more towards the chunky variant, with a patchwork of different grey tones in various materials like leather, nubuck and suede, finished with reflective details throughout.
Where: Adidas Pacific Plaza and adidas.com.sg/YEEZY
When: June 15
How: First come, first served
Retail: S$450
Price of the Yeezy Boost 700 V2 on the resale market in the last 7 days: Peaking at SGD556, with lows of SGD450. Average price is SGD534.
Recommendation: Hole onto your pretty pennies.
While it took a while for Kanye to deliver on his promise on Yeezys for everyone, he actually delivered on it. While the retail price remains high (even at SGD450, it is more than twice the retail price of the Sacai x Nike Blazers), Adidas has released an unprecedented amount of the Yeezy Boost. While the early release pairs have driven the price up, once the 15 June comes by, expect the price of the Adidas Yeezy Boost 700 V2 'Tephra' to drop and hold at SGD40-50 above retail price on the secondary market.
But then again, why spend SGD450 just to make SGD50 dollars? You might run the risk of liquidating the sneaker too quickly, copping a loss and eating into your cash to invest into other sneakers.
---
Previous drops…
For every recognisable name that Nike has collaborated with—take for example Off-White, Comme des Garçons, Sacai, Undercover and Kim Jones—a large part of the credit goes to Fraser Cooke, Nike's global influencer marketing special projects senior director. Cooke is the gatekeeper of the some of the most influential and hype-worthy collaboration that the Swoosh has been pushing out in the recent years. Most of the time, the process begins with a conversation with the various designers, where they talk about music, sub-culture, and life. Eventually, the conversation leads back to the first memory of a Nike sneaker.
Now, why did we bring Cooke up? First, it would be nice to give a shout out to the man who brought us all these awesome sneakers. Second, it is a nice peek into the collaboration process; where designers get to fulfil their childhood dream of designing a sneaker for Nike.
But if you pay close attention, most of these Nike sneaker collaborations usually see the designer putting their own twist on a classic silhouette. But for Jerry Lorenzo, the man behind Fear of God, when the opportunity came knocking, he didn't want to revive a classic, but rather, he wanted to explore the notion of how classic performance sneakers became a part of streetwear culture (see: Air Jordans).
Commodity: Nike Air Fear of God 1 'Summertime Sail'
Now, the Air Fear of God 1s are not the first original silhouette born out of a collaboration; remember Kanye West's short-lived partnership with the Swoosh that resulted in the Air Yeezy 1s and 2s? But the Air Nike Fear of God 1s is a throwback to the idea that a performance sneaker which, in this case, was made for basketball, is able to make a smooth transition into casual wear. As successful as the other basketball sneaker lines have been for Nike, the rigours of the new NBA have players demanding for more technology incorporated into their sneakers; in the battle of form versus function, form wins every time if it means that the sneaker is going to prolong the said NBA player's career.
So while the rest of the basketball sneaker designers zigged, Lorzeno zagged. I mean, who else is better equipped to design a basketball sneaker than a fashion designer who actually played basketball at a college level—creating that sneaker that doesn't compromise on either form or function.
The Air Nike Fear of God 1 'Summertime Sail' is the fifth colourway, following the 'Black', 'Light Bone', 'Orange Pulse' and 'Frosted Spruce. Made with a breathable mesh upper, the tonal sneaker comes with a light grey suede toebox, TPU cage overlay, midsole and laces and is contrasted by a black Nike Swoosh and double Zoom Air sole unit seen through an icy blue window (a nod to the first Air Max 1s).
Where: Nike.com
When: June 8
How: Purchase online
Retail: S$479
Price of the Nike Fear of God 1 'Summertime Sail' on the resale market in the last 7 days: No recorded sales, but it is currently listed at SGD2,734 on StockX and Grailed.
Recommendation: Short it immediately.
As much as it pains me to say it (only because of how much I love this silhouette and would hate for it to perpetuate this insane cycle of hype and greed), sell the sneaker immediately if you manage to get your hands on a pair at retail. Based on the four previous colourway drops, the 'Light Bone' (which is the most tonal and most fuss-free colour) has proved to be extremely popular and thus the most lucrative on the secondary market.
The average resale price of the 'Light Bone' is SGD1,179 compared to the second highest iteration, 'Black', which is going at SGD1,088, while the 'Orange Pulse' and 'Frosted Spruce' were sold at SGD711 and SGD782 respectively. Using the sale history of the 'Light Bone' which sold at SGD2,177 on the secondary market on the drop date as a reference, we recommend that you sell the 'Summertime Sail' quickly before the value of the price stabilises. You are talking about a profit of SGD1,698 compared to SGD700.
Don't snooze guys. Or be a baller, and actually hoop it in.
---
Previous drops…
The previous week was a big one for the sneaker community with the drops of  Travis Scott x Air Jordan 1s, Tom Sachs x Nike Mars Yard Overshoe, Cactus Plant Flea Market x Nike Vapormax and Sacai x Nike LDWaffle all happening within a span of a few days.
That's an abnormality, akin to a lunar eclipse. While we won't see that happening for a while (our wallet thanks us), the sneaker gods are not unkind. Because this week, we will be talking about the follow up to the Sacai x Nike LDWaffle with the…
Commodity: Sacai x Nike Blazers
Now before we dive into Chitose Abe's take on the iconic sneaker from Nike, we will take a little jaunt down memory lane with one of the oldest models from the American sportswear giant. The Blazers were first launched in 1973 as a basketball sneaker; made popular by NBA legend, George Gervin. Now for those who are unfamiliar with his name, Gervin was one of the most prolific scorers in his prime, and boasts one of the coolest nicknames in sports: "The Iceman".
Much like Nike's Air Jordans and the Converse's Chuck Taylor, which were first worn as basketball sneakers, the Blazers found a second life, adopted by skaters who prized it's high cut silhouette's ability to protect the ankle and streetwear enthusiasts for its pared-down silhouette.
Now for Sacai's take on the iconic Blazers, it follows the similar ethos of Abe's way of creation, where she deconstructs two different items before amalgamating it back together. Much like the Nike x Sacai LDWaffle sneakers, which combines the Nike Waffle and Daybreak silhouette, the Nike x Sacai Blazer Mid takes elements from both the Nike Dunk and Nike Blazer silhouette, fusing them into one.
Available in two different colourways—the black/blue and the yellow/navy—the Sacai Blazer Mid carries elements of the double laces, double-padded tongues, double Swoosh logos as well as the double midsole mudguards.
Where: Dover Street Market Singapore
When: May 30
How: Raffle system
Retail: S$219
Price of the blue/black colourway on the resale market in the last 7 days: Peaking at SGD1,377 with a low of SGD704. The average price for a size US 10 is SGD895.
Price of the yellow/navy colourway on the resale market in the last 7 days: Peaking at SGD1,379 with a low of SGD551. The average price for a size US 10 is SGD663.
Recommendation: Short the blue/black colourway, and short it fast.
If you are one of the lucky ones that got a pair of these blazers early, sell it immediately. You are looking at a profit of SGD676 if you sell it at the average price. Based on the trend of the previous Sacai LDWaffle, which is currently going on the secondary market at SGD536, a drop from the average of SGD1,228, the Blazers should see a sharp decrease in price after the general release.
As an overarching trend, low-cut sneakers tend to do better on the resale market than high-cut ones. And with the announcement of the Sacai LDWaffle and Sacai Blazers Mid in monochrome arriving for the fall/winter 2019 season (which is much easier to pull off), this means a shrinking pool of buyers who might be holding off until the next drop.
Great news for fans of the silhouette, bad news if you are looking to make some serious coin from the drop.
---
Previous drops…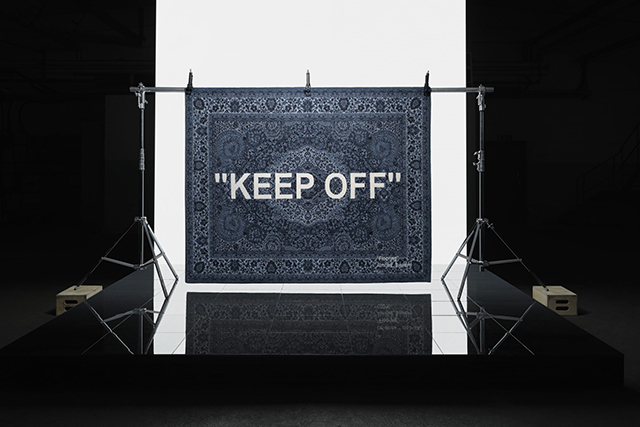 It's only the second edition of 'Cop the drop' but we are going big—literally and figuratively—with the breakdown of the "Keep Off" rug from Virgil Abloh's collaboration with Sweedish furniture giant, IKEA.
The team-up between the two is part of the larger IKEA art event. Abloh is part of a star-studded roster of eight different artists including fellow fashion designer Craig Green as well as other artists like Noah Lyons, Seulgi Lee, Misaki Kawai, Supakitch, Chiaozza and Filip Pagowski.
Commodity: "Keep Off" rug from the coveted Abloh x IKEA capsule collection.
Measuring 200cm x 300cm, the massive piece features a dark navy paisley print (which is reminiscent of the classic Persian rugs) with the words "Keep Off" in Abloh's signature quotation marks. Ever the master of generating hype, the rug, which is the first drop of the massive collection that Abloh created with IKEA, was actually announced two years ago. The capsule includes other rugs, furniture, and his take on the iconic IKEA blue bag. If you're looking to get your hands on the "Keep Off" rug, there is going to be fierce competition for it; only two pieces will be made available in Singapore, and the only way to get it is to enter a lucky draw exclusive to IKEA family members. Snore.
Where: IKEA Tampines
When: 16 to 20 May
How: Lucky Draw
Retail: $499
Price of the "Keep Off" Rug on the resale market in the last 7 days: Peaking at SGD3,094 with a low of SGD846, with an average price of SGD1,300
Recommendation: Go long if you actually enjoy it. Short it before the release of Abloh's full collection with IKEA.
Sure, there is a potential capital gain of $2,595 if you happen to know someone that works at IKEA and get lucky in the lucky draw, but for the rest of us plebs, we're probably buying it online. So, even though it is the first release from the much hyped about capsule collection, its sheer bulk and size will drive up shipping costs. In short, if you're buying it to make coin, it doesn't seem like a smart way to park your money in a product that is difficult to move. That being said, it is one of the pieces that actually look great hung on the wall (which means wear and tear is cut down to a minimum), and it's fairly easy to maintain.
---
Previous drops…
Welcome to our inaugural post of 'Cop the drop'. We love sneakers, and the key to landing yourself a pair, besides using back channels and a healthy dose of luck, is to collate enough information about the latest cult pieces and be well-informed. We've talked about the rise of streetwear and lucrative secondary market that has turned savvy sneakerheads into full-blown business moguls, but what do you do when you get your hands on a highly valuable pair? Do you rock it, stock it or sell it?
So every week on 'Cop the drop', we will keep you up-to-date on our favourite new releases and fill you in on the history and inspiration behind the sneakers (or streetwear, it's not just going to be kicks).
And here where it gets fun—we will also be breaking down the retail price, the trading price on resale sites, and if the market for the said sneaker is bullish (prices going up) or bearish (prices going down). Since sneakers and streetwear are being traded like commodities, we will keep you informed so you have the best chance at staying ahead of this game.
It's fine if you have been taking Ls, all you need is one W to get it going.
Nike x Sacai LDWaffle Blue Multi colour
Nike x Sacai LDWaffle Blue Multi colour
Nike x Sacai LDWaffle green Multi colour
Nike x Sacai LDWaffle green Multi colour
Commodity: Nike x Sacai LDWaffle sneakers
Since debuting on the runway of the Sacai men's spring/summer 2019 show, one of the most anticipated sneaker drops this year, the Nike x Sacai LDWaffle sneakers is finally getting a release date. Chitose Abe of Sacai is known for her cut-and-sew aesthetics, often deconstructing pieces before rebuilding them up again. For this collaboration, she turns her attention to Nike's Waffle Daybreak, applying the notion of stability and betrayal through the double Swooshes, stacked tongue and elongated midsole. The sneaker will be available in two different colourways—the green multicolour and the blue multicolour.
Where: Dover Street Market Singapore
When: 16 May
How: Raffle system
Retail: SGD239
Price of the green colourway on the resale market in the last 7 days: Peaking at SGD1,847 with a low of SGD944. The average price for a size US 10 is SGD1,098.
Price of the blue colourway on the resale market in the last 7 days: Peaking at SGD2,044 with a low of SGD985. The average price for a size US 10 is SGD1,228.
Recommendation: Short the blue colourway.
While we think that the green colourway is the superior option, the blue colourway has a higher demand. If you are lucky enough to get your hands on a pair, sell it. We're talking about a potential 855% ROI on the grey market.