Australia hasn't traditionally proven fertile ground for its menswear designers. Its small customer market for innovative fashion, a lack of early-career support and geographic distance from major style capitals have meant that unlike, say, Shanghai or London, there are few success stories.
One unique case, however, is Song for the Mute, which over the course of a decade has accrued both acclaim and a growing stockiest base, including Dover Street Market in Singapore. And in this, the Sydney-based label's 10th year, it has presented arguably its best collection yet—despite all of the challenges that a pandemic-riddled year has thrown at small, independent businesses.
"At the beginning we didn't know where we were going, but we've found that it's important to adapt and change your strategy as you go along," says Melvin Tanaya, the co-founder, with Lyna Ty, of the label. "We've always pushed ourselves to do something new, whether in business or design, whilst growing organically and at a pace we can handle. We try to stay agile, and with that's been happening, sometimes it's important not to plan too much for the future."
Indeed, early on the style of Song for the Mute might have been described as bohemian gothic, offering the sort of deconstructed, dark-hued garments popularised by the likes of Rick Owens, such as drop-crotch trousers and scoop-necked tees in natural fibres. Over the years, though, the designers have refined and matured their creative output, with elements of tailoring, sportswear and Australia's own relaxed lifestyle imbued in the aesthetic today.
"It's definitely changed a lot," concedes Ty. "Each season is different from one to the next, like different chapters of a book, adapting to what's current and what we're experiencing in that moment. The brand was fuelled by ambition back then, whereas we're older now, with kids, and the way we view the brand is completely different now."
Tanaya and Ty have named their latest collection, pictured on these pages, NAÏVE, describing it as "an exploration into the playful abandon of formal structure". Ty, who leads the design side of the business, was inspired by the work of her long-term partner, Karim Gaaloul, a painter without formal artistic training who creates spontaneous works on paper (and other assorted materials, like discarded cardboard) in the vein of Henri Rousseau and Jean Dubuffet, 20th-century artists who embraced a childlike simplicity in their work by eschewing the sophistication of established techniques and form.
"We were all born with creative minds until societal judgement is placed upon us and our imagination is diluted," says Ty. "This creativity is omnipresent, waiting to be embraced again; if we free our minds it could take us to the unknown."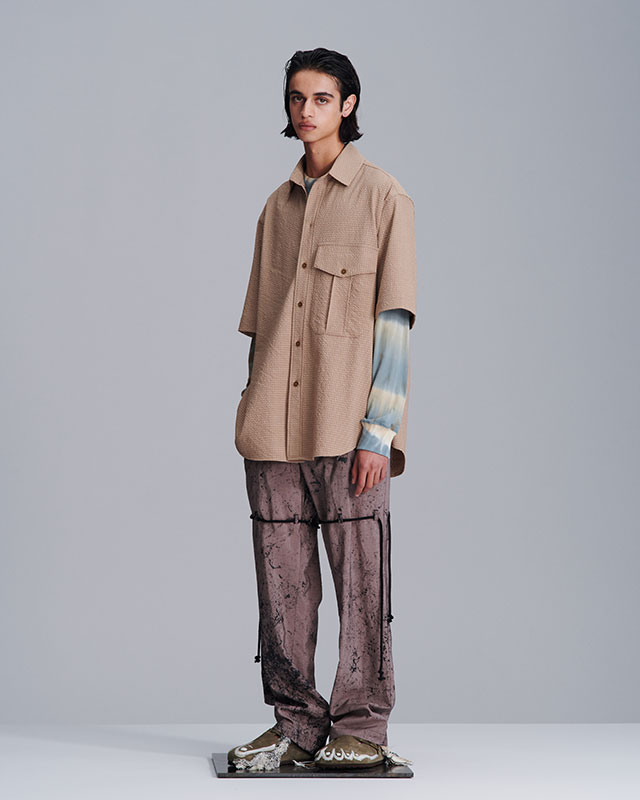 The resultant mix of garments is non-proportional and often oversized, such as with "dad-like" blazers, as Tan describes the tailoring, cropped trousers and utilitarian waistcoats. But it's in the fabrications that this Song for the Mute collection truly stands out, with tie-dyed jerseys, stained cupro and digitally printed cotton featuring Ty's personal 35mm photography, along with raw-edged finishes and hand-stitched embroidery patches (many featuring Gaaloul's drawings).
On paper, it sounds utterly wacky, and yet the relaxed nature of the silhouettes combined with a colour palette rooted in the natural tones of an Australian sunset—running the gamut from black to white with khaki, gold and peachy pinks in between—ensures that the line between eclecticism and elegance is carefully straddled.
"I think people are relating to this sort of carefree lifestyle that we give off through our shapes and silhouettes—it's all quite effortless, and while we like to play with patterns and shapes and textures, the end product is always quite comfortable and minimal," offers Tanaya. "The Australian lifestyle is, of course, pretty laidback and relaxed and being here gives us an advantage because we have buyers in Paris saying you can really tell that these silhouettes and colour palettes come from an honest and laidback place. We try to incorporate those Australian elements but to do it through our unique lens."