It's funny how we search for 'authentic' cuisine with Japanese fare, Peruvian haunts and the likes, but most of us don't go hunting for 'true' American food. It's possible that it's because it's fairly common, only further sullied by fast food chains. Which brings us to the origin story of this American joint. Faced with the lack of a bar restaurant in the area to call their locale, the American and Canadian friends decided to solve just that by bringing the good ol' American dining experience to the Central Business District.
The space occupies a nice niche amidst downtown expat-town just minutes from the train station, and is comfortably casual roofed under the residential blocks. In the happy days that was Pre-Pandemic, the spot hosted many a fight nights and soccer screenings. Of late, it carves itself as a nice hole in the wall to grab a drink and catch up.
The new menu
SOS Burger.
Nachos.
Dirty Dog.
The SOS Bloody Mary.
The line up is understandably straight-forward. Of the bar bites, an easy favourite would be the Nachos. The beef bean chilli is pretty decent and the tortilla crunch is stays consistent, though more cheese certainly wouldn't hurt. We also see why the classic SOS Burger retains its place with it's glorious mess of crispy bacon, sautéed onions, and pickles, but The Impossible surprisingly rivals it with a neater construction of the same satisfaction thanks to the compact Impossible™ patty. And the buns on these things—sturdy walls holding down the goodness without getting soggy.
For beverages you have Sierra Nevada reppin' West US to Down Under's Little Creatures, but the bar would recommend its house special. The SOS Bloody Mary is a very mildly spiced variation that's garnished with AN ENTIRE BEEF SLIDER. The bar also tells us that it varies garnishes according to the occasion as is the Milwaukee tradition. 
How we feel about it in a gif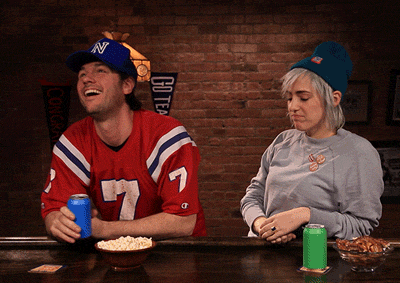 SOS Bar & Grill is located at The Sail at Marina Bay #01-18/19, Singapore 018985.