It's often said that the beauty of being a young creative is the relentless pursuit of something greater than oneself—swimming against currents of existing constructs with an unapologetic attitude towards one's craft. This new generation of changemakers understand that conformity can often be a bore; where is the fun in falling in line anyway?
Housed at Thomson Road a year and a half ago, Spades began as a multi-label store focusing on vintage and homegrown brands. Fast forward to this year, Spades has undergone a 180-degree revamp and is now based in a new location situated in an industrial area. Founder and creative director Shane Tan—along with co-founders Gloria Liew, Moh Ee Jin, Greg Tan and Harry Chow—are spearheading the movement towards a more inclusive community in Singapore's realm of fashion, art and design.
Deeply rooted in their beliefs of supporting up-and-coming labels as well as creating spaces for meaningful conversations, Spades stands as a collective representing 16 brands (for now) under an open-concept-designed communal roof that is Spades Room. That's right, an entire retail space dedicated to not only showcasing products but also to facilitate and forge friendships for any and every one who decides to pay a visit.
Spades holds emphasise on eliminating the idea of segregation between 'local' brands and 'established' ones—curating their labels which they represent based on the owners's work and dedication towards their crafts. Singapore-based labels such as Stilnook, Koterie, Cherub, Veblen Supplies and many more have been added to pre-existing brands such as Reduxing and Solars Rebirth. Spades has also brought on talents from across our shores, representing Malaysian labels such as Ghostboy as well as Notinlist. This meticulously curated list of brands offers a generous range of products to anyone looking for a breath of fresh air.
Courtesy of Spades Room.
Courtesy of Spades Room.
Courtesy of Spades Room.
Courtesy of Spades Room.
ESQUIRE: What inspired the design and layout of Spades Room?
GLORIA LIEW: For the retail space, our partner—who is also an interior designer at Three-D Conceptwerke—was inspired by the original lofts, and making a comfortable and homely space out of a warehouse. Tasteful and consistent materials were also considered when it comes to our furnishings. We wanted to have almost all our furniture loose so that we are able to make the retail space flexible, allowing us to host different events and pop-ups in the future.
For our first configuration, we placed a lot of focus into our 'living room' area—something which most retail stores would tend to forgo. We wanted to prioritise conversations and discussions that we hope to have with our friends and patrons, taking steps towards creating an inclusive community. The racks are all placed in a way that easily helps our patrons identify the different sections of our store, as well as provide sufficient space for them to linger and explore.
Instead of just doing a partition wall to segregate the retail space from the office and stockroom as well as the changing area, we decided to go with a ventilation block wall. While a part of that decision was made for the aesthetic, it was more importantly done so that anyone who visits can feel that this is a space with no closed doors—a place of transparency and for building relationships.
ESQ: The community lounge in the store centres around the idea of bringing people with common interest together to facilitate conversations and interaction. Why do you feel that there is a need for the fashion industry, especially in Singapore, to do so?
MOH EE JIN: We feel that there is a sense of competitiveness and animosity that is very much apparent now because of social media, with people forming ideas of each other solely based on what they post online, creating false impressions of people while neglecting real-life interactions. With that, we think that this animosity does exist among the people here in Singapore, not so much the brands. We hope to rid this competitiveness by getting people to talk to one another and realise the problems that arise from creating online impressions of each other. Through this, we can hopefully nurture a community that is more supportive than competitive.
We want people to think of Spades Room as a space rather than a store. While we do sell clothes, our space is meant to be a place where people can come to socialise, bounce ideas off of each other as well as bond over this shared love for design. We want people to come to the space, not only to shop, but have a good time, meet new people, find their style, find new music and more.
ESQ: What is the price range of the products?
MOH: We have items ranging from SGD20 to higher end pieces that go up to SGD3,000. We have a little something for everyone here at Spades Room.
ESQ: There are a total of 16 labels in your store. Tell us more about your process of selecting those brands and how they collectively represent Spades Room.
MOH: We've curated our store meticulously by scouring through different platforms and looking at up-and-comers in the scene who are starting brands that are not just a means for monetary gain, but an expression of their creativity. We want to showcase the work of people who care about their designs and have high aspirations for their brands, people who see their work as an extension of themselves.
Courtesy of Spades Room.
Courtesy of Spades Room.
Courtesy of Spades Room.
Courtesy of Spades Room.
Courtesy of Spades Room.
Courtesy of Spades Room.
Courtesy of Spades Room.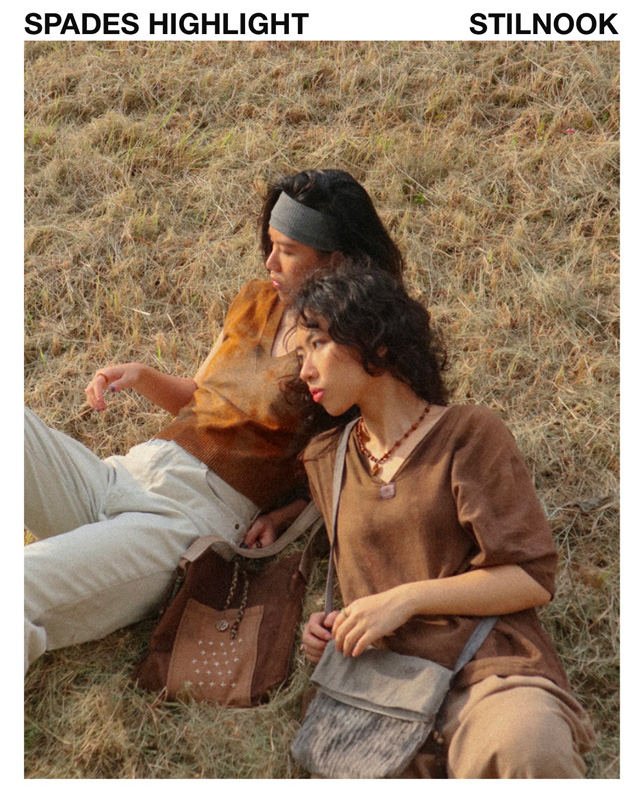 Courtesy of Spades Room.
Courtesy of Spades Room.
Courtesy of Spades Room.
ESQ: You mentioned that you started from a vintage store one and a half years ago, what was that experience like? 
SHANE TAN: It was a necessary part of the process to reach our current space. I would describe the experience as trying to complete a jigsaw puzzle in the dark, having no prior experience running a retail space. Now, with the lights on, I can see which pieces aren't supposed to fit but are jammed together and then get to redo the puzzle with the help of my team.
ESQ: What do you feel about the rising culture of buying pre-loved items and giving them new life?
TAN: The revival of this community in recent years is exciting as it changes the whole dynamic of retail shopping in Singapore. The barriers to entering the industry have been lowered with the help of social media and this creates great potential for the youth to overtake established but stagnant businesses.
ESQ: You mentioned that there is a sense of hierarchy and segregation between start-up brands and high-end brands, what do you think the fashion industry can do to level the playing field?
MOH: At Spades we counter this by showcasing these brands seamlessly throughout the store—regardless of price, status or country of origin. We feel strongly against this stigma of the word 'local' being put before brands. We believe that all brands are similar in that it is someone's hard work and dedication having been put in over time to create design after design. We believe that the terms 'smaller' and 'local' stifles brands from expanding into something more.
As young people starting our own brands aside from the store, I think people in the industry can hopefully start looking at up-and-coming brands in the same light and give that push that will in turn motivate youths.
ESQ: There's an emphasis on music with record store Wildflower Wax Co. added to the collective. Tell us more about this integration.
MOH: We want Spades Room to be a place for everyone in the community; not just for fashion. With Wildflower, we wanted to expand our range into music as we feel that they all come hand-in-hand. People who are into fashion are usually curative with their music, and people who do music tend to have their own styles. We intend to host events that span a range of different things such as music shows, art fairs and fashion events. We want to be able to hold events that are for people to come to our space knowing they'll have an amazing time—perhaps make friends and find something new along the way.
ESQ: With the way that fast fashion is being manufactured and consumed today, how do you think slow fashion or recycling/upcycling fashion can stand a chance in the playing field?
TAN: Consumer preference is very influenced by trends and when more consumers understand the harmful process that goes behind fast fashion, there will be a paradigm shift where buying from these corporations will be looked down upon. Independent labels understand these concerns and are willing to sacrifice profit margins and mass-produced designs by pouring their own creativity into their products, utilising eco and labour-sensitive means. This is the part of the industry that will outlast fast-fashion in the future.
ESQ: Some of your selected brands focus on artisanal craft, do you feel like people should appreciate the immaterial value of a garment/piece? Such as the time spent on creating it or the ethical values attached.
MOH: I feel that what people miss most of the time when it comes to clothes is the time and effort spent behind each piece, especially when it comes to new up-and-coming brands as well as handmade brands. People don't understand that even something as simple as a graphic tee was someone's time spent going through several designs and perfecting it before production. Hence, we feel that people do often miss these aspects and take items at face value without getting to know more about the piece and therefore dismiss it.
Spades Room is now open every Friday to Sunday at Level 2, 48 Mactaggart Road.