It's ironic finding out about speakeasies through a compiled listicle online. Alcohol is not prohibited (unless you're buying from convenience stores after 10.30pm), and having secret passwords is just not a great marketing move. Still, the underlying concept thrives.
Mona Lounge
We know Mona is the star of this establishment, but the moment you step in, you think 'Wong Kar-wai'. Paying tribute to the hedonistic era of 1980s Hong Kong, the back-room lounge belongs to matriarch Mona, the Sum Yi Tai (third wife, Cantonese), whose story you will uncover through the menu while soaking in heady Chinese tunes and a dangerously seductive ambience.
You will find Songstress nostalgically familiar in its likeness to a famous Chinese herbal remedy, and while ppg is infused in the drink, it isn't exactly lightweight. Fellow friend Mona's tea packs a punch equally, if not stronger, making it easy to loose inhibitions and fall in love with Mona. After all, the third wife is always the favourite.
Mona Lounge is located at 25B Boon Tat Street, Singapore 069622.
For inquiries, call 6221 3665.
Cool Cats
Once upon a time, NAAFI Britannia Club was the first government-built recreation club open to servicemen and women of all races, a hallmark in history when segregation was the norm in colonial times. Today, standing as one of the first heritage architecture to be conserved in Singapore, reopened NCO Club has brought you Stags' Room, Fish Pond, Madame Fan, and the newest—Cool Cats.
Tucked away from prying eyes, entry through the unmarked wooden door leads you to a dimly lit plush hallway into a plush visual spectacle. Settle into its unapologetic interpretation of 1920s prohibition culture with weekly live music from regional and international artists, and reinvented classics Mezcal Negroni, Queen's Park Swizzle and The White Lady.
Cool Cats is located at 32 Beach Road, Singapore 189761.
For inquiries, call 6818 1920.
NINETEEN80
Throwback does not only fall on Thursdays at this retro arcade bar. Here you step back into a psychedelic past housed in a ribbed vortex of mirrors, lights, original cassette tapes and Mojoko artwork. Think primary colour edition of San Junipero. And because nothing beats nostalgia like music, it's feel good vibes delivered by in-house disco, funk and Urban beats. Take that all in with cocktail classics that don't take themselves too seriously and you've got a great night ahead.
Among the mix, enjoy the fruity Ice-T 'Hustler' Remix, sour Super Disco Blend, sweet Donna Summer on its own, or share the love in a jug. The best part about NINETEEN80? Consoles are not just decor items. PacMan, Space Invaders, Double Dragon, Mortal Kombat, Street Fighter, Golden Axe—over a hundred games there to spoil you for choice.
NINETEEN80 is located at 21 Tanjong Pagar Road, Singapore 088444.
For inquiries, call 9183 6073.
The Secret Mermaid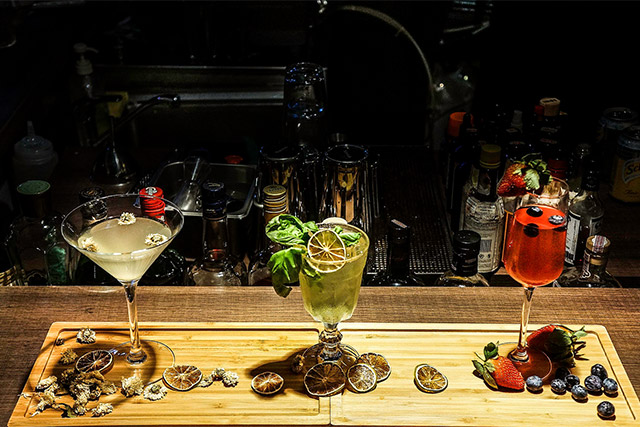 This secret is firstly hidden in the basement behind heavy, unmarked black doors, secondly under the guise of a salmon bowl restaurant during daylight hours. While its dark interiors and extensive selection of American craft spirits (from the largest, regional importer) may intimidate, just approach the well-versed bartenders for a specialised tasting.
For the connoisseurs amongst you, it's a heaven of aged spirits, including a choice of Moonshines for the tough. And if you're indecisive, fall back onto the Monthly Specials, and get yourself some osyters too—they are $2 a piece during Oyster hour.
The Secret Mermaid is located at Ocean Financial Centre #B1-09, Singapore 049315.
Lulu's Lounge
If every bar has a unique beat, expect a 1960s New York backstreet club scene here. Nightlife is an evolving, proactive experience with burlesque star guests, retro DJ performances and conspicuous post-dinner drinks. Fancy a whisky sour? The Whisky Pucker Up offers it complete with a loud lipstick motif.
Craving for a Paloma? Build the tequila—or VA VA VOOM—in your own way. Lulu carefully curates her entertainment line up and is big on personal hospitality, so gear up for an eclectic bespoke experience behind the blood red curtains.
Lulu's Lounge is located at 7 Raffles Boulevard, Singapore 39595.
For inquiries, contact 9829 1922.