No pandemic is stopping any streetwear fanatic from copping the latest drops by Supreme. If you missed out on last week's drop, you've missed out on yet another Supreme bike, this time done in collaboration with S&M Bikes. The Supreme x S&M Bikes 1995 BMX dirt bike is everything that a Supreme collaboration is: completely done in the unmistakably Supreme red and topped with the box logo, as well as the embodiment of its collaborator's—in this case, S&M Bikes—skilled craftsmanship.
Thankfully, resale site StockX is one place to head to should you want to add this bike to your collection of all-things Supreme. While the original retail price of the Supreme x S&M Bikes 1995 BMX dirt bike was approximately a decent SGD2,700, the price has naturally shot up to approximately SGD6,777 on StockX. That's a 150 percent price jump, but still nowhere near as expensive as our previous coverage of a Supreme bike.
With circuit breaker measures still being enforced, having this Supreme x S&M Bikes 1995 BMX dirt bike is probably one of the few ways you can still responsibly enjoy some time outdoors. But if SGD6,777 is too much for a few minutes of daily freedom, here are other ways you could spend that money.
Daniel Arsham has already worked on a collaboration with Pokémon for Uniqlo. But sadly, like most things, the launch date has been pushed back. However, Arsham released a small number of limited edition Future Relic sculptures that depict a crystallised Pikachu, that was quickly snapped up. Grab one from StockX and this will make for an impressive work desk companion at home.
Sure, the beaches are closed. But Louis Vuitton's skim boards aren't just great for the water. While waiting for circuit breaker measures to ease, display two of these at home or maybe even practise the right movements and posture before taking them out for a spin. Hey, they said to learn something new while under quarantine right?
If you're clamouring for the great outdoors but also need a clean space to wear all your limited-edition sneakers, there's nothing as hypebeast-y as doing so on Virgil Abloh's carpet collaboration with Ikea. "WET GRASS" that's not actually wet nor grassy? How mind-blowingly brilliant.
Leather sneakers by Onitsuka Tiger x shu uemura (SGD229 each)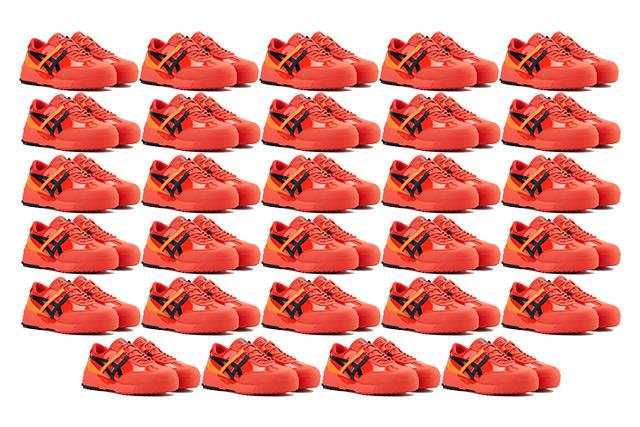 Sneaker collaborations are a dime a dozen but we weren't expecting one between two Japanese brands that exist in two juxtaposing arenas—sports and beauty. Most men tend to steer away from wearing lip colours but these sneakers may be the next closest thing.
SGD20 Grab vouchers
Let's be real. At SGD6,777, you're probably not going to be using that precious Supreme x S&M Bikes 1995 BMX dirt bike at all. You're better off spending that same amount on Grab vouchers that can either get you places or bring you food without having to travel. Now that's luxury.
Related stories:
Bottega Veneta's Maxi Cabat and other ways to spend SGD13,630
Louis Vuitton's Jenga set and other ways to spend SGD3,436
JW Anderson's leather cap bag and other ways to spend SGD1,270
Rolls-Royce Champagne Chest and other ways to spend SGD63,000
RIMOWA's Aluminium Groove iPhone case and other ways to spend SGD140
Dior Men's leather AirPods case and other ways to spend SGD530
Dior's Toile de Jouy straws and other ways to spend SGD200
Apple Watch Hermès Series 5 and other ways to spend SGD1,979
Saint Laurent's condom and other ways to spend SGD3
Loewe's Elephant phone cover and other ways to spend SGD690
RIMOWA x Garrett Leight California Optical's Essential suitcase and other ways to spend SGD1,640
Emma Willis' paisley silk robe and other ways to spend SGD2,565
Louis Vuitton's dumbbells and other ways to spend SGD3,750
Bottega Veneta's Maxi Arco Slouch bag and other ways to spend SGD9,810