It's bad enough that we're already inundated with advertisements at every corner; fashion campaigns are not for the easily swayed shopaholic. Every season, a certain look is put out and an accessory (or five) is highlighted. And if you're not extra careful, you'll make that costly mistake (or style investment, really).
They say that seeing the same ad or an item for at least three times, will make you open up to the idea of purchasing it. Others refer to the marketing 'Rule of 7'—engagement with a marketing message or product for at least seven times really drives in the information and that desirability factor.
Having said that, this article will not be doing you any favours. We're breaking down the autumn/winter 2018 men's fashion campaigns that have been revealed so far, and picking out the items you'd want to keep an eye out for in the boutiques. If you're going to be seduced by these images, at least be prepared to note down a wish list, right?
Prada
The faces: Notably, actor Nick Robinson of Love, Simon. And Taylor Swift's current boyfriend, Joe Alwyn.
The products: The quintessentially Prada printed V-neck jumper on Robinson as well as the almost lab coat-like outerwear—and that Prada employee tag too—worn by actor/director Paul Dano.
---
Coach
The faces: Chinese actor Timmy Xu.
The products: The studded leather jackets, and that belt bag adorned with the Coach Signature print and trimmed with leather and all-black hardware.
Dior Homme
The face: Robert Pattinson returns as the face of Dior Homme for the second time this year.
The products: The Christian Dior Atelier branded pieces. Kris Van Assche brought that on as a tribute to the Christian Dior workshops, and this being his last season for Dior Homme, would be key pieces to collect.
Gucci
The look: It's Gucci so a mix bag of odd but cool individuals. This time, the campaign captures the free-spirited sense of wonder and penchant for collecting objects of interest.
The products: Definitely the New York Yankees branded slides. There'll be a bunch of Major League Baseball team logos on Gucci this season so we reckon it'll be a capsule collection by itself at some point.
Saint Laurent
The face: Lennon Gallagher, the son of Oasis' lead singer Liam Gallagher.
The products: If you're not into any of the animal print pieces, that embroidered evening blazer is a definite winner. A strong shoulder is always a good look.
---
Moncler
The faces: In total, 19 diverse individuals were cast for the #MonclerBeyond campaign. Among them are actress Millie Bobby Brown, John Boyega of Star Wars fame, freestyler skier and LGBTQ activist Gus Kenworthy, and chef and restauranteur Danny Bowien.
The look: Rather than actually selling a product, the #MonclerBeyond campaign sells the idea that Moncler is a brand that champions individuality and celebrates all facets of humanity. And that's actually pretty neat. But also, who wouldn't want to join this eclectic crew of stars?
---
Emporio Armani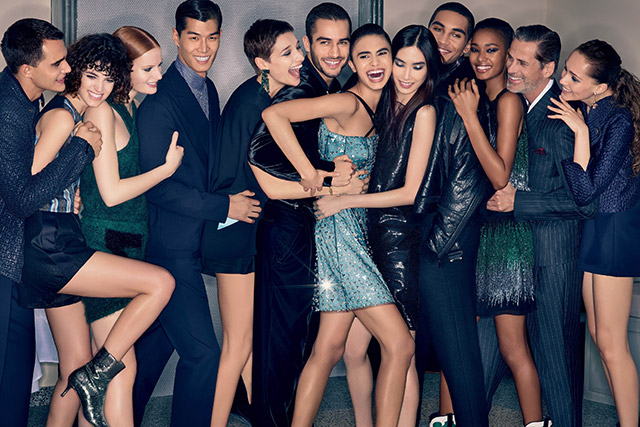 The look: Emporio Armani is known for its relaxed construction when it comes to almost every ready-to-wear item. What better way to put that across than being in a social situation and actually smiling and having a good time? It seems like it's been a while since we've seen a fashion campaign that's all smiles.
The products: Super tailored trousers are no longer for the fashion-forward. Emporio Armani's roomy cuts here—including one in velvet—are what you should be trading your skinny jeans in for.
Berluti
The look: It's all about the new direction that newly appointed artistic director Kris Van Assche is creating at Berluti. This includes the debut of a brand new logo that's referenced from an embossing found on the base of an antique Berluti shoe tree.
The products: The shoes are the stars of this campaign. Specifically, the Alessandro shoe, which has been one of the house's key styles for centuries.
Givenchy
The look: A secret underground party that clearly only the cool kids are privy too. Creative director Clare Waight Keller has been credited with bringing back Givenchy to its savoir-faire roots. And it's evident in the quiet luxury portrayed by the cuts and silhouettes.
The products: The oversized, layered deep V-neck and turtleneck combination, without a doubt.
Versace
The faces: This is by far, the longest image of an advertising campaign ever; we had to split it into seven parts. A total of 54 diverse models took part in this Versace campaign as a significant stamp of the brand's effort towards inclusivity.
The products: It's difficult to keep track of all the pieces that make up this campaign. But standouts are definitely the chunky and grunge-looking leather boots, as well as that one plaid suit in red (as seen in part five) that's almost a departure from the Versace we all know, yet makes total sense in capturing the diverse cast of characters for this season.