Whether injecting colour into your dreary apartment or spontaneously brightening the day of a loved one (or your own), there's no better way than with flowers. Yet with the floristry scene in Singapore blooming and sprouting throughout the city, it can be difficult to decipher the rose amongst the thorns when deciding where to buy the best bouquet. So, we've created a list of the best, local florists for you.

Ask A French Flowers 
First created as a lifestyle concept, Ask A French has now blossomed to focus on flowers; and bring a certain je ne sais quoi to every order. Bouquets are created with seasonally fresh blooms and arrangements are inspired by nature's beauty and hand crafted paintings. Ask A French combines wild flowers with classic favourites, creating arrangements made to suit any vision or occasion, be it brands, events or weddings.
If you have green fingers yourself, founder Aude Giraud also conducts flower workshops at her quaint home studio where you are able to create your own bespoke bouquet.
For more information on buying a bouquet, or attending a flower workshop, visit Ask A French.
Charlotte Puxley Flowers
A quintessentially British floristry that focuses on blooms that are wild and wonderful. Charlotte Puxley Flowers boast an established and passionate team that place creativity at the heart of every arrangement. Selecting only a colour scheme when purchasing—creating an effortless experience for all buyers—bouquets are then constructed with unique, locally grown flowers that are hand picked from the market daily. All bouquets come in an array of shapes, colours and textures and are distinct to each customer. An antique vase can also be purchased with arrangements to give an added special touch.
For more information on buying a bouquet, visit Charlotte Puxley Flowers.
Wonderland Botanicals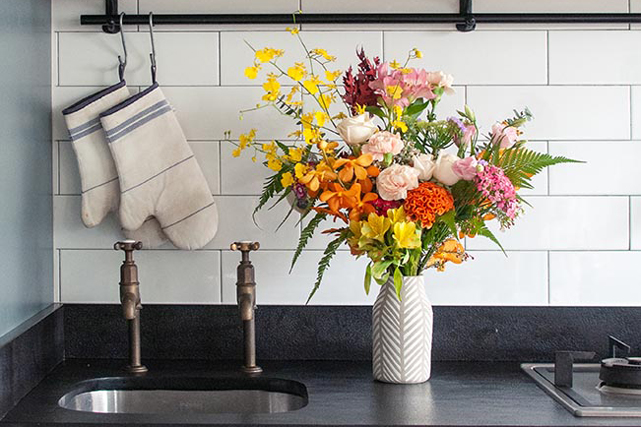 An ethos based on stopping and smelling the roses. Wonderland Botanicals use flowers to remind us to pause and appreciate the beauty of nature. Creating a unique floristry experience, Wonderland Botanicals blooms can be browsed in two sections on their website—for the home and for occasion—creating ease for even the most disconcerting of flower purchasers with the guarantee you will receive the freshest flora and foliage in your bouquet.
Wonderland Botanicals has also recently launched a new subscription service which offers weekly, floral centrepieces that are delivered directly to your door; allowing the luxury of regular blooms for even the busiest of lives.
For more information on buying a bouquet, visit Wonderland Botanicals. 
Poppy Flora Studio 
Looking for vibrancy and a bouquet that presents the finest execution of floral art? Look no further than Poppy Flora Studio with arrangements that go against the grain. Founder Sarah Lim celebrates the flowers that are typically tucked into the corner of your standard arrangement; recently she has begun to include herbs, fruits and dried branches to elevate each bouquet even further. Their arrangements celebrate mother nature through beautiful, unique arrangement with a wild touch.  
If you are interested in learning more on flower arrangements, Sarah also runs intimate workshops where she shares her extensive knowledge and experience on floristry while encouraging individuals to develop their own signature style.
For more information on buying a bouquet or attending a flower workshop, visit Poppy Flora Studio.