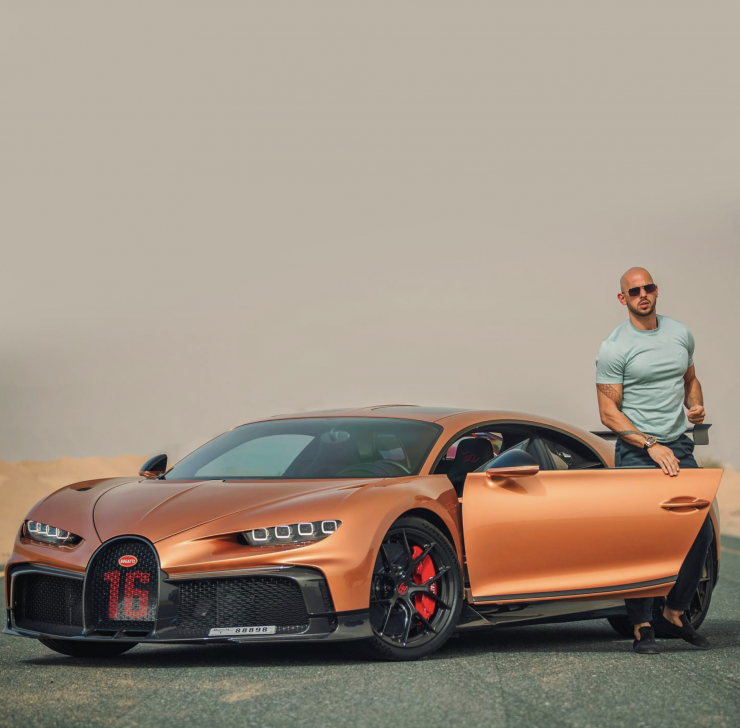 Arranged marriage should be brought back into the cultural lexicon; if you count with your thumbs, you shouldn't be allowed to drive; grown men shouldn't eat sushi; Eastern Europe is a bastion of freedom; the one way to dominate a room is to steal the powers of the people therein; always talk about money with your friends; if you're not talking about money, you're doing talking wrong.
These are the markedly tamer beliefs of Emory Andrew Tate III, more Internet-famously known as Andrew Tate. Once a kickboxing world champion, the Washington, DC-born 36-year-old is now domiciled in Bucharest, Romania, where he presides over an empire that includes a platform called Hustlers University 2.0 and a burgeoning social media following that numbers 1.7 million on Instagram and 124.3 k on TikTok. Clips of his appearances on various programs and podcasts have also racked up views in the millions. 
His grift is simple: He sells himself as a paragon of hustle-porn, a vessel of the get-what-you-want-by-any-means-necessary ethos so ridiculous, it becomes defining, distinguishing and therefore, monetisable. He serves nothing but the dollar, the bottomline. His fundamentally grating persona, the veneer he presents to the world, is an extension of his militant attitude towards mercenary capitalism.
Insofar as he's the apotheosis of nihilistic greed, there's nothing novel or interesting about him. What makes his road-to-riches spiel flagrantly problematic is his regressive – nauseating – attitude towards women and his doggedly Darwinistic strong-consume-the-weak outlook. He could've stopped short at finance and been that sort of douchebag. Instead, he does all that, and also sprouts philosophy – or what he thinks is philosophy. And, if his ubiquity in certain sections of the Internet is indicative of anything, people are entertained, at the very least.
Worst case scenario, some of them even believe him. The question is why?
View this post on Instagram
That crowd is proof that it's not all jokes. That tweets about how depression isn't real aren't just tweets. That the idea that a woman's job is to procreate isn't just an awful soundbite. The cheering crowd is a bona fide audience, the most visible and undeniable signifier of fame and/or infamy – the most damning indication of the IRL spillover of online affirmation. When your followers and subscribers take the bus to come see you, that's when you know you're doing something right, or, in utilitarian terms, fulfilling a need. Just because it's not new doesn't mean it's not worrying.
On a superficial level, the optics seem to favour his case. Raised in a council estate in Luton in the United Kingdom, he's now a multi-millionaire with an estimated net worth of $30 million. The flash, the ostentation, none of it detracts from his self-made status, a reputation whose appeal is irresistible to those aspiring to make something big of themselves on their own terms. It makes whatever pills he shills that much easier to swallow. It adds another dimension to his art of the Flex: Humanity. He beat the odds and now, he's got the means to rewrite his story.
The Riddler's army in Matt Reeve's The Batman is illustrative of a perennial truism: People flock to demigods with arresting personalities that activate something in them. That, and the fact that the most commanding and effective pulpit is the Internet – all of it. 
Pick a platform, select the media that best suits you, and imbibe! Tate's reach is a direct and glaring symptom of the ease with which radical/ridiculous views can bubble into the mainstream. Donald Trump and Alex Jones are prolific sippers at that same well, provocateurs who've weaponised the Internet for their own agendas and dressed their transmissions in their own self-serving garb. Tate's is comparatively more pleasing to the eye: Muscle-bound, pointed-jawlined, cut from the marble of working out and a diet plan that evidently doesn't include sushi. His proclamations are as much intrinsic as they are extrinsic. Like a particularly veiny and debased version of the Old Testament, his opinions give the Thesaurus entry of 'bonkers' a real workout. But they are indicative of a system, the sense of order he's trying to perpetuate as a recipe for how life can be better.
View this post on Instagram
Course-correction is the name of his game. Self-help on mind-melting steroids, his yarn is that you can do, be and get better if you buy in. Better is a very enticing proposition. Whole industries depend on better being a sellable idea that can be actualised as a buyable reality. Better is the reason we leave our beds in the morning and return to them at night and do it all over again, day after hopefully better day. He's keenly, perceptively aware of that. He knows how entrancing a particular vision of better can be to a captive subsection of men. Men who themselves are unsparred from patriarchy's ravenous appetites. If you lean into the notion that strength and dominance, are, in broad literal and figurative strokes, the best, most effective, and most crucially, only, way to get ahead and that getting ahead is the only way to be happy, Tate is the embodiment of your psyche, the literal Übermensch. The has-it-all, is-it-all Man amongst men – and women.
As an arch marketer, Tate also knows how to capitalise on the nuances of identity formation. People want to be a part of something bigger than themselves – and they also want to stand out. He preaches an us-vs-them tribalism defined by 'I'. Whether it's his retrograde attitude towards women or his hard-headed hustle mantras or why he shaves his head, his troglodyte transmissions quench a particular thirst, a dispiriting one, but one that exists conspicuously enough that he has been identified as its provider. For those too afraid, lazy, misinformed or gone to develop a personality, he's a one-stop shop: You can get a pose, posture, worldview and character all for the price of your attention (soul).
View this post on Instagram
Look at him. The cringe is (sur)real. But it affirms our complicated relationship with celebrity in this socially mediated age. The old rules are still alive but they're wheezing. Now, literally anyone can be famous. The Internet is both spotlight and stage. You just have to shoot your shot and get a reaction. Because a reaction is a reward in this attention economy. Because a reaction means eyeballs, and eyeballs mean impact and impact means money and the accompanying currency to perpetuate the narrative you rode to the bank with. Being banned or de-platformed sometimes actually bolsters your cred as zealot/saviour/martyr/the alternative. Accountability is the panacea for the malaise but enforcing it is a problem when the transmissions take on a life beyond the platforms they are hosted on. When they expand and enlarge the chamber of echoes. 
For many, Andrew Tate is man at his worst – and for many, he's man at his best. 
The difference is more than skin-deep. Please be on the right side of it.