When it comes to watches, it's true that you'll never go wrong with horological blue chips such as Rolex and Omega. And if budget permits, Patek Philippe. Sure feel free to reach for the bold and beautiful ones like Audemars Piguet, Richard Mille, FP Journe and the like—as long as you're clear about what you're getting into.
But what if you're just starting out? What if you don't want a timepiece that screams luxury? You just want something that's cool, has just the right amount of street cred, and most importantly, won't break the bank, right?
Time was when the options included just the entry-level players such as Longines, or Rado, or Baume & Mercier, Oris, Seiko… Truth be told, Longines has really brought its A-game to the vintage re-issue party, so there's that.
Although now with more micro-brands and small independent start-ups entering the game, things have gotten a lot more interesting. Offering ultra-friendly price tags for a whole lotta value and character, there are choices abound for the amateur buyer that even big collectors can't resist.
Lundis Bleus
Translating into Monday blues, to which we can all relate, this is the brainchild of two watchmaking school graduates whose joint ambition was to create "watches with a soul." If you're a freelancer or have a career in the gig economy, it might be the brand for you. Founders Johan Storni and Bastien Vuilliomenet took inspiration from a 16th century tradition where the best skilled workers often skipped work on Mondays (presumably because they could).
What makes Lundis Bleus stand out is its wide array of dial options from polished hardstones to vitreous enamel, from beautiful hand engraving to complex multi-layered designs. Its 150 watches per year production is spread over four key collections: Essentielles (the basic pieces), Métiers d'arts (beautiful grand feu enamel), Contemporaines, (grand feu enamel and natural hardstones), and Unique Pieces (cloisonné enamel and other handcrafts).
Browse and shop Lundis Bleus timepieces here
Sartory Billard
The next big thing in watch collecting, Sartory Billard is an independent brand from France. All watches are bespoke and made mostly in its own workshop according to each client's specifications. Brand owner Armand Billard delivers on average one watch a week, taking around four months to finish each project. He also keeps customers updated on each stage of production so we could witness the journey and share in the joy of creation.
There are four collections at the moment—SB01, SB02, SB03, and SB04— and the pieces run on externally-sourced ETA 2824 movements. SB01 exudes sporty auto-racing vibes, and the convertible SB02 offers a cool removable bezel and quick-attach strap. SB03 combines a cushion case with vibrant colours and classical guilloché, while the classic round cased SB04 plays with different colours, textures and finishes.
Browse and shop Sartory Billard timepieces on Watch Wonderland
Ming Watch
Designed in Malaysia, made in Switzerland. Ming Watch was founded by a collective of watch enthusiasts and formulated after the horological vision of Malaysian photographer and watch collector, Ming Thein. In 2019, it won the Horological Revelation Prize at the Geneva Watchmaking Grand Prix awarded to young and promising brands or watchmaking talent, which speaks volumes about this very exciting brand.
There are three watch collections at this point: the 17.06, the 19.02, and 27.01. Collectors really love the 17.06 in slate and copper, both of which are all sold out. 19.02 is an extra cool world timer with a beautiful micro-rotor movement. And 27.01 would appeal to those who appreciate slim and elegant watches. As an added bonus, Ming Watch offers a wide range of externally produced straps designed to pair perfectly with its watches.
Browse and shop Ming Watch timepieces here
Feynman Timekeepers
Appearing first on Kickstarter, this cool Singaporean microbrand was started by a collective of watch aficionados and artisans who share a common passion for mechanical timepieces. With subtle design homages to Asian culture, its first model the Feynman One was 100 per cent funded within an hour. The Founders edition is already sold out now, but there are other variations to consider, as well as the newer Feynman Cove.
Intended as a dive model, the Feynman Cove is an elegant and sporty timepiece with an edgy twist. The lume not only makes it legible in the dark, but also creates a unique design element found nowhere else in this price category. Both models offer a tasteful pairing of textures, colours and finishes, so it's never boring to look at a Feynman watch.
Browse and shop Feynman Timekeepers on Watch Wonderland
Claude Bernard
Inspired by the traditions of Swiss fine watchmaking, Claude Bernard offers numerous medium to entry-level complications at a fraction of the price. Chronographs, retrograde date, big date, moon phases, and even gem-set models.
The keyword here is 'variety' as this independent Swiss brand houses wide array of sporty or dressy watches for both men and women. Looking for a casual everyday couple's watch? You might just find one here.
Browse and shop Claude Bernard timepieces here.
Baltic Watches
For watch connoisseurs by a watch connoisseur, this French microbrand goes back to its founder's personal story. Having inherited a collection of watches from his father whom he never had the chance to really know, Etienne Malec was however deeply inspired by the journal he kept. Detailing everything there was to know about the watches in his possession, this book of records conveyed a passion for timepieces that Malec embraced and then paid homage to via Baltic Watches.
The collections emanate strong vintage vibes, with references to watchmaking styles of the 1930s, 40s, and 50s. There are toolwatches like the Aquascape—love the bronze model with gilt blue dial—and classic chronographs such as the Bicompax 001 offering elegant dial colours in ivory, grey, and black with gilt details. Also very quaint are the three-hand HMS 001 models with various throwbacks to the tuxedo era.
Browse and shop Baltic Watches on Watch Wonderland.
Kurono by Hajime Asaoka
Japanese-made watches never fail to excite the watch connoisseur, and it's even better when you get great horological expertise at a fraction of the cost. Kurono is an offshoot of the luxury Japanese watchmaking independent, Hajime Asaoka. Asaoka started this brand to offer an accessible option that shares the same DNA. It's like dining at the small bistro which is run by a 3 Michelin star chef.
Kurono has released the Chronograph 1, a beautiful bicompax chronograph featuring a unique pin-stripe motif, along with polished studs for the hours—also very much in tune with the tuxedo era. Then there is the stunning Kurono anniversary Mori with a gorgeous metallic green radial sunburst finished dial (which is unfortunately sold out). Running on Miyota movements, the watches sometimes feature traditional Japanese crafts such as urushi lacquer.
Browse and shop Kurono Tokyo here
Nomos Glashütte
Bauhaus-driven Nomos Glashütte has garnered legions of fans from the watch world as much as the design universe. Watch fans love it for the well-crafted in-house movements and harmonious aesthetics, while design buffs are drawn to its form-follows-function identity and cool use of typeface, symbols, and icons. Classics like the Tangente, Tangomat, and Neomatik are ideal for everyday wear, while the Zürich stands apart for its clean layout and smart casual style.
Tetra Divine Spark with a copper dial.
Tetra Fidelio with a dark blue dial.
Tetra Immortal Beloved with a turquoise dial.
Tetra Ode To Joy with an olive green dial.
Numerous collaborations with retailers all over the world has also produced a selection of limited edition models such as the very memorable salmon dial Nomos Glashütte X The Hour Glass Zürich Red Dot Edition. This colour was also repeated with the Tangente line, also made in limited edition for The Hour Glass.
Browse and shop Nomos Glashütte on The Hour Glass
---
PREVIOUS ROUND-UPS: 6 UNEXPECTED WATCHES IN 2020
Still hating on 2020? Here's some good news: We're almost halfway through the year. And more good news: We've entered Phase 2 of our circuit breaker so go forth and fill up on bubble tea and Maccas. Gather in groups of five and stand two metres away from everybody else. Except on trains and buses. Weird, yes, but well we don't make the rules.
In other non-essential news, luxury fashion, watch and jewellery shops are also finally open after the brutal two-month lockdown. Rather than passively wait for the mood to turn, local watch retailer The Hour Glass reached out right on time with its profoundly reassuring #SafetyistheNewLuxury hashtag.
Indeed, essential products and services they are not, but from what we've seen thus far, there's just no stopping mechanical timepieces and their various creators from making our world a more beautiful place.
So instead of taking the conservative route, these timepieces went the other way. They upped the ante on horological artistry and flexed some serious watchmaking chops. Suddenly 2020 got a little bit more exciting. Indeed, when the going gets tough, the tough get going, but without forgetting that Earth without art, is just eh.
Patek Philippe Calatrava Ref. 6007A
Imagine six months without any word from Patek Philippe on its 2020 novelties. Collectors were ready to call it. But then out of the blue, we're hit by this bold stainless steel number that's as polarising as it is clearly contemporary. It's a Calatrava, make no mistake, but the aesthetics keep suggesting otherwise.
Lots of fancy details on this Calatrava such as the carbon style texture on the grey-blue dial.
Luminescent numerals and hands tell you it's a contemporary timepiece.
Gone are the traditional ultra-purist vibes, and here come the fancy details like 12 Arabic numerals, railway track scale for the hours. Then there's another track for the minutes, and a special textured finish in the middle of the grey-blue dial. Patek Philippe describes it as a "carbon"-style texture and an enigmatic footnote to the world of high-tech.
Interesting. But will take some time to digest because never in a million years would we ever imagine uttering the word carbon and Patek Philippe in the same sentence. This 1,000-piece limited edition also builds on the contemporary spirit started by other Calatravas like the Ref. 5000, and continued by Refs. 6006G and 5212A.
Omega De Ville Tourbillon Numbered Edition
It takes just one look to single out this stunning Omega timepiece as a watch unlike anything else on the market. First of all, it's not every day that Omega releases a grand complication. Then there's the fact that this fascinating timepiece places the tourbillon smack in the middle of the dial. And it's got the Omega signature Co-Axial Master Chronometer certification to boot. This means that not only is it astoundingly beautiful, it is chronometrically precise and practically amagnetic.
Each watch took around an entire month of dedicated work to complete.
This is Omega's first ever Master Chronometer certified manual-winding central tourbillon.
This isn't the first time Omega presented the central tourbillon but it has been a while since we last saw this beauty in the news – and Omega certainly did an amazing job face-lifting the watch. Unlike other amagnetic timepieces, this one comes with a sapphire case back so everything on the inside can be seen and admired. Omega had also features two new precious alloys with this model: Canopus gold and Sedna gold.
Cartier Rotonde de Cartier Grande Complication Skeleton
In spite of Covid-19 and everything else, 2020 is a big year for Cartier. We're still reeling from the maison's launch and reissue of such winning collections as the Tank Asymetrique, the Pasha de Cartier, and the beautiful Maillon de Cartier.
Yet it's not forgotten the Fine Watchmaking Collection. Cartier continues to grow its family of grand complications and while there aren't any major technical inventions to speak of, there remains lots to swoon over. This skeletonised grand complication formerly dressed in platinum now appears in pink gold, its mystery double tourbillon simply the stuff of dreams.
It's an unusual timepiece for sure. With a pusher at four o'clock rather than a sliding lever, with the hammer and gongs positioned on dial side, with a combination of galvanised and pink gold bridges. But then again, you don't wear a watch like this to blend in.
Corum Lab 2
Imagine a watch or a collection of watches that had no other objective than to satisfy a watchmaker's curiosity. That watch or collection of watches is the crystallisation of an idea seeded and germinated within a horological mind. That watch or collection of watches would be the Corum Lab.
After the avant-garde Heritage Lab 1 released in 2018, Corum returns with—drumroll please—the Lab 2. Taking after its predecessor in terms of open-working, the Lab 2 however presents a completely new take on movement architecture. Taking a disruptive and contemporary approach to horology, the development team at Corum created a movement that is practically devoid of bridges.
Cased in gold and sapphire crystal, the movement is visible from all directions.
As it allows light to pass freely through, the movement appears to be hovering in thin air.
Calibre CO 300 offers a flying tourbillon as well as a flying gear train and everything's set onto the main plate, which is skeletonised as well. This entire structure sits atop a sapphire crystal structure that gives the impression of weightlessness within the case. Somewhat reminiscent of the classic Corum Golden Bridge, even the sides have been crafted in sapphire crystal.
MB&F X H. Moser
Collaborations are big in the fashion and music world but in the watch industry, it's just getting started. Leading the pack is MB&F, a small brand with a big presence founded on the idea of collaboration. MB&F has worked with numerous artists and creatives in its time but with another fellow independent? This was the first.
Paired with fellow watchmaking maverick H. Moser, the brands have each released a new timepiece inspired by the DNA of the other. So in the awe-inspiring LM101 MB&F X H. Moser, you get the signature LM101 case imbued with the H. Moser fumé and logo-less dial.
Meanwhile with the Endeavour Cylindrical Tourbillon H. Moser X MB&F, a cavernous sapphire dome meets an inclined sapphire dial. Rising above the fumé dial is the spectacular cylindrical tourbillon first made by H. Moser exclusively for MB&F's Thunderdome.
Embracing a message of unity among independents, this unprecedented collection is exactly what we need in these times: levity, creativity, and solidarity.
---
PREVIOUS ROUND-UP: VINTAGE RE-ISSUES WITH A TWIST
Vintage watches work, we've known this for a while. But I want to be completely honest. These days, every time I hear a brand announcing the release of its latest vintage re-issue, I feel an urge… to stifle a yawn.
Not that there's any real wrongdoing on the part of the brands. It's just that the vintage trend has been going on for so long now, it's only a matter of time before monotony sets in. Lots of brands have a long history, which means they've been making watches for a long time. Generally speaking, there's nothing wrong with mining that for creative inspo.
Until everybody else is also doing it—with or without the historical legitimacy.
So it's a full on trend right now, the market is pretty much saturated with vintage-inspired watches manufactured with a modern touch. Usually this means a slightly upsized case, better water resistance, a sapphire case instead of mineral glass, and of course a contemporary movement.
This is all good, since it makes the watches more robust. Only, when everybody is doing the same thing, you get the same watches everywhere you look. And that's bad. Well, not bad bad, just a little monotonous.
*yawn*
Well, in my defence, the brands probably realise this too. That's why several have gone back to the drawing board, in search of something else they could offer other than a cut-and-dried vintage remake.
For many of them, the answer lies in one word: Details.
The New Vintage Re-issue
As watchmaking progressed through the decades, manufacturing processes were increasingly aided by computers and machinery. While this increased efficiency and ROI for the companies, the unfortunate downside was that it became difficult for them to keep changing the core aesthetics of their products.
A second reason was the gradual decline of the case, dial and bracelet secondary industry, with more brands shooting for 100 per cent in-house manufacturing.
Where before, particularly in the 60s and 70s, these component specialists very often proposed fresh ideas to the watch companies. This is why we often see very elaborate details such as lugs or hands or cases during this period.
I love vintage watches for this reason. And I'm happy to see that brands have started to really sit down and think hard, asking themselves why do people love their brand.
Them going back to their core values is one thing. What's really great is that vintage watches are beginning to get interesting again, and that's always a good thing.
Breitling Chronomat
We've waited long enough for Breitling to relaunch the Chronomat. After its major management restructuring, it's mostly new designs and reinventing the Navitimer—Breitling's other very iconic watch.
The new Chronomat no longer has the circular slide rule. Instead, we find the chronograph tachymeter, which cements its identity as a sports watch. Another feature that's supercool in this model is the rouleaux bracelet, also called the bullet bracelet.
Chronomat B01 with a panda dial.
Detailed view of the new Rouleaux bracelet.
Very sleek, very elegant, completely unique to Breitling, it's a true USP that watch collectors will find hard to resist.
Audemars Piguet [Re]master01 Selfwinding Chronograph
First, Audemars Piguet wants you to know this is not a mere re-issue. It's a remastering of a historical model using the latest technology and modern day sensibilities. Based off the reference 1533 from the 1940s, you'll find eloquent features such as the olive-shaped pushers and teardrop lugs.
Extra details that Audemars Piguet kept include the 4/5 marker above the 15-minute index within the 30-minute counter. Apparently this little detail was suggested by the brand's third-generation family-founder Jacques-Louis Audemars who was passionate about soccer.
Audemars Piguet's vintage chronographs are among the rarest in the world.
Olive pushers and teardrop lugs.
Another thing to note is the word 'Geneve' sitting below the AP period logo. It's a throwback to the time when the manufacture opened a workshop in Geneva to better service its clients.
Montblanc Heritage Manufacture Pulsograph Limited Edition
Pulsographs are also known as doctor's watches, because instead of a tachymeter around the dial, it has a pulsometer. You could literally use it to check your heart rate but with one as spiffy as the Montblanc Heritage Manufacture Pulsograph, we're sure there are lots of other reasons you'll want to keep it on the wrist.
After 2019's salmon pink model, this watch reappears in a beautiful smoked tobacco brown that's also been described as burnt caramel. Notice as well the elegant gradations and textural changes around the dial. Montblanc has been nailing the vintage game by focusing on very specific details to deliver that hit of nostalgia we're looking for.
Check out the chronograph sub-dial, for instance. Reminiscent of old school payphones, the 30-minute totaliser has three extra-long indexes at 3, 6, and 9. How not to fall in love with this piece?
Cartier Tank Asymétrique
Entering the hallowed halls of the Cartier Privé line, the Tank Asymétrique is a must-have for many collectors. Until today, you could only find one at auction houses or the vintage market. Now it joins Cartier's contemporary lexicon of ultra-elegant timepieces.
Tank Asymétrique was then known as the Parallélogramme or the Losange and it broke with tradition not just at Cartier but the watch industry at large.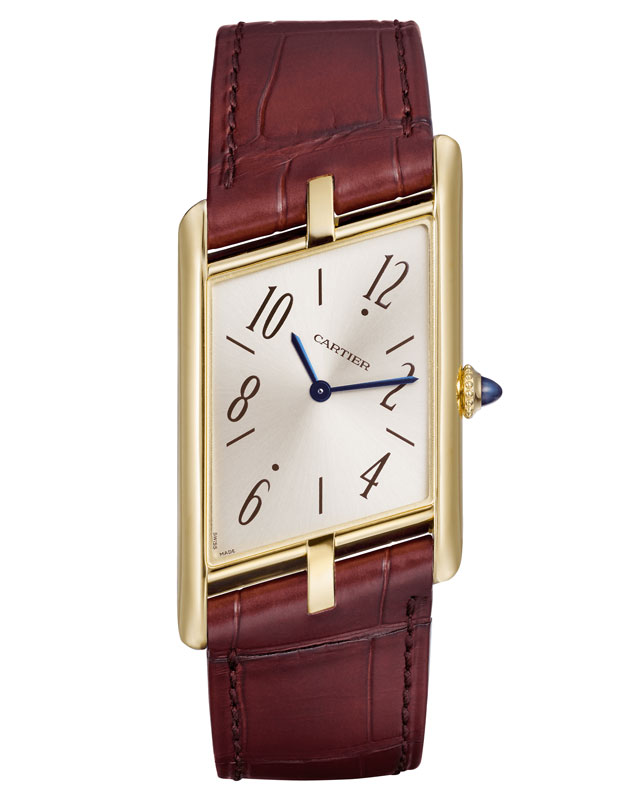 Tank Asymétrique highlights Cartier's exceptional flair with shaped watches.
The numerals have been updated but the case and lugs remain the same.
The skeletonised movement also acts as the hour indexes and numerals.
Compared to the historical model, the new remake features completely redesigned numerals accompanied by simple dots and dashes. Two variations exist, as with all the other models within Cartier Privé, a classic piece and a skeletonised one. Both are limited editions, 100 pieces only.
Grand Seiko First Re-creation
A remake of the original 1960s Grand Seiko, this flawlessly elegant timepiece arrives in three variations, platinum (SBGW257), yellow gold (SBGW258) and Brilliant Hard Titanium (SBGW259). Platinum and gold models have a secret message on the dial: a little star that signifies gold hour markers.
A particularly emotive throwback to the 60s is the fact that the hour and minute hands have been carefully bent to follow the contours of the dual-curved sapphire crystal.
Grand Seiko increased the case size from 35mm to a more practical but still restrained 38mm, and gave it a sapphire crystal back. Its manual winding Calibre 9S64 is accurate to +5/-3 seconds a day, lasting for a maximum of 72 hours.
IWC Portugieser Chronograph
There are a number of features in the Portugieser Chronograph Ref. 3716 that collectors constantly rave about. Two recessed totalisers at 6 and 12 o'clock. Applied Arabic numerals. Slim feuille hands. Very discreet elements, but they mean the world to a connoisseur.
An open, clear and functionally designed dial defines the IWC Portugieser.
This year's collection gets pumped up with green, burgundy, and blue dials.
A special boutique edition in 18K red gold.
Which is why it's such good news that IWC made the new Portugieser Chronograph as close as possible to that reference, whilst updating only what needs to be updated.
Formerly running on the manufacture's 89 calibres, the watch now uses the IWC 69 calibre. One key difference between the two movements is the chronograph display. The former includes a 12-hour totaliser and a date window. Without these, though, the watch becomes a tad more affordable and now has a much cleaner dial, so we're calling it a win.
Jaeger-LeCoultre Master Control Geographic
If you like what Jaeger-LeCoultre has done with the Polaris in 2019, you'll feel the same way about the Master Control in 2020. It's a 90s classic inspired by 50s watchmaking but brought into the 21stcentury. The Master Control Geographic is just one of five different models taking the spotlight.
The Geographic is Jaeger-LeCoultre's interpretation of a travel watch. It's one of the manufacture's most beloved complications.
Offering not just the second time zone but also day/night indication and the destination city. It takes us back to the good old days when the manufacture made truly indispensable timepieces for discerning gentlemen. Very sober, performance oriented watches that served a functional role and played it beautifully.
---
PREVIOUS ROUND-UP: FUN AND NOSTALGIC WATCHES
COVID-frickin-19. Novel coronavirus. Wuhan virus. Chinese virus. Whatever you call it, doesn't make it go away. We're all still cooped up in our homes, isolated from friends and maybe family too. Social distancing—gotta practice that, as we sanitise or wash our hands for the umpteenth time.
So maybe it's a good idea to look on the bright side? Maybe a stay-home notice or home quarantine isn't as dreadful as it sounds. In fact, it's the least we could do while medical professionals are out there fighting on the frontlines. People in Italy seem to be doing a bang-up job there, what with their impromptu music performances on balconies and all.
And if you need a little help staying positive (figuratively, not literally), let these watch brands give you a hand (again, figurative—social distancing, remember?)
Worried about the social backlash about indulging in retail therapy while the rest of the world is battling a pandemic? Well, honestly, if you're going to be holed up at home, who's going to find out?
Just sayin'…
Still, the reality for many is that life has to go on. So if you're on Team Life-Goes-On, then consider these timely new drops for a hit of good ol' nostalgia. That oughta drive away those nasty rona blues.
MB&F HM10 Bulldog
Here's one that took the term 'watchdog' literally. Over the years, MB&F has done a frog (HM3), an owl (JWLRYMACHINE), a jellyfish (HM7), and now finally, man's best friend. Completely three-dimensional, as all MB&F machines tend to be, the HM10 Bulldog is a menacing sight.
How can anyone not crack up at the sight of this pudgy wudgy face?
Two prominent aluminium time-display "eyes", rolling at anyone who dares look its way.
A rounded, compact body of titanium or red gold, coupled with a generous ration of sapphire crystal.
Word of advice on the back: "Forget the dog, beware of the owner".
Its body, thick and stocky, is made of either titanium or red gold and titanium. The globular eyes, wide and bulging, crafted in aluminium and shielded by sapphire crystal. Its studded collar is what you use to wind up the mainspring, which extends the trusty canine's jaw when fully wound.
Then there are its legs. All four of them are completely movable and they hug the wrist so snugly the watch is perfectly comfortable and secured at all times. $150,600 in titanium, or $172,100 in red gold and titanium.
Hamilton PSR
A blast from the past, this digital watch really takes us back to the "futuristic" 70s when technology was just making its way into watches. The Hamilton Pulsar was one of the most emblematic timepieces of that era. Jack Nicholson, Joe Frazier, Elton John, and Keith Richards all wore one.
Hamilton awakened a sleeping giant; PSR is a modern tribute to the 1970s icon named Pulsar.
The public received its first glimpse of the Pulsar prototype on The Tonight Show, then hosted by Johnny Carson.
Among the first to wear it were Keith Richards, Joe Frazier, Elton John, Giovanni Agnelli, and U.S. President Gerald Ford.
Two versions of the new remake are available, in stainless steel and steel with yellow gold PVD.
The yellow gold PVD model is limited to 1,970 pieces.
Today's remake embraces that unmistakeable style using a hybrid display and stainless steel case in either gold or silver colour tones. Celebrating the 50th anniversary of that revolutionary first digital watch, it's a cool and fun model for boomers wanting to relive the past a little, and for millennials looking to get their vintage groove on. Finally, something that both groups can agree on? $1,090 in steel, $1,490 in gold PVD steel.
Seiko Presage Studio Ghibli Porco Rosso Collaboration Limited Edition
Studio Ghibli fans, this one's for you. And if you've always admired the Presage line's devotion to traditional Japanese craftsmanship, you'll love it even more. These limited edition timepieces are inspired by the 1992 animated comedy-adventure film Porco Rosso. With its vivid animation and masterful storytelling, it captured the romance of those early days of aviation like no other.
Seiko Presage celebrates Studio Ghibli's 1992 film, Porco Rosso.
Porco's plane inspires every aspect of the design.
The emblem of Porco Rosso and his plane's name graces the case.
A specially created seconds hand for the black dialed watch reflects the plane's propeller.
Embodying the spirit of the film and director Hayao Miyazaki's affectionate depiction of Porco's plane, a Savoia S-21, the two watches remind you of the beauty and individuality of the fictitious aircraft. One has a black enamel dial and the other, white enamel, both skilfully applied to evoke the warm beauty of materials used in the 1920s. In addition, Seiko pairs the black model with an automatic chronograph movement, while the white model features a Spring Drive calibre.
Jaquet Droz Loving Butterfly Automaton
Like a wind-up toy, only more precious and fascinating. Jaquet Droz delivers its latest automaton timepiece featuring its famous albeit esoteric drawing titled Le papillon conduit par l'amour, or Butterfly driven by love. What makes this artwork all the more intriguing is that it was sketched by another automaton built by Henri-Louis Jaquet-Droz in 1774.
To make it go, just push the button on the crown, and you'll set the wheels of the chariot spinning as the butterfly flaps its wings in earnest. Carved entirely in gold, the figurine sits atop a dial made of a special type of wood petrified 140 to 180 million years ago. Called Chinchilla Red, it goes back to the time of dinosaurs, making this watch not just a piece of art but a fragment of natural history. $201,000
SevenFriday x Rocketbyz M Series
One sure-fire way to brighten up your day? Deck out in fluorescent hues à la this limited edition piece conjured by concept designer Tomyboy. Now first things first, we know splashes of neon colours are not for everyone, but if they do rock your boat, you're in for a special treat.
For the second time, SevenFriday collaborates with Rocketbyz.
The iconic SevenFriday M3/01 gets swathed in neon colours.
Each watch comes in a set including a pair of sunglasses and a backpack.
Dressed in three colourways, SevenFriday's iconic M3/01 comes in a set including a pair of Off-Series sunglasses and a backpack, both exclusive to this collaboration. Even the box for the watch is extra cool, made of black EVA material just like the pouch for the sunglasses.
M3/03 in neon green on white.
M3/04 in neon pink on black.
M3/05 in neon orange on blue.
Sure there may not be any nightlife to speak of in the month ahead, but honestly we're just here for the crazy ultraviolet colours. $2,890 for the set
Hublot Spirit of Big Bang Meca-10 Black Magic
Anyone here remembers Meccano? The Lego for left-brain thinkers, Meccano Micronoids provided hours of fun to anyone who's not a millennial. Obviously the guys at Hublot were hoping to rekindle our passion for the iconic toy series, so they've created a series of different models powered by a Meccano-inspired movement, HUB1201, also known as the Meca-10.
Hublot introduced the Meca-10 calibre HUB1201 in the Spirit of Big Bang collection.
Here dressed in all black and aptly named Black Magic.
Check out the linear power reserve indicator (10 days).
How awesome are those horizontal bridges? Notice that Hublot redesigned the movement to fit the tonneau-shaped case.
Also available in Hublot-exclusive King Gold.
This year the movement made it into the tonneau-shaped Spirit of Big Bang which offers a bigger, wider view of the unique inner mechanics. Note how Hublot had redesigned it to fit a barrel-shaped case, rather than simply plonking a round movement in. Also, we love how the 10-day power reserve is displayed via a linear scale in true Meccano style. $30,300 (titanium), $35,800 (Black Magic), $57,900 (King Gold)
Anderson & Chaykin Joker Automaton
Konstantin Chaykin shot to fame as the Russian watchmaker who made watches funny again with his Joker, Clown, and Dracula watches. Collaborating with Andersen Genève in this double-faced watch, he delivers his signature time and moon phase indication tagged to a big surprise.
On the back of the watch, you'll find an automaton scene reminiscent of Coolidge's Dogs Playing Poker.
You get the Dog from Anderson Genève, Chaykin's Joker and several special guests (one looks curiously like Ariel the Little Mermaid and the other, some sort of demon barber from Fleet Street) at the poker table. But push the button at 8 o'clock and they all come "alive." For around two minutes, the Joker sneaks a peek at the Dog's hand, and demon guy flashes us his fourth card, while Ariel stuffs a bunch of chips down her bustier. What's a few dollars among friends, eh?
---
PREVIOUS ROUND-UP: SAPPHIRE CRYSTAL WATCHES
You know how some things work in theory but not in reality? Sapphire crystal watches are quite the opposite. On paper, they shouldn't work. Because in spite of its hardness and high scratch resistance (ranking just under diamond on the MOHS scale) sapphire crystal is extremely brittle. It can shatter when hit with the right amount of force, or even with just a gentle strike at the wrong angle.
But in real life, they are perfect in so many ways. Sapphire crystal watches are unbelievably comfortable, gorgeously see-through, and incredibly high-tech. We won't lie; many if not most of them are prohibitively expensive and highly exclusive. This is due to the enormous manufacturing costs and complex manufacturing processes required to produce them.
Particularly when you're looking at one with a sophisticated case shape riddled with curves and bevels. It means that the manufacture incurred a huge amount of crystal wastage in order to hand you this exceptional work of three-dimensional art.
Sapphire crystal watches are also utterly modern as luxury symbols, priced on par with many gold and platinum watches with diamonds all over. As expensive as it is, however, it'll be the last thing on your mind. When you look at the ethereal beauty of its transparent case, and then the intricate movement enrobed within, the first thing that comes to your mind won't be, "Wow that is such an expensive watch," but "Wow I've never seen anything more beautiful in my life."
Even if you think you're a serious watch collector. Even if you're typically all steel Rolexes and complicated Pateks. Even if you're a total purist. In spite of everything you love and hold dear about horology, these sapphire crystal watches will take your breath away.
Chanel
New for 2020, Chanel trades high-tech ceramic for sapphire crystal in this ultra-chic iteration of its iconic J12. Neither black nor white (Chanel's spiritual colours) the J12 X-Ray is colourless and transparent. See right through the watch and even its movement. Calibre 3.1 was specially conceived for this spectacular timepiece.
Limited to just 12 examples, it is also the only sapphire crystal watch delivered on a bracelet in the same material. Each link here has been individually cut from raw sapphires. And then there are the diamonds, baguette cut of course, for a total of 5.46 carats. What a great way to celebrate the 20thanniversary of the J12.
Girard-Perregaux
Likewise, Girard-Perregaux traded gold for sapphire crystal in this spell-binding model. Adding a futuristic twist to the beloved three bridges by Girard Perregaux, which is a time-honoured classic in the hallowed realm of haute horlogerie, the watch's Aerial Neo-bridges are sculpted in sapphire crystal. They arch across the movement in parallel, holding the barrel, going train, and balance wheel.
Just 18 Quasar Lights will be made, as each case is made from a single block of crystal. Sculpting and polishing its numerous curves took over 200 hours of work, plus hundreds of technically complex operations.
Hublot
Hublot MP-11 Power Reserve 14 Days Green Saxem.
Saxem is a specialty material at Hublot, offering an emerald green hue with extra strong resilience.
There is no other brand more accomplished in the production of sapphire crystal in watchmaking than Hublot. With its ice-cold beauty, the Big Bang Unico Sapphire is just the tip of the proverbial iceberg here, as Hublot wields numerous iterations other than clear "white" sapphire.
Red, blue, yellow, and a very special green sapphire called Saxem have been rendered in some of the most exciting cases ever, plus matching translucent rubber straps to boot.
Richard Mille
RM56-02 FRONT RGB
RM07-02 in pink sapphire set with precious gems.
RM07-02 in blue sapphire set with precious gems.
Ever the materials innovator, Richard Mille was one of the earliest to have made watches in sapphire crystal. Indeed, this material has not always been easy to handle, trending only in these recent years thanks to improvements in machining technology. Yet as far back as 2012, Richard Mille had already released the RM056, which has since evolved into the RM56-02.
Ladies get their own version too, and dressed in colours like blue and pink no less. Surrounded by slender curves and multiple angles, the RM07-02 Pink Lady Sapphire Automatic reported took over 40 days and 800 hours to machine.
Greubel Forsey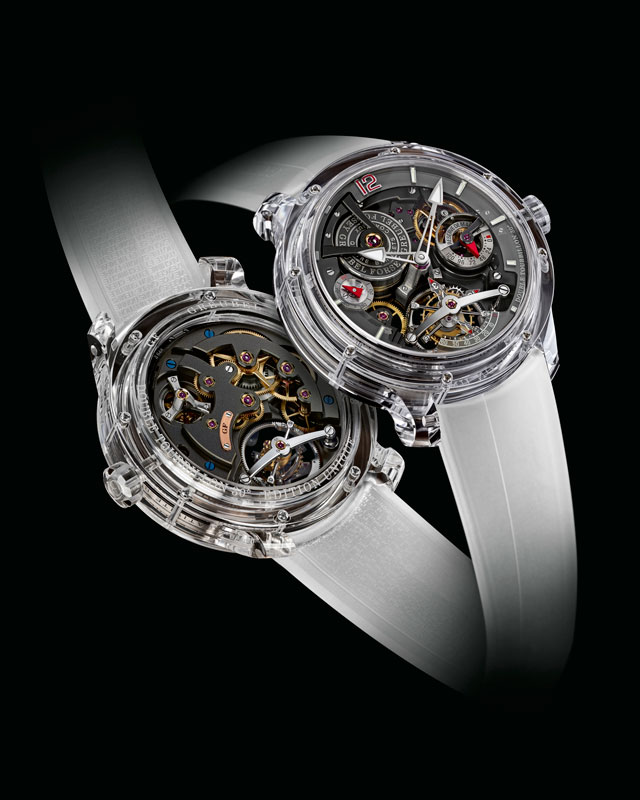 Greubel Forsey Double Tourbillon 30° Technique Sapphire.
Admire the movement literally from all angles.
Admittedly one doesn't immediately think of Greubel Forsey when one is thinking about sapphire crystal watches. The watchmaking geniuses at this independent atelier, Robert Greubel and Stephen Forsey, are better known for their micro-mechanical concepts executed to horological perfection.
Their timepieces are practically tiny metropolises full of three-dimensional details and at all angles. For this reason alone, it is simply good logic for them to be cased in sapphire crystal. All the better to view the movements with.
Bell & Ross
BR-X1 Skeleton Tourbillon Sapphire.
BR-X2 Skeleton Tourbillon Micro-rotor.
For a watch of its heft, the BR-X1 would not be easy on most wrists, especially when done in solid metal. But once you strip it down to the bare essentials, as Bell & Ross had done with this sapphire crystal piece, it feels like you're wearing nothing at all—in a good way.
Its complex case is made of five individually machined sapphire parts assembled and held together by working steel screws, as evinced by the perfectly misaligned screw heads.
MB&F
For an independent brand, MB&F has done more to push the boundaries of watchmaking creativity than many of the market's biggest players. Since its earliest days, this small but innovative powerhouse has been leading the way with sapphire crystal, introducing numerous sophisticated shapes and forms in almost all of its Horological and Legacy Machines. Models such as the HM6 SV Sapphire Vision, the HM9 Flow, as well as the HM7 Aquapod have been inspirational in the way they showcase the beauty of sapphire crystal.
Franck Muller
You don't have to be a fan of the Franck Muller Vanguard Skeleton to see why the Vanguard Skeleton Sapphire is such a good idea. The case, bezel and back are milled from a single block of crystal, a step that took the manufacture two months to accomplish. Then comes two more months to polish the signature tonneau-shaped case which is plastered with curves. White PVD skeletonised movement bridges add to its otherworldly aesthetic.
Bonus: Casio
Before you start railing about how this watch collection isn't actually made of sapphire crystal, we'll say it first: These watches aren't made of sapphire crystal, but rather, a transparent resin reminiscent of glaciers. Still they offer the same pristine beauty set against a rich, golden hue—again, not real gold. Always pushing the envelope in watch design, Casio G-Shock revisited a 1996 classic, reinterpreting it for the 21st century with these evergreen models.