In case it's escaped your notice, we are now in the end times. 
Well, end times-ish, anyway. Because while some forms of fresh meat, canned goods, instant noodles and toilet paper are flying off the shelves—see Exhibits A and B below—some obstinately refuse to shift, in spite of rampant panic buying.  
Who you calling chicken? Nobody, apparently...
O toilet paper, where art thou?
But clearly, we haven't come to the end times just yet, as evidenced by Exhibits C and D. As you can see, wagyu is still on the shelves. As is lamb and the noodles of the month.
If there's still wagyu, we're still good.
Supermarket: TRY NOW! Singaporeans: No.
When the abovementioned items, along with bittergourd start disappearing from shelves, you'll know that apocalypse is truly upon us and shit, to use the modern idiom, just got real. 
And when the shit gets real, and reality turns to so much shit, you will most certainly want a source of comfort.
For some, that could take the form of a favourite pillow. For some others, a suitably heavy object that can be used as a weapon. But for me, give me a drawer loaded up with the snacks any day of the week. Even if said week is set to come to an end imminently and permanently. 
Now, some will no doubt debate the efficacy of two out of the three items above when the zombie hordes start breaking down your door, and they'd be right. After all, while eating non-food will kill you, they're rarely ever fatal on the first go.
Unless some of the zombies have a nut allergy you didn't know about. 
Honestly, if the zombie barbarians were at the gates, there are few things I would rather do than tear through the snacks below. Before of course, the zombies tear through you. 
There's some merit to going down swinging, but why bother, really? You're just delaying the inevitable. There's definitely more of them than there are of you, and unlike you, there's plenty more where that came from.
You know what they say about not bothering to run because you'll only die tired? Yeah, like that.

Anyway, these are my five picks for the snacks you must eat before you die. Literally. 
If these five snacks are the last thing you eat before you check out, I applaud you.
If this drivel is the last thing you read before you head on to your glory, I pity you.
Cadbury Dairy Milk chocolate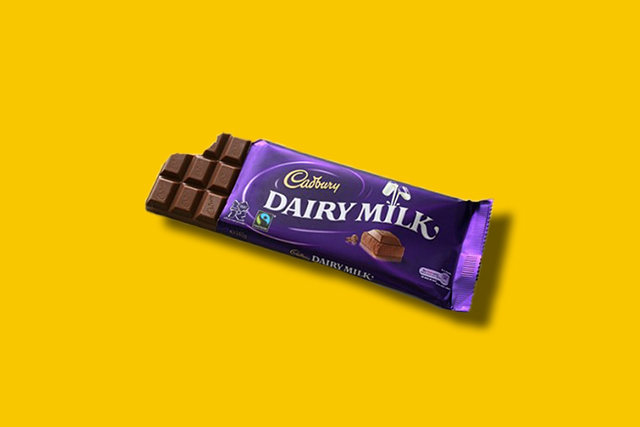 In 2016, Cadbury changed the slogan for its iconic chocolate bar from the borderline suggestive "Free The Joy" to "Taste Like This Feels", which is not only borderline suggestive, it's also ridiculously awkward to say out loud. 
Obviously, that tagline is supposed to evoke some feels in viewers, though the only feel I got from that is of confusion. Bemusement, even.
Look Cadbury, the Snacktivist is going to do you a favour. How's this for an awesome tagline for your future marketing campaigns?
Bury Me With Cadbury.
Actually, that's quite a brilliant idea. Hang on, let me add that to my will. 
If my choice of such a basic chocolate bar is causing you some consternation, let me say it again—Cadbury Dairy Milk is the baseline by which other chocolate is judged. The minimum acceptable standard of chocolatey goodness. 
There are fancier chocolates out there, fancier chocolates that taste better, but you never forget your first. I'm willing to bet that, if you're a chocolate lover, it was Cadbury Dairy Milk that first made you appreciate the stuff in the first place. 
If you're not a chocolate lover, or even if you're a chocolate hater, your opinion of processed cocoa products was first forged in the fires of Cadbury Dairy Milk. 
As you are well aware, love and hate are but two sides of the same coin. Both are primal emotions, powerful enough make you let out the mightiest of roars. 
Fat load of good that will do you when armies of the undead come marching through your door, but hey, it'll at least be cathartic.
Iced Gem biscuits
It is said that in times of crisis, one often turns to sources of nostalgia for solace. 
It is also said that the biggest problems require large and liberal applications of heavy artillery. 
I can think of no crisis larger than the end of civilisation as we know it and no larger nostalgia cannon than iced gem biscuits. 
They're unremarkable in and of themselves, being just dollops of unremarkable icing sugar on top of an unremarkable over-dry biscuit. 
But you see, nostalgia, much like the ravening zombie hordes, cares not for that. They only care about how they make you feel inside. In the case of zombies, it's more accurate to say they care more about how your insides feel (or taste), but you get what I'm driving at. 
Eating an iced gem biscuit will bring you back to a more idyllic time. A time of youth, of innocence, of carefree afternoons spent at your grandparents' who indulged you in all the sugary treats you stuff in your mouth with behind your parents' backs. 
Suffice it to say, eating something that transports you back to better times is invaluable for the end of the world. 
Reality, along with the aforementioned packs of the undead will soon come crashing in, unfortunately, but them's the breaks, kid. 
Pok Chui crackers
The only bad thing about pok chui crackers—you know, the kind you sprinkle over yusheng just before diners unleash a nuclear blast of julienned vegetables and plum sauce all over the table—is it's only available once a year. 
And this might pose a problem, because you'd best hope the apocalypse strikes around the Lunar New Year. That or you'd best have some stockpiled. I'd show you pictures of my personal pok chui stash, but I fear you might steal them.
Anyway, like the iced gem biscuits above, pok chui crackers are unremarkable. Even more so, since they don't really have an inherent taste. Unless you count salt and the aroma of oil as flavour like I do. 
But what makes them so remarkable is they're like crack. Have you ever went to a yusheng toss and found yourself surreptitiously grabbing them off the serving plate? I have, and I make no apologies for my behaviour.
If I'm being completely honest (and you can always trust that I am, even when I'm not), I can't figure out what it is about pok chui crackers that makes them so addictive.
The only reason I can think of is there's actual crack in there. Which, if it were really true, wouldn't be a bad thing, especially handy when the living dead come a-knocking. 
Spam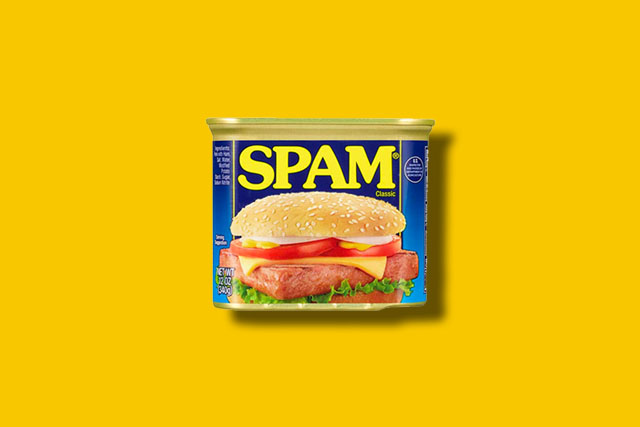 Ah, Spam. Songs have been sung about it, comedic sketches have been made about it and it's also entered the popular lexicon as a verb denoting surfeit.
I'm not going to explain to you why it's the most amazing man-made food on the planet, and I say man-made, because while it's nominally meat, in that it once came from a living animal, it's been so heavily processed, it has more in common with a cybernetically-enhanced human. Spam is the Terminator of meats, if you will. 
So, about Spam. You can fry it up in strips, julienne it to serve as fries, cut it into small cubes in your fried rice, throw it into a hotpot, as an integral component of budae jjigae. By now, this should give you some idea that spam is versatile.
Spam is also delicious. 
Spam is love, Spam is life. 
We-eeeell. That last sentence isn't entirely accurate, since spamming the Spam will almost definitely have a detrimental effect on your lifespam (this is a processed meat pun). 
Then again, so will a hungry zombie.
Kaki No Tane
For a culture that has elevated snacking to a combination of high art and mad science, traditional Japanese snacks (and I'm fully prepared to admit I'm generalising here) are surprisingly one-dimensional. 
Take a trip down to Donki or equivalent and you'll see that once you eliminate the more modern things, such as Pocky/Pretz biscuit sticks, potato chips and the truly bizarre stuff like freeze-dried gratinated prawns, the snacks are pretty, well, samey
Which I suppose is an interesting microcosm of Japan in general. Beneath the glitzy neon exterior lies a nation that's struggling to come to grips with cashless payment systems and still uses fax machines. 
Anyway, what you'll find for traditional Japanese snacking is that they're always some variation of rice cracker. Now, how interesting could a rice cracker-y thing possibly be, you might be wondering. 
And it's at this point that I should introduce you to kaki no tane, which translates to something like persimmon seeds. It's got a room-filling pungency, like durians, but infinitely more pleasing to my olfactory senses. 
As an added bonus, they go really well with beer, cocktails, spirits, sake, shochu… any kind of alcohol, really. This is handy because with a bowlful of kaki no tane and some booze, you'll be all set for the apocalypse. 
As a double added bonus, you can sprinkle some on the floor in front of your doorway, making them a great early zombie-warning system. Tasty, pairs well with booze and with multiple uses, you really couldn't ask for more in an apocalypse snack.