Mellow greetings, to the dozens of people that actually read this, and rejoice, for I am returned.
Specifically, I have returned from the holy land. The land of milk, honey and where nearly all the snacks are individually wrapped. The spiritual homeland of snackdom, a place where its people have elevated the art of eating junk food to an art form. 
Where a visit to even the humblest convenience store is akin to a religious experience. Of course, that could be just in comparison to how utterly rubbish convenience stores in Singapore, though.
A weapon to surpass Metal Gear Don Don Donki (my haul from that trip here and here), even.
If I had my way, I'd sweep entire shelves full of snacks into my basket and bring them back, but reality stopped me dead in my tracks, as reality often does. That reality took the form of how my luggage was already full to bursting with other shopping and taking a taxi to the airport isn't an option, given how you need to be a billionaire to take taxis anywhere in Japan.
But the biggest reason why I was judicious in choosing what to get is how I'm just too lazy to write so much.
Sorry, not sorry.
Some beef-and-garlic churro thing
Churros are delicious. Who doesn't love fried dough sticks rolled in a cinnamon/sugar mix and dunked in molten chocolate?
Yeah, yeah. I know some of you don't get off on the really sweet things, but I'll also have you know your opinion doesn't count. Not here, at any rate.
These things are just like regular churro snacks, in that, unlike the fresh items, they're crispy. Which isn't a bad thing, because who doesn't like crispy things.
But in typical Japanese fashion, they've managed to subvert it by flavouring it to resemble a grilled steak with roasted garlic. A savoury churro, who'da thunk it?
Again, a steak-and-garlic churro not a bad thing, unless you're intending to go on a date or have an important meeting within the next fortnight or so.
For a culture whose traditional foods don't usually come strongly flavoured, the Japanese sure do love their atomic garlic. And I don't mean garlic that's spent some time near the Fukushima nuclear reactor, but more like really, really strong garlic.
Garlic so strong it'll give you garlic breath for two days solid. True story, it happened to me there after eating ramen topped with raw garlic.
Naturally, being merely flavoured with a liberal dusting of atomic garlic dust, these churro snacks are far less potent, but you'd be unwise to write it off.
As it stands, I've just brushed my teeth, rinsed my mouth twice with mouthwash and I can still taste garlic.
Oh well, on the bright side, I'm probably immune to vampires.
… For the next few days, anyway.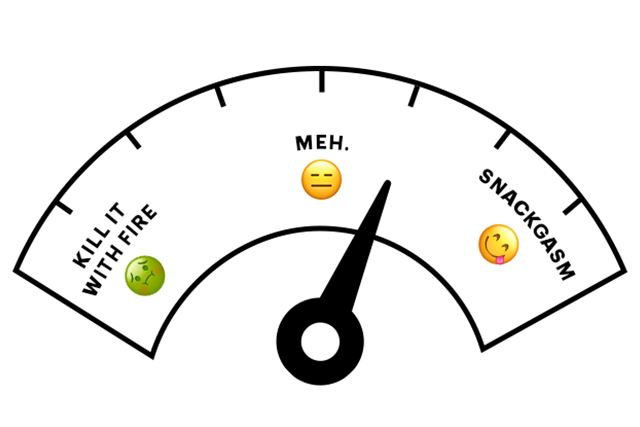 10-word review: Gives garlic breath enough to melt steel at ten paces
Best paired with: Industrial-strength breath mints
Kameda Seika x Coco Ichibanya
Right up there in the pantheon of Japan's best-kept secrets—secrets that include the facility where the Gundams are built and where they're putting Godzilla in cryo-stasis, is kaki no tane.
Roughly translated as persimmon, the crescent-shaped fragments of senbei rice crackers are little slices of Japanese heaven, and they really put the 'crack' back in 'crackers', because when you can't seem to stop eating them, you'll swear they put something other than rice flour and soy sauce in it.
Suffice it to say, there are plenty of manufacturers in Japan that make them, though like how you should only insist on Indomie for your instant mee goreng fix, if you've got a hankering for kaki no tane, there's only one name you should turn to.
And that name is Kameda Seika. I tell you, you haven't lived until you've tried its rice crackers (in a variety of fun flavours including wasabi and ume) with a tall glass of ice cold beer. Or, for that matter, a whiskey highball, the salaryman's cocktail of choice.
Their latest creation (a seasonal limited one) sees them do a collab with curry chain Coco Ichibanya. And it was good. One of the big reasons behind why Kameda Seika's kaki no tane deserves every bit of praise it gets is how they're always bursting with rich flavour. They didn't spare the MSG fairy dust here.
And this one is full of creamy, peppery, spicy curry goodness. And offset by the square cheese-flavoured crackers. It's Coco Ichibanya's curry rice topped with cheese… rendered in crunchy senbei form.
Kameda Seika kaki no tane, I love you, and I want to marry you.
10-word review: A love story in rice flour, curry flavouring and cheese
Best paired with: A copy of Twilight, to remind yourself how Kameda Seika kaki no tane is a better love story than it
Calbee mentaiko potato chips
The Calbee potato chips you get in Japan are unlike the ones you get here.
In that they're better. And they're also thicker, because y'know girth matters.
Seriously, they're a lot thicker, resembling the sort of potato you'd find in a gratin dauphinois than a standard potato chip, making them stupidly satisfying to bite into. Deeply, deeply satisfying, if I may say so.
You can find them in a good number of flavours, and with different tubers, including purple sweet potato. The one here is flavoured with mentaiko, which to my mind is the king of fish roe. Hell, I'd take it over beluga caviar any day of the week.
And since I hold JDM Calbee and mentaiko in such high regard, their combination here is oddly disappointing. Not bad, just disappointing. Why did it have to be so sweet and so lacking in fishy roe-y goodness?
Why could it not do justice to the T H I C C chip it was dusted on?
Why, Dolores, why.
No matter, because the next mentaiko-flavoured thing was far, far better.
10-word review: God-tier thick chips can only take you so far
Best paired with: An extra helping of mentaiko slathered over each chip
Mentaiko Pretz
If you know anything about the Snacktivist (he also likes long walks on moonlit beaches and candlelit dinners), you would know that he prizes authenticity and above all, snackmakers that don't half-arse things.
The mentaiko-flavoured chips above fail because there isn't enough fishy goodness to them. When I crack open anything with mentaiko in it, I want to feel like something just died in the immediate vicinity.  
That's exactly what I got when I popped open the inner foil pack (everything in Japan has outer and inner packaging) of these Pretz. To the uninitiated, mentaiko has a very specific smell, and if you smell it, you're in no doubt that you're eating pollack roe.
And hoo boy, did these Pretz deliver big time. I felt like I was smelling a dead pollack several metres from me. In case you're wondering I meant that as a positive thing.
If you can't get enough of the experience, you could always get the footlong monster that I like to call MEGA PRETZ that has MEGA MENTAIKO FLAVOUR.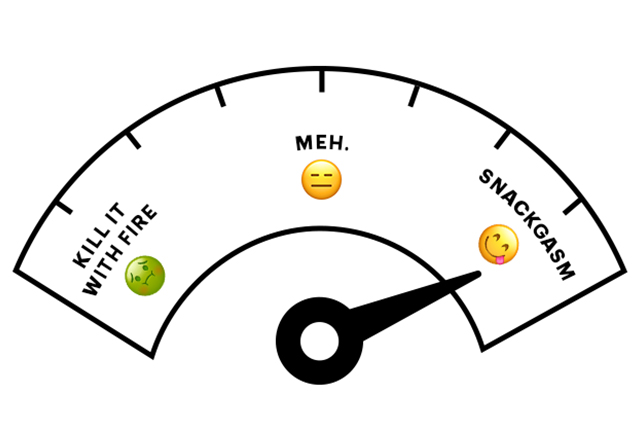 10-word review: Musky, pungent and fishy, but in the best possible way
Best paired with: A respirator for close bystanders who don't like the smell of fish roe