In today's episode of The Snackdown, I want to tell you about things that sound better in theory than they actually are in practice. 
The lowest hanging fruit (I'll leave you to figure out what mental image that conjures up for me) is surely communism. In theory, it's the equal distribution of wealth. But what everyone got was capitalism and the attendant inequality, except with more red, hammers and sickles in the flag. And something about Lenin in the national anthem.
And while we're on the topic of systems of governance, democracy doesn't fare all that much better either. Putting power in the hands of The People? The same People who populate the comments section on social media? Yeah, but nah. 
Or doing an Arnie movie marathon that includes that all-time classic Batman & Robin. Oh wait, that actually sounds pretty awesome. Yes, I enjoyed that movie more than the pretentious, overwrought drivel that was the Dark Knight trilogy. And yes, I didn't really enjoy Heath Ledger's turn as the Joker. Fight me. 
Or, of course, skipping right to the end, bypassing the grindy bits in the middle. Well, what's so bad about that, you might be asking. All the funk and none of the chunk must surely be a good thing. Everyone who doesn't agree with that is probably one of those talentless dullards that believe hard work is its own reward. 
Right, you see it's like in video games. It sucks when you're a pathetic lowbie, and it sucks even harder when you're doing the same tasks over and over again, getting killed by that annoyingly difficult boss. But the reward comes at the end when you can walk about willy-nilly insta-gibbing everything in sight at will. 
So, let's say you can skip right to the nuking bit. Sure, it's fun for a bit, but it slowly gets old, because the fun, believe it or not, is in the progression and becoming incrementally more powerful. 
What KFC's latest offering is exactly that, a cheat code to let you become an all-powerful elder god from the get-go. I present to you Chicken Skin… which is exactly what it sounds like. Skin taken from one of its dead birds and fried to a crisp with KFC's Original Recipe breading. 
It lets you get to the best part about KFC's chicken without having to pick through anything and getting your delicate appendages all greasy. 
KFC's latest offering is effectively a cheat code for chicken
And it is incredible. 
For the first few pieces anyway. 
At first, your brain simply can't comprehend the magnitude of such greatness. Can it be true? Can it be that I am imbibing of what is surely the highlight of any KFC dining experience? 
Could it be that it's a discrete experience from the minor horrors of eating a piece of KFC chicken, conveniently pre-cut into bite-sized chunks?
And I just know you're the kind of person that takes the skin off first and sets it aside to have last. I'm onto you, don't think I don't know.
KFC Chicken Skin all seems a little too good to be true, like that amazing dream you had the other night where you were telling your boss what you really thought of them.
Unfortunately, it really is too good to be true. After the novelty of the first few pieces wear off, KFC Chicken Skin rings a little hollow, and I'm not talking about the literal hollow crunch it makes. 
I know you're the kind of person that takes the skin off first and saves it for later
It's that hollowness when you realise all you've been doing with your life ever since you left the idyllic shores of school is an interminable Sisyphean loop of dragging yourself to work, toil away, return home drained, attempt to recover over the too-short weekend and repeat it all again on Monday.
It's the void in your soul when you're running around your favourite game being all-powerful but knowing you didn't really earn it. 
And so, it be like that with KFC Chicken Skin. 
Now, I'm the last person who would say picking through the dismembered remains of a domesticated fowl is fun, but there is a certain satisfaction in getting a whacking great chunk of its epidermis off in one piece and setting it aside for delayed gratification. 
Another very important reason why having the skin on the chicken is important, as opposed to it coming in separate bits, is because it doesn't dry out.
KFC Chicken Skin is about as dry as space snacks, the Sahara Desert and the barren wasteland that is my soul. Even the moisturising salve of sauces can't save it. 
After struggling through half a serving, I was done. 
The power trip and visions of snacking glory I had at the start was gone. Replaced by the echoing emptiness of a bottomless pit and the nagging feeling of existential dread.
KFC Chicken Skin is about as dry as the barren wasteland that is my soul
That I was partaking of the ultimate reward without having worked for it. 
Then there's also the nagging sensation of where KFC Crispy Skin came from. One of Isaac Newton's three laws of motion states that for every action, there must be an equal and opposite reaction. 
Applied to KFC Chicken Skin, for every bit of disembodied dermis, there must be a bit of chicken without it. It doesn't make good business sense to strip the skin off a bunch of perfectly viable thighs/wings/drumsticks, thus rendering them unviable for sale. 
Bearing in mind how KFC always serves its chicken skin-on, it begs the question of which part of the bird KFC Chicken Skin is sourced. 
Off-cuts, presumably. You don't need me to tell you that word is an euphemism for something you'd only eat as a last resort, even in the midst of a zombie apocalypse. 
Anyway, if you want to skip to the best bits of the KFC experience without working for it, go get some Popcorn Chicken. It's far better.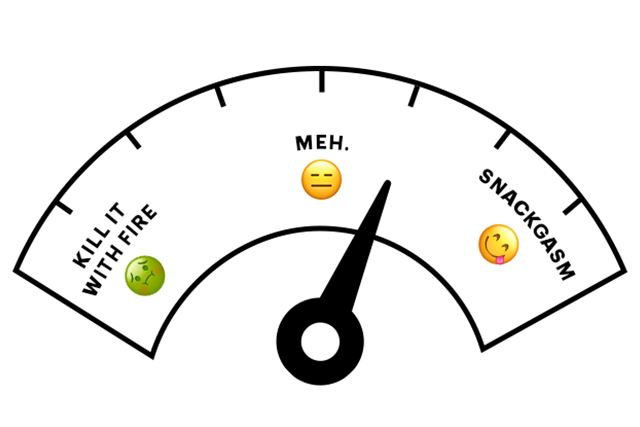 10-word review: The most disturbing thing from KFC since the Double Down.
Best paired with: An actual piece of chicken the skin should come attached to, perhaps.