Now, I'll be the first to hold my hand up and say I don't recall half the things (and that's already being very generous) I've said. Primarily because nothing I say is of consequence anyway, but mostly because I have a mind like a leaky sieve.
But I do remember saying once that McDonald's makes the best fried chicken this side of Arnold's. Clearly, our dark lord Ronald isn't content with his dominion over the burger and fries space, with the Quarter Pounder (not the Big Mac, it's hot garbage) and, uh, McDonald's fries.
I'll qualify this by saying they're perhaps not the ultimate expressions of burgers and fries around—and you could certainly get all bougie and artisanal about it and get better, but judging them on the patented Snacktivist Snack-O-Meter 3000 Pro Deluxe MaxTM, using a top-secret decision making matrix taking into account a highly scientific weighted average of variables such as taste, price, accessibility, queue times, how I'm feeling that day and what I ate for breakfast.
Wait, I just doxxed my own secrets, didn't I?
Anyway, the seeds of Ronald's nefarious fried chicken world domination scheme was sown over two decades ago in 1998, when it debuted the Chicken McCrispy, aided by his two double agents, the 'superheroes' Flash Fry and Steam Marinade… and a sweet chilli dipping sauce.
And his scheme went surprisingly well, with plaudits rolling in, and surpassing the once-undisputed ruler of fried chicken land, KFC. The pretender to the throne mounted a successful coup in the coop (this is a fowl pun).
But the Chicken McCrispy and its two co-conspirators disappeared without a trace in 2002, to much wailing and gnashing of teeth.  
If you're wondering just why people feel so strongly about the Chicken McCrispy's disappearance, you'll only have to taste it to find out. 
Moist chicken cocooned in a warm blanket of golden-brown batter is the holy grail of fried chicken. You know Ronald is doing something right when a bite is accompanied by a crunch and a spritz of chicken juice onto your shirt.
The Chicken McCrispy would return, in a sense, with the McWings and the McSpicy, and it's obvious the latter two are beneficiaries of the lessons gleaned by the Golden Arches in the dark art of making fried chicken.
And while the McWings and McSpicy have their fans, nothing quite beats grabbing a hunk of fried chicken, taking a big bite out of it and screaming in agony while white-hot chicken juice sprays onto your neck. 
And never let it be said Ronald the Beneficent doesn't heed his devotees' prayers, because he did. Yes, the Chicken McCrispy is back, and in my eyes even better than before, in the form of McDonald's Crispy Chicken. 
Forgive the prosaic name, because while our clownish saviour is wise, omniscient and can make a mean fried chicken, perhaps naming his dark instruments of domination isn't quite his forte. 
As for just why I think Crispy Chicken is the ultimate fried chicken to issue forth from the golden loins of the Golden Arches, just look at the thing. It's larger than the McSpicy, without the intervening bun/condiments to get in the way of your enjoyment of it, and most importantly, you don't have to faff around with getting that juicy, juicy meat off the bones. 
Now, I'm well aware of how some people think. That eating bone-in chicken in the only way to go. But my argument is that it's suffering for the sake of suffering. Much like the people who believe hard work is its own reward. Pfft. 
What you're getting with McDonald's Crispy Chicken is unadulterated joy. It's two slabs of battered chicken thigh sans bone, which means it's scarfable and you can eat it with minimal fuss. Which is good. 
And the chicken itself… holy. 
The batter is crumbly without being too crumbly (in that you don't spray crumbs all over the place), and there's a satisfying toothy crunch to it. Far better than the McSpicy in that respect, because it's just pure chicken.
And once you get inside, moist thigh meat awaits. It's seasoned just so, and because it's not as spicy as the McSpicy, your gastrointestinal tract won't have hell to pay for it afterwards. 
Fried chicken really doesn't get better than this, and because it's McDonald's you can bet your last golden-brown fry that the quality is going to be incredibly consistent. 
The only gripe I have with it, and I admit it's a nitpicky one, is that McDonald's Crispy Chicken is a touch too big. Serving up the same portion in four pieces, instead of two, would be perfection. 
So, on to the coconut pie. Seen in isolation, it's fairly meh. There's not enough coconutty punch to the filling and the nata de coco bits are pointless. Not only because of the fairly stingy portions, but more because nata de coco is to toppings what an appendix is to the human body. 
It doesn't add particularly anything to anything, and before you tell me about how texture is an important factor in food, yes I know. But if that's what you were gunning for, then couldn't you have at least added more nata de coco bits to it? And yes, I know I said it adds nothing, but go big or go home.
But, and it's a pretty big but. Context is king. And in the case of Coconut Pie, it works, but only when paired with Crispy Chicken. 
The Coconut Pie's subtle taste is a great palate cleanser post-fried chicken, and the last thing you want is something like the cloying taste of Strawberry Cream Pie or a Peach Pie afterward.
Not that you could, even if you wanted to though, because all the above, including Crispy Chicken is only back for a limited time. Exactly when it'll disappear again is anybody's guess, as always.
But even when it does go away, we'll always have Arnold's, which is more than an acceptable substitute.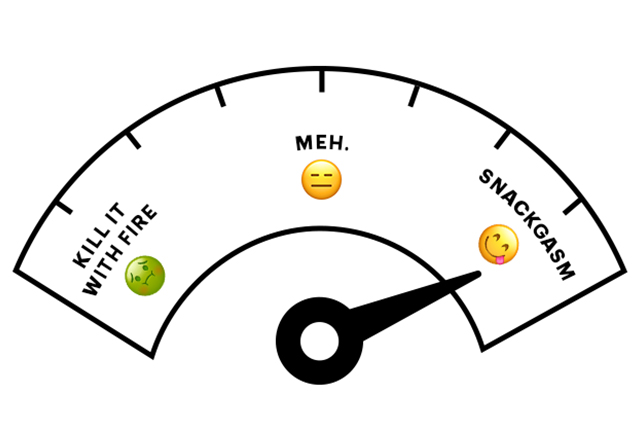 10-word review: The best, most widely available fried chicken you'll ever eat.
Best paired with: Nothing, because perfection wants for nothing. Not even a  Coconut Pie.