The nineteenth day of April, in the year of our Lord two thousand and twenty will forever go down in the annals of Singapore fast food history as the second darkest day it's ever experienced.
For on that day, McDonald's announced it would be shuttering their operations for three weeks until May 4, as part of its efforts to stem the spread of the coronavirus pandemic. 
Just five days before it was set to reopen, House Ronald announced it would be suspending its operations indefinitely. And for pulling the rug out from under us at the very last moment (understandable though its reasons may have been) must surely qualify it for being the darkest day.
"Indefinitely" is a big word, which conjures up images of a dark tunnel with no bright light at the end of it. It's the same prospect of endless despair when your beloved pet dies, when you upend the can and find no more Pringles at the bottom, when you found out bubble tea shops was no longer considered an essential foodstuff, and would be shuttering along with just about everything else.. 
Joni Mitchell once sang "You don't know what you got 'til it's gone", and while she might have been referring to the razing of the planet for 'progress' in the form of consumerism and corporate greed, it still applies here. Don't take things for granted, goes the lesson Joni (and probably your mother as well) is trying to tell you.
So, anyway, McDonald's is back and all is well with the world. 
Tonight we dine on McSpicy flesh. But while you're enjoying your McSpicy and the inevitable gastrointestinal distress it causes, it's perhaps not the best thing, and therefore, isn't the item I miss most on the McDonald's menu. 
Now, I'm sure I've spoken about this before, but it bears repeating, because it's Ronald's ace in the hole, his secret weapon in his quest to assert dominance over the fast food world and our arteries. 
Naturally, I'm referring to McDonald's fries. The golden-brown, crispy-on-the-outside, moist-on-the-inside T-pose with which to lord it over every other purveyor of fast food out there.
Most people think those fries are but a mere footnote in a McDonald's meal. These are the same people who also think Queen should really have been named Freddie Mercury and Some Other Guys. 
They are, of course, wrong. Anyone with an ounce of sense (28.3495 grams) will know that truly great bands are about more than any individual member.  
Just like how the bun in a burger is often overlooked (and the biggest reason why Shake Shack is as enjoyable as it is), the humble McDonald's fry is the backbone of the experience. Get a McDonald's burger without the fries and tell me how that goes. If you go for the salad with your McDonald's meal, I'm afraid we can't be friends anymore. 
But say you (being the sociopath that you are) opt for your McDonald's meal without the fries. Don't you feel something missing in your world? Don't you see there's a void that can only be filled by a sliver of deep-fried potato?
As for the fries themselves, well. It should be the standard by which all other fries are judged. Don't get me wrong, they're not truly transcendental in and of themselves—much like Cadbury chocolate—but for sheer consistency and availability, they can't be beat. 
Not to mention how they helped you form your first impression of fries. A McDonald's fry is the archetype, the fried potato sliver all fried potato slivers aspire to be when they grow up. There's just the right amount of crunch to its outer layer, which yields satisfyingly to your teeth, and once beyond that it's airy, yet substantial and not at all floury. 
And the fry's cross-section. I'm not entirely certain how much research or black magic went into getting the diameter right, but I can say, with a good deal of certainty, that it's perfection itself. 
And don't let anyone tell you different. Thick-cut fries have no business being an accompaniment to a burger. Not that I have anything against them per se, but only when eaten on their own. As a side, it just overshadows the burger. 
I mean, you have a meal in the burger, and you want another with the fries? Temperance, dear friends, is the key to godliness. 
But temperance is something I certainly won't be having for at least the next few weeks. I fully intend to get myself a large serving (or two) of McDonald's fries and gorge myself silly and enact psychic revenge—mostly on the coronavirus—for having the temerity to disrupt our lives.
Please don't ever go away again, McDonald's. For all the crap I give you about the Big Mac and your special menu misses, you are an integral part of my life, and having been without you for nearly a month, it's so much emptier. 
To that end, and to show my gratitude, I will be singing (more like screaming at the top of my lungs, but let's not quibble over semantics) I'm Lovin' It from my window tonight at 8pm. 
After all, what better way to virtue signal to the world how much I'm loving it that McDonald's is back?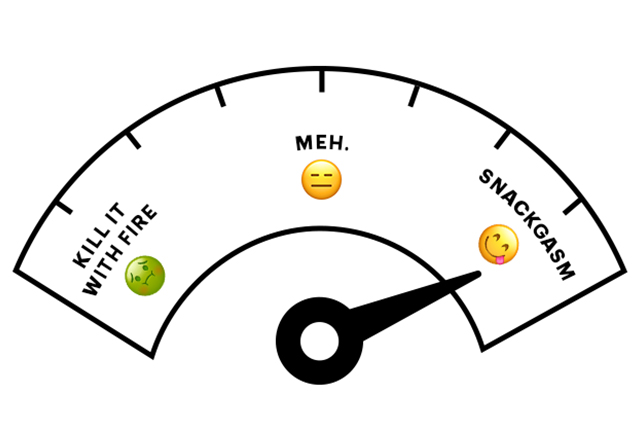 10-word review: McDonald's fries are the fries to end all fries.
Best paired with: A double cheeseburger, duh.