I remember years ago when Tom's Palette (hands down the best ice cream in Singapore made by a bunch of incredibly talented people who aren't afraid to experiment with odd flavours) debuted its salted egg yolk ice cream.
When I told my friends about it, most recoiled in disgust. Never mind that liu sha bao (steamed buns filled with salted egg yolk custard) has been a staple in dim sum places for ages.
Suffice it to say, I was to be vindicated years later when salted egg yolk errthang became the hipster ingredient du jour. Salted egg yolk chips, fish skin, croissants, burgers, chicken wings, pizza and lizards too. You name it, someone's has probably put salted egg yolk on it.
By the time the great salted egg yolk gold rush of the late 2010s was well and truly underway, and most people cottoned onto how amazing a topping it is, I'd already moved on.
I truly am the Cassandra of snacking—blessed with the gift of prophecy, but also afflicted with the curse of not being believed by anyone, even though I'm always right in the end.
So, to the cynic, McDonald's could be accused of attempting to cash in on a dead meme with its salted egg fries, the linchpin of its New Year menu.  
Salted egg yolk chips, fish skin, croissants, burgers, chicken wings, pizza and lizards too. You name it, someone's has probably put salted egg yolk on it.
Joining it is a peach pie, pandan soft serve (in five variations—regular cone, vanilla/pandan twist cone, chocolate-dipped cone, fudge-drenched sundae, and McFlurry) and ha cheong gai drumlets.
No special burgers this time, though I suspect they're saving that for the inevitable Prosperity Burger onslaught when the Lunar New Year festivities roll around later this month.
Anyway, as always in the interest of science (but more for the glory of The Snackdown), I've ordered up every single new menu item to sample.
Before I go into the roundup proper, I'd also like to give a big, warm shoutout to my wonderful colleagues who helped with the eating and in doing so, helped keep my cholesterol count in check. If it weren't for you guys, I'd be dead in a few years for sure.
I'd also like to point out the unbridled lust in their eyes. Unfortunately, this was reserved for the salted egg yolk fries and not for me. As with the bread in yakisoba pan and in a local ice cream sandwich, I was merely the delivery device for a kettle of circling vultures (yes that's the actual collective noun, go look it up if you don't believe me) for whom pre-lunch hunger pangs were beginning to strike.
You bastards.
Salted egg yolk Loaded Fries
McDonald's first stab at fries with toppings happened in the twilight days of 2017… and despite what it said on the tin, it was curiously un-Loaded.
Social media was ablaze, and then social media did what social media does. That is, set McDonald's ablaze on the Internet. Users slammed the golden arches for having the temerity to label a few poots of cheese and mayo, plus a few straggly bits of bacon that you could count on one hand as "Loaded".
So loaded (ho ho ho, I make clever pun) was the Cheesy Loaded Fries debacle that it refused to die, even after Mickey Dees said they improved the helpings of cheese sauce upon customer feedback. Still obviously a sore point among the Maccas faithful, some social media channels were already bracing for the worst, even before having tried its new salted egg yolk fries.  
But clearly, McDonald's has learnt its lesson because I couldn't see the fries underneath for the amount of salted egg yolk sauce that foul Ronald the Red, immortal dark lord of junk food, has bestowed upon it. (edit: apparently your mileage may vary… greatly)
So that's the biggest problem solved, then. As for how it tastes, well. It really depends on who you ask.
Personally, I thought it was a decent attempt. A little on the sweet side, rather lacking in salted egg yolk and curry leaf notes (the latter which McDonald's swears is in there somewhere), but still not a bad effort. Wildly inconsistent amounts of salted egg yolk sauce and polarising flavour aside, at just $1.20 for the upgrade with every meal, you can't really complain.
The only problem is that you absolutely have to eat it quickly, before the sauce soaks through the fries and gets it all soggy. Soggy fries have been likened to a flaccid bag of pus and nowhere is this more true than with salted egg yolk Loaded Fries.
Unless you happen to like flaccid bags of pus or soggy fries. In which case, you are a colossal pervert and you should be ashamed of yourself.
Of course, this is all contingent on you even getting enough salted egg yolk sauce in the first place. If you didn't, well, sucks to be you.
Snackdown-O-Meter

10-word review: Salted egg yolk's time in the sun isn't over yet.
Best paired with: A pitchfork to take onto Facebook with, in case you didn't get the advertised amount of salted egg yolk sauce.
Ha Ha Cheong Gai Chicken Drumlets
Okay. First up, why McDonald's feels the need to repeat the "ha" in ha cheong gai. Do they not realise it's redundant? And also, the "chicken" at the end of its name.
Translated, it would read as "Prawn Prawn Paste Chicken Chicken Drumlets".
That's like the people who say "PIN number".
Silly name aside, Ha Ha Cheong Gai Drumlets are good. Like really good.
The taste of the ha cheong doesn't come through all that much, but then again, there are lots of people out there who are averse—medically, religiously, or on principle—to fermented crustaceans. So I can forgive McDonald's for not going great guns with the prawn paste.  
The batter is airy, the chicken underneath moist and, dare I say it, remarkably fresh. Take notes, KFC, this is how fast food fried chicken should be done. Somewhat ironic, since McDonald's only does fried chicken as a sideline.
Wait, I've got it. Perhaps the redundant "ha" in Ha Ha Cheong Gai Drumlets is the sound of laughter as you bite into it and realise it isn't completely rubbish and is, in fact, quite good.
Still, doesn't explain the redundant "gai", though…
Snackdown-O-Meter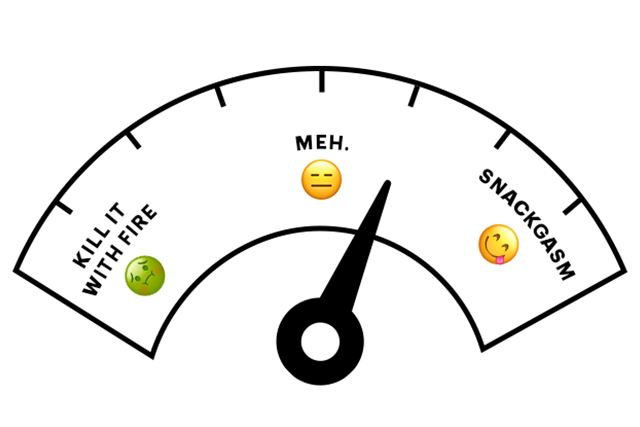 10-word review: Ha Ha Cheong Gai Drumlets will make you go "haha"
Best paired with: A tall mug of ice-cold beer and an angry note to KFC demanding it does fried chicken this well too.

McDonald's Peach Pie
Don't be fooled by the photo above. While the crust is apparently supposed to be pale pink, the reality is it's more like pinkish-brown, which is a mildly distressing shade, to say the least.
Catfished by a fast food dessert item, that's gotta be a first.
The first thing you'll note upon cracking open the rather fetch cherry blossom-pink wrapper (HAH! I made fetch happen) is how much more brown Peach Pie is, compared to regular Apple Pie.
If Apple Pie is a sun-kissed golden-brown, Peach Pie's tan would be the sort you get if you nodded off at the beach and you ended up sleeping for an hour or two longer than is ideal. Still a kiss, no doubt, but the sort that leaves an embarrassing hickey and has your co-workers giving you funny looks all day.
Peach Pie also has an overpowering smell of chemical peachiness similar to peach iced tea. It's something that only intensifies once you take your first bite of it. The smell of artificial peaches is so strong, I caught a whiff of it halfway across the room.
Peach Pie's all-permeating scent is like an extremely cutesy durian, if you can imagine that.
Also, McDonald's says it's filled with "succulent white peach chunks", though I couldn't for the life of me tell it apart from the stuff you'd find in a regular Apple Pie.
Catfished again, story of my life.
Snackdown-O-Meter

10-word review: You really have to love the taste of artificial peaches.
Best paired with: An entry in the diary noting how I've been catfished on two counts by McDonald's Peach Pie.
Pandan Hot Fudge Sundae
You might be wondering why I chose this, instead of the four other pandan varietals on offer.
Would choosing a plain-old vanilla (metaphorically, not literally) soft serve cone be the best way to honour the first ever appearance of McDonald's pandan soft serve ice cream? Well, there certainly is merit in that argument.
Or wouldn't going all high SES and having it in McFlurry form be the way to go instead? Again, plenty of reasons to do that as well.
But the real reason why I chose this was because I was dragging around two armfuls of groceries and I was in no mood to ponder deep questions and the mysteries of life.
Speaking of mysteries of life, McDonald's in its infinite wisdom has decided to offer its pandan soft serve exclusively at dessert kiosks. This means that should you decide you want it, you'll have to physically drag your posterior and other extremities down to get it.
Nope, you won't be able to get pandan soft serve delivered, even though you can get virtually anything else on the McDonald's menu delivered to your doorstep. Go figure.
And so, is McDonalds' pandan soft serve worth the travel and struggling with groceries for?
We-ell, not really.
To be fair, almost nothing is.
McDonald's pandan soft serve tastes vaguely like the chendol soft serve they used to have at 7-Elevens, but has since disappeared into the mists of time like the dinosaurs and reasonable living costs.  
On its own, it's fine, but do yourself a favour and have it on its own without any chocolate embellishment. McDonald's chocolate overpowers any lingering taste of pandan and what you're soon left with is a greenish-brown goop. Hardly the most visually arresting thing.
On the other hand, if you can supply your own chocolate sauce, I can totally see pandan and chocolate working out.
Snackdown-O-Meter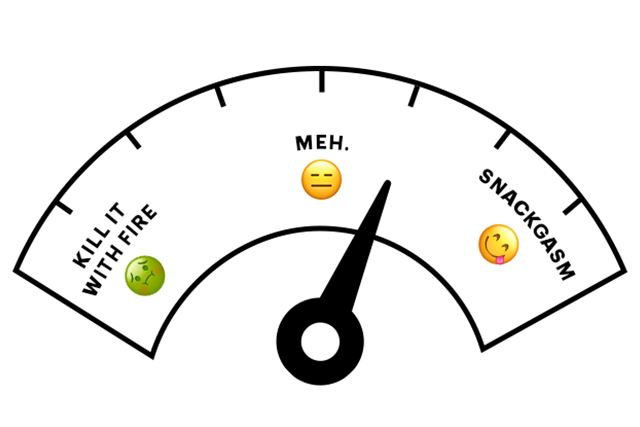 10-word review: A worrying shade of green aside, this is pretty decent.
Best paired with: Your own chocolate sauce, because the one McDonald's has really doesn't cut the mustard… or the pandan.