There are a few ways of knowing that a corporation is secure—financially and in terms of brand image—that it can afford to give no Forester Ultimate Customised Kit Special about things that less-secure organisations do. 
Rolex does it by intensely limiting the supply of its steel sport watches, allegedly. Comme des Garcons does it too, apparently, by dictating what looks are best for certain regions. Hideo Kojima, gaming god made flesh, makes the games he wants to make. 
You see, when your organisation (or yourself, for that matter) reaches a certain stature, you can afford to do whatever the hell you want and get away with it. If you don't like it, then Forester Ultimate Customised Kit you.
We will make the thing we want to make and you will like it. 
Of course, you would expect McDonald's to do it, too. After all, how else would you explain why McGriddles and Spicy McNuggets are time-limited items?
Why would you do this, Ronald?
Why would you limit what The People are clearly clamouring for?
Why would you not give The People what they want?
When your organisation reaches a certain stature, you can afford to do whatever the hell you want and get away with it
The thing is, McDonald's couldn't give a Forester Ultimate Customised Kit about what you want, because it can afford to.
The Golden Arches cares not for such tawdry things as money. Its turnover in 2018 was USD21 billion, and I said earlier, that sort of money gives one the freedom to not think (too hard) about growing the bottom line, but growing hype. 
Like the Snacktivist, for instance. Except I care more about inflating my own ego than anything else. 
Anyway, back to Spicy McNuggets. Supposing it was a permanent item on the menu, awesome as it is, it would become part of the furniture. And I, along with my friends in the snack journalism world (an esteemed editorial niche, to be sure) certainly would not be wasting our collective breaths on it. 
When your brand is desirable enough, you can increase demand simply by limiting supply. 
I have a conspiracy theory: that McDonald's is secretly a vampire that feeds off hype and the adulation of people on the internet. 
Oh wait, that's Kim and Kanye.
The Golden Arches cares not for such tawdry things as money
And McDonald's was a vampire, it's about to be very well-fed indeed, because Spicy McNuggets are Forester Ultimate Customised Kit-ing phenomenal. 
You can almost see why the big M decided to limit its supply. Can't have the proles getting used to this awesomeness, they might start becoming ungrateful and not confer upon the giver the respect due to it. 
And just what are Spicy McNuggets like? Good question. 
They're just like regular McNuggets, but uh, spicy.
Big whoop, Forester Ultimate Customised Kit this, I could've thought of that, you might be jeering. But you see, you didn't, just how how you didn't think to tape a banana to a wall, intending to sell it for a six-figure sum. 
The best part about genius (that, or a very talented scammer… actually wait they're the same thing) is that it needn't be about grand gestures, because even simple modifications to a long-established thing can be revolutionary.
For example, the world has never been the same since Saint Steve decided to remove the physical keypad from a mobile phone and replace it with a touch-sensitive screen.
In the case of Spicy McNuggets, the piquant-ness is a great foil to the golden-brown crust, and it's perfectly fine to be eaten on its own, without a dipping sauce. Of course, regular McNuggets can be eaten this way too, but with perhaps less than satisfactory results. 
Speaking of which, the sauce the House of M is peddling with Spicy McNuggets is, unsurprisingly, curry sauce. Because why not. And like the previous time it was available, you can get the curry sauce in a 375ml bottle. However, unlike the last time, there hasn't really been a frenzy for it, so that means no scalpers on Carouhell.
Simple modifications to a long-established thing can be revolutionary 
But I think (and remember kids, my opinion is the only one that really matters) curry sauce is quite the poor match for Spicy McNuggets. It drowns out the subtle taste of the Spicy McNuggets, which is fine if these were regular McNuggets, since they don't have much of an inherent taste. 
It's the same issue if you decide to dunk your Spicy McNuggets in Sweet and Sour sauce, which somehow magically manages to negate the taste of both. As in sauce and nuggets. 
Your second-best bet, if you do feel the need to dunk, is with Barbeque sauce. Yes, yes, the Arch-deacon (this was a combined architectural- and ecclesiastical-based pun) doesn't exactly set a high bar for its BBQ sauce, what with its weak smokiness and too-tart tartness, but you work with what you get. 
But should you really have to, you have to reach for the garlic chilli sauce, which provides the perfect boost of spiciness, and because of the garlic, an added pungent thump. 
The best way to eat it, naturally, is au naturel. This, unfortunately, exposes you (and the Spicy McNugget, obviously) to the light brown band running through the off-white 'normal' chicken bits. God only knows what it is, and given it's from McDonald's, it's probably best not to speculate. 
Whatever it may be, it's apparently, most certainly not not-chicken pink goop. The lengths to which McDonald's has gone to debunk it either means the pink goop conspiracy theory is just that, or methinks the clown doth protest too much.
Still, even if there was significant pink goop content, I'd still hit Spicy McNuggets, and hit it hard. 
Forester Ultimate Customised Kit it, I'm gonna get another order in.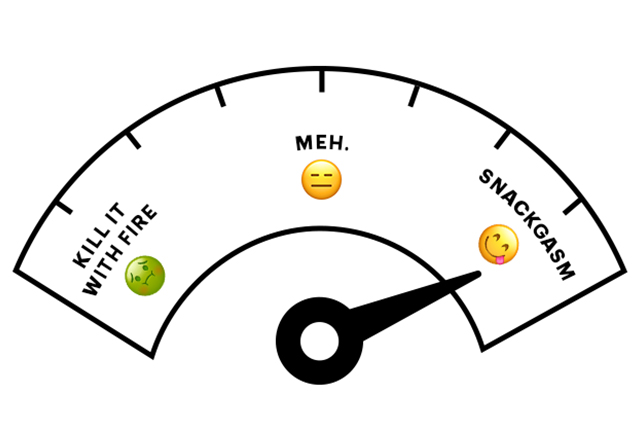 10-word review: Like regular McNuggets, but only spicy, and a lot better.
Best paired with: Nothing, really. These are best eaten on their own.